The Catlins was the first place I ventured once Kiwis were allowed outside again after our first lockdown. Now I was going to return once more, on the invite of my bestie KL, who invited me to spend the weekend with her in Papatowai. Of course I immediately appointed myself officer in charge of adventure, and began planning a day of exactly that. My only promise – that it would culminate in a shipwreck!
Our first stop was the museum at Owaka, not to peruse the exhibits, but to pick up an assortment of brochures. The one I was particularly after was for the Catlins Heritage Trail, which had been mentioned online but for which I could not download a brochure.
Well armed with documentation, we set off southward. I appointed KL's daughter Emily as Officer in Charge of Spotting Significant Trees, handing off the associated pamphlet to the bemused tween.
Our first stop was a two-for-one helping of the famous waterfalls of this region, the Matai Falls with the Horseshoe Falls situated not far beyond. A quick walk brought us to the two separate viewing areas, from which we admired the 10m high cascades.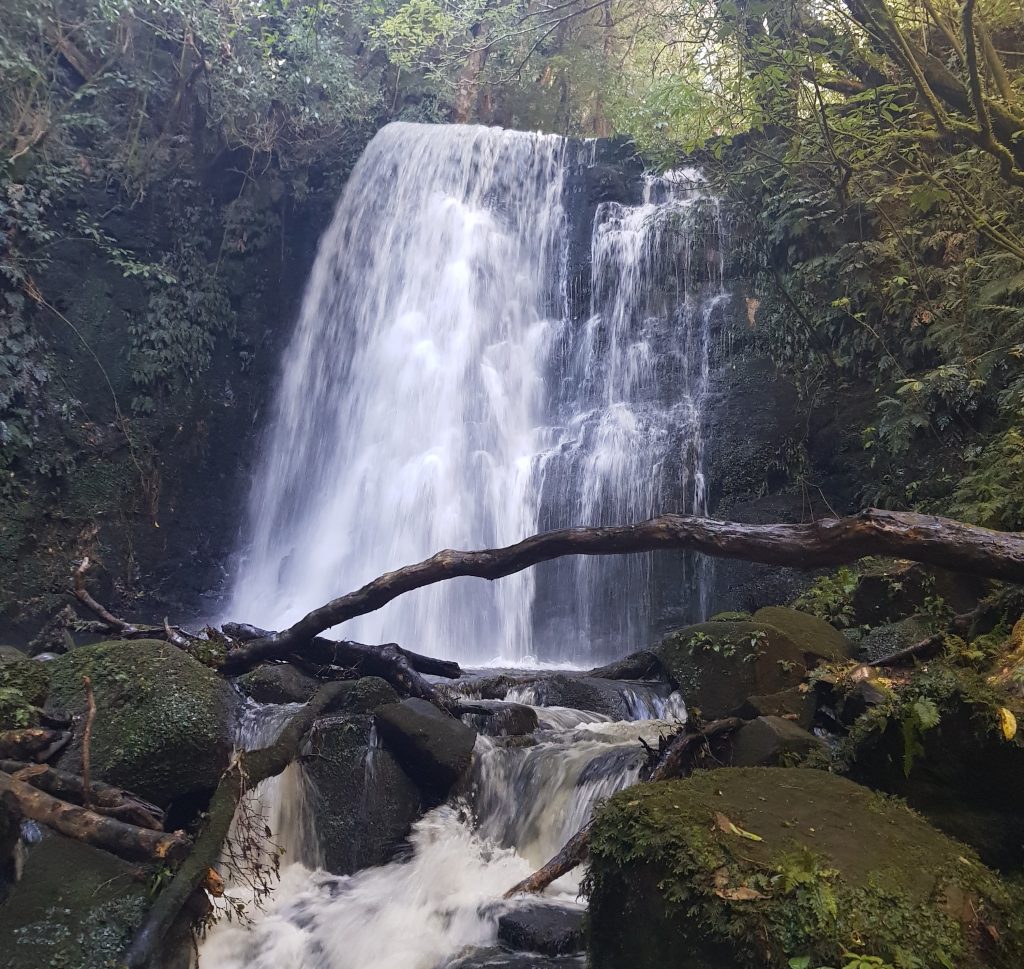 Once we had enjoyed the falls sufficiently, we continued our journey south. After the traditional pause at Florence Hill lookout we descended toward Tautuku Bay and decided to investigate the Lake Wilkie walk. The sign said it was a 30 minute walk but it didn't take us near as long to reach the boardwalk that extended out on to the stunningly reflective waters.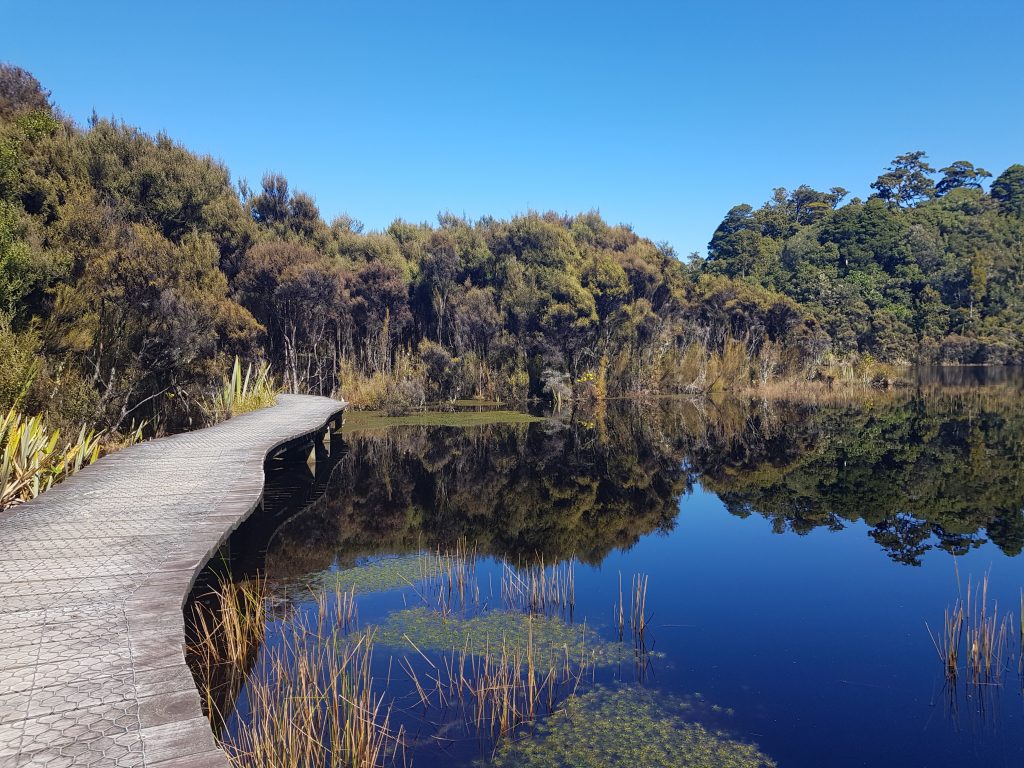 Despite the walk being far shorter than we'd anticipated, we felt ourselves adequately rewarded for the effort.
This lake is in the process of being reclaimed by forest, and at the edge where trees erupt from the shallow water the reflections of canopy and sky mixed with the reddish tint of tannins to create stunning patterns of colour.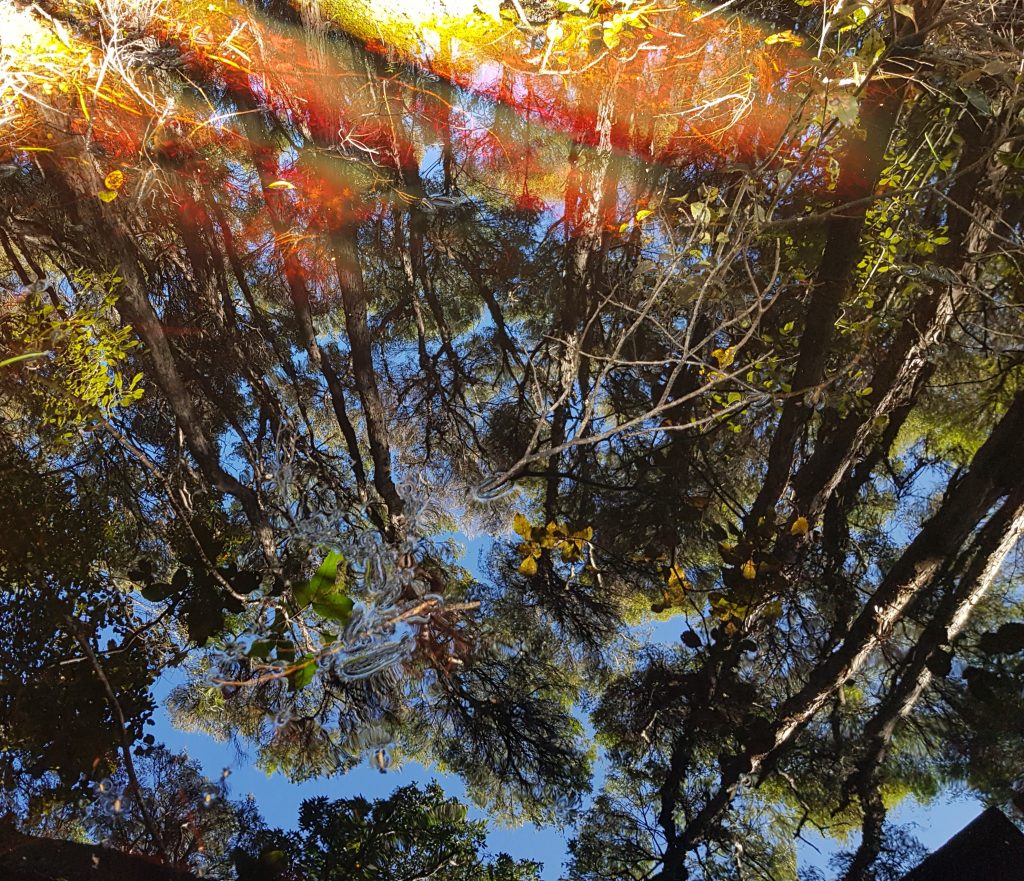 From here we located our first official stop on the Heritage Tail – Niagara Falls! The one metre "fall" is a little less impressive than its 56m namesake, the moniker apparently bestowed by a jokey surveyor. The identity of said scallywag seems to have been lost to time, but his humorous legacy remains to this day.
It was from here that the river punts brought settlers' preducts down to Waikawa Harbour to be loaded on the waiting ships. Though small, these falls formed enough of a barrier that river craft could not cross.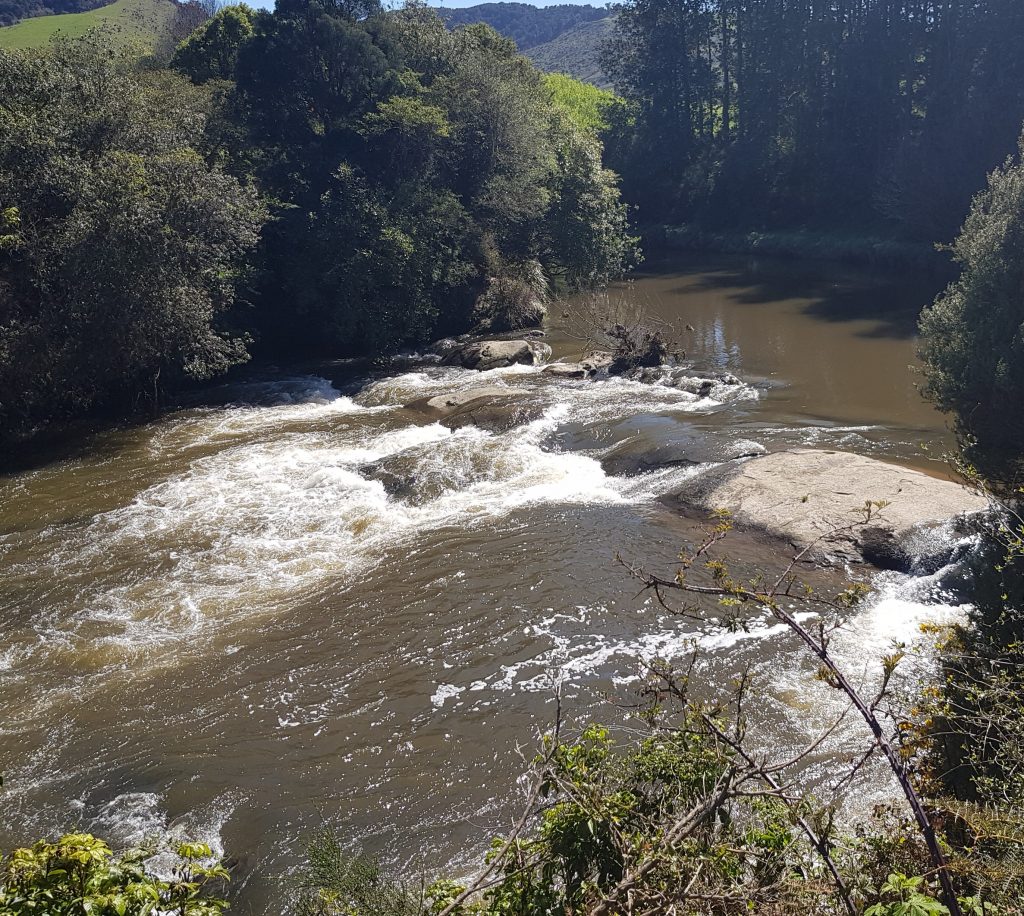 This place was also important as a food-gathering place (mahinga kai) for the Māori, known as Mānga Piri for the lamprey that would stick and cling to the rocks as they wriggled their way upstream – a similar phenomenon to the one Paroparo Te Whenua found at Mataura Falls.
We then made our way to Niagara Hall, the official start/end point of this trail. Once this served as a gathering-place for a thriving community that boasted three sawmills and a number of flaxmills in the early 1900s, although the falling price of flax reduced the flaxmills to one by 1908 and the sawmills were also down to just one by 1915. At this time migration, diseases like flu and measles, and the war all taking their toll on the local population.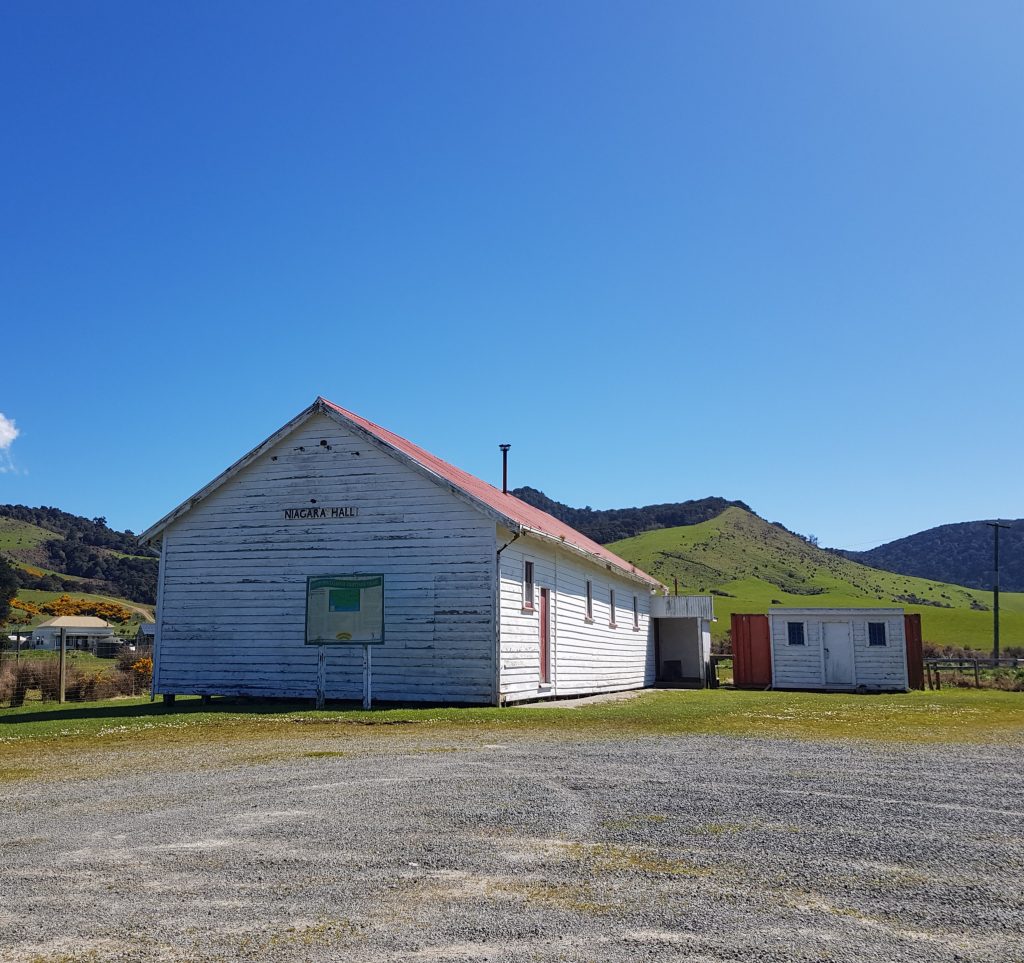 Barely had we got back on the road again before we were tempted by the Niagara Falls Cafe, situated in what was once a single room school which operated from 1893 to 1972. After taking our refreshments we made to leave, but instead I found myself imprisoned for my many crimes against puns!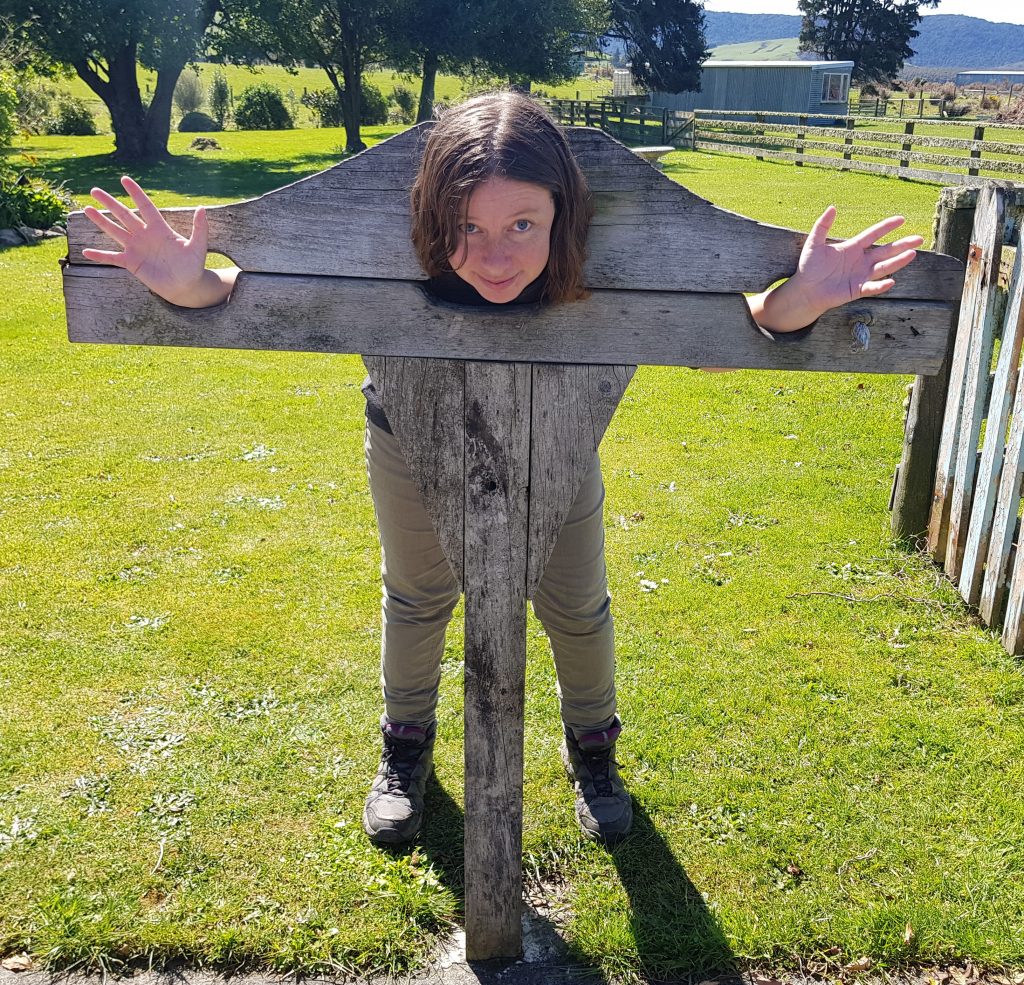 Once I'd escaped my predicament, we continued on our tour. The next stop was a concrete horse trough dating to approximately 1890, a relic of days when travel down this way was a much more difficult affair. It clearly doesn't get much use nowadays, having become almost entirely overgrown.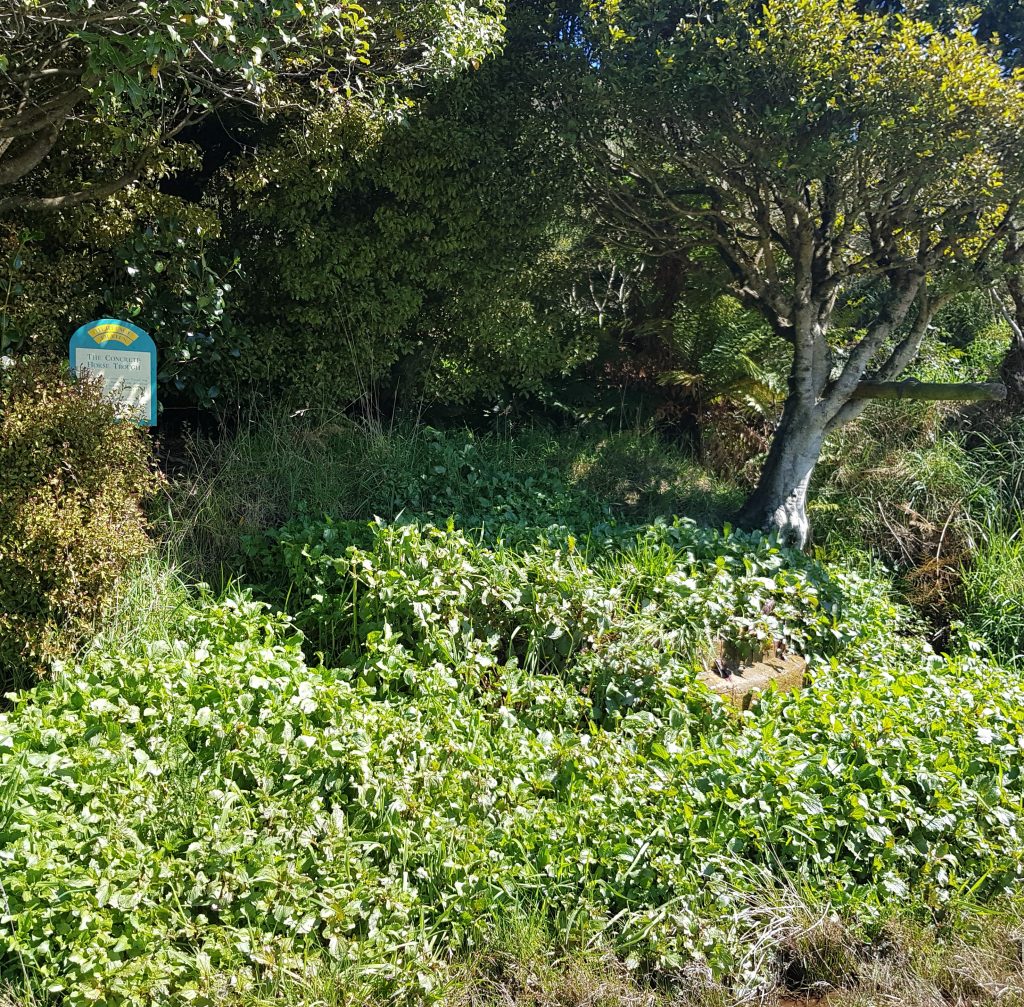 In nearby Waikawa we also had a peek at the old St Mary's Anglican Church, opened in in 1932 and finally closed in 1994 due to a shrinking congregation, joining the ever-expanding ranks of former religious buildings alongside Dunedin's Dominican Priory, Pukehiki Church, and Hillside Wesleyan Church – among others.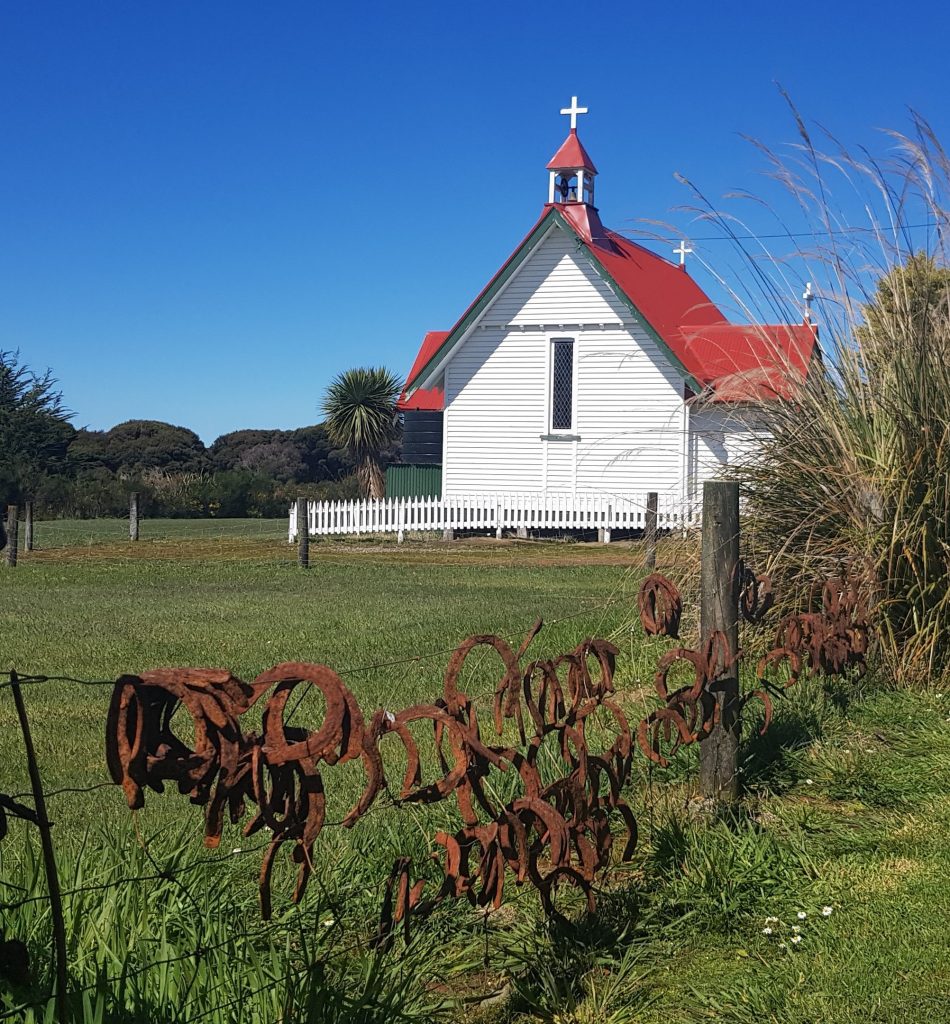 This one is now owned by the Waikawa Museum, which we sadly did not get the chance to check out today. Instead we continued along the old coach route, which unexpectedly leaves dry land at the shore of Waikawa Harbour.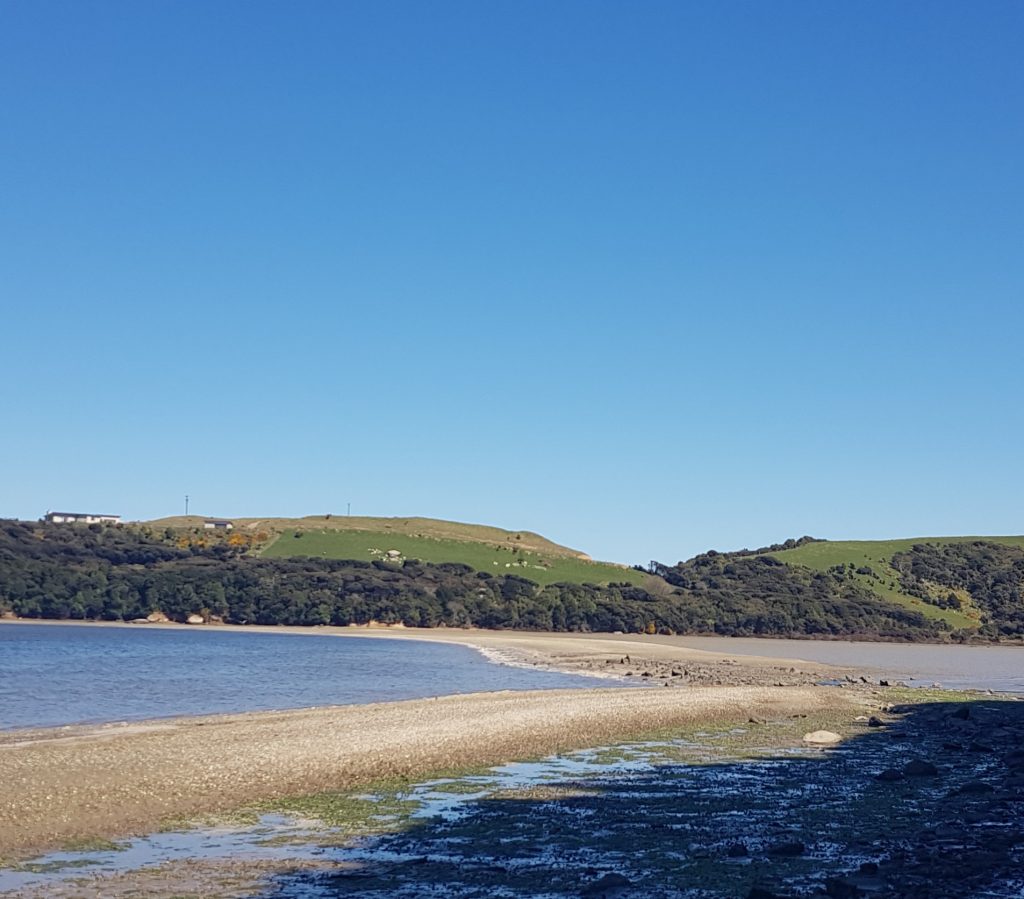 Well, perhaps it's unexpected to us these days, with our fine modern roads, but the early settlers soon came to understand what the Māori did before them – that sometimes it's easier to take to the shores. The walkable section of this road crosses a sandy inlet, having been built from locally-sourced stone in the 1880s to facilitate travel to Fortrose.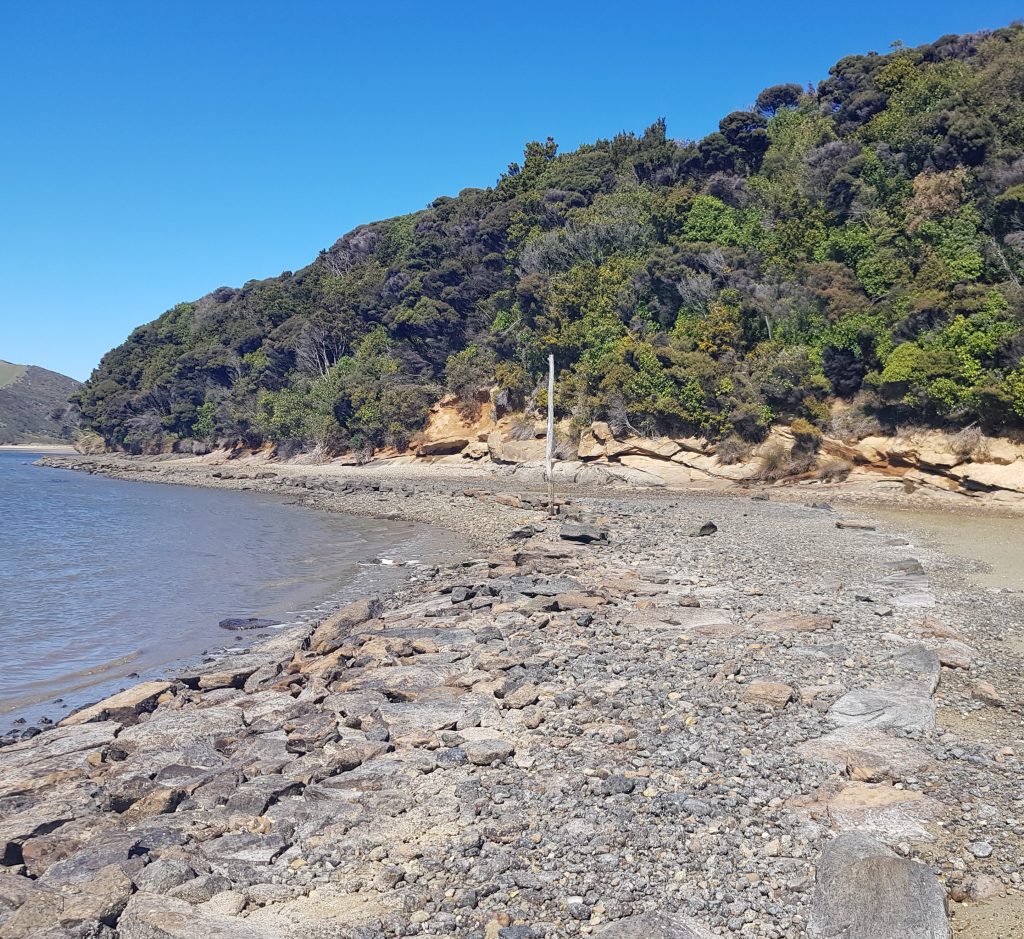 We were starting to run short of touring time, and I had a promise to keep regarding a certain shipwreck. So we skipped the next stop – Porpoise Bay – promising to come back another time.
Instead we made our way direct to Curio Bay for a gander at its famous petrified forest. The sharp southern winds whipped at us as we explored the exposed rocks, carefully stepping over the fallen Jurassic trees.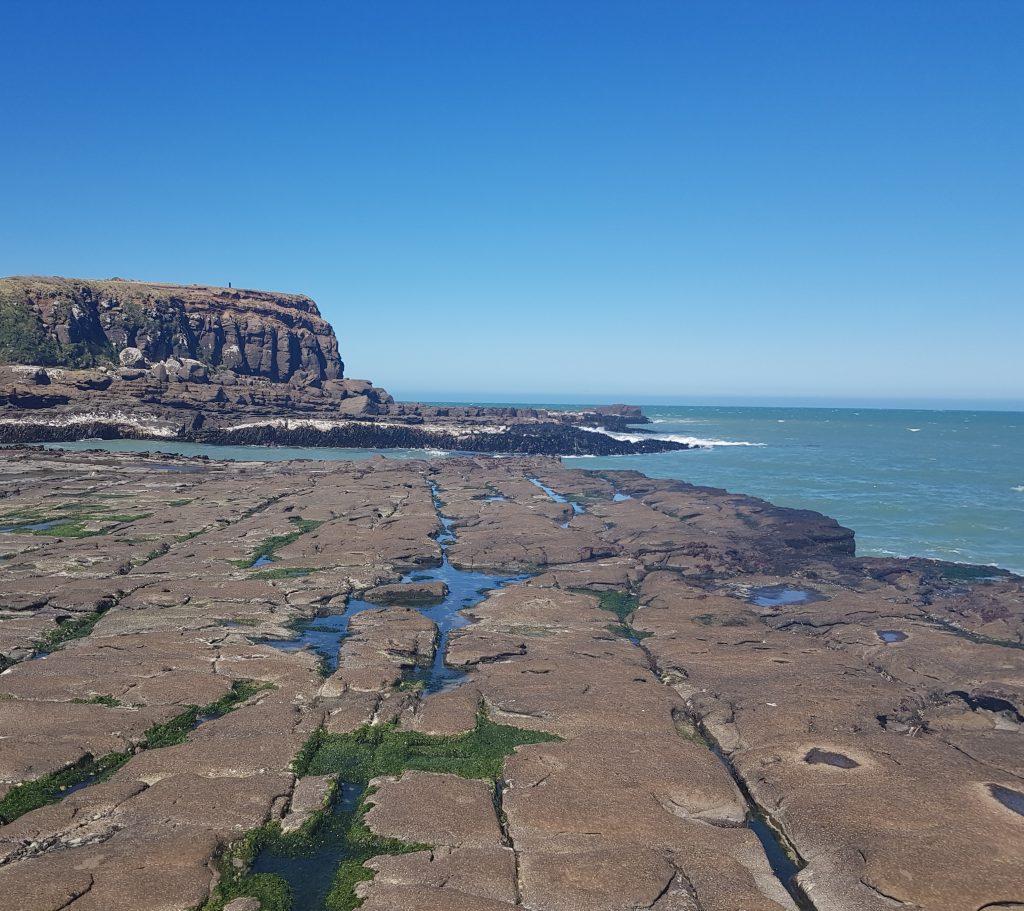 By now we really were running out of time, so we abandoned our tour entirely and headed straight for the much-lauded shipwreck. I've already visited Waipapa Point and the Tararua Acre, anyway.
That is how we found ourselves just outside of Fortrose, scanning the low-tide sands of Toetoes Harbour for any sign of our journey's pièce de résistance. Fortunately we found exactly that – a sign!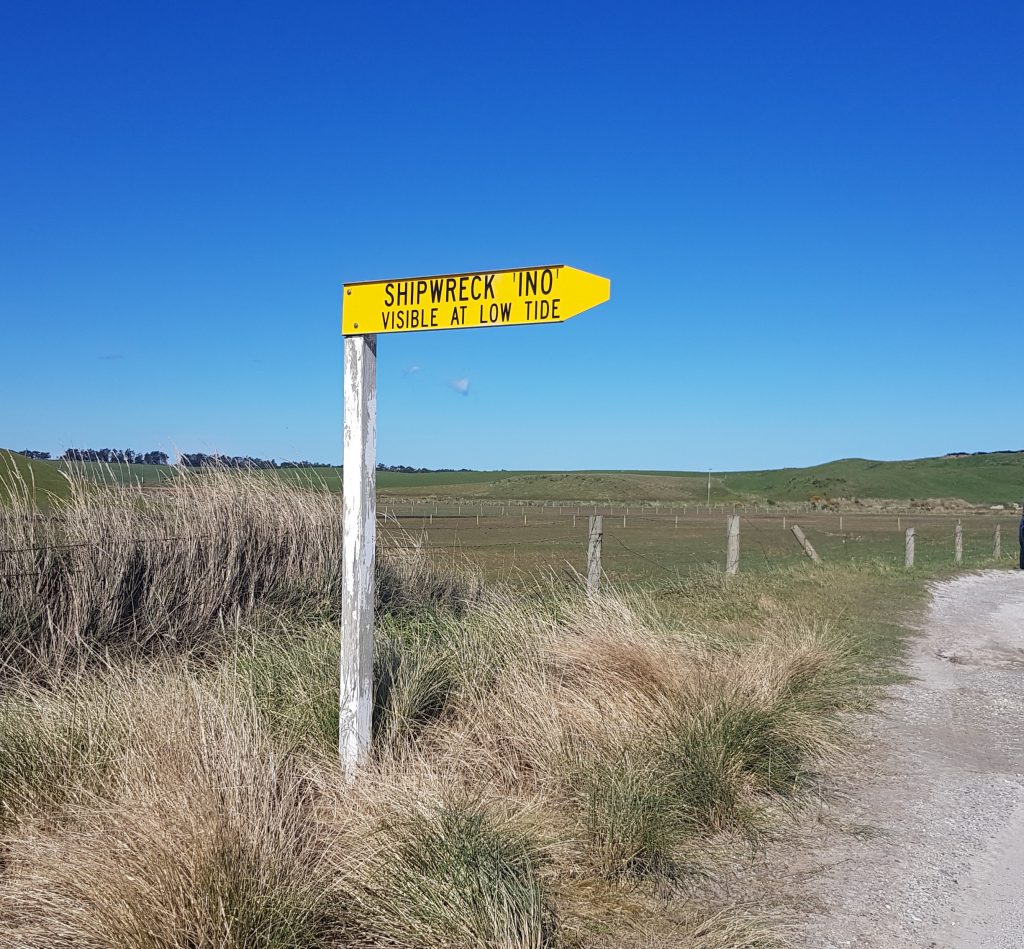 So we ventured on to the sands, though we could not yet see anything that remotely resembled a shipwreck.
The steamship Ino was built in Hokitika in 1874, and the wreck here wasn't even remotely the first time she'd got in trouble. In fact she'd even been written off once before in 1878, getting fouled on some ropes and colliding with a pier at Kakanui. She was written off, but the purchasers towed her back to Dunedin for a re-fit and soon had her back at work.
She was back on the shore at Port Molyneux in 1880, and once again refitted and put back to work. She apparently did some time as a gold dredge for the Molyneux Gold-Dredging Company, as next time we meet her she is being advertised for sale by said company, dredging plant included.
Our own search had finally born fruit, for we had finally located the Ino's remains – much to my young companion's disappointment. Apparently, what little was left to be seen did not live up to the hype.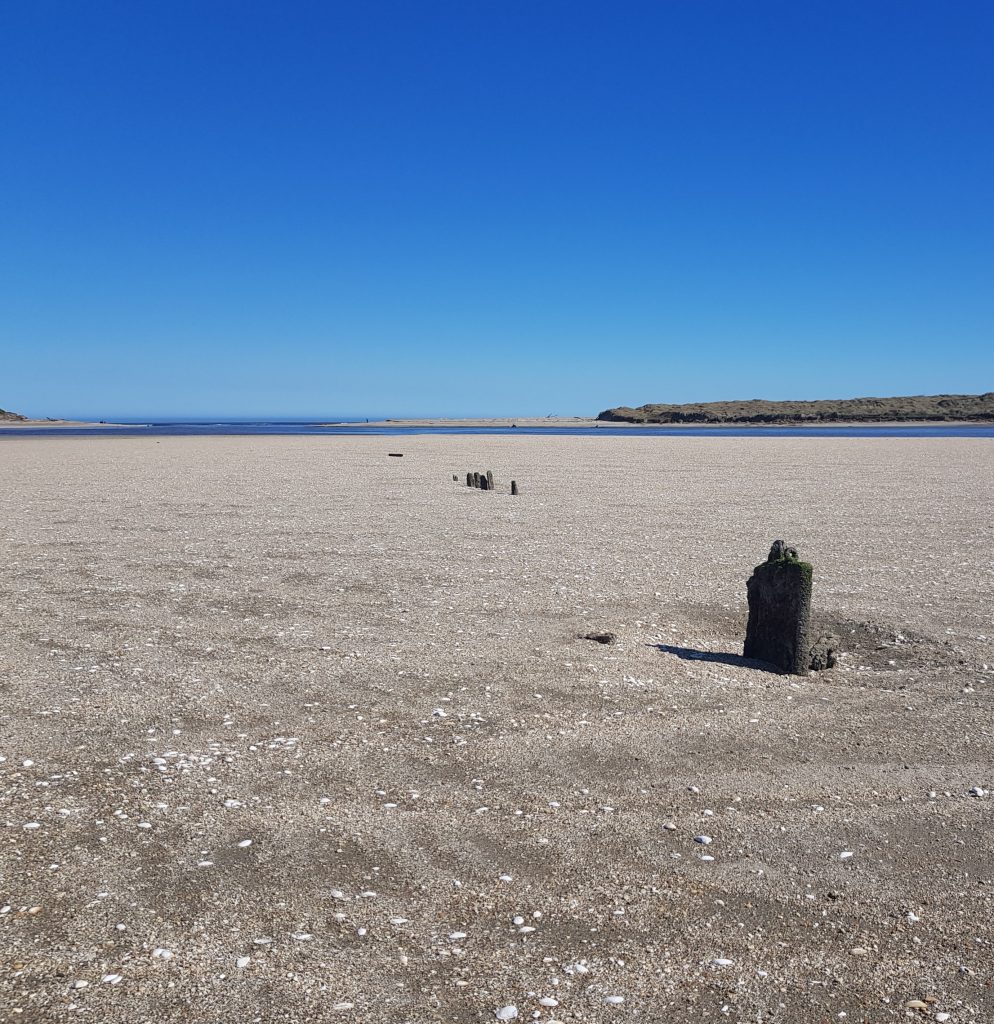 Only a few bleached wooden struts remained to be seen poking through the sand, hardly different from any other shore detritus.
And now for the rest of her story. She was stranded again in 1883, inside the bar of the Catlins River – perhaps lucky to not meet the same fate as the Surat.
Then in 1885 she was stranded at Waikawa Bay, and only refloated thanks to some out of the box thinking by the Captain. She had lost her rudder in the accident, but this difficulty was overcome by pilfering that of the Eliza McPhee, another ship which had previously come to grief in the same spot. With the stolen rudder (which turned out to be exactly the right size!) she was able to limp the rest of the way into Fortrose.
With this track record, I have to wonder if anyone was surprised when she went ashore again here less than a year later while trying to enter Fortrose. I imagine the harbour master gave a tired sigh before prompting his assistant to fetch the Ino Pole.
Sadly this was to be the unlucky steamship's final mishap. All efforts to refloat her were in vain as she filled with water and the rough seas began to break her up. She was written off for good this time, and here she remains to intrigue and disappoint the latest generation of adventurers.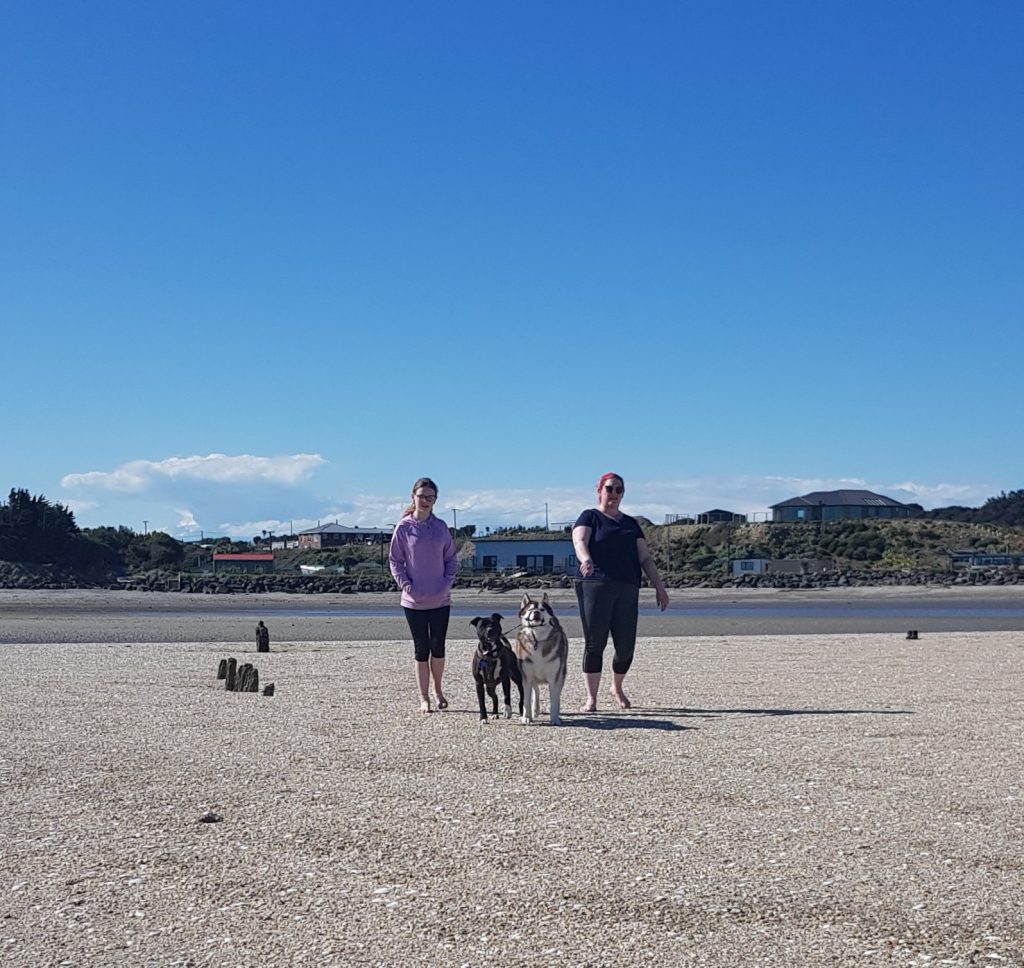 With that we concluded our day of adventuring, having well and truly proved that the Catlins coast boasts far too many sites of interest to be fully explored in a single day. We'd be sad about the sights we missed, if it didn't mean we had more adventures awaiting us in future!
References:
Southland's Niagara Falls' name started as a joke by Lloyd Esler
Catlins Heritage Trail Brochure
On the road: A simple life at New Zealand's own Niagara Falls by Damian Rowe
District News. Southern Cross, Volume 17, Issue 8, 5 June 1909, Page 9
Niagara Notes. Southern Cross, Volume 23, Issue 16, 24 July 1915, Page 15
District News. Southern Cross, Volume 15, Issue 37, 4 January 1908, Page 10
New Zealand Shipwrecks 1795-1960 by C.W.N Ingram and P.O. Wheatley
WRECK OF THE S.S. INO. North Otago Times, Volume XXVII, Issue 1996, 21 September 1878, Page 2
SHIPPING Otago Daily Times, Issue 5303, 17 February 1879, Page 2
Page 4 Advertisements Column 1 Otago Daily Times, Issue 6383, 28 July 1882, Page 4
STRANDING OF THE S.S. INO Timaru Herald, Volume XLII, Issue 3377, 24 July 1885, Page 2
Ebb and flow of Southland history by Lloyd Esler