Since I was visiting an old family friend near Cambridge I decided to take the opportunity to veer to the west and investigate my ancestral home, a small village named Fornham All Saints just to the north of Bury St Edmunds in Suffolk.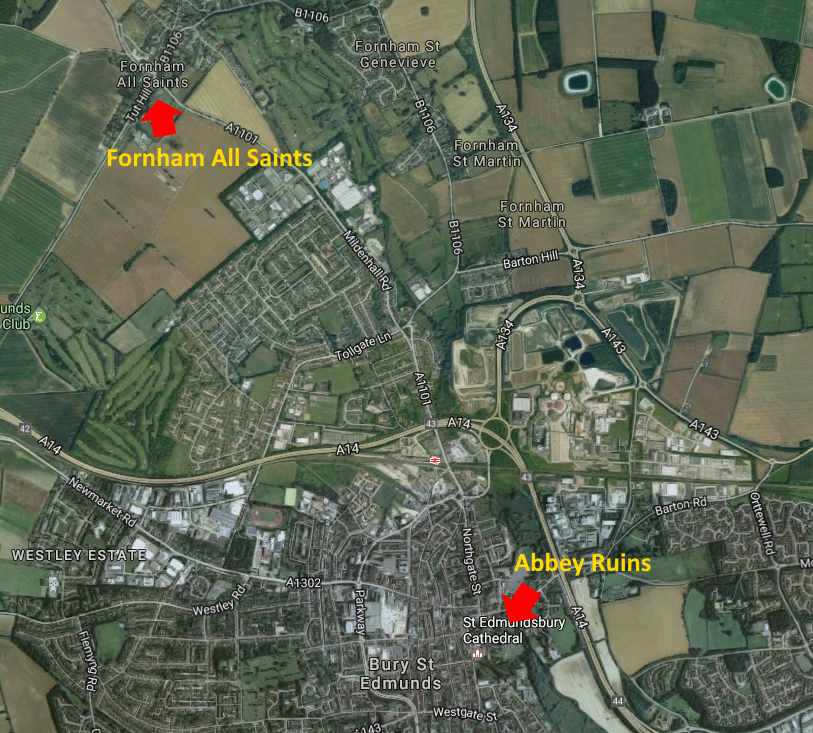 I had traced my great-great-great grandfather George Nunn and his wife Lucy nèe Emerson to this village. I knew that George was born about 1808 and Lucy about 1813 but from New Zealand had never been able to penetrate further into the past. With the help of the Suffolk record office located in Bury St Edmunds I hoped to push back the veil of the 18th century.
The first thing I noticed as I approached Bury St Edmunds was the billowing cloud of steam rising from the British Sugar factory, which was built in 1925 and so would not have been a familiar landmark to my ancestors. I parked in the Ram Meadow car park and had to cut through the park containing the remains of the Bury St Edmunds Abbey. Even though I was on a mission and needed to make the most of my limited time in Suffolk, I couldn't help but get sidetracked by the 11th century ruin of the resting place of St Edmund, once one of the largest churches in England.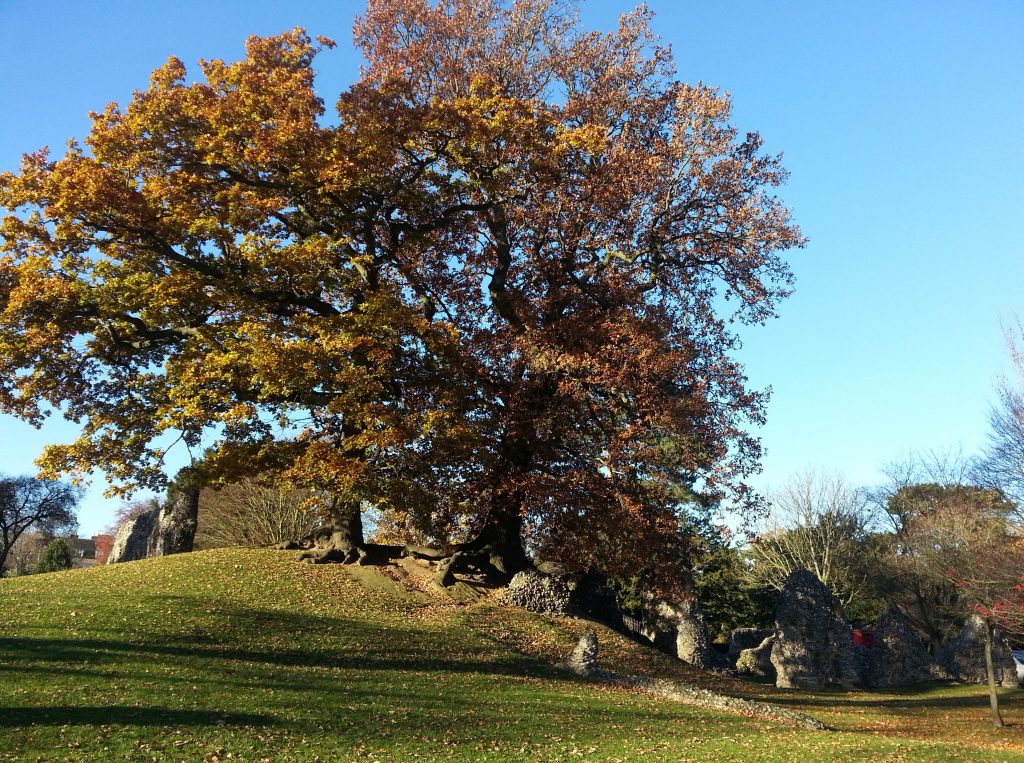 It is possible to walk amongst the ruins, past the sarcophagi of five abbots embedded in the ground and through the crypt (open to the sky now as most of the church has collapsed and been plundered for building materials since the Reformation). Climbing out of the crypt, I stood in one transept of the cross-shaped church and looked down between crumbling pillars towards the one surviving window of the transept opposite. In my mind's eye I pictured the church in its former glory.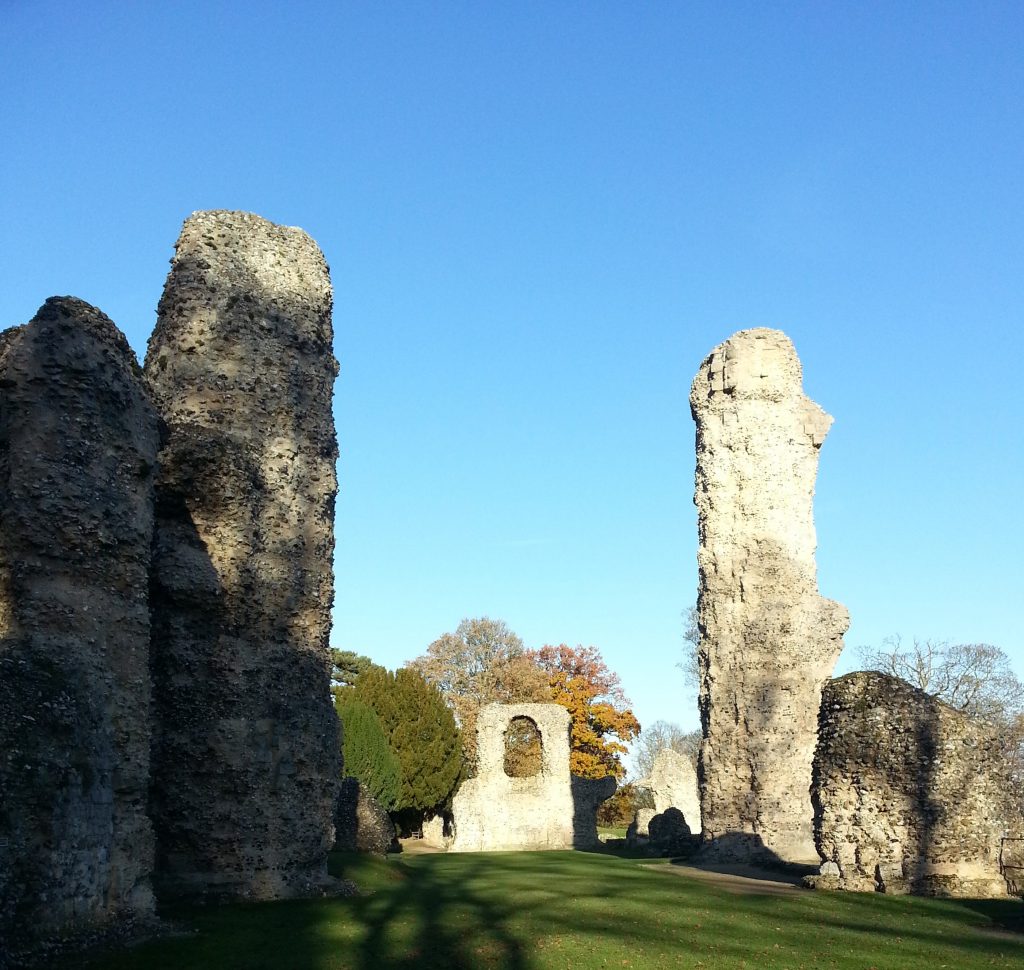 The Nunns of Fornham All Saints surely must have been familiar with this ruin at the centre of their nearest major town. Did they once stand here and marvel just as I do today? Or did the illiterate labourers from which my family sprung pay no mind to this crumbling old abbey?
Despite this site really deserving an entire article to itself, I had no further time to contemplate as I needed to cram in as much time at the record office as I could before it shut at 4pm. So I left the Abbey Gardens, cut through the St Mary's Church cemetery and entered the archive, ready to tackle the mystery of George and Lucy's parentage.
I did not have to squint at the scrawled records of Fornham All Saints Church (available on microfiche) for long before I found the following brief note: "George Nun son of Joseph and Mary bap Nov 25 1808".
As always, the solving of one mystery lead directly to another, because now I wished to identify Joseph and Mary. There was a marriage at Fornham All Saints between a Joseph Nunn and a Mary Todd in 1780, but was it likely that they produced a son 28 years later? On the other hand there was a Joseph Nunn born in 1780 to Ambrose and Elizabeth Nunn who could easily be George's father if he also married a woman named Mary.
I could not find another marriage for a Joseph Nunn in the Fornham All Saints registers, but there was a Joseph Nunn who married a Mary Jacobs in Flempton, two miles north of Fornham All Saints, on 26 October 1808. Since this was only a month before George Nunn's baptism, it invites all sorts of speculation, but might at least explain why the marriage took place in a neighbouring parish.
George doesn't appear to have any siblings with whom I can compare notes (his is the only baptism of a Nunn child in Fornham All Saints during a period of almost 50 years), unusual in a time when most couples tended to have several children in quick succession. I'll therefore continue to consider the mystery of George Nunn's parentage unsolved, despite some interesting evidence.
I had more luck with my great-great-great grandmother Lucy Emerson. I was able to find her baptism recorded on 18 April 1813, the daughter of Joseph and Sarah Emerson. I also found baptisms for her older siblings Sarah and William, and her younger siblings Joseph, William, John and Eliza. Lucy's family at least was following the expected pattern and it wasn't difficult to find the 1804 marriage of Joseph "Emison" and Sarah…Cobble, uh, Gobble? I mentally scolded the Reverend for his poor handwriting.
It was a stroke of luck that I'd saved an image of the 1841 census which included an Emerson household under the notation "possible family?" because it turned out to be Lucy's parents Joseph and Sarah along with their children Joseph, John and Eliza. This lead me to the same household in the more detailed 1851 census which gave me the couple's approximate ages and also informed me that Sarah was born in Pakenham six miles to the east – so I'd have to abandon my search for her for the time being.
 Joseph, on the other hand, was easy to find. He was baptised in 1778, the son of William and Abigail Emerson. And there in 1772 was the marriage of William Emerson and Abigail Johnson.
It was now nearing closing time so it was time for me to retire to the Best Western Priory Hotel for a bath and a good think about what I'd learned. I did begrudge the high room price but seeing as a -5C frost had been forecast for the night I decided I had no choice but to pay for a roof over my head.
True to predictions the next day dawned with a severe frost, but I had no time to huddle inside because this was the day I planned to spend around Fornham All Saints. So I scraped several layers of ice off my windscreen and headed for "home". I parked behind the Fornham All Saints church and crunched over the frosty grass to enter the cemetery.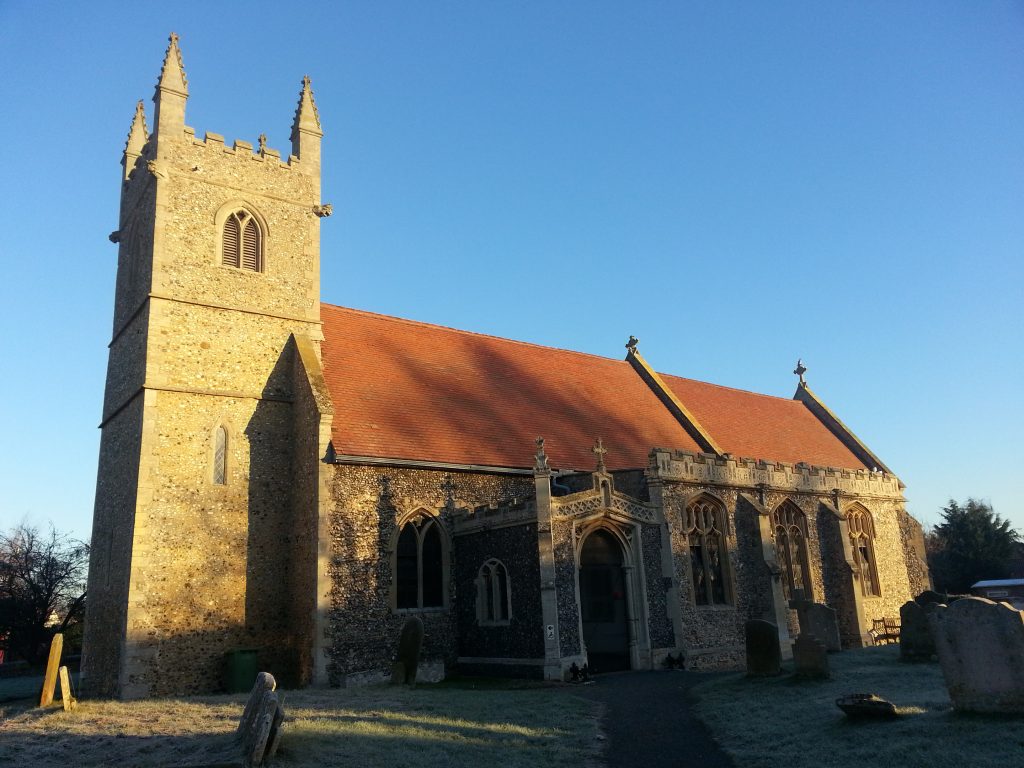 My mission now was to examine every headstone in the little cemetery for evidence that my relatives had been buried here, although I soon found that some were too time-worn or mossy to be legible. Even so, I did manage to find one of Lucy's brothers right off the bat.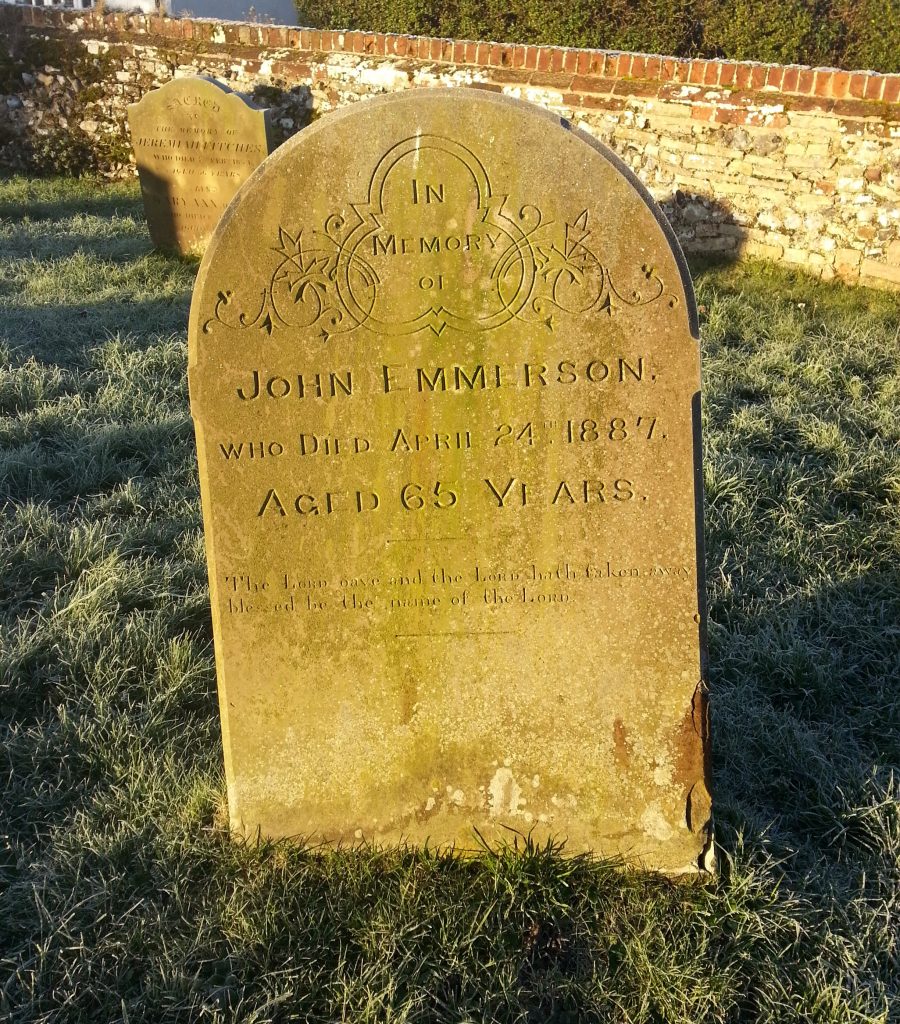 I also found John and Hannah Emerson, a couple who'd been bringing their babies in for baptism at roughly the same time as Lucy's grandparents, William and Abigail Emerson. This hinted to me that John might be William's brother, which would make him an even greater uncle of mine.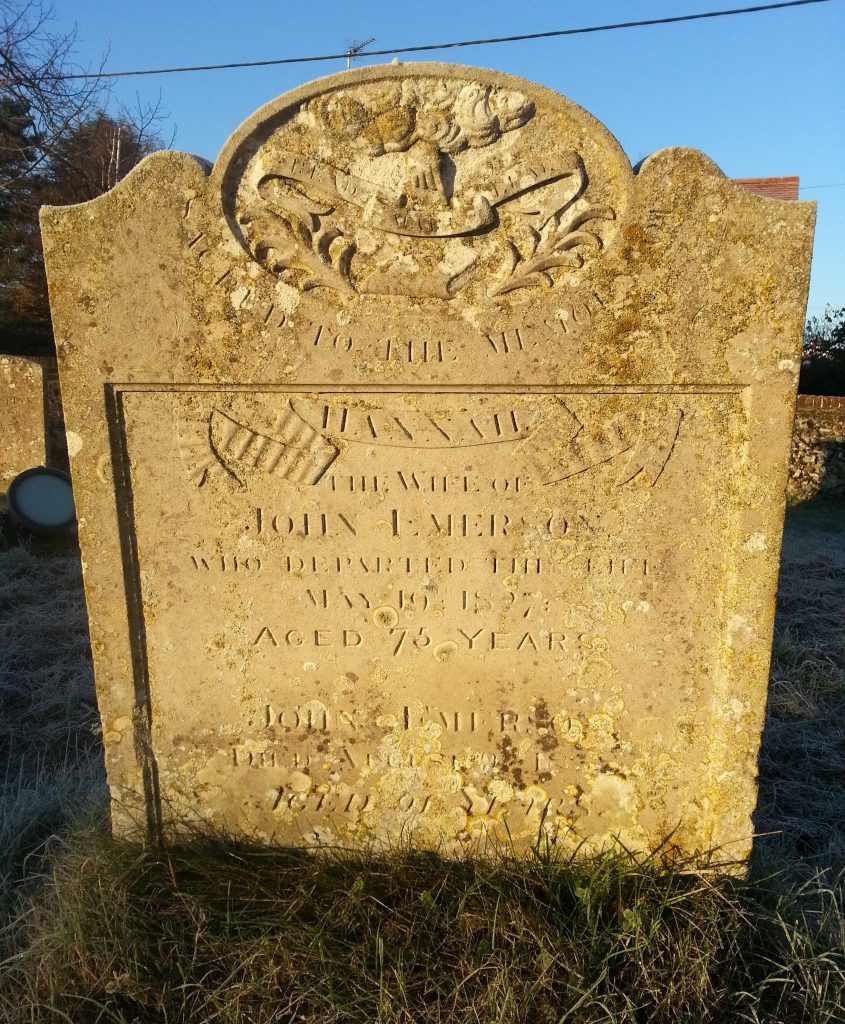 I circumnavigated the church and had just about given up on finding my own last name set in stone when I finally discovered the object of my quest tucked away in a lonely corner. I had found George's son John and another great-great-great-great uncle!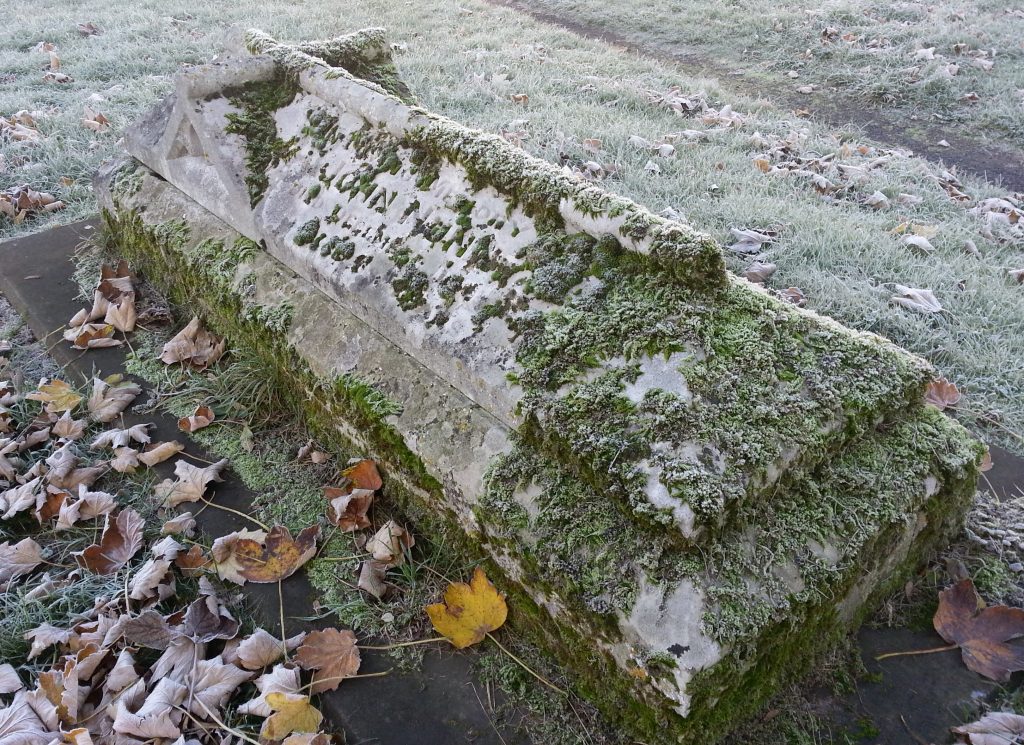 Alas I don't know who else might be buried with him – there was another inscription on the other side of the headstone, but it was too mossy to read. As I passed my hand reverently over the ancient text another living soul arrived in the yard – Julia, come to open the church before the morning's service. She kindly offered me a cup of tea and allowed me to look around the interior of Fornham All Saints Church.
I stepped into the hallowed place and stood facing the altar, as so many members of my family had done two and three hundred years before. They had come here for many reasons – some happy, like a wedding or the baptism of a child – and some tragic, like a burial for a loved one, perhaps that same child who had been baptised only a month before.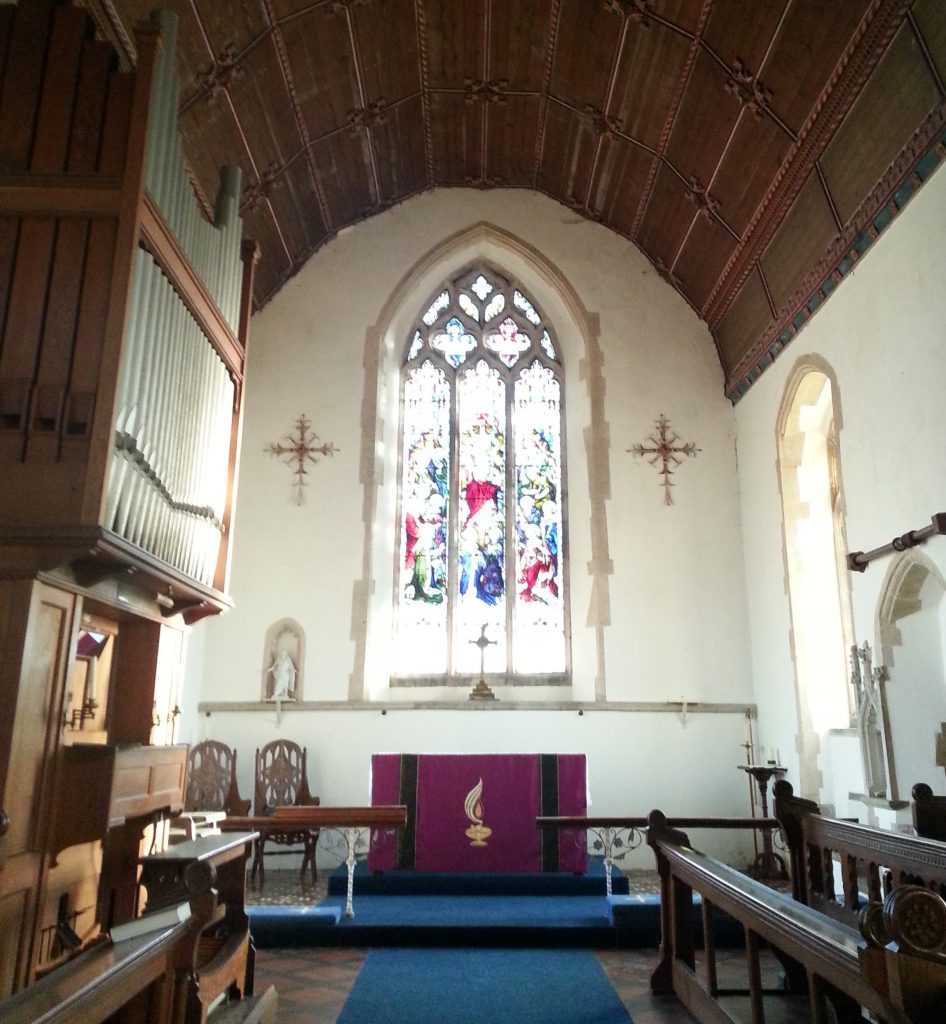 But that is only a small fragment of what this church has seen, thousands of forgotten dramas taking place in the lives of forgotten people who called this small place their own. Seven hundred years of welcoming new souls to life and farewelling the ones who passed.
Despite all this, the view I had was somewhat different to that George and Lucy Nunn might have seen. The beautiful stained glass window dates only to 1912 and the elegant timber ceiling was hidden by plaster according to a description from 1829. Words from the bible would have been painted on the walls, although they might well have been unable to read them – an unimaginable thing to a voracious reader like me!
After paying my respects I bid farewell to Julia, preparing to follow George and Lucy's story further. It wouldn't take me far, only to Fornham St Genevieve and Fornham St Martin, two more little villages clustered within close walking distance. But this post runs too long, so we'll have to wait for another day to learn the rest of the story.
References:
Fornham All Saints Church edited by Teresa Goodenough
Fornham All Saints Church Records provided by the Suffolk Record Office
Thanks to FreeCen for freely digitising some of the census records, the remainder accessed via Ancestry Library Edition