Having taken some time to recover from my unfortunate experience walking from Wye to Folkestone, I finally felt myself ready to tackle another stretch of the North Downs Way, a long walking route that supposedly traces the route of pilgrim's travelling to Canterbury to view Thomas Becket's shrine – like the group featured in The Canterbury Tales. I selected the comparatively easy 11.6km stretch from Chilham to Canterbury. I'd actually already visited the Cathedral and site of the shrine, but still felt the experience of entering the town on foot like a real pilgrim might be worthwhile.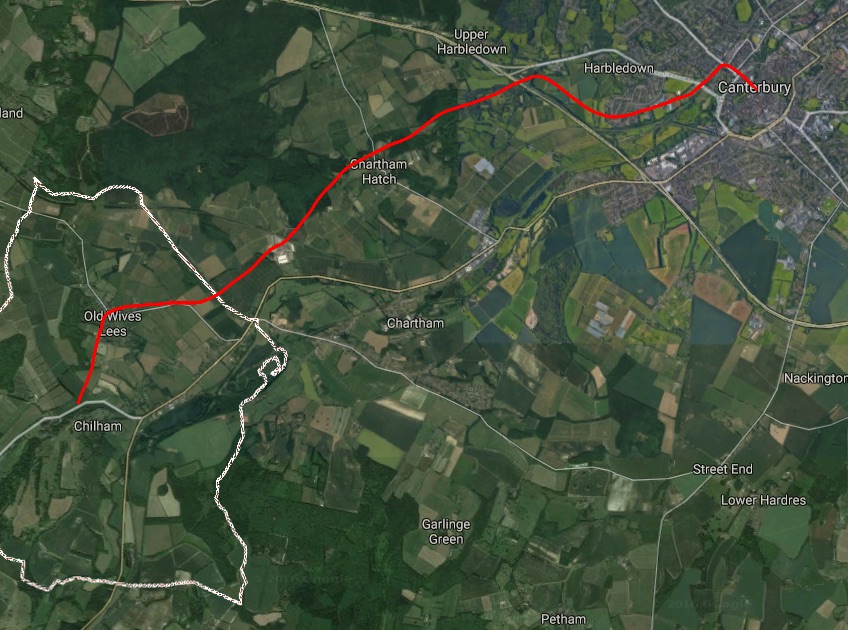 So it was on the train once again, this time disembarking at Chilham, a small village not far to the west of Canterbury. Shortly after disembarking I was distracted by the huge Bagham Barn Antiques store and had to check it out. After backing away slowly from an entire section of antique ticking clocks, I began contemplating the gifts I would purchase for my family if only I was more wealthy. Would my mother like a Victorian sewing box? My father an inlaid writing desk?
Then I turned a corner and discovered an entire room of books, mostly local history and reasonably priced too! I loaded up on some reading material, hoping the extra burden wouldn't be too much for me on my journey.
Books safely stashed in my satchel, I headed out to try to find the start point of the trail.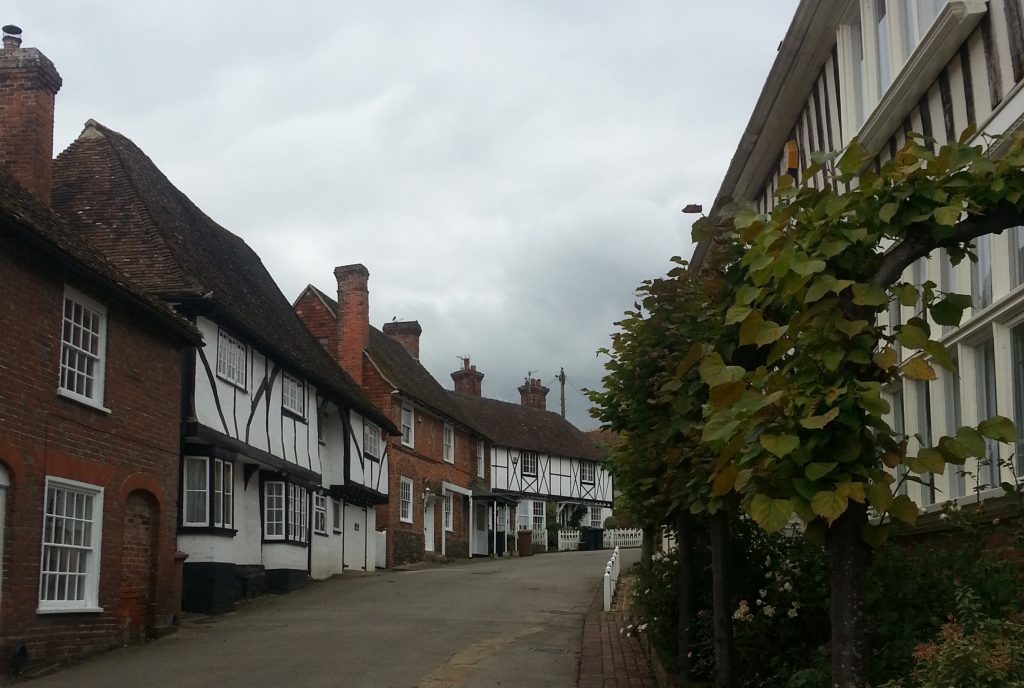 Chilham is a very picturesque old-fashioned English village, so much so that it has been the location for filming many period movies including an adaptation of Jane Austen's Emma. Up the hill in the village square I noticed an imposing gate which turned out to lead on to the grounds of Chilham Castle.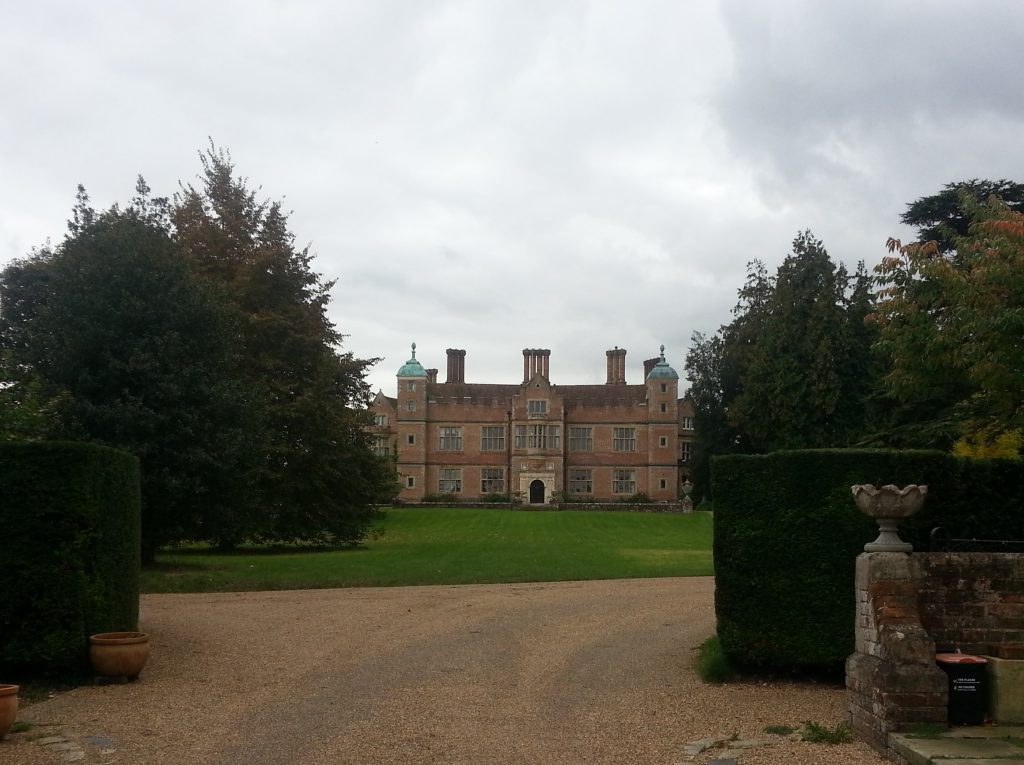 The visible façade dates from 1616 but there's a keep tucked in behind it somewhere that harks back to 1174. Also not apparent from the gate is the fact that it is built along a hexagonal plan and therefore actually much larger than the view suggests – this was only one of five equally sized sections of the building (the sixth having been left open). The castle is still in private use (and I have to give props to the man who owned it from 1949 until 1992 – John Clotworthy Talbot Foster Whyte-Melville-Skeffington, 13th Viscount Massereene – for having the most incredible English gentry name ever), but a sign by the gate advertised a scheduled open day for the grounds.
Since I could approach no closer to the intriguing castle, I finally found the North Downs Way which lead me directly into the grounds of St Mary's Church and provided yet another distraction. Sure, I'll start walking eventually but first I'm going to check this church out.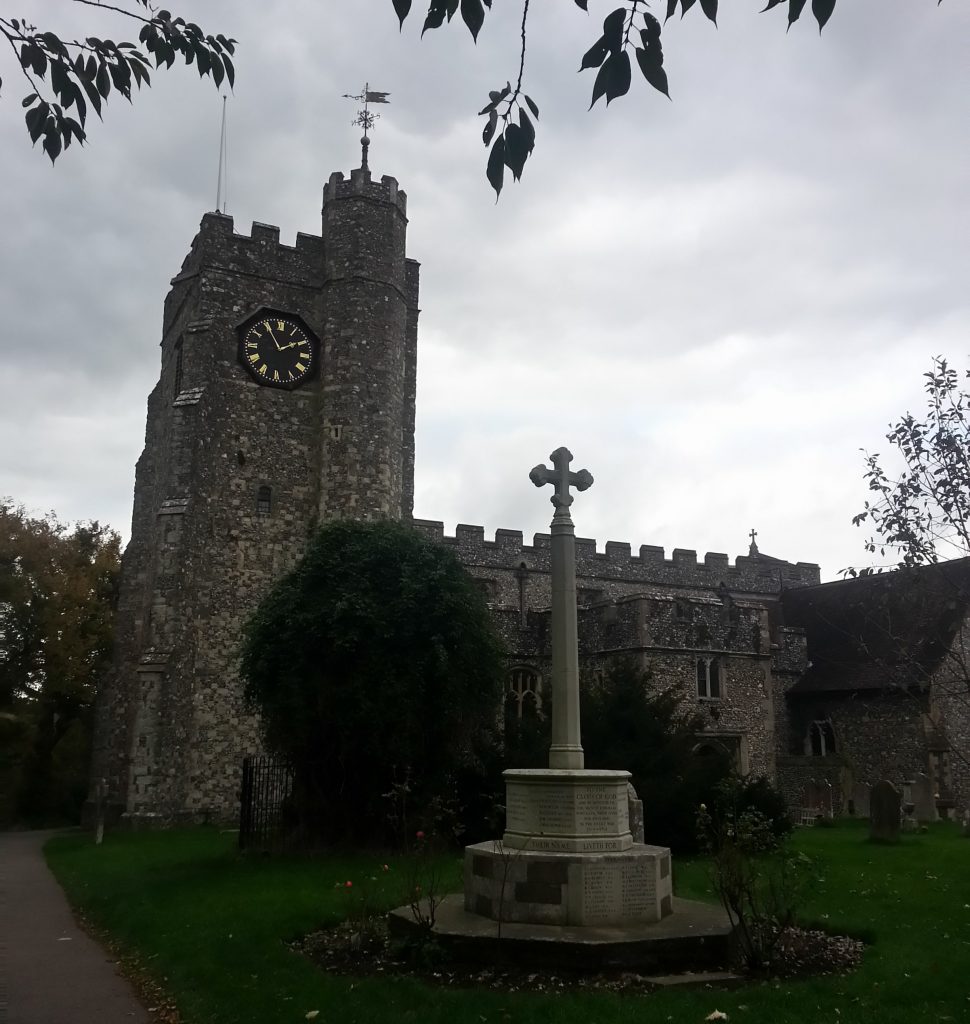 The headstones include one for Sarah Miller, the wife of the steward of Chilham castle. Inside I discovered a conveniently provided paddle with information on it that I could carry as I wandered around the place. First I passed the memorial to Lady Margaret Palmer, sister of Dudley Digges, first owner of Chilham Castle.
Under one of the 15th century stained-glass windows is a sculpture of "The Hardy Children", seven-year-old Arthur Bainbridge and five-year-old John Edmund, sons of Charles Hardy who bought the Chilham Castle estate in 1861. They both died of scarlet fever in 1858, while the family still lived in Yorkshire, Arthur passing only a day before his younger brother. We've already heard the story of the Sutherland family, who twelve years later would lose four of their children the same way in a small town on the other side of the world.
These days, a few antibiotics will quickly solve the problem – at least, as long as our antibiotics continue to work!
Nearby is the "St Augustine Sarcophagus", excavated from under the transept in 1860. Since it has the Canterbury Archiepiscopal staff on its lid, it was thought to be St Augustine's coffin, but when it was cracked open no bones were found within. The mystery of the empty sarcophagus remains unsolved.
Next to the enigmatic sarcophagus is a monument to the memory of James Beckford Wildman, yet another lord of Chilham Castle. The Wildmans owed their wealth to plantation holdings in Jamaica, staffed by slaves. Wildman actually supported the end of slavery and the sign next to the monument states that as a consequence of setting his slaves free his wealth was lost and his family lost the castle. If this is true, then he was a rare kind of person who placed morals above personal gain.
Wildman also courted a niece of Jane Austen, although the romance ultimately went nowhere.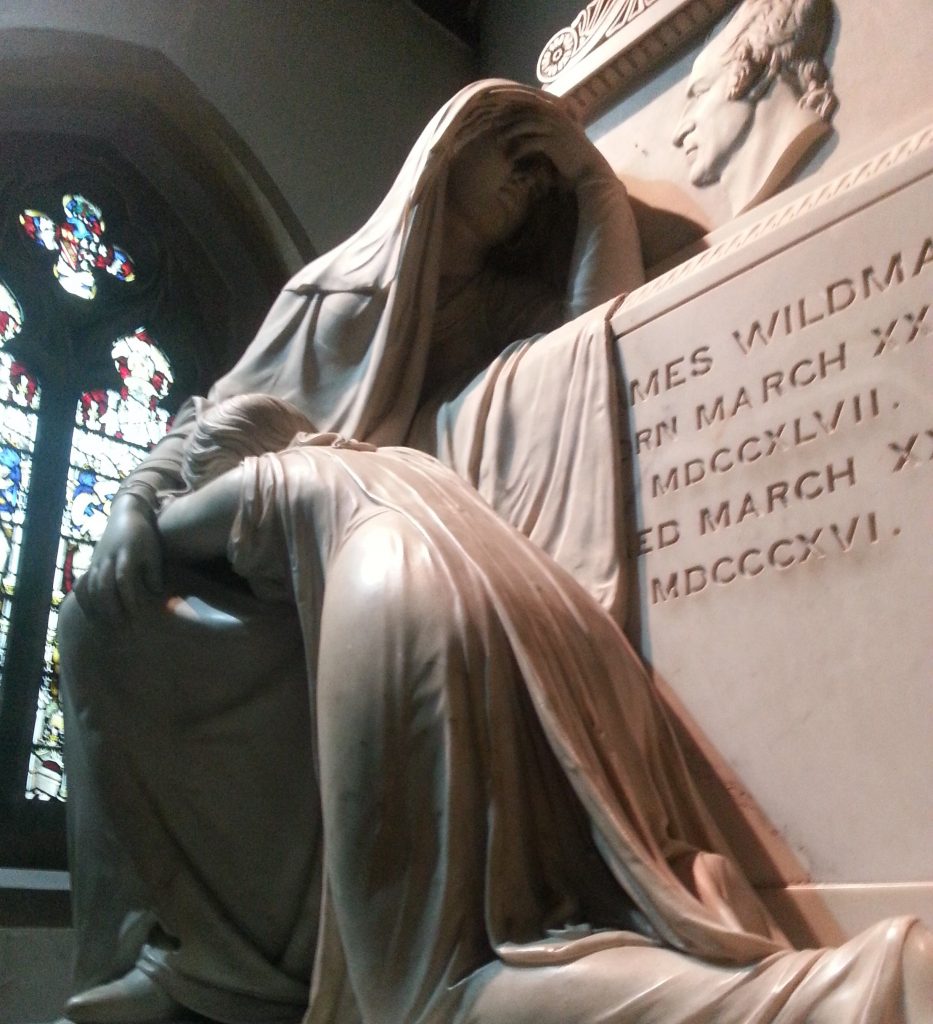 Past the altar is the 1631 monument to the aforementioned Digges family, beneath which Dudley and several of his family members are interred. At each corner sit the four cardinal virtues.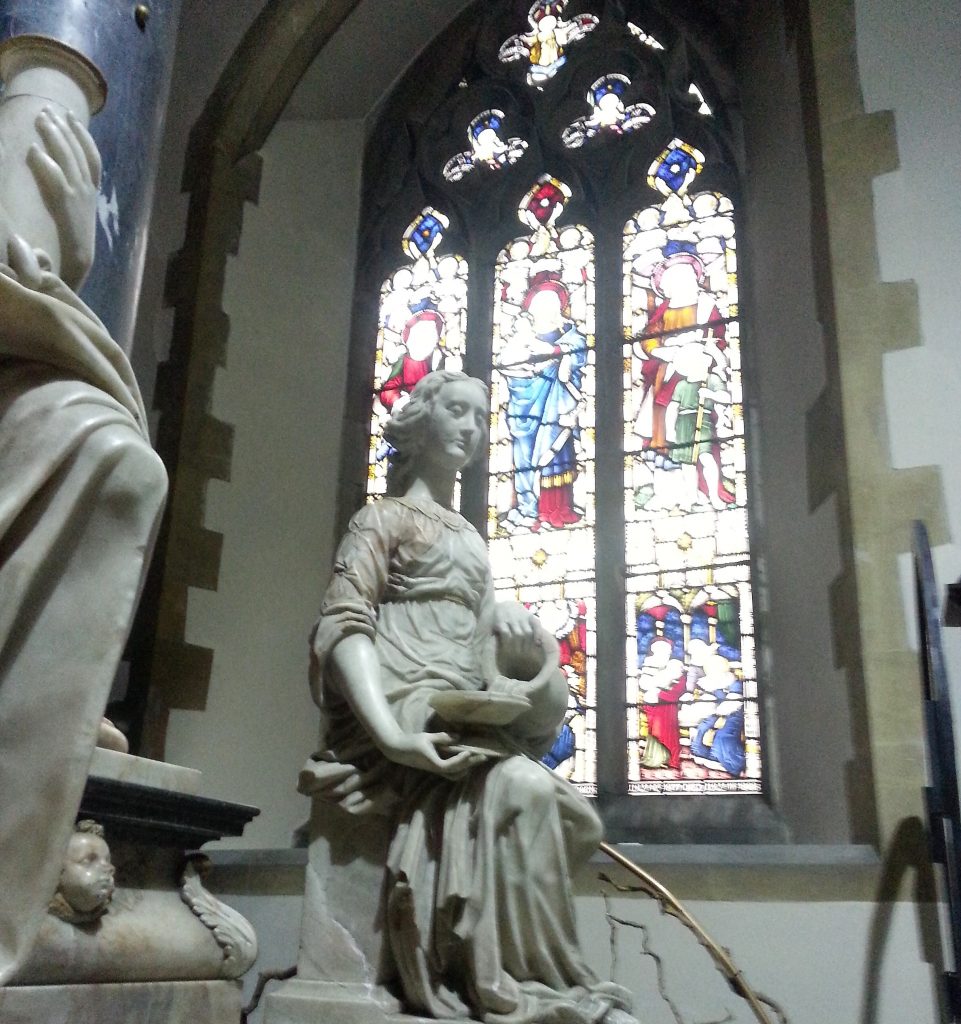 But most incredible to me is a large solid table near the entry to the church, covered in many scratchings. This table was part of Chilham's first school, held in the Priest's Chamber, and the oldest date scratched into it is 1755. Below, one of the crossbars has been worn down by the feet of many schoolmasters. This table is still used by children today and represents more than 250 years of continuous learning.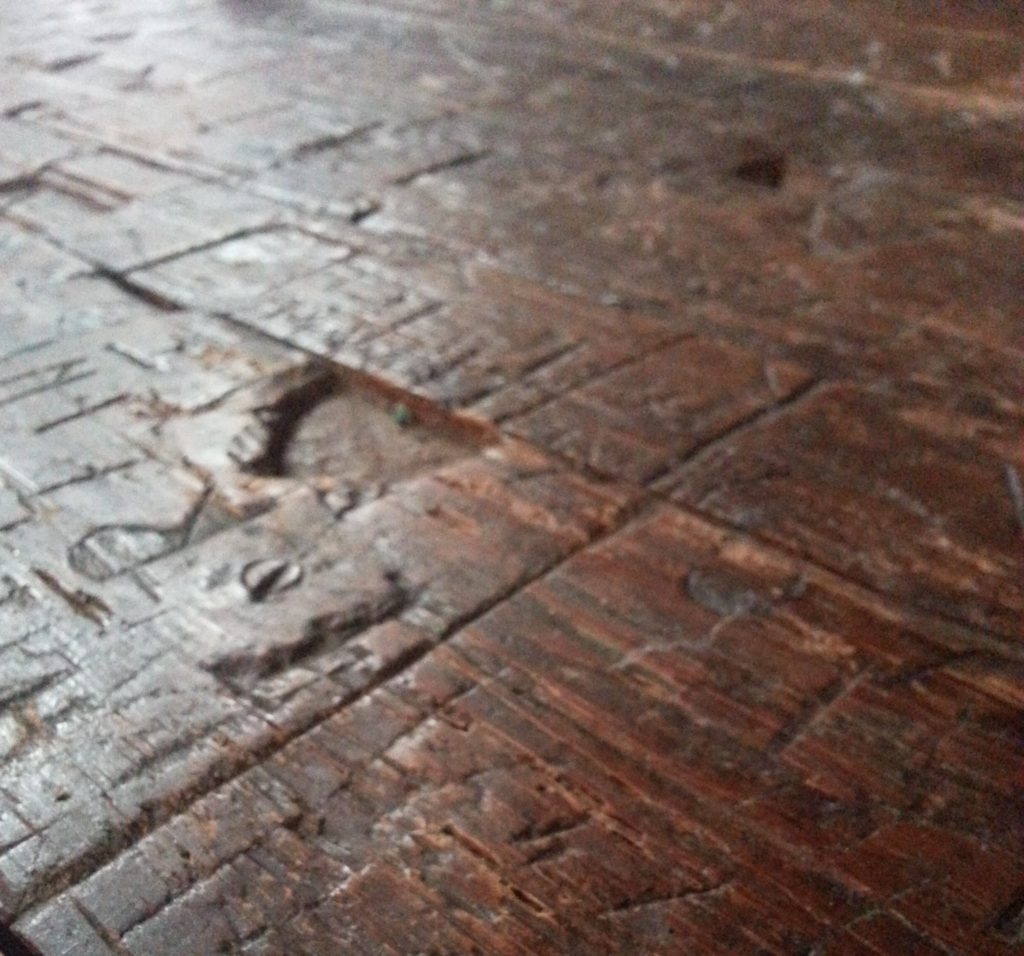 Okay, enough with the distractions because I really need to get on the road. I don't want to end up wandering around in the dark again. Leaving the church I headed out of Chilham along a narrow lane which took me through the nearby village of Old Wives Lees. As a relatively recent development there wasn't a great deal to see so I managed to pass by without any further tangents.
The track then brought me through another hedge tunnel and out into the kind of Kentish farmland I've been growing used to.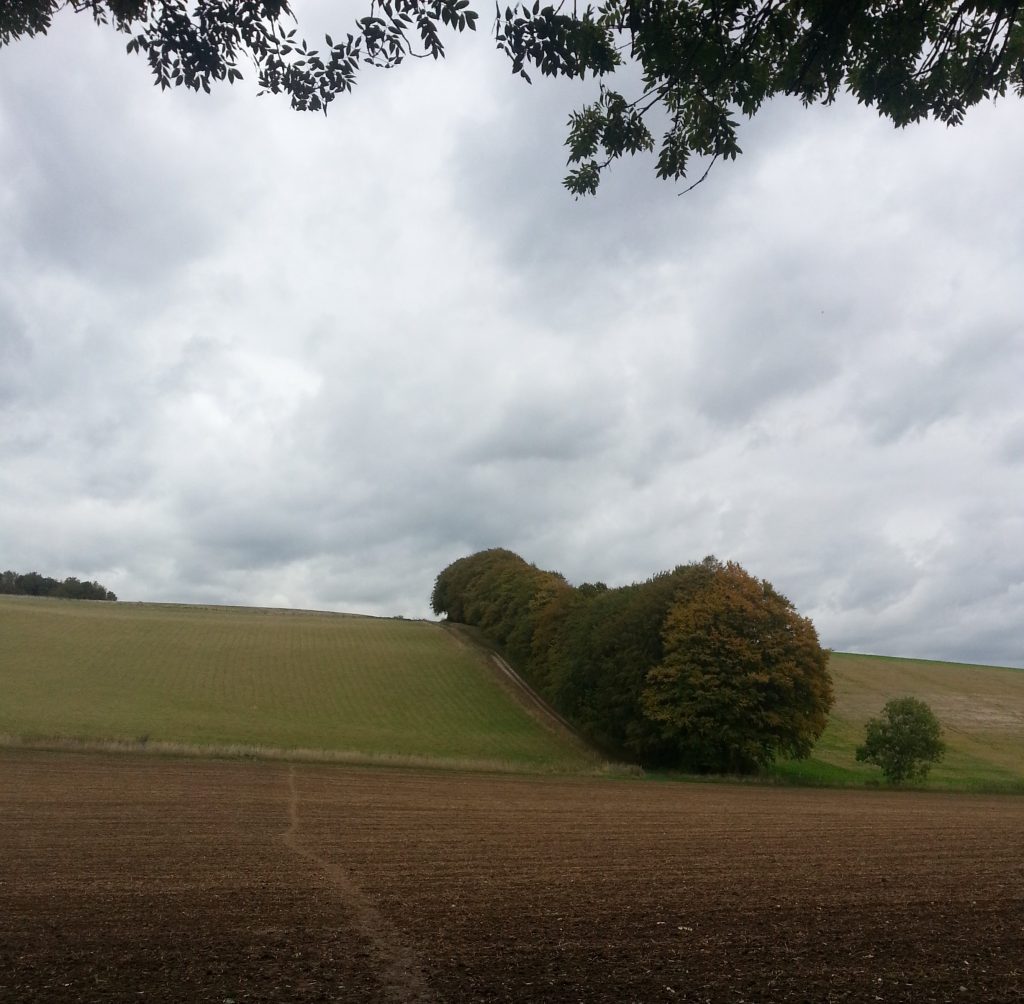 However this didn't last long and I soon found myself passing between hundreds of rows of young apple trees in full fruit. The air was filled with the smell of fermenting fallen fruit and I was somewhat tempted to sample the produce, but decided that it would be a breach of the country code to steal apples from what was clearly a commercial enterprise.
I also managed to find a pair of magpie inkcaps at the edge of a nearby wood, a fairly rare fungus in England. They are reported to be poisonous so I won't be sampling them either.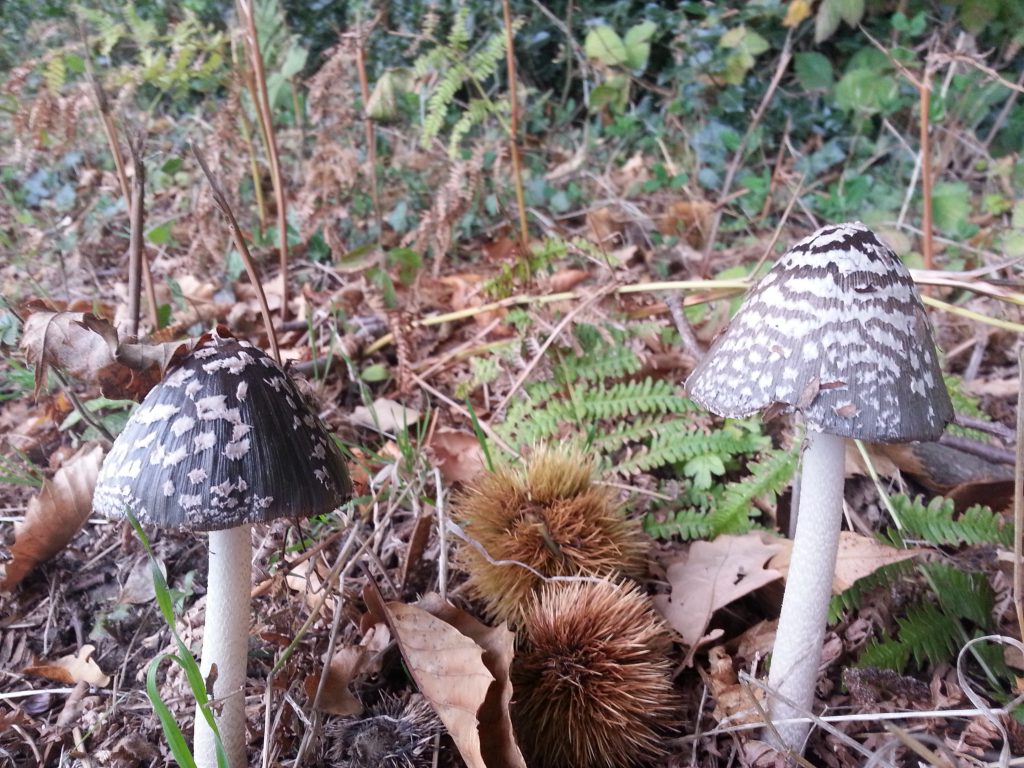 On the way into the next village, Chartham Hatch, I passed the 19th century Chapter Arms pub with its unusual inclusion of the coat of arms of the Chapter and Dean of Canterbury Cathedral on its sign. This is possibly in reference to the fact that the Cathedral once owned a lot of land around here. It didn't seem to be open so I couldn't stop in and end up in a Canterbury Tales situation, which is possibly for the best since I'm not too good at thinking up stories from the top of my head.
I passed quickly through the village and into a wood where I espied beyond a tall wire fence what appeared to be a pair of reindeer. I struggled to zoom my camera in far enough to get a shot of them – until they noticed me and immediately wandered over to check me out, which was the opposite of what I'd expected them to do.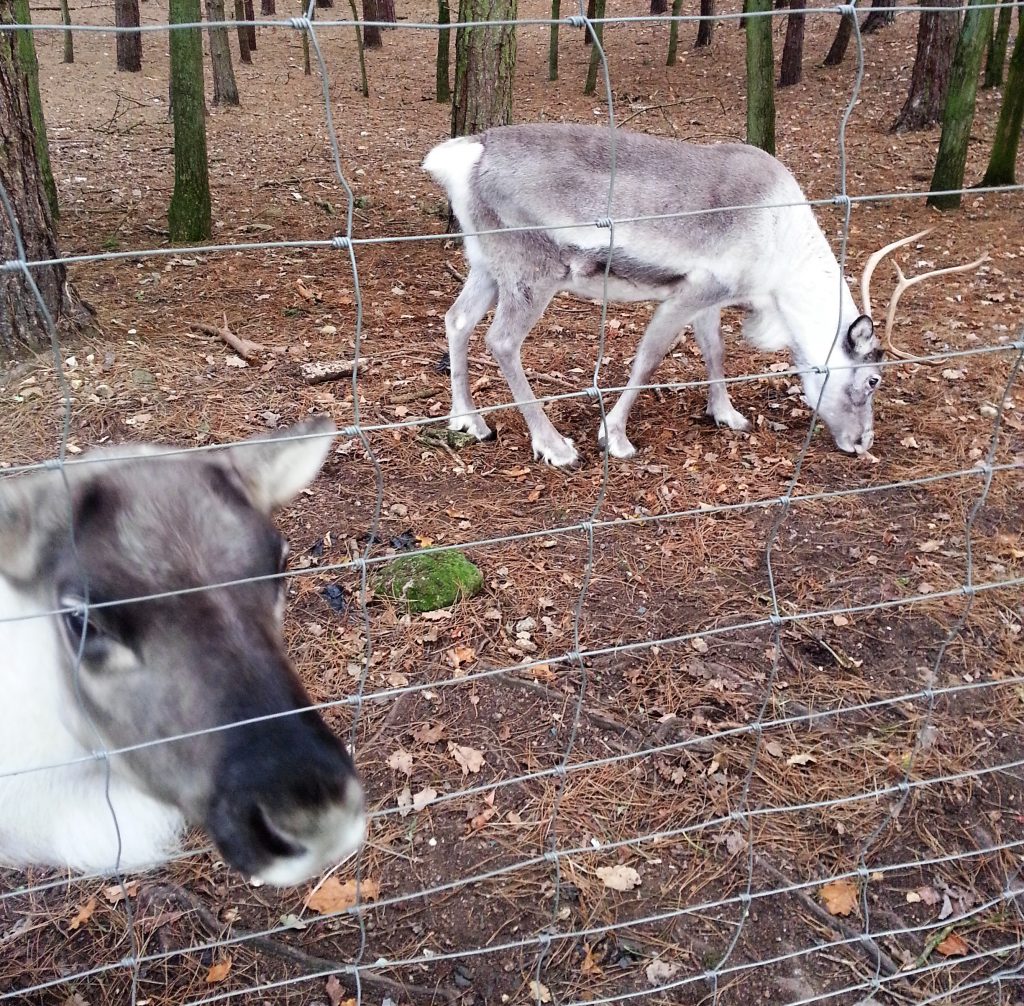 Then I emerged from the wood into No Man's Orchard, a traditional community orchard dating back to 1947 and containing some of the largest apple trees in the Canterbury district. As older trees die they are left in place to provide a habitat for beetles and fungi and eventually replaced with new trees belonging to rare heritage breeds.
I passed through the thick twisted trees, heavily laden with fruit, and decided that now was the time to sample one of these delicious Kentish products (being community property). I picked a fallen apple up from the ground and took a juicy bite, then almost choked on it as I stumbled across a snake in the grass…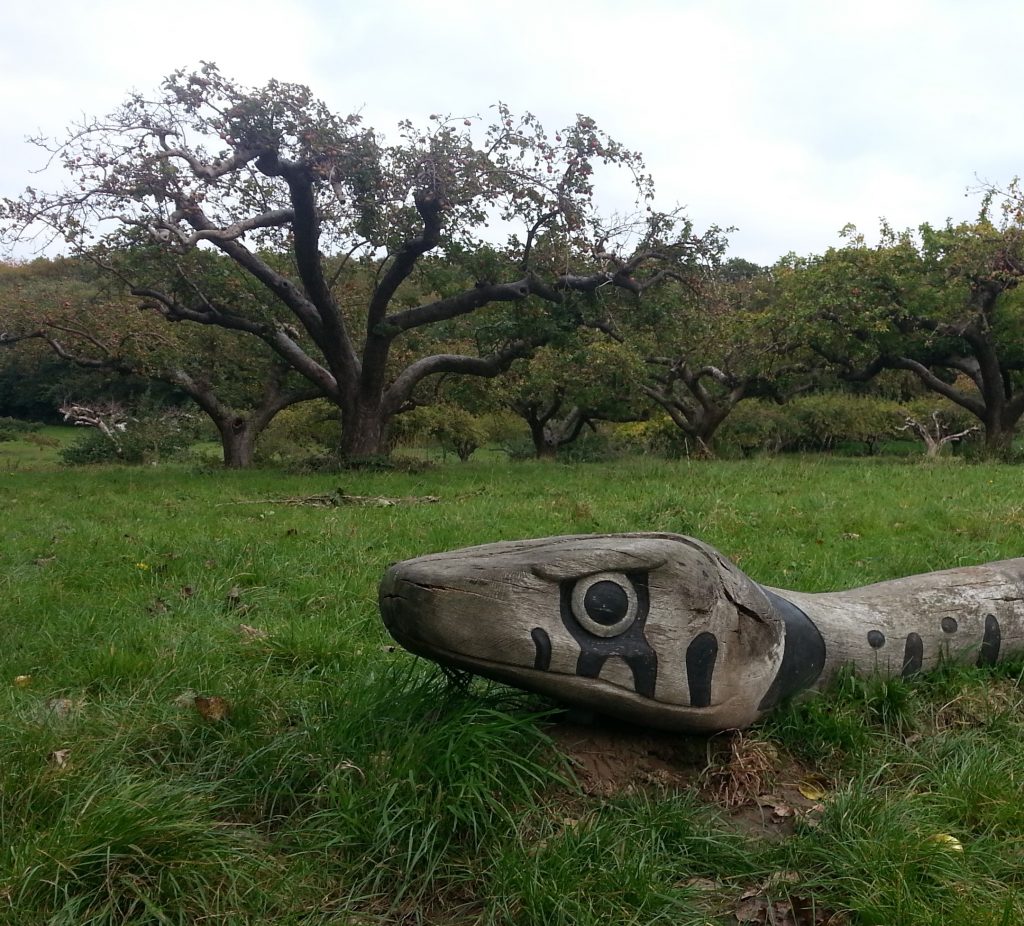 Having escaped the vicious sculpture, I passed back out into Howfield Wood where the trees have been coppiced – a traditional system of woodland management in which the trees are cut so that they can regrow as multiple stems. They can later be cut again. This once again brought back to me the vast difference between wilderness management in England and in New Zealand – here there seems to be a symbiosis of man and nature whereas back home the wild is untamed and managing it basically involves trying to keep human influence away from it.
But England has played host to human beings basically since they first existed, whereas New Zealand was one of the last places in the world to become inhabited.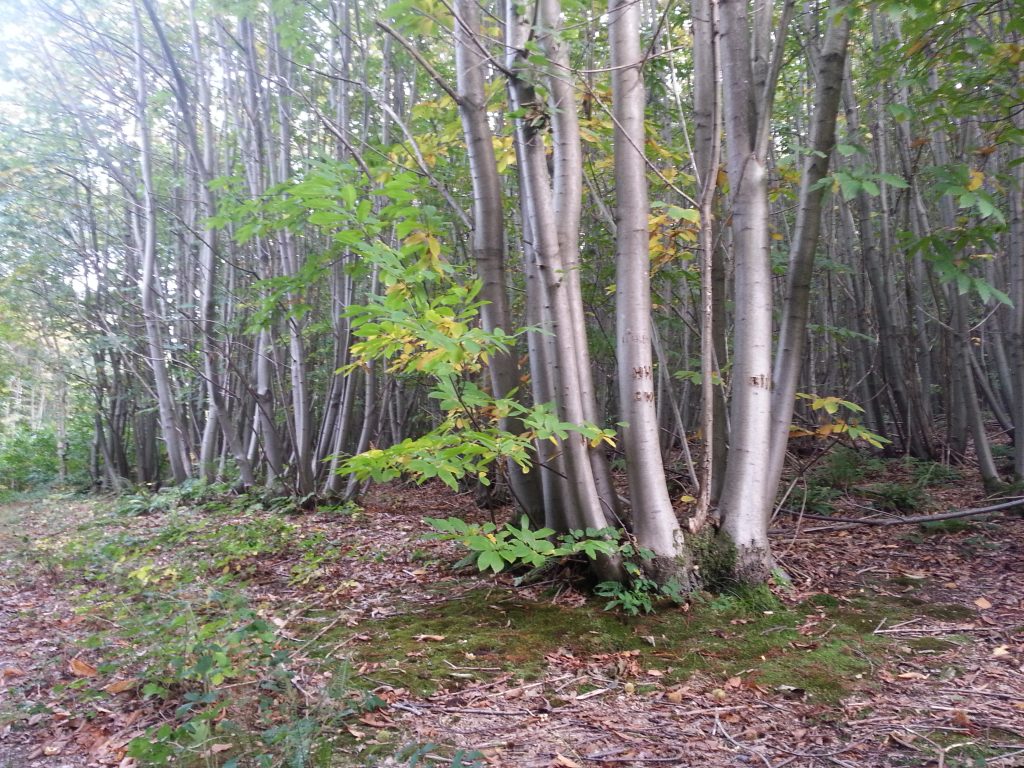 Beyond Howlfield Wood is Bigbury Camp, the site of an iron age hill fort once inhabited by pre-Roman native tribes. It's thought that this is where Julius Caesar had his first victory here against the native forces here in 54BC. What remains now are the defensive earthworks and little else – they are kept tidy by a flock of black sheep.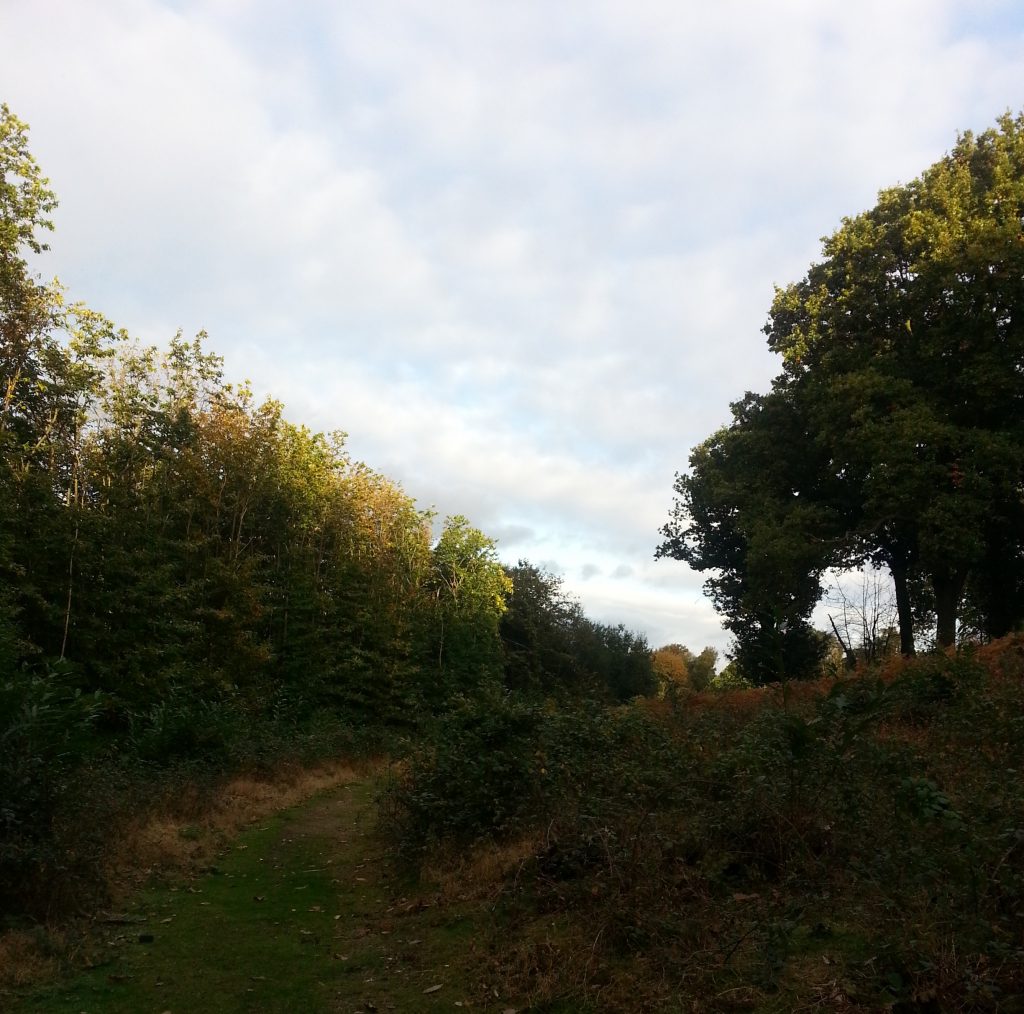 I passed through the ancient settlement in the golden afternoon light and back into the woods for my last stretch before I entered the outskirts of Canterbury town. Before I knew it I was approaching the Westgate, a gate house dating to 1379 which marks the boundary to the ancient town. Today it provides a narrow passage for traffic to pass through.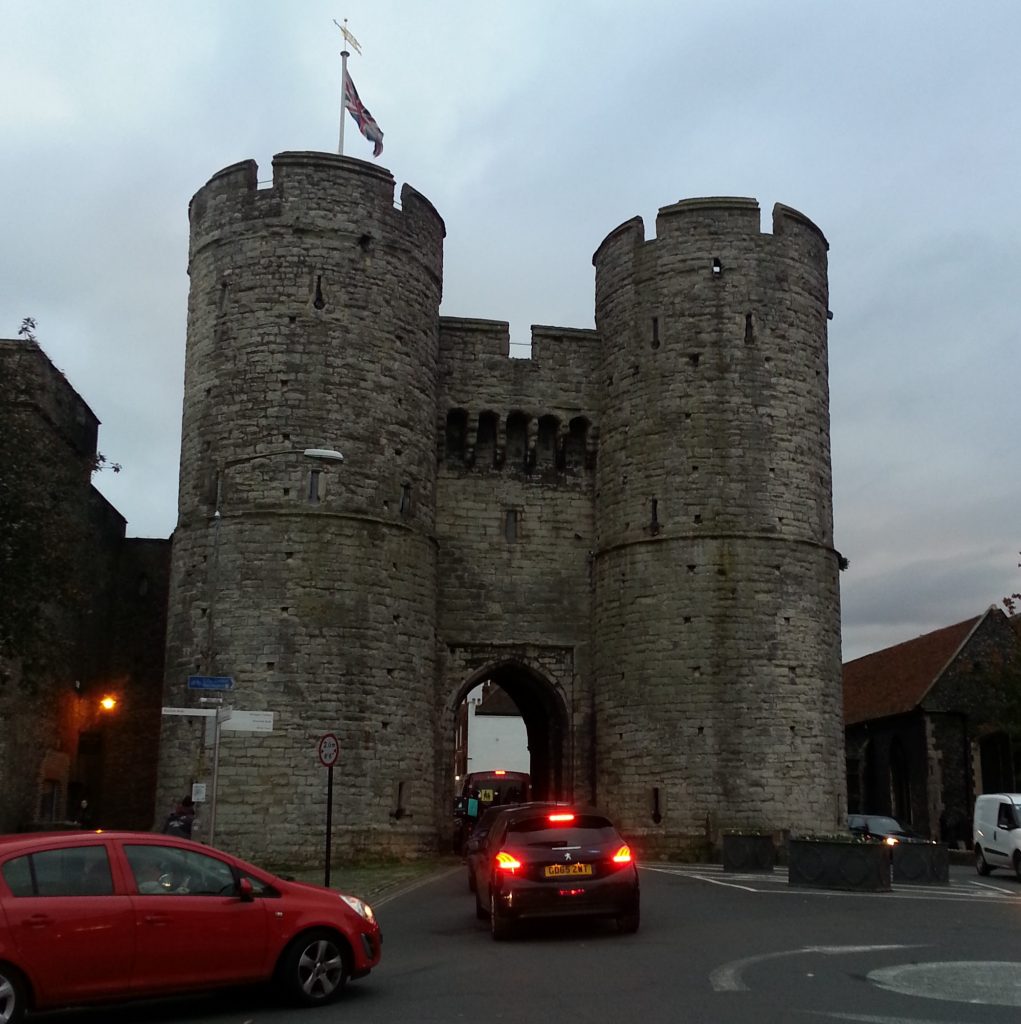 I entered the old town and strutted triumphantly down Saint Peter's Street. As usual, it smelled delicious, with assorted food trucks and restaurants lining the way. However I had dinner waiting for me at home, so I hurried my pace to the bus stop for the ride home.
It had been a good day, filled with my favourite things – a castle, a church with mysterious history, some interesting fungi and an ancient settlement. I'd also avoided the usual scourge of sore feet and hadn't got lost once.
So I patted myself on the back as the sun set over Canterbury Cathedral and I chugged towards home.
References: