I'd long heard rumours about a hidden tunnel tucked away in my home suburb of Caversham, but its location has always been a mystery to me. A secret right on my doorstep, slowly driving me mad!
With the help of the Dunedin Tunnels Trail Trust's website, I've finally found it!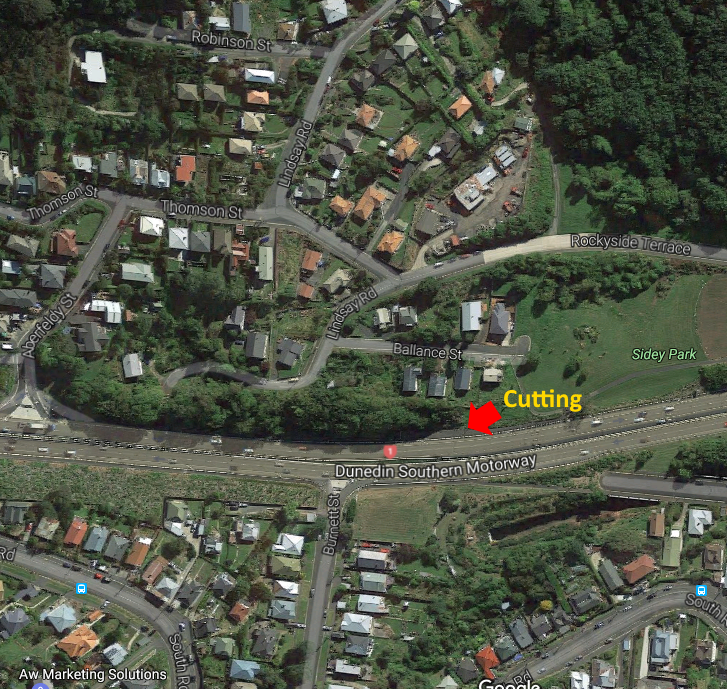 Start from the Barnes Dr intersection, on the Lookout Point side. Walk through the park alongside the southbound motorway. Once the path brings you out of the park and on to the footpath, you should see a wooden fence with some bush nearby and an easily-missable entry point to the cutting.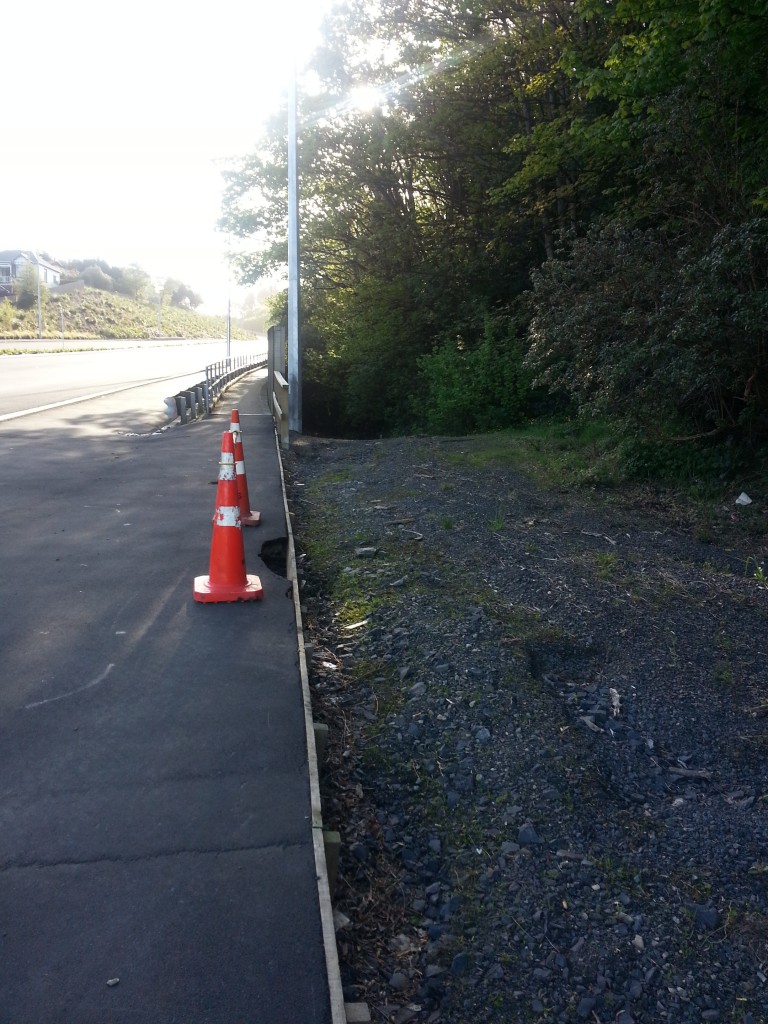 I headed down into the gloom. Almost instantly the sound of the traffic became muffled. Passing a small building, which is apparently a sewerage pump house (ew), I was able to see to the end of the deep straight cutting. And yes! There it was! The legendary hidden tunnel of Caversham!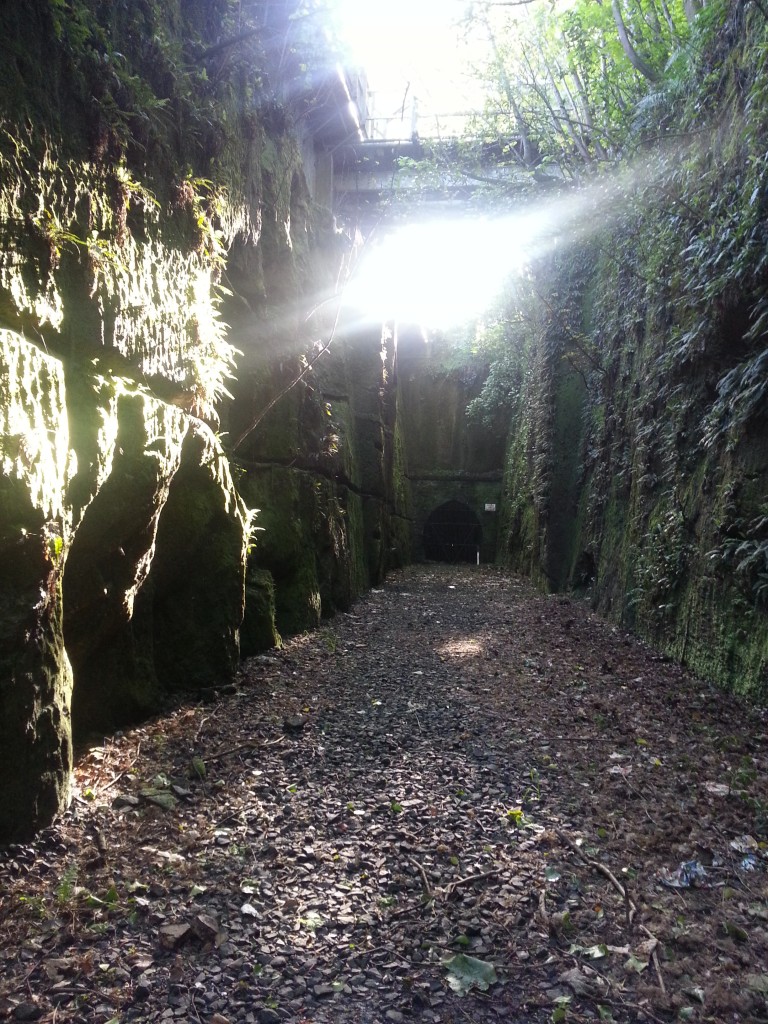 Excavation for the tunnel began at the Kaikorai Valley end on 21 September 1871, and from Caversham on 13 March 1872, with both sides meeting on 21 September 1872. Its total length is 865 metres, cut through solid sandstone. The tunnel was in use until 1910 when a replacement dual-line tunnel was built nearby.
I proceeded slowly along the gully. The walls of the cutting were coated with bright green moss, and various ferns and vines hung down from above. If I stopped and waited for a lull in the traffic, I could hear the steady dripping of water as it trickled down the walls.
The tunnel itself is locked by a barred gate, and squinting into the darkness I could barely see a pinprick of light at the far end.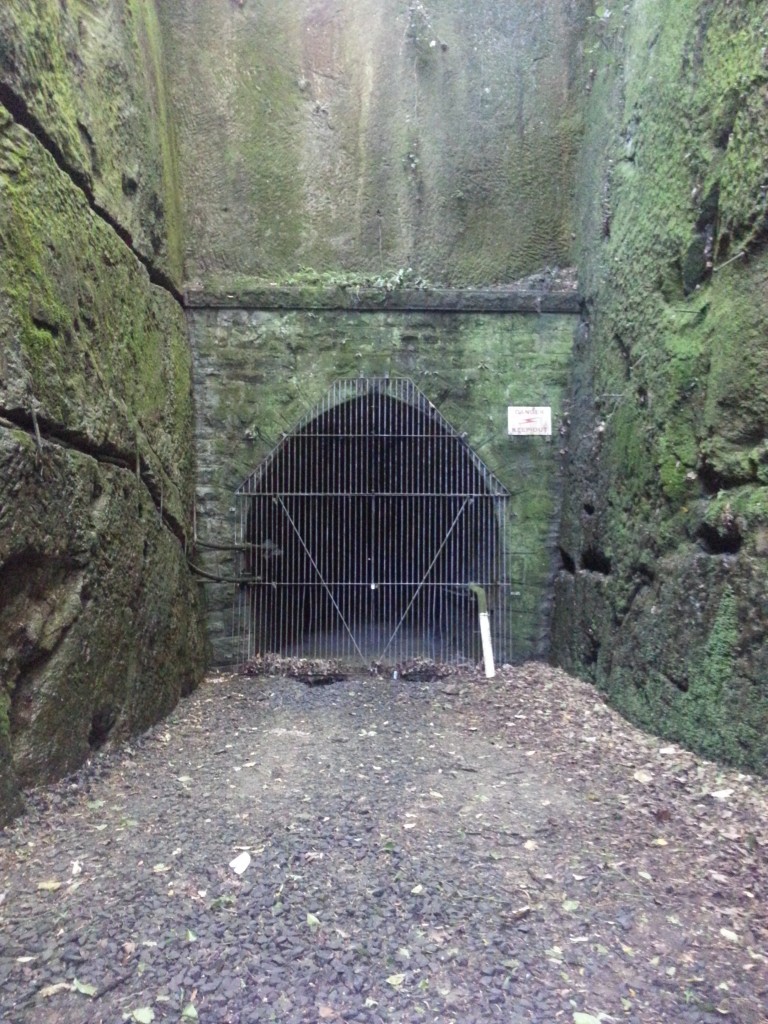 The experience is already a little bit creepy, and gets much creepier when you realise this tunnel has been the scene of at least three deaths. In 1876, a Green Island police Constable called Henry Vernon was hit by a train while walking through the tunnel. Then in 1897, a 60-year-old farmer named Kenneth Kennedy supposedly fell from a train while it was passing through. And finally in 1900 a 26-year-old assistant guard named Robert Burns slipped from a train in the darkness while moving between carriages.
Continuing its reign of terror, the vengeful (and now unused) Caversham Tunnel proceeded to flood the neighbourhood in 1923 and 1929, funnelling the waters of the overflowing Kaikorai Stream directly on to the large flat expanse of land that makes up South Dunedin.
During the Second World War, it was converted for use as an air raid shelter.
Nowadays it stands locked and empty, but the aforementioned Dunedin Tunnels Trail Trust would like to see it reopened as a walking and cycle track. I'd be delighted to see that happen!
After staring into the gloom for some time, I decided to make my way back to the bustle of the bright sunny overworld, leaving Caversham's secret behind.