Having battled aching feet to complete my first section of ancient pilgrimage trail the Via Francigena, I decided it was time to make my attempt on another stretch – officially the first leg – from Canterbury to Shepherdswell, a whole 4km or 2 miles longer than my previous challenge. It was from Canterbury that Sigeric the Serious set out in about AD990, and once I'd done it I'd have completed the entire English section of the trail.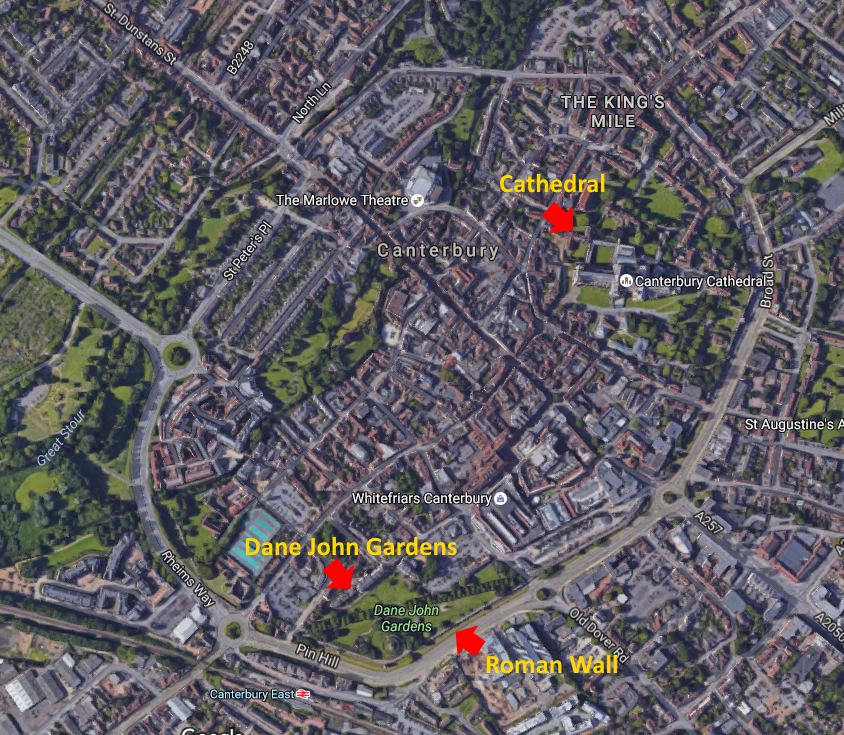 It was from Dover that I set out, taking the train north to Canterbury and paying the extra 10p to convert my ticket to a return so that I'd be able to get back home from Shepherdswell which is on the same route. Disembarking, I found myself walking along the top of Canterbury's old Roman wall as I made my way towards the cathedral, because in this country a casual walk across the city can involve treading the ramparts of 1700-year-old fortifications.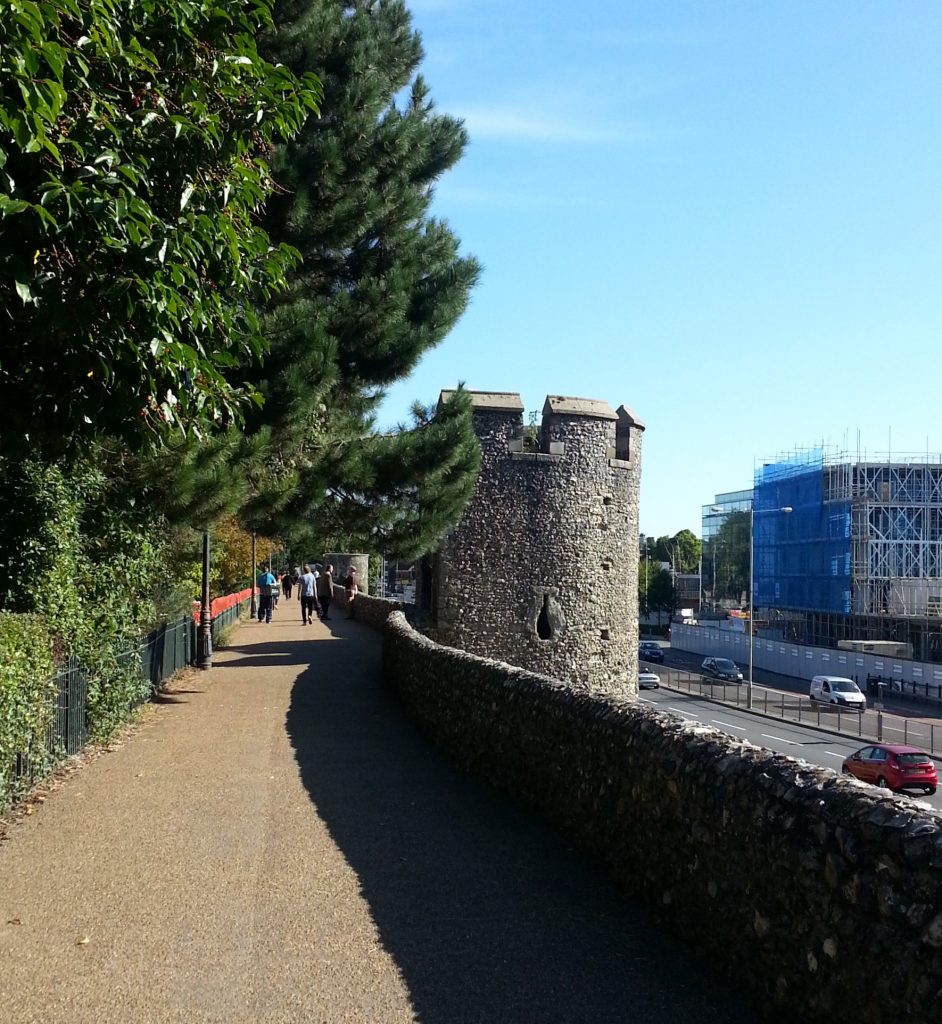 It was here, before my pilgrimage had even truly begun, that I experienced my first temptation of the flesh. Because down below in the Dane John Gardens the Canterbury Food and Drink Festival was in full swing. I quickly headed down to investigate and as I found myself surrounded by ostrich burgers and artisan whiskies I strongly considered staying and making a day of it.
But Sigeric the Serious's disapproving spirit loomed large in my mind. How could I ever expect to make it to Rome if I let myself get distracted by every ostrich burger that came along? So I settled for purchasing a litre of Kentish strawberry cider and four small cold pork pies as sustenance for my journey – appropriate victuals for a pilgrim.
I continued (slightly reluctantly) towards Canterbury Cathedral. The town itself has a quaint artsy vibe, with medieval-looking buildings and old-fashioned pubs festooned with hanging hops.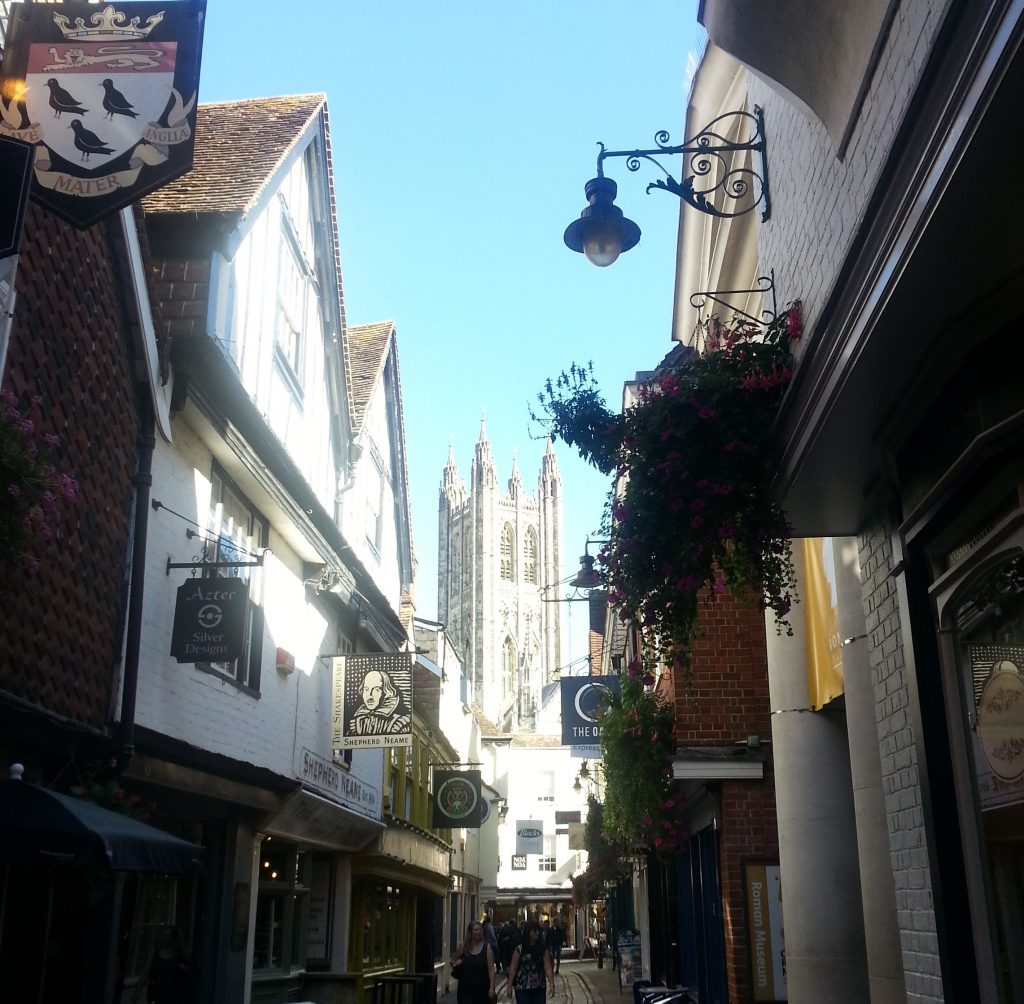 Soon I found myself before the gate to the Cathedral. Entry was £12, which a nearby sign explained was to help defray the £18500 per day cost of maintaining and running the site. I figured I should probably go in, since not only was it the start point for my pilgrimage but also a UNESCO World Heritage Site in combination with St Augustine's Abbey and St Martin's Church.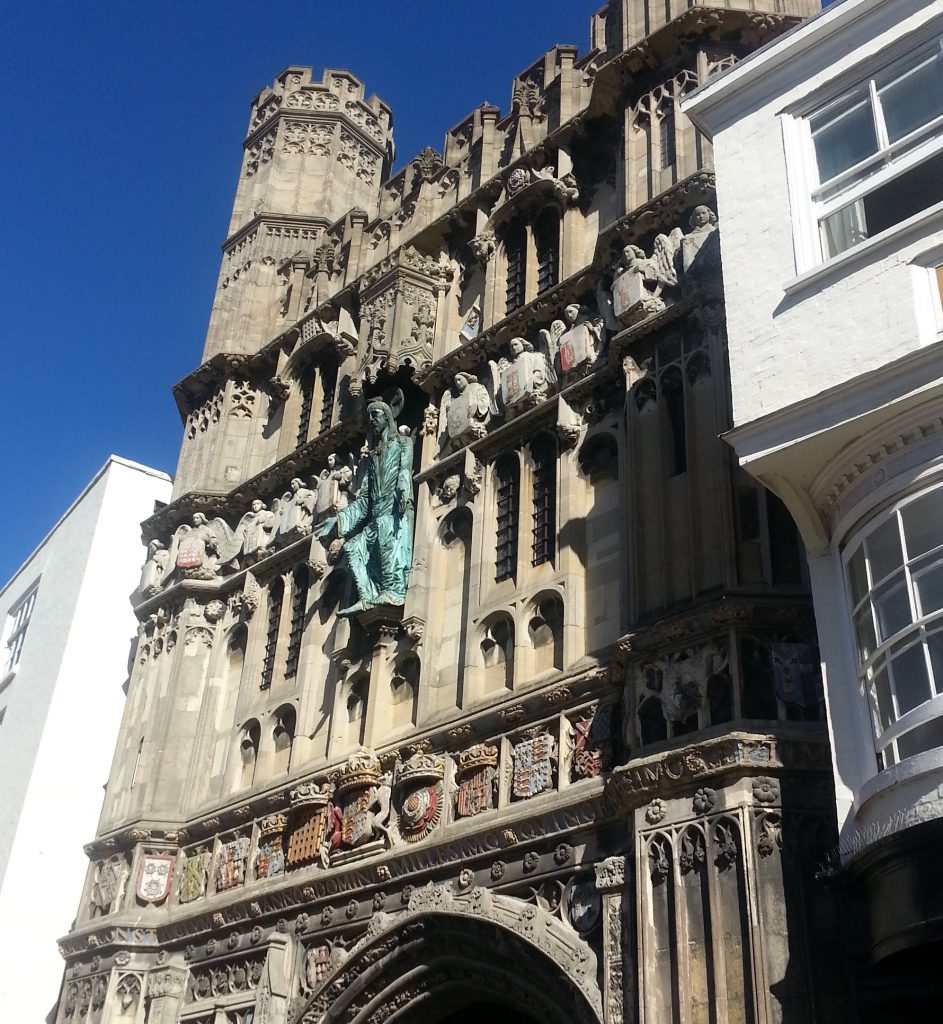 I picked up a guide brochure and stepped into the grounds of the mother church of the Anglican faith. First established by St Augustine who was sent to England from Rome in 597AD, the Cathedral has been in continuous use ever since. Augustine's original building is now out of sight under the nave while the current magnificent structure dates partly from the 12th century and partly from the 14th.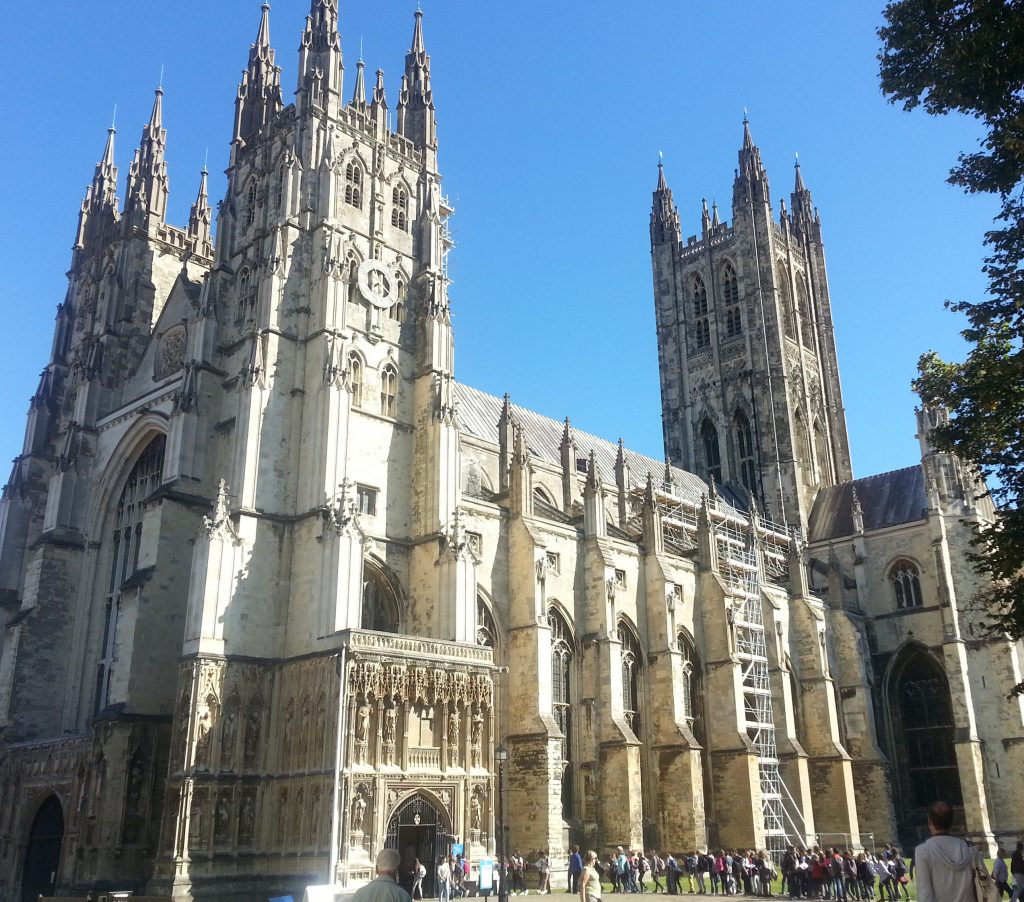 The grounds were crowded by tour and school groups so I waited briefly until I had a clear opening to enter the nave. I approached a staff member to enquire about taking photographs in the cathedral and was pleasantly surprised to find that it was allowed in all areas except for the crypt. In Italian cathedrals they expect you to pay for that honour!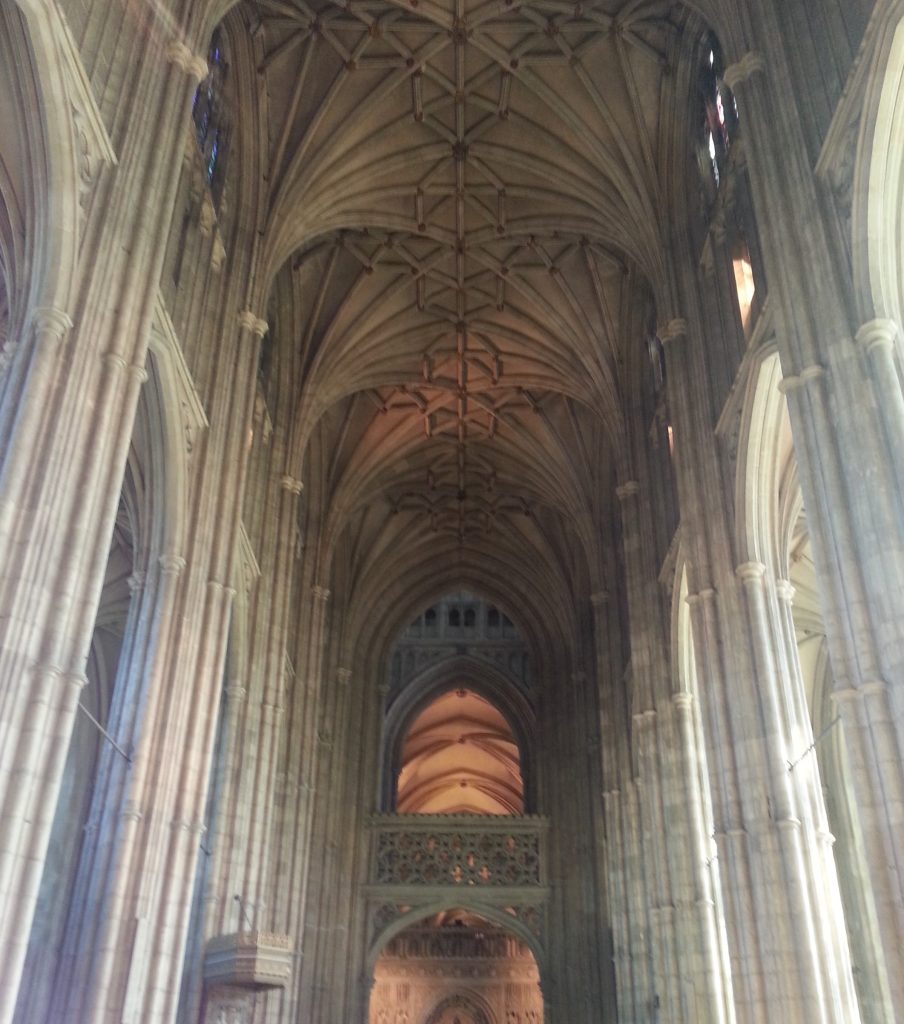 I continued through the nave and into a little stairwell corner known as "The Martyrdom" for being the place where Archbishop Thomas Becket was murdered in 1170 after getting into a stand-off with King Henry II over the relative powers of church and state. This did not end the way Henry would have liked, because soon miracles were being attributed to the murdered priest and pilgrims were making their way here from all over to worship at his shrine (including the fictional batch of pilgrims featured in The Canterbury Tales). Four years after the assassination, Henry was forced to humble himself before Becket's shrine.
The little space was crowded to capacity with a gaggle of milling schoolchildren and one poor elderly lady who was doing her best to pray.
I slipped out a nearby door and into the much quieter cloister, which harks back to the days when these grounds also housed a thriving monastery. Our old friend Henry VIII put a stop to that though with his Dissolution of the Monasteries.
From the cloister it is possible to enter the chapter house, where the monks once gathered to discuss day-to-day matters. In contrast to its utilitarian purpose, this large room is rather magnificent, with intricate stained glass windows and complex geometrically-patterned ceiling.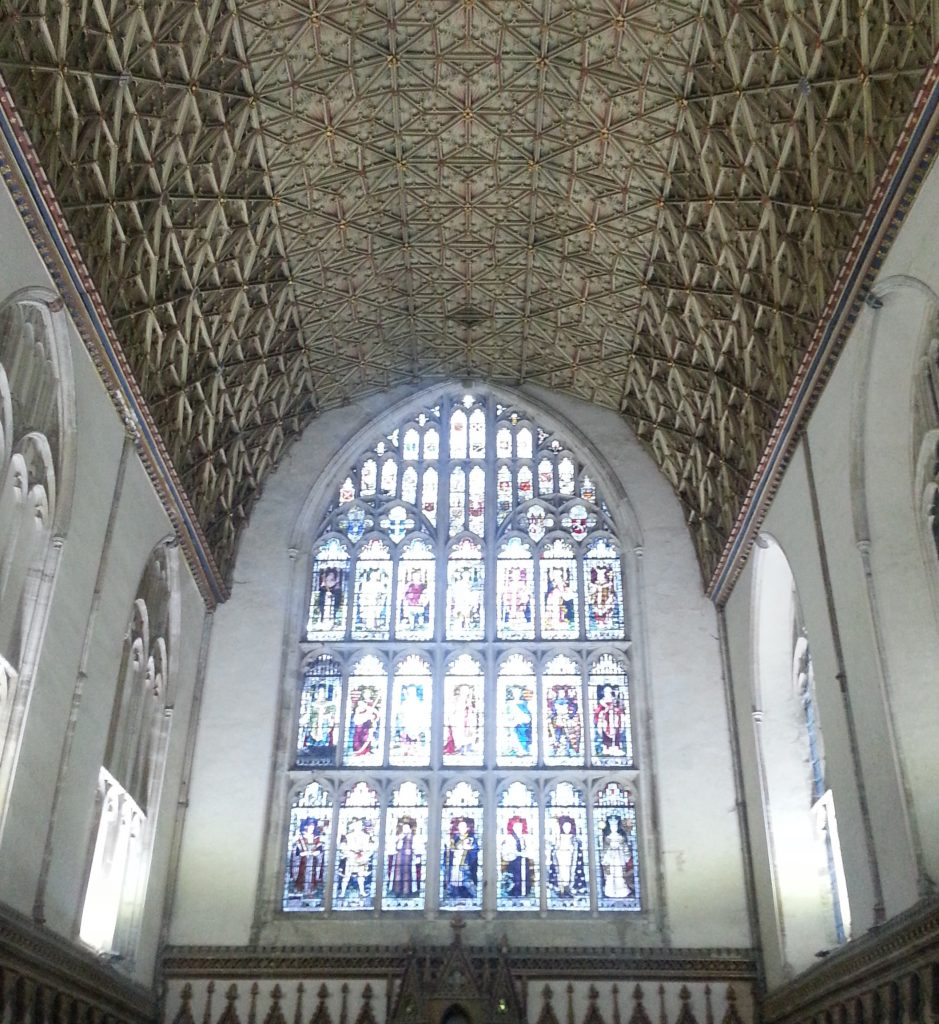 Re-entering the slightly calmer Martyrdom, I headed downstairs to the crypt. This is the oldest part of the Cathedral, where photography is banned and silence is strongly encouraged. Unfortunately silence was too much to expect from the visiting children, so the intended solemn atmosphere was slightly lacking.
I threaded my way through the forest of pillars and low rounded arches, admiring the little chapels on the way. One, St Gabriel's Chapel, has the remains of some ancient religious wall paintings.
Also down here are some fragments of stained glass destroyed by bombing in the Second World War. Luckily the most valuable pieces (dating to the 13th and 14th centuries) were removed from their accustomed places and stored in the crypt for the duration of the war, and so they have survived.
I made my way back upstairs and entered the quire. At the very end of this long arched hall is Trinity Chapel, which housed Thomas Becket's shrine and bones until Henry VIII destroyed them both and banned all mention of Thomas's name. You'd think he might have learned from Henry II's mistakes.
A single candle now burns where the shrine once stood.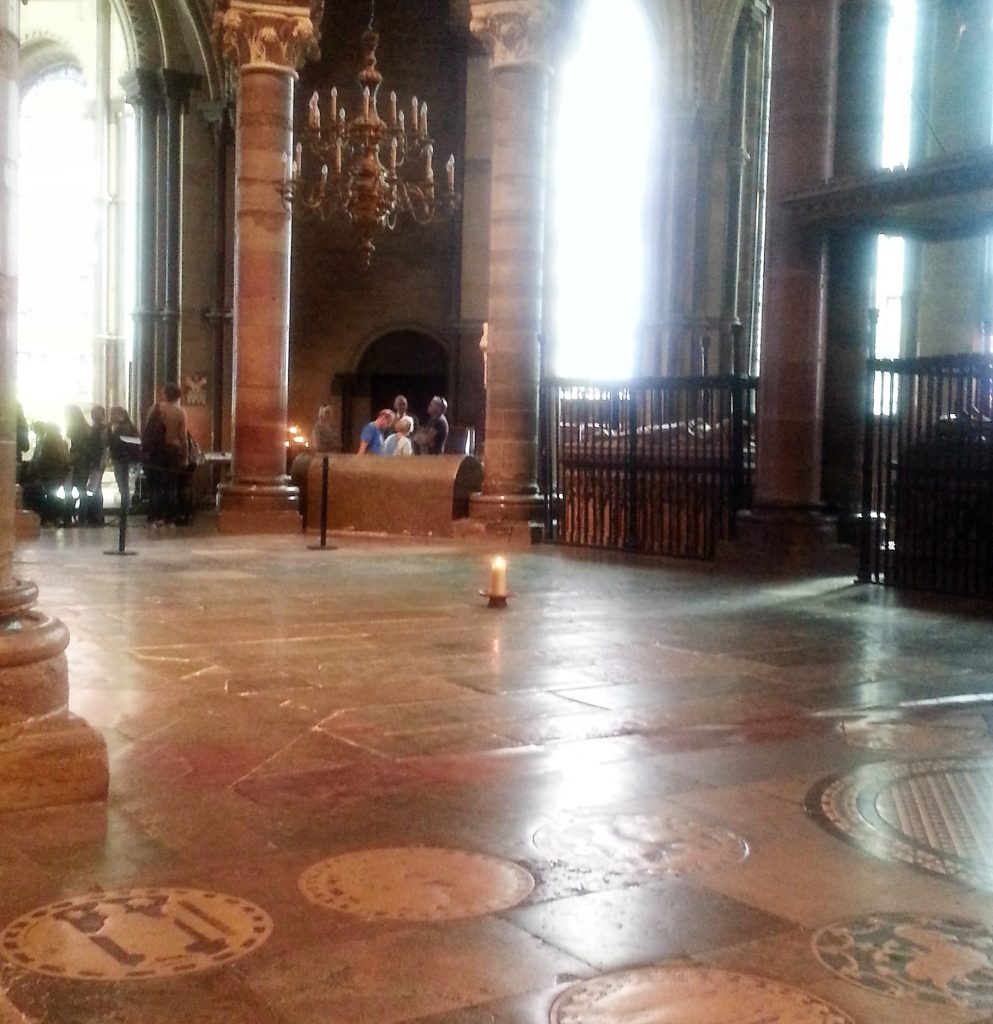 I saluted the martyr and then admired some of the rescued stained glass as I made my way back out into the sunlight. Outside the church I found a marker indicating the start point for my pilgrimage.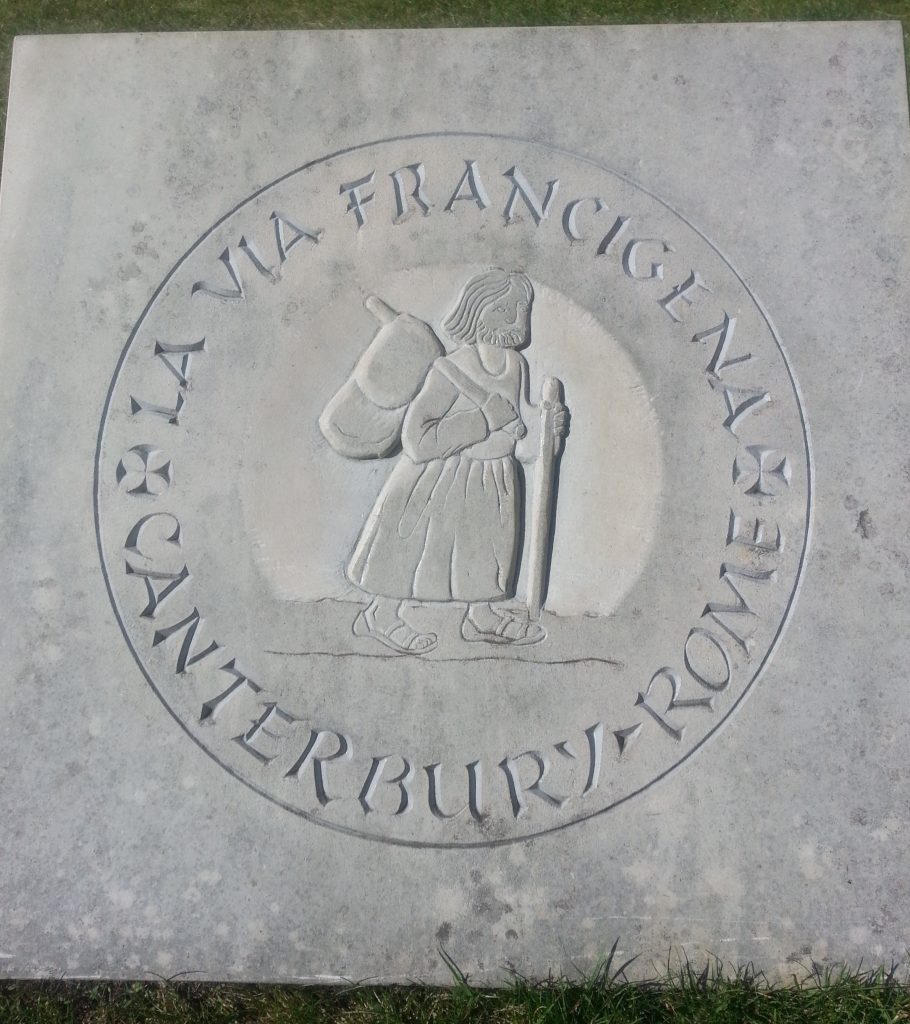 It was now past noon and I still hadn't left Canterbury, so I sat on a nearby bench and munched on my first pork pie as I steeled myself for the walk ahead. And since this post is already more than long enough, the story of that journey is going to have to wait for another day.
References: