Cesco had scheduled business near Piedmont's capital of Turin (or Torino as it is known in Italy) so he took the opportunity to find us somewhere to stay in town so that I could have a good look around. I certainly wasn't going to pass on that, so it only remained for me to decide what I wanted to see in the short time we'd have.
With a population of almost 900,000 and a history reaching back to 28BC, that was easier said than done. I could probably stay here a year and still find new things to see. So I'm going to do something a little different and include some stuff here that I did on another visit in 2013 to save me from having to retrace my steps and allow me to cover more ground. Out of necessity this is going to be a very shallow treatment – I can only hope that this will not be the last time I visit this neat city.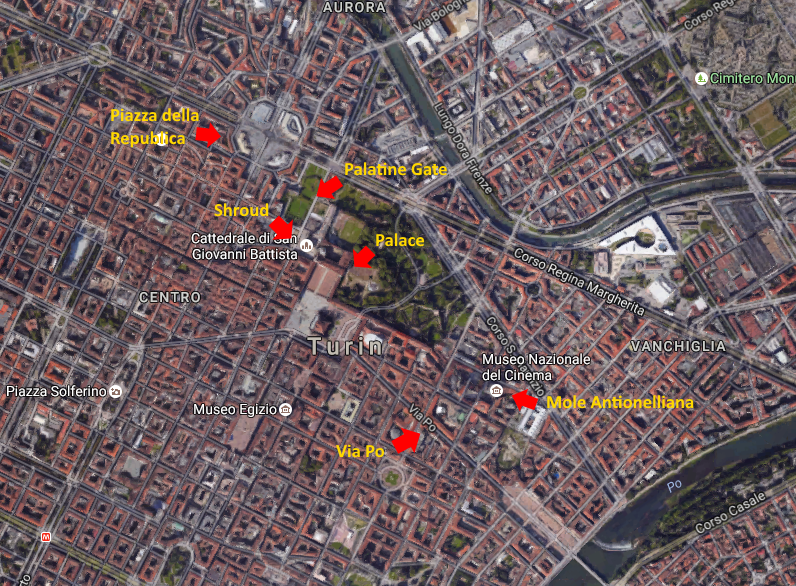 So we set off for the south, soon pulling on to the autostrade – Italy's answer to the autobahn. With three lanes and a 130km speed limit it would make light work of the 88km trip. Usually these are toll roads but this section is free, due to complaints by workers of a factory that was moved outside of Turin.
We hit some traffic as we entered the city, giving me plenty of time to gawk like the country bumpkin I am at all the activity going on around us. Electric trams and accordion-style bendy buses chugged around the streets, while parking space was at an absolute premium, forcing us to regularly dodge double-parked (or triple-parked) vehicles.
Really I have no business being so overwhelmed, as Turin is smaller than Auckland by about 400,000 people. But it seems so much more cosmopolitan.
Eventually we found our digs for the night, on the top story of an apartment block in the heart of the city. Apparently it's not the best neighbourhood in the world, but it was our home, if ever so briefly!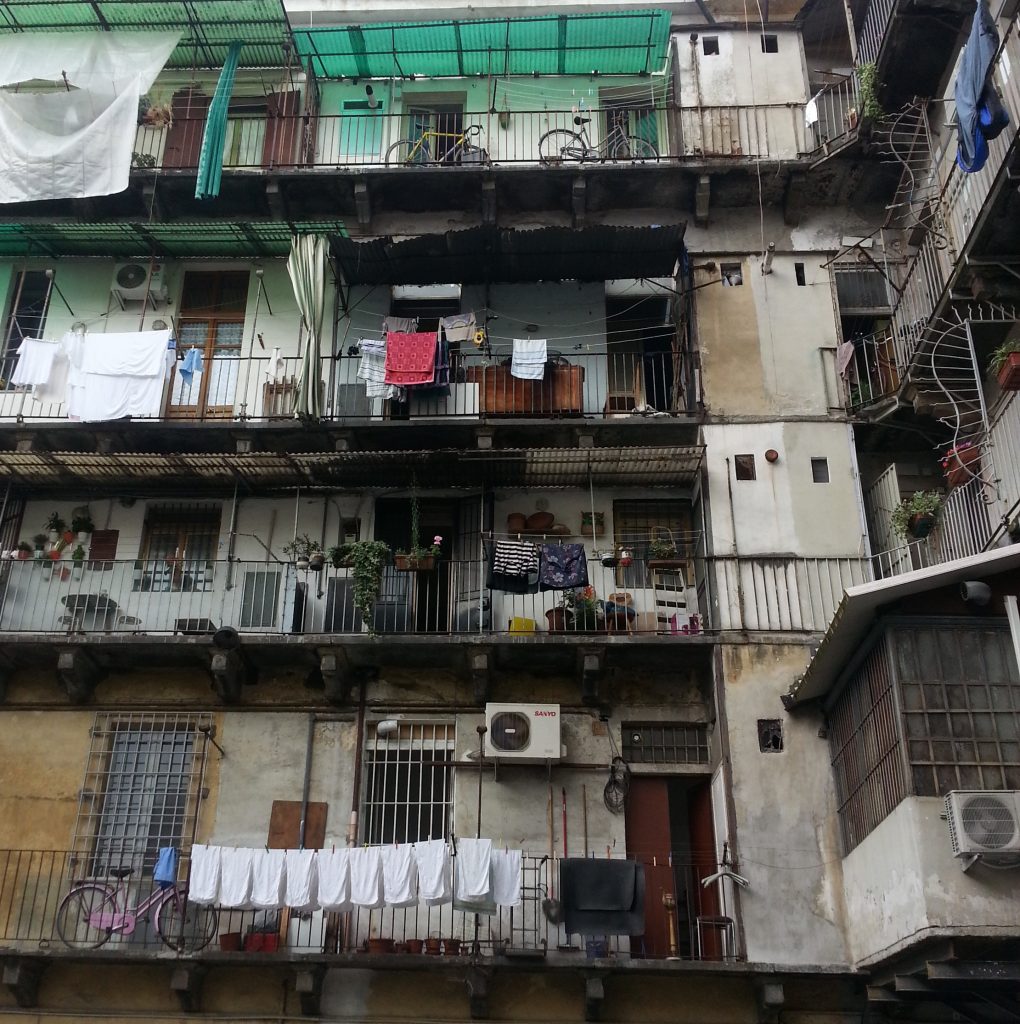 Once we'd ditched our bags it was time to get out and explore. I was keen to see the Palatine Towers, an ancient Roman gateway conveniently only a few blocks from us, dating back the the 1st century BC when it was gateway to town which grew out of the Roman military camp of Augusta Torinorum. There were a couple of spots of rain as we set out but we figured it would help cool us down. Then there was a peal of thunder in the distance and we ended up running for cover as the heavens opened. Beneath  a nearby balcony, we had time aplenty to admire the ancient brick structure. Of course, to be still looking this good it has been maintained and restored over the years, and it narrowly avoided demolition in the early 1900s.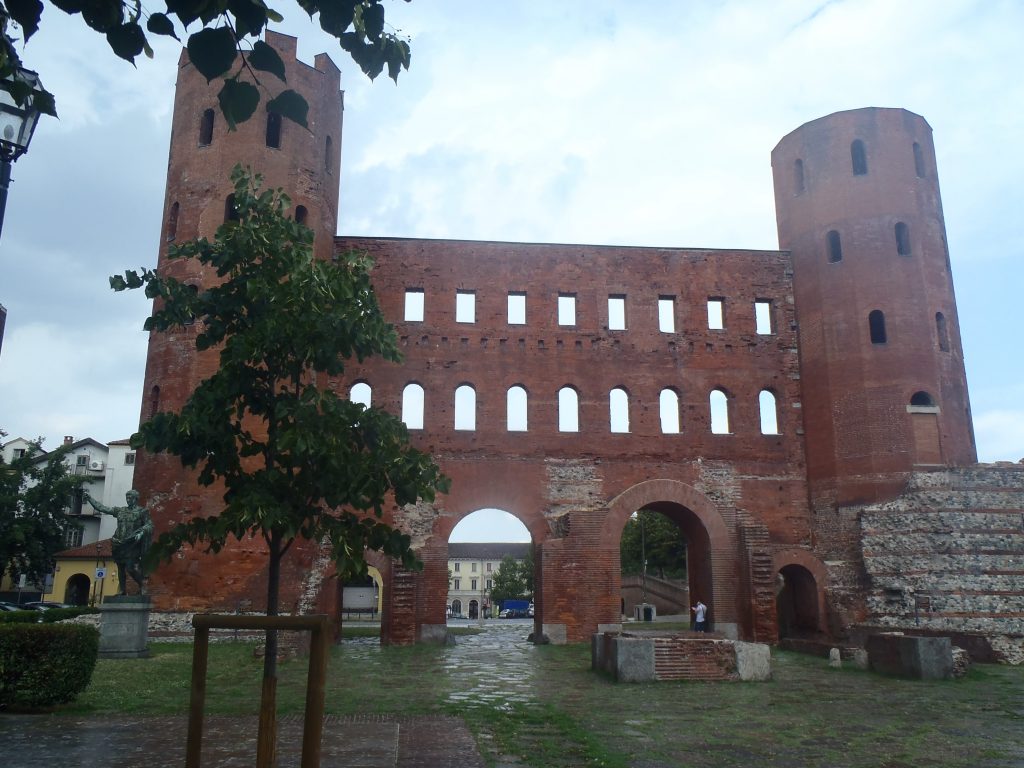 The weather cut short our adventuring for the night, and we retreated to our room to wait out the storm, crossing our fingers that tomorrow would be a better day for sight seeing.
So instead let's recall a clearer night almost exactly three years ago. On such a night you might climb the hill of Superga to look over the glittering lights of the city, and admire the basilica, which was completed in 1731 and served as a crypt for the royal house of Savoy.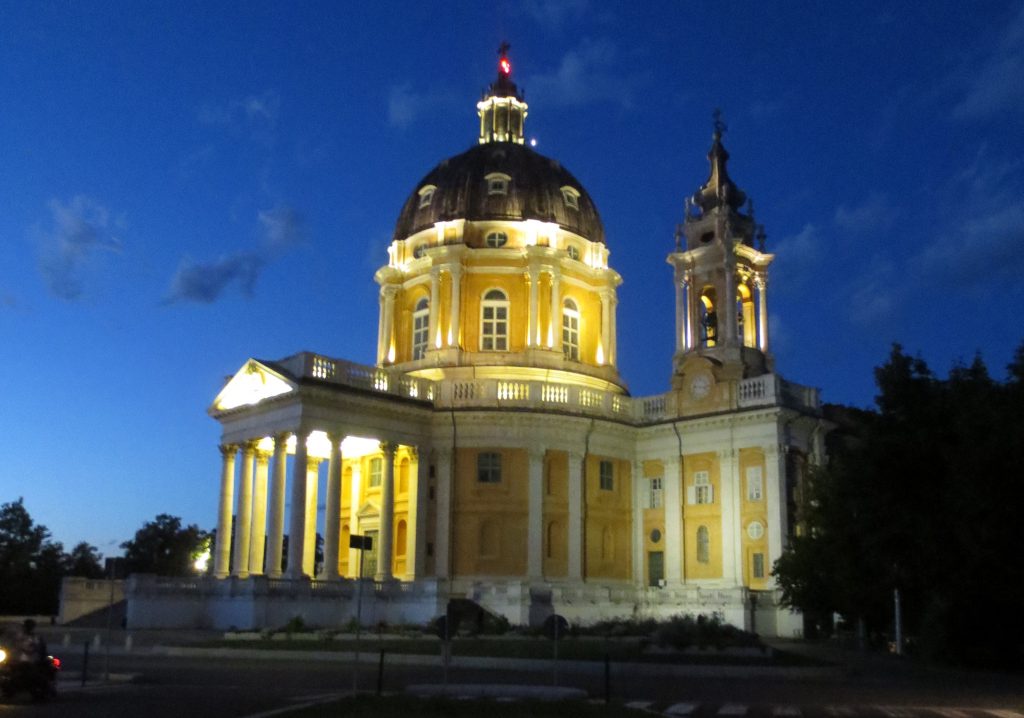 Walking around the hilltop you would find behind the basilica a memorial to the 31 people who perished in the 1949 air crash on this hill. The plane was bringing the Turin football team home after a friendly match but came off course in the extremely foggy weather and hit the retaining wall at the back of the church.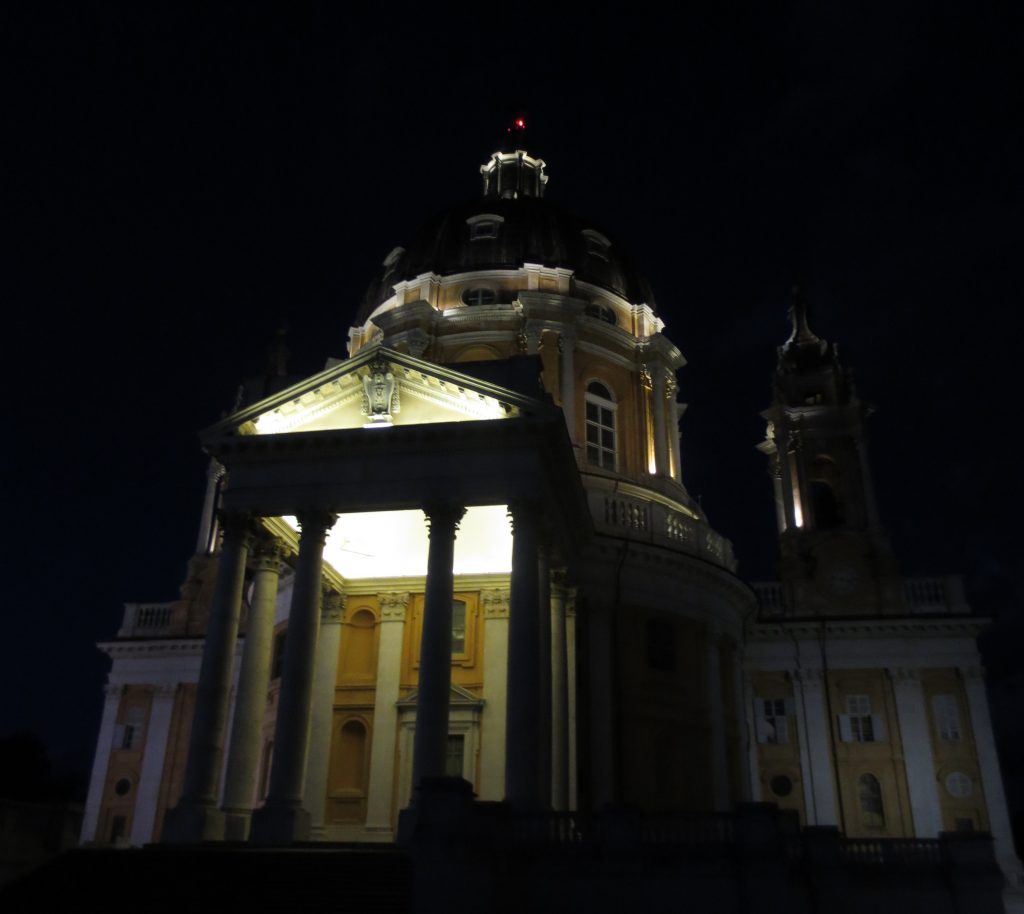 The next morning the weather I had become accustomed to was back, clear and warm. So it was back out on to the streets of Turin to discover what further treasures this city holds. First it was off to the big square of Piazza della Republica, to take a look at Europe's largest open air market. A very multi-cultural crowd bustled through the narrow rows of stalls while assorted vendors vied for our attention. Cesco, ever the optimist, warned me to keep a good hold on my purse. There was a large clothing section which we passed through before reaching the produce area, containing a fascinating and colourful array of every fruit and vegetable imaginable.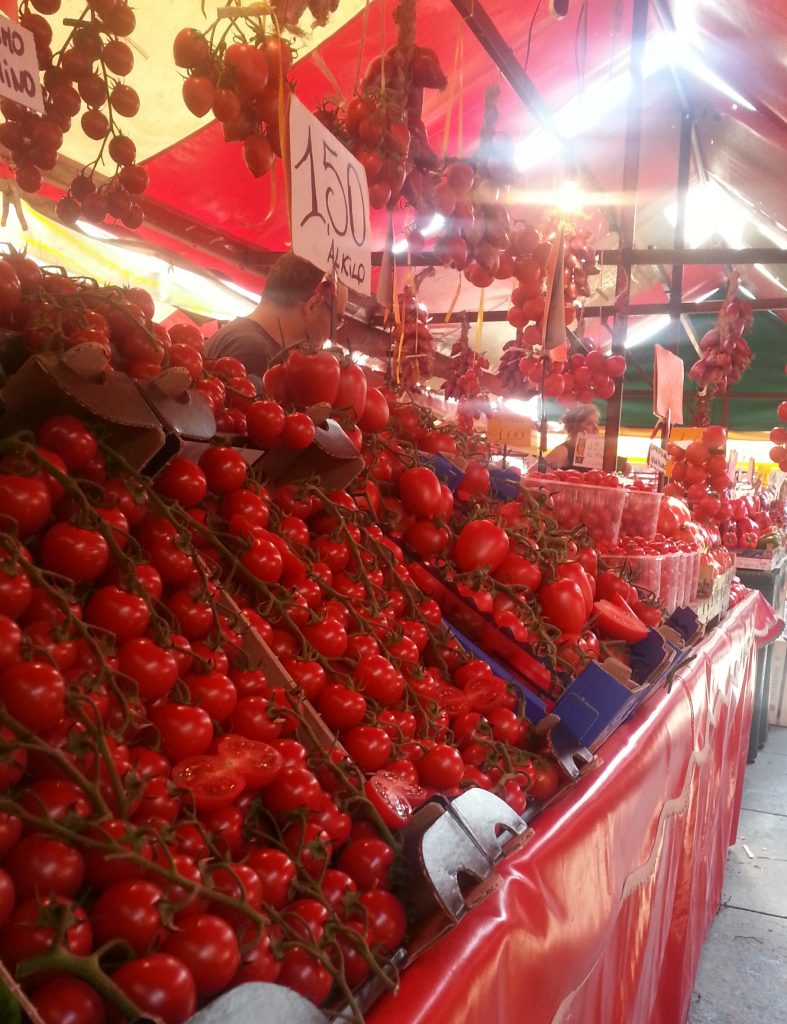 Indoors was the meat market, for once not a euphemism, which included cheese and salami vendors as well as the expected dealers in raw meat. Rabbit was available, although terrifyingly in the form of the whole skinned animal with head still attached, face frozen in a horrid death grimace and dead eyes staring. Also available was what appeared to be a pile of dirty dish cloths, which in fact turned out to be tripe. I pride myself on being adventurous around food, but wrinkly grey cow stomach? Maybe I'll pass.
Leaving the market, we picked up where we'd left off last night, passing the Palatine Towers and making a beeline for the Turin Cathedral, home of the city's most famous attraction – the shroud.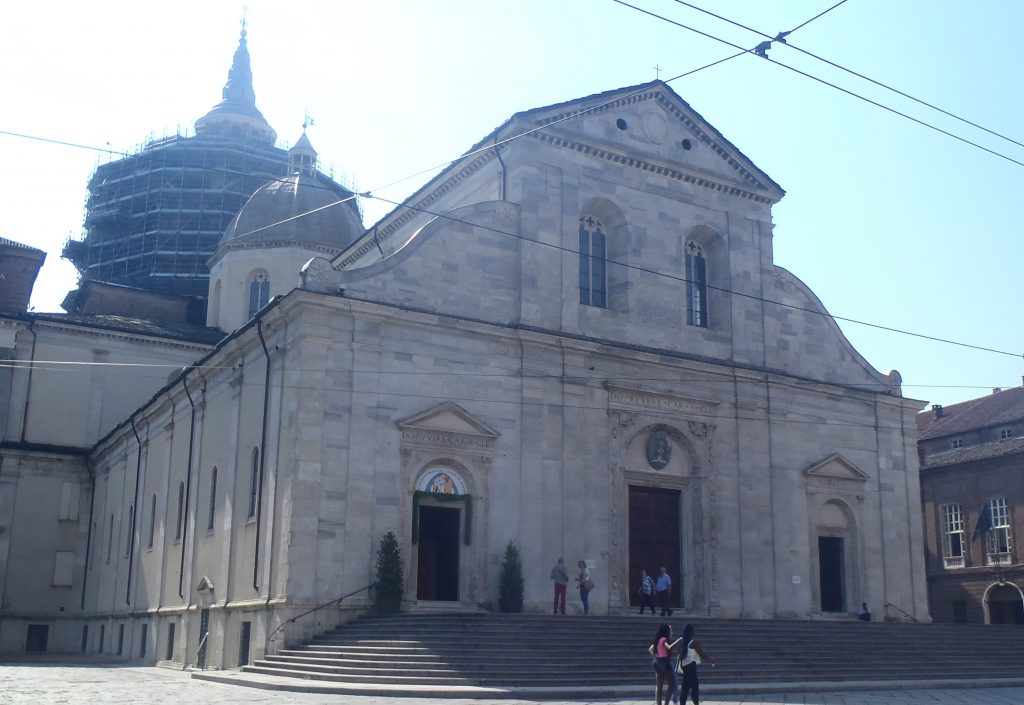 Having seen the fantastically ornate Milan Cathedral, Turin's equivalent seemed a bit plain in comparison. Reflecting this, it only took seven years to build versus Milan Cathedral's rather impressive 579. I guess good things really do take time.
Photography is not permitted inside, and in fact I was slightly worried they wouldn't let me in at all since a modest standard of dress is required and my shorts partially revealed my slutty knees. Surprisingly there weren't all that many people about, perhaps because it's not possible to see the shroud itself, only the box that houses it. But they swear it's in there.
The shroud itself is a fascinating and controversial artefact. Its existence can only be definitively traced back to 1390 when it was in the possession of the family of a knight in Lirey, France. It was later given to the House of Savoy and moved to Turin in 1578. Radiocarbon dating has given an estimated date for the shroud of 1260-1390, which would seem to indicate that it couldn't possibly be the shroud of Jesus himself. But if so, then how was this relic created? Many theories have been put forth, while proponents of the shroud's authenticity insist that none can quite reproduce the striking three-dimensional image of the original. Probably there are too many people invested in proving one way or the other to judge any of the arguments for sure.
We exited the church, passing an unavoidable beggar crouched by the doorway. The most uncomfortable part of visiting Italian cities is facing the many beggars and obvious signs of homelessness. While Italy spends a larger percentage of its GDP on welfare than New Zealand, it's highly skewed towards old age pensions and not unemployment or family assistance. Not that New Zealand is perfect by any means, of course. I know that living in Dunedin has isolated me from "big-city problems" that happen everywhere in the world. The situation in Italy is exacerbated by many undocumented immigrants, an issue that isolated New Zealand does not have to face.
Feeling like a bit of a tool, I continued on my privileged way to Piazza Castello, the true heart of Turin. Here you can find the royal palace of the House of Savoy.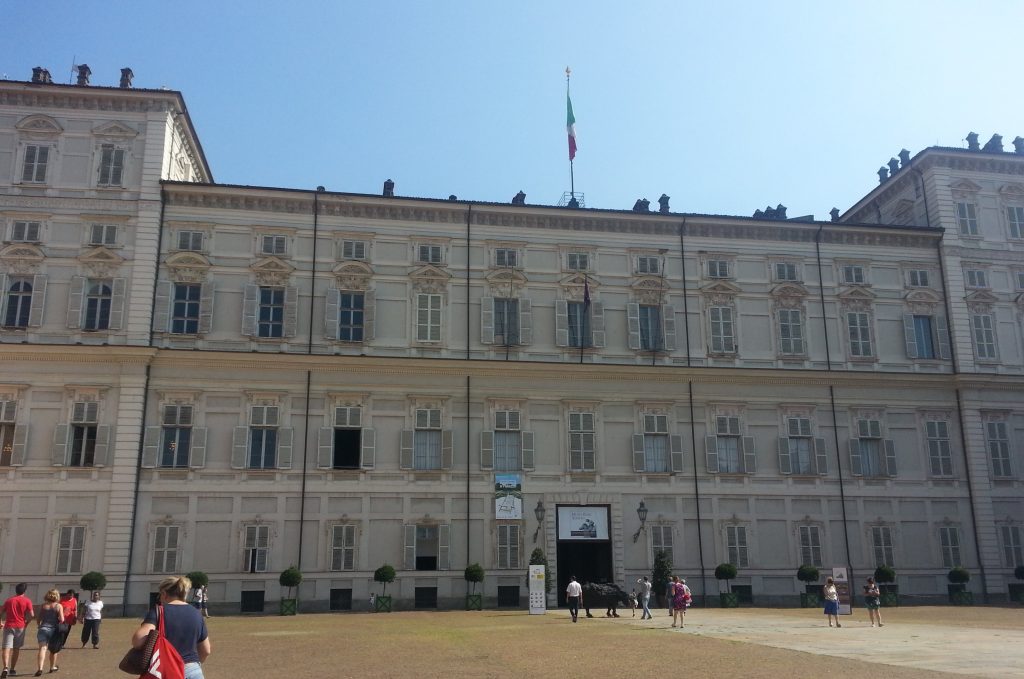 I took a tour of the palace and attached armoury last time I was here, and the highlight of my visit was the throne room, covered from floor to ceiling in gold leaf. Extremely impressive, although apparently it was hammered so thin that it was in fact a fairly measly amount of gold. Unfortunately I cannot find the exact value online.
Also visible from this square is a skyscraper completed by the fascists in 1934 as a proposed headquarters for their party, although never occupied by them. It's functional design clashes slightly with the elegant appearance of pretty much every other building in Turin.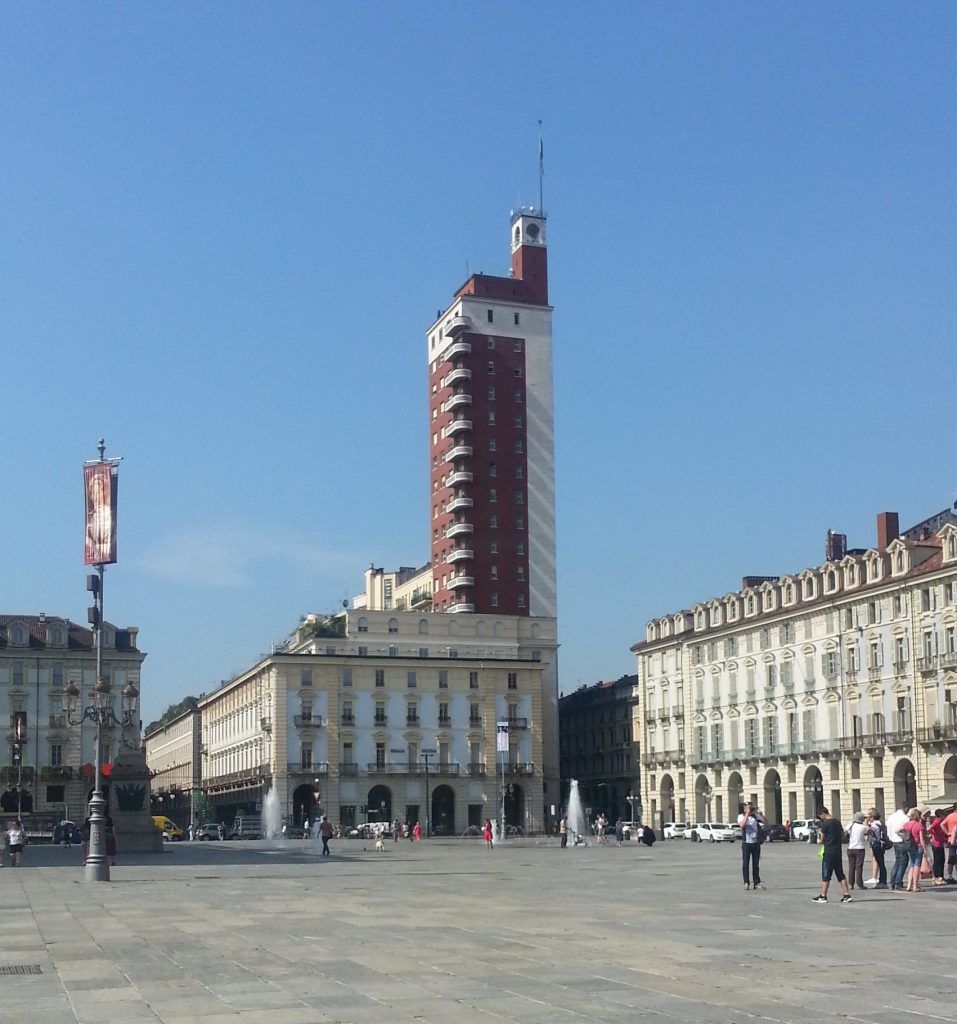 From here we took a walk down one of Turin's major streets, Via Po. Visible from here is the Mole Antonelliana, one of Turin's most famous buildings. Originally conceived as a synagogue, the Jewish community eventually got fed up with architect Alessandro Antonelli as he kept building higher. After waiting thirteen years and seeing their budget tripled, they withdrew from the project in 1876 and the city of Turin took over. It was completed in 1889 with a final height of 167.5 metres. At the time, it was the tallest masonry building in Europe.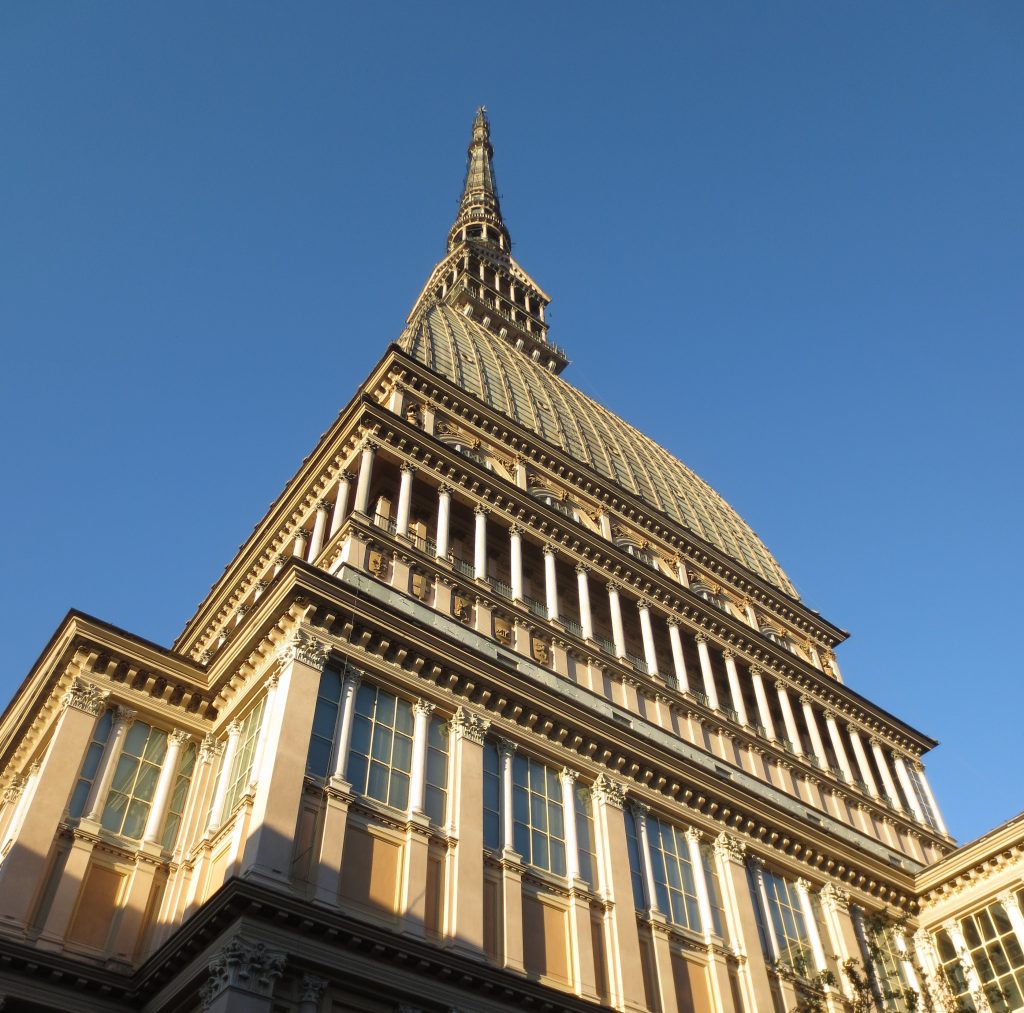 Today it houses Italy's National Museum of Cinema, which I didn't visit today but saw in 2013. I'm not super into film but if you are you'll find a lot of cool stuff inside such as props from Lord of the Rings and Star Wars. My favourite part was the demonstration of very early filming techniques…oh, and the spiral path up the huge inside of the dome which really drives home how impressive the building is.
Much more exciting for me was the antique bookshop we came across part way down the street. Sadly most of the books were in Italian, which I still cannot read beyond simple statements, but we did get to see a 400 year old tome filled with religious music. Sadly no pictures permitted.
We soon reached the square fronting onto the River Po, with many trendy cocktail bars. Unfortunately it was before noon so I felt it best not to get my fancy drink on. Reaching the river, Cesco was rather peeved to see it filled with water weed and garbage.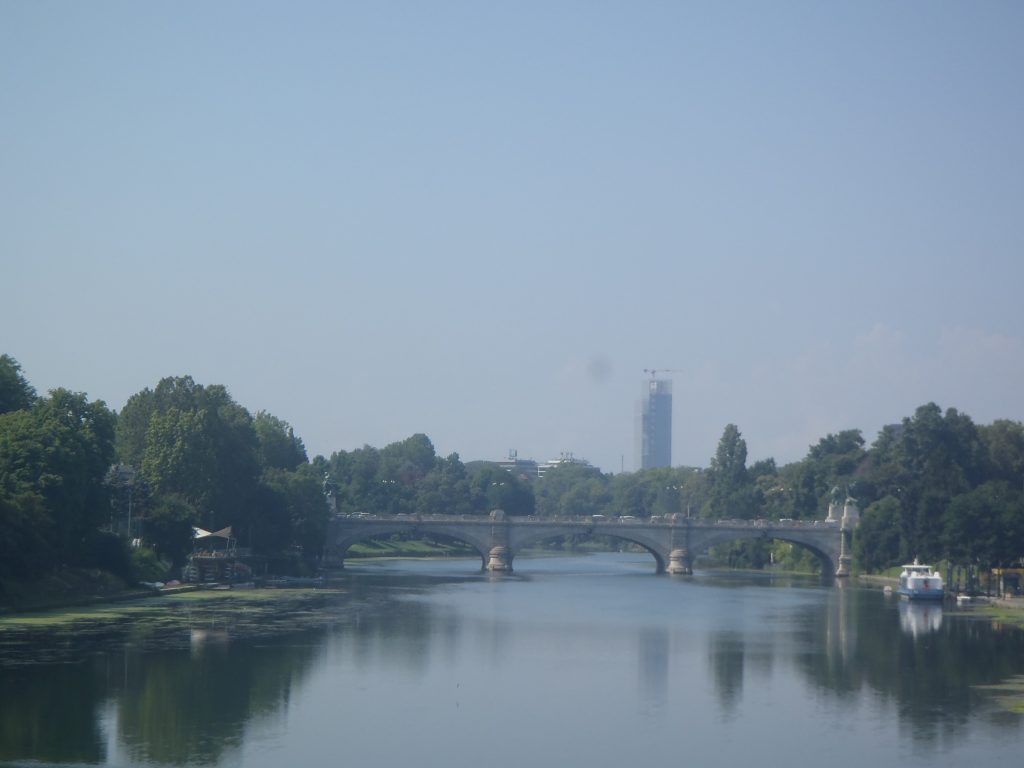 Returning to the Quadrilatero Romano, the medieval district near the Palatine Gate we eventually found a restaurant specialising in Piedmontese food for lunch, Osteria al Tagliere. We decided to take the set menu for two, which included 5 types of antipasto, a pasta dish and a bottle of wine. Hey, it's after noon now. The antipasti included my new favourite cheese, tomino – a soft fresh cheese with a tasty sour tang. Also on offer was vitello tonnato, or veal in tuna sauce. This didn't sound particularly appetising, but was actually quite delicious.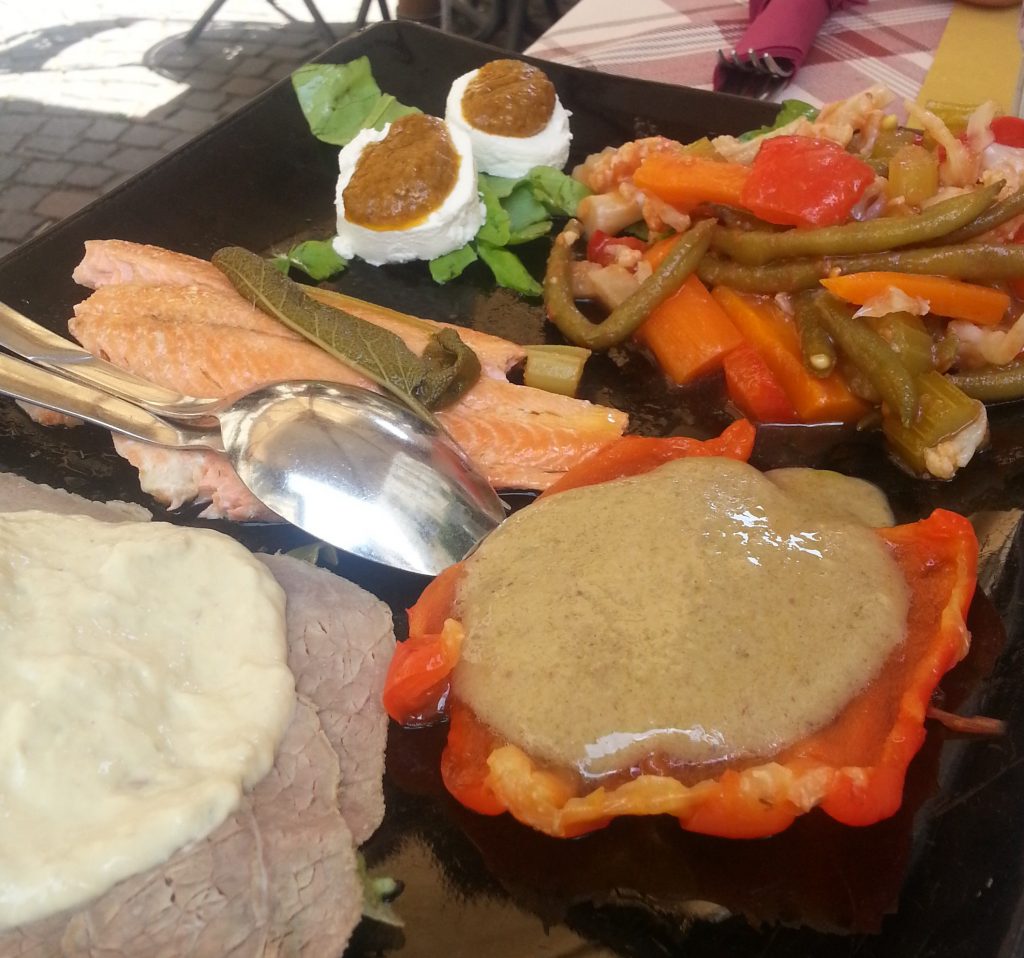 Then, weighed down by my epic meal and sloshing with wine, it was time for Cesco to gently guide me back to the car for our return to Biella (note: only I drank wine). Our quick tour of Turin barely scratched the surface, and perhaps one day I will return with more time to delve into the history of this ancient and cosmopolitan city.
References: