A misty Monday morning brought us back up to the Harbour Cone reserve on the Otago Peninsula. I hadn't been here since my epic field trip searching for signs of Dunedin's early settlers. But this reserve is so chock-full of historic remains that even that huge effort couldn't cover everything. Our plan for today was to walk down from Highcliff Rd to Hoopers Inlet and back up again…and if we happened to discover some more relics from the past, so much the better!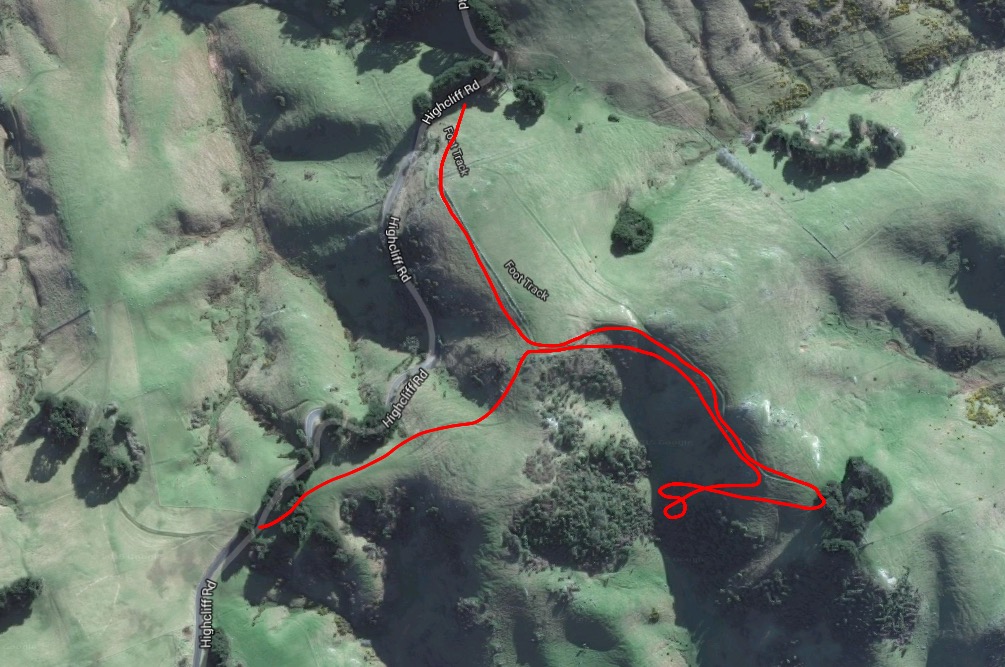 We accessed Highcliff Rd via Portobello as a section between Sandymount and Dunedin is still closed after the  floods seven months ago.
We passed by Harbour Cone and climbed onto the hill to the south, where the landscape is practically covered with the relics of the Peninsula's first European inhabitants. On my previous adventure I'd looked down on the area from the slopes of Harbour Cone, from which these signs can be clearly seen – at least on days when the hills aren't shrouded in mist.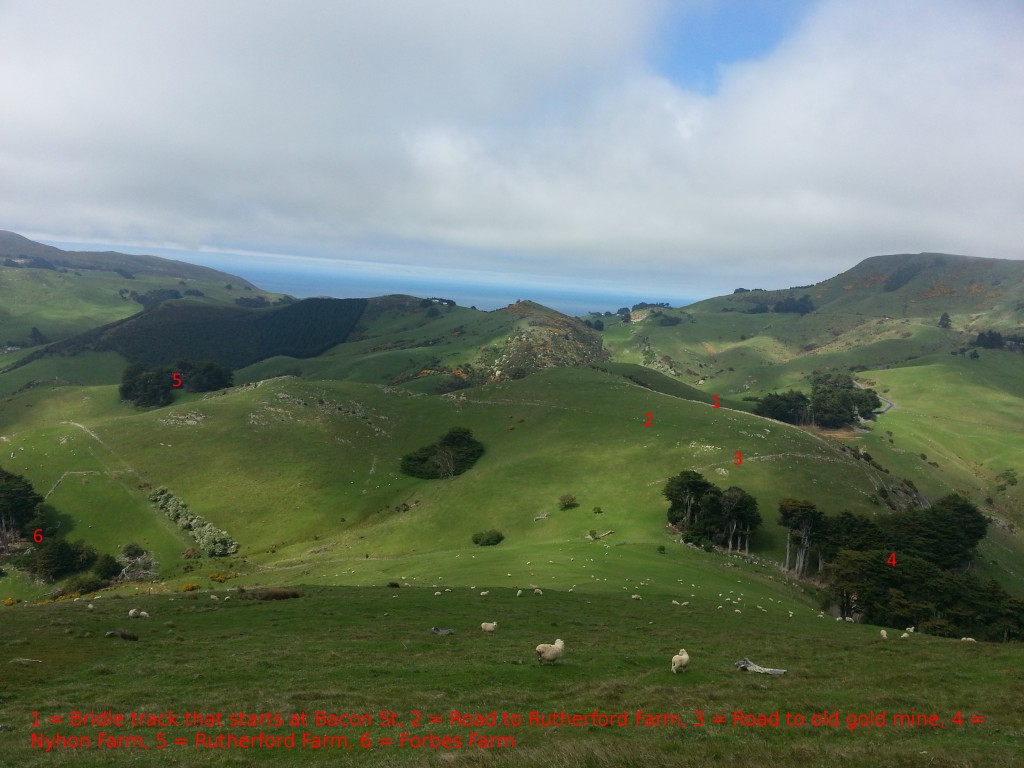 The downside of being amongst all these early roads is that it can be hard to tell if you're following the current track or an old road that no longer goes anywhere. We put our trust in some yellow-capped marker posts which led us down Rutherford's Road.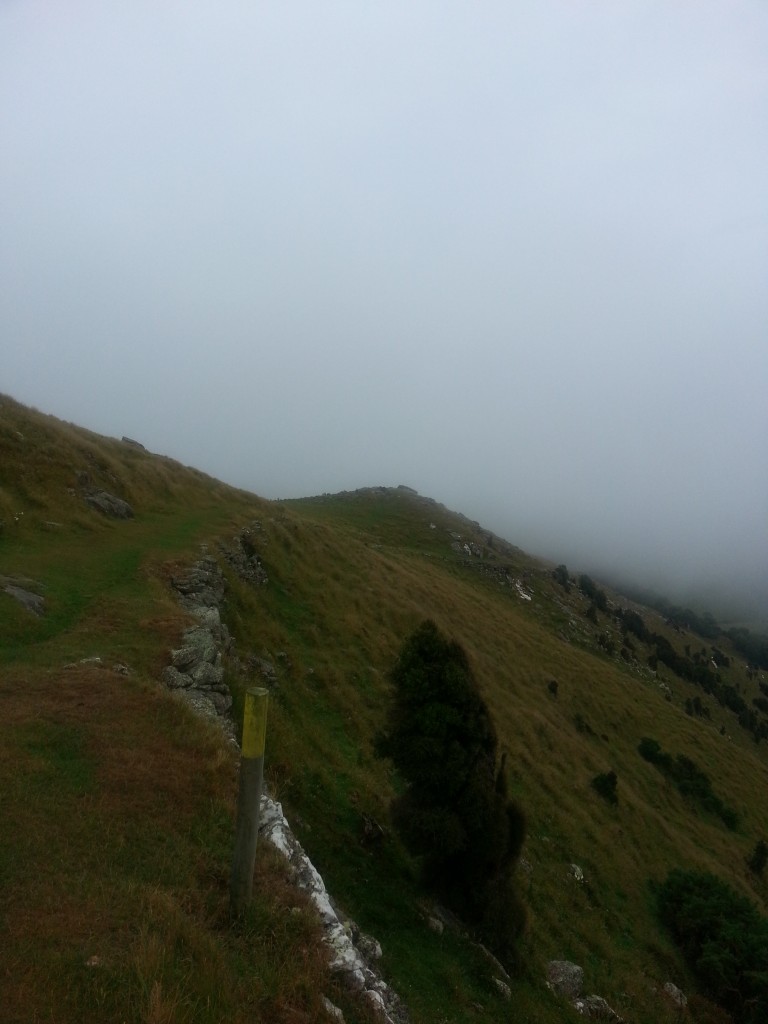 The old road was cut straight into the stone in places – an immense effort taken to build this track to a homestead that has long been abandoned.
We reached a large square stand of macrocarpas and I was intrigued to see that they were surrounded by what appeared to be a collapsed dry stone wall.
"You want to look in there, don't you?" Dad noticed.
That was all the permission I needed. I scrambled over the stones and into the grove.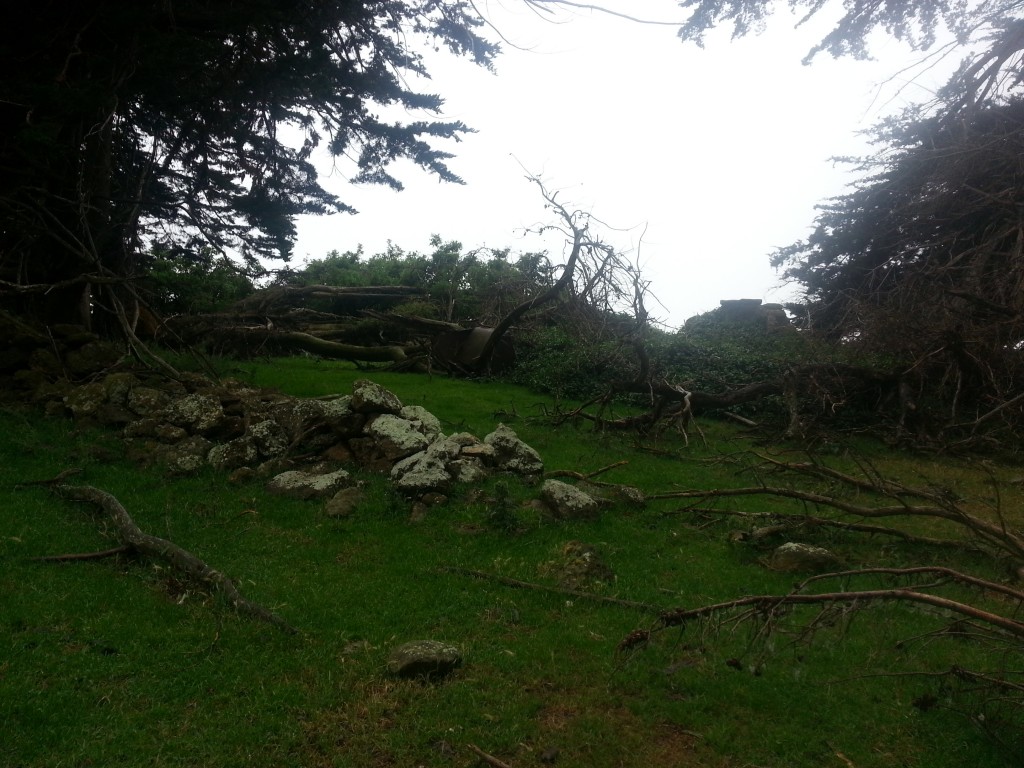 Under the trees I quickly spotted an overgrown masonry wall which brought me in mind of the ruin of the Allan farmstead I'd already visited on the slope of Harbour Cone. This, perhaps, is what remains of the Rutherford family dwelling.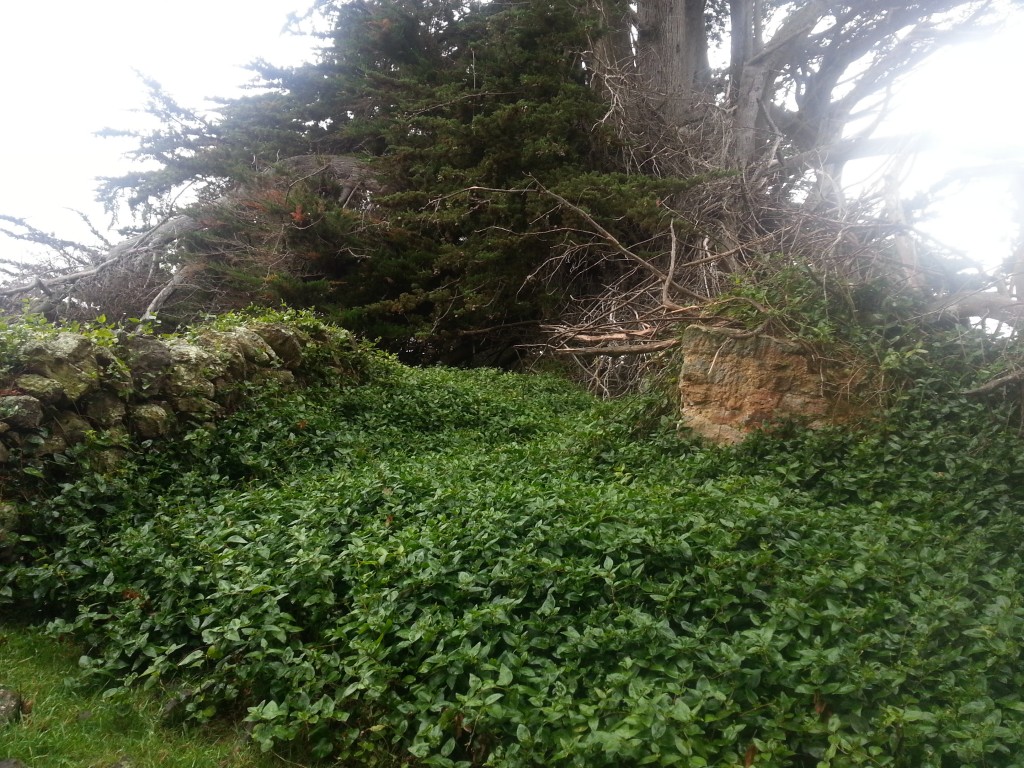 Behind the masonry wall is a complicated network of dry stone walling. There's even a little window in one of the walls. Possibly these are the remains of a cattle byre or yards.

Being the nerd that I am, I couldn't help but put my detective hat on. Who lived here? It's marked on the 1901 map as being Rutherford's Farm, and the old newspapers refer to the family of James Ritchie Rutherford who lived at a place called "Lilybank" on Sandymount. Could this be the ruin of Lilybank?
Finally I found a reference to "Mr J. R. Rutherford, of block 2, section 3 of 66, Otago Peninsula, at the back of the Harbour Cone". Bingo!
I should take this moment to point out that I'm not a trained historian or genealogist, so any of my conclusions could be wildly wrong. You should take what follows with a grain of salt, and do your own research if you want to be sure of accuracy.
James Ritchie Rutherford was born in Scotland. His father Andrew was a school headmaster in Lundie. He had at least two, probably three brothers, one of whom ended up in Bendigo, Australia. His family also had a general servant when the Scotland Census was performed in 1841. Andrew was absent, likely recently deceased as his will was proved in August 1841.
I don't know when he came to New Zealand, but he was here by May 1867 when he married Janet Torrance Drew, the daughter of John Drew of Elgin Cottage, Cumberland St.
Their first son, named John Drew Rutherford after his grandfather, was born the following year. He would marry an Oamaru girl, Agnes Pringle, in 1905. He owned a farm called Lundie Braes in Duntroon, which was interestingly put forward for Century Farm status in 2006, having now been owned by John and his descendants for over 100 years.
In 1869 a second child, Andrew Rutherford, was born. Sadly, he only lived seventeen months. Walter Riddell, a neighbour, made a "little coffin" and the child was buried at Andersons Bay Cemetery.
Their third son, Stephen Ellis Rutherford, arrived in 1871 (Interestingly, a nearby farmer by name of Stephen Ellis had a son named James Rutherford Ellis, almost as if they went swapsies on the names!). Stephen would pass away in 1896 at the age of 25 and be buried in the family plot. His occupation was listed as shop assistant.
In 1872 a fourth son arrived, and was named William James Drew Rutherford. Tragedy struck the family once again and this child lived only two and a half years before joining his older brother in the plot at Andersons Bay Cemetary. In total, James and Janet Rutherford would bury three sons.
Things were slightly happier in 1874 when their fifth son, David, was born. He escaped the curse of the male Rutherford children and outlived his parents, dying at the age of 76.
In 1876 the Rutherfords celebrated the arrival of their first daughter, Elizabeth Thomson Rutherford, who was known as Bessie. Bessie would marry Matthew Little of Dunedin at about the age of  28.
Their final child, Jane Morrison Rutherford, arrived in 1880. Jane never married and would die in Portobello at the age of  67.
The children attended Sandymount school, which was the brainchild of the aforementioned Walter Riddell, and James was on the committee in 1883. There was some drama in this committee in 1894, with James interpreting an education act in a way that prevented some householders from presenting their preferred nominations for the committee. The meeting broke up under a "very angry aspect".
James was a shareholder in the ill-fated Harbour Cone cheese factory which I mentioned in my earlier post. The factory was destroyed in the bush fire of 1881 and would have been quite a blow for the local community.
In February 1887 a violent north-westerly gale assaulted the Peninsula, and lifted the roof off a large cattle byre belonging to the family. For all we know, that byre could be part of the dry stone walls we saw at the site.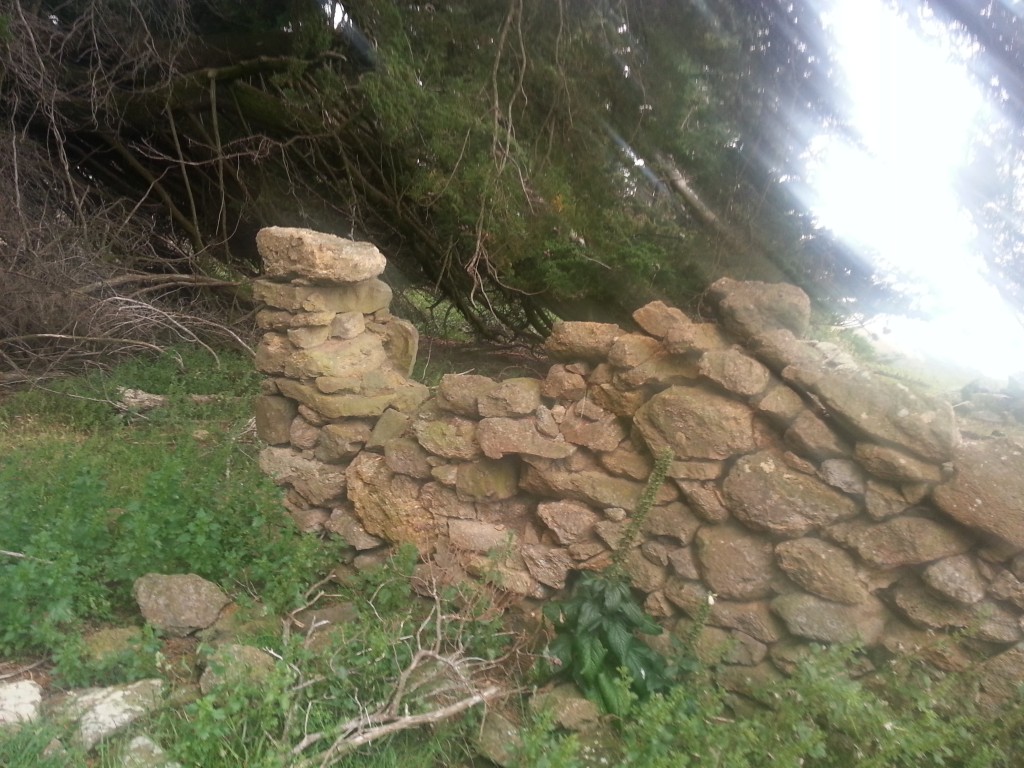 Janet Torrance Rutherford passed away suddenly on 11 April 1906. Two years later, her grieving husband placed the following poem in the newspaper:
Two long years and oh! how lonely.
Friends may think the wound is healed,
But they little know the sadness
Deep within our hearts concealed.
James himself passed away at Elgin House in Portobello at the age of 89 years. This was said to be his son's residence, presumably David's since John had the farm at Duntroon.
Once we'd investigated to our hearts' content, we decided to push on with our attempt to reach Hoopers inlet. Wandering around we eventually found some marker posts heading down into the valley of Stewarts Creek, towards a small patch of bush.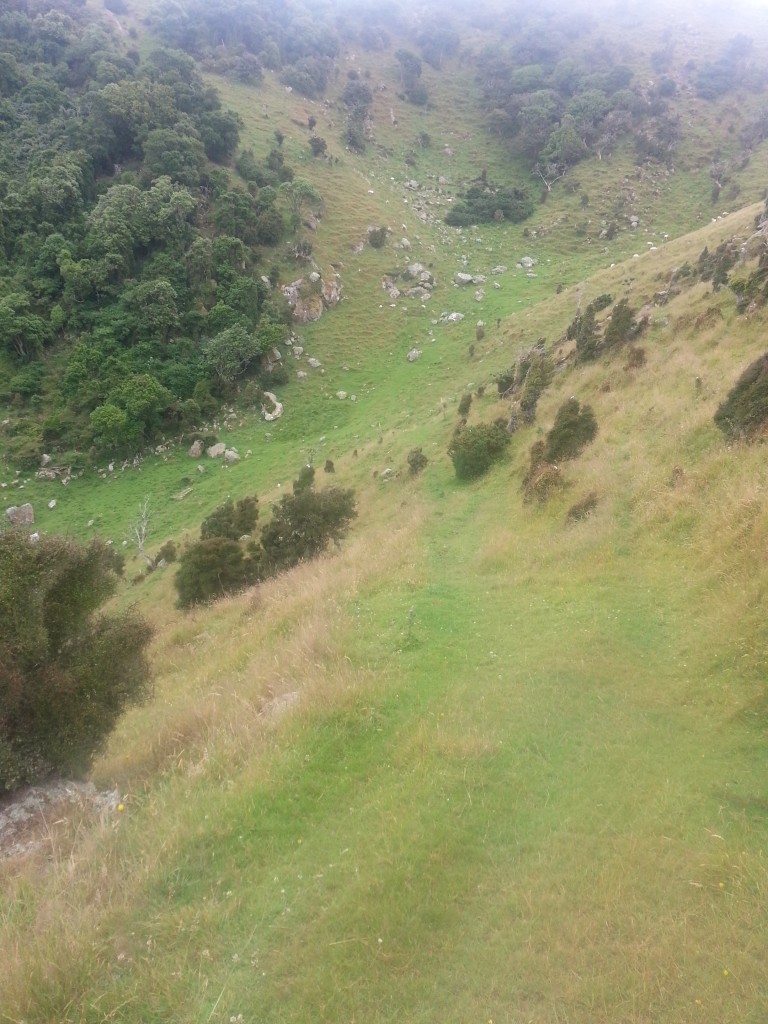 We reached the lowest marker and looked around hopefully. We couldn't see any more markers, nor could we see a path through the bush. After wandering around for a while, we shrugged and returned the way we came.
We once again reached the hill of many roads and continued along the ridge, where I spotted another exciting feature in the valley below.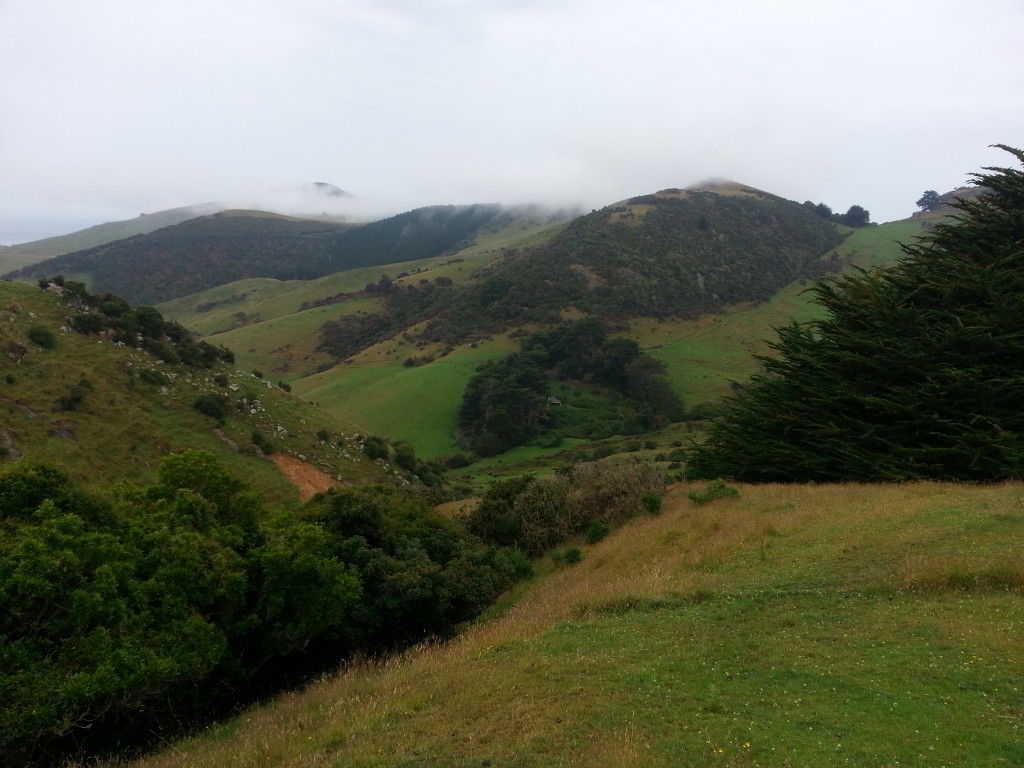 Do you see it? Okay, how about now: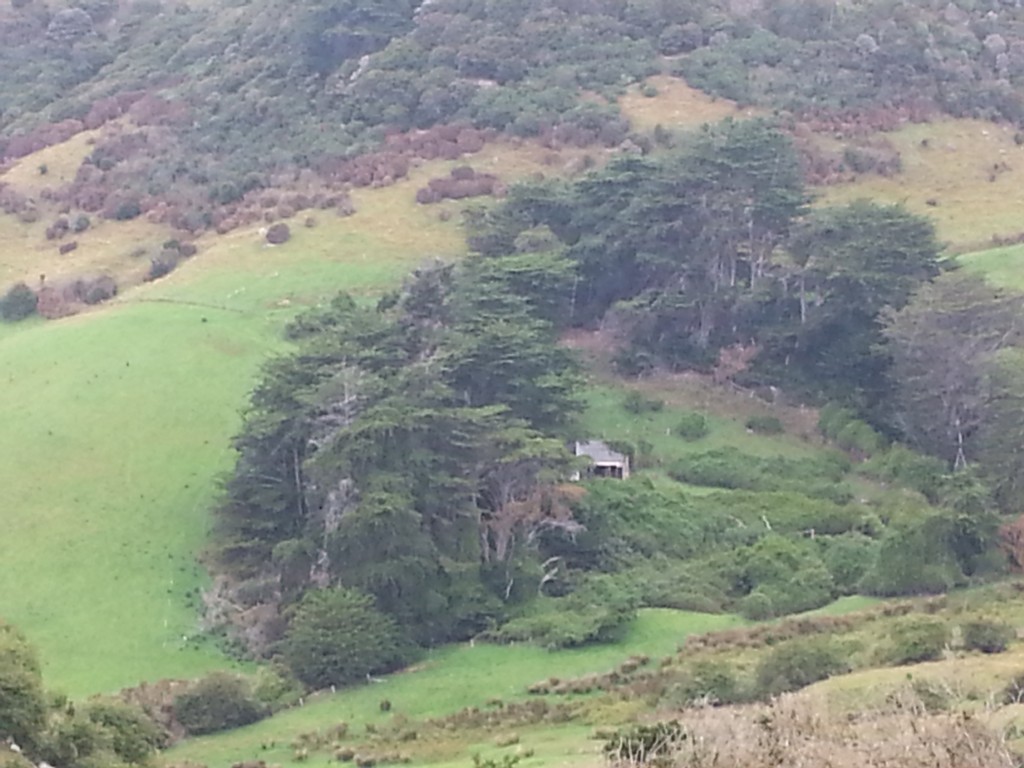 This is the Stewart Farm, reputed to be one of the best ruins in the reserve. I was aching to visit it, but my legs were also aching and we still couldn't figure out how to get down. We vowed to investigate further another day.
Once we reached the car, I checked my map of the Harbour Cone area. It did indeed show the walking track heading through the bush where we got stuck. Go figure.
Despite our disappointment in not achieving our goal, I was happy to have discovered something new. One thing I enjoy about researching local history is remembering people who otherwise might be forgotten. To me, the Rutherford family, with their difficult life on this small inhospitable patch of ground, is as much an integral part of Dunedin's story as the famous Cargills or Larnachs.
References:
BIRTHS, MARRIAGES, AND DEATHS. Otago Daily Times , 27 April 1906, Page 4
MARRIED. Otago Witness , Issue 805, 4 May 1867, Page 11
DEATH. Otago Daily Times , Issue 2679, 7 September 1870, Page 2
MARRIAGES. Otago Witness, Volume 21, Issue 2636, 21 September 1904, Page 47
MARRIAGES. Otago Witness , Issue 2676, 28 June 1905, Page 48
SANDYMOUNT. Otago Witness , Issue 2097, 3 May 1894, Page 23
IN MEMORIAM. Otago Daily Times , Issue 14186, 11 April 1908, Page 8
Eion Ritchie Rutherford – Lundie Braes (Duntroon)
Dunedin City Council Cemeteries Search
DEATHS. Evening Star , Issue 17080, 26 June 1919, Page 4
BROAD BAY. Otago Witness , Issue 1838, 11 February 1887, Page 17
LOCAL & GENERAL. Otago Witness , Issue 1829, 10 December 1886, Page 9
DEATHS. Otago Daily Times , Issue 12260, 25 January 1902, Page 6
Will of Andrew Rutherford, Schoolmaster of Lundie , Angus. PROB 11/1950/291. The National Archives.
HARBOUR CONE CHEESE FACTORY, PENINSULA. Otago Daily Times , Issue 5301, 14 February 1879, Page 7
Births, Deaths & Marriages Online
Walter Riddells diary, aged 28 years, Sandymount, Otago Peninsula. by Walter Riddell