I was offered another tantalising piece to the puzzle that is Otago Peninsula's early settler history when a Highcliff landowner contacted me through the blog to ask about the ruin on his property. We determined that it was "Paton's Farm", and I was able to talk my way into a visit to check the place out for myself.
Paton's farm was located on Highcliff Road, just past Donaldson's Hotel.  We pulled in to Paton's place to be met by our hosts Phil and Morag.
The companion I'd carted along immediately proved his worth by identifying a pole in the nearby bushes, which he claimed was identical to some in South Dunedin. I did not have time to verify this fact for myself, but hence forth shall be on the look out for doppelgänger posts.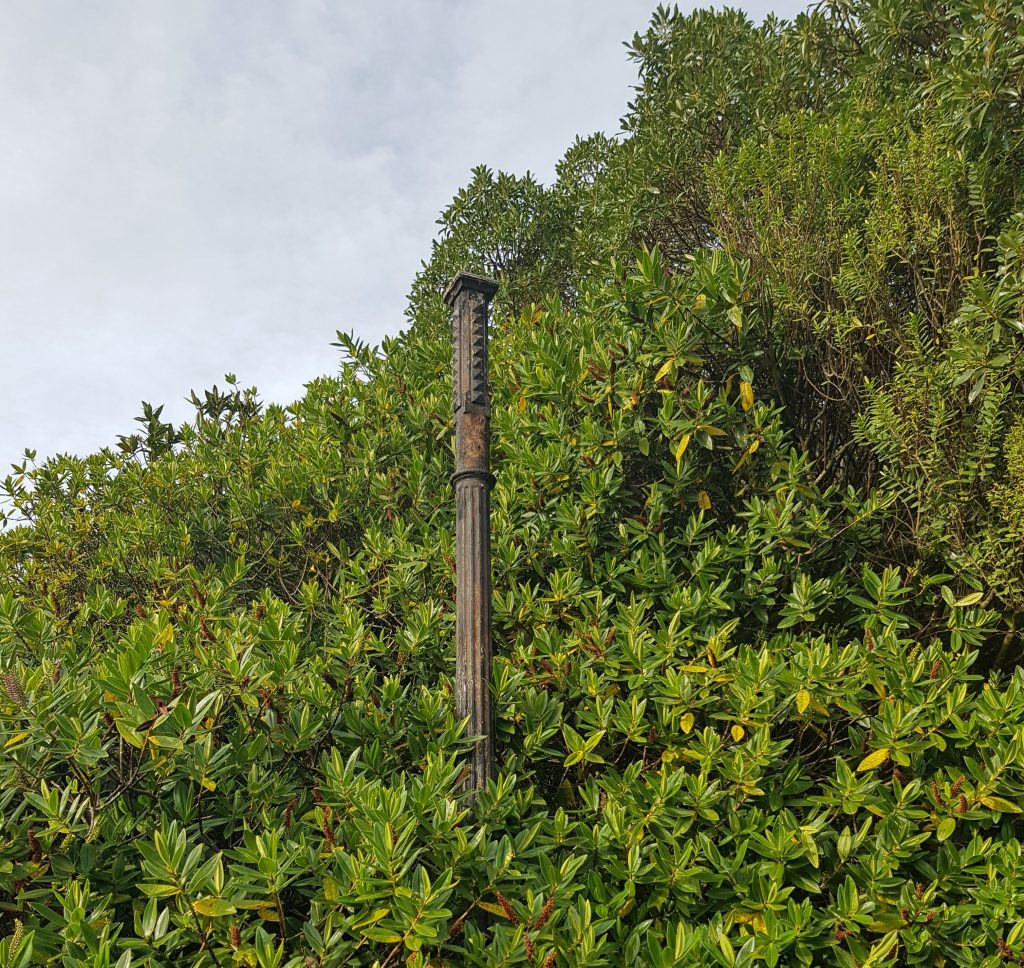 Firstly we had a cup of tea and gossip about the events of a century or more ago. Then we headed down the drive to view the ruin, a stone edifice tucked into the lee of the hill. This was one of the best peninsula ruins I'd yet seen, ragged stone walls still arranged in the footprint of a multi-roomed dwelling.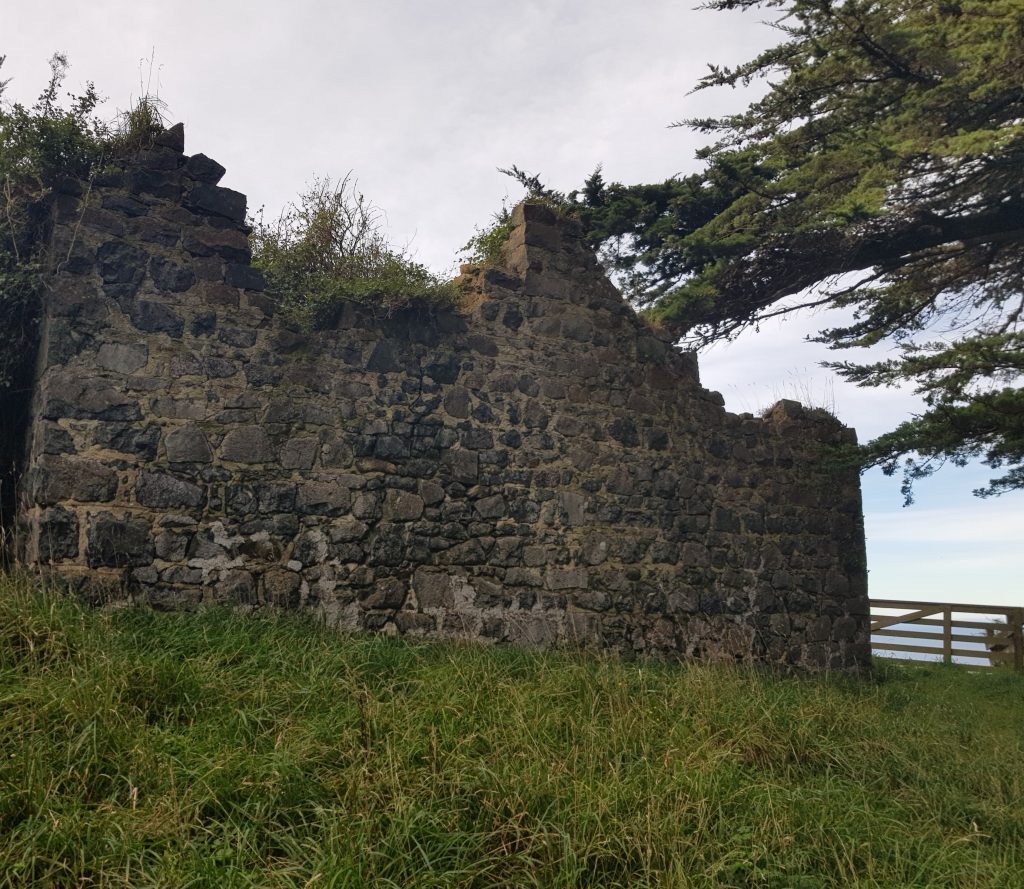 We admired the details in the stone work, the layers and the patches, perhaps the work of the very man who once lived here. Andrew Paton, who hailed from the town of Methil in Scotland, trained first as a shoemaker but ultimately became a mason. By the mid-1800s Methil was experiencing an economic slump, with its major industries of coal-making and salt-panning in decline or ceased all together. As the son of a farm labourer, Andrew perhaps saw little future in his home village and that may be why he decided in 1852 to migrate to Australia.
He did not, however, go alone. A week before his departure for Melbourne on the Signet, he married Jessie Pike in Edinburgh. I could find nothing on Jessie's life prior to this, so I can only speculate on how they knew each other or what their thoughts were when deciding to face this journey together.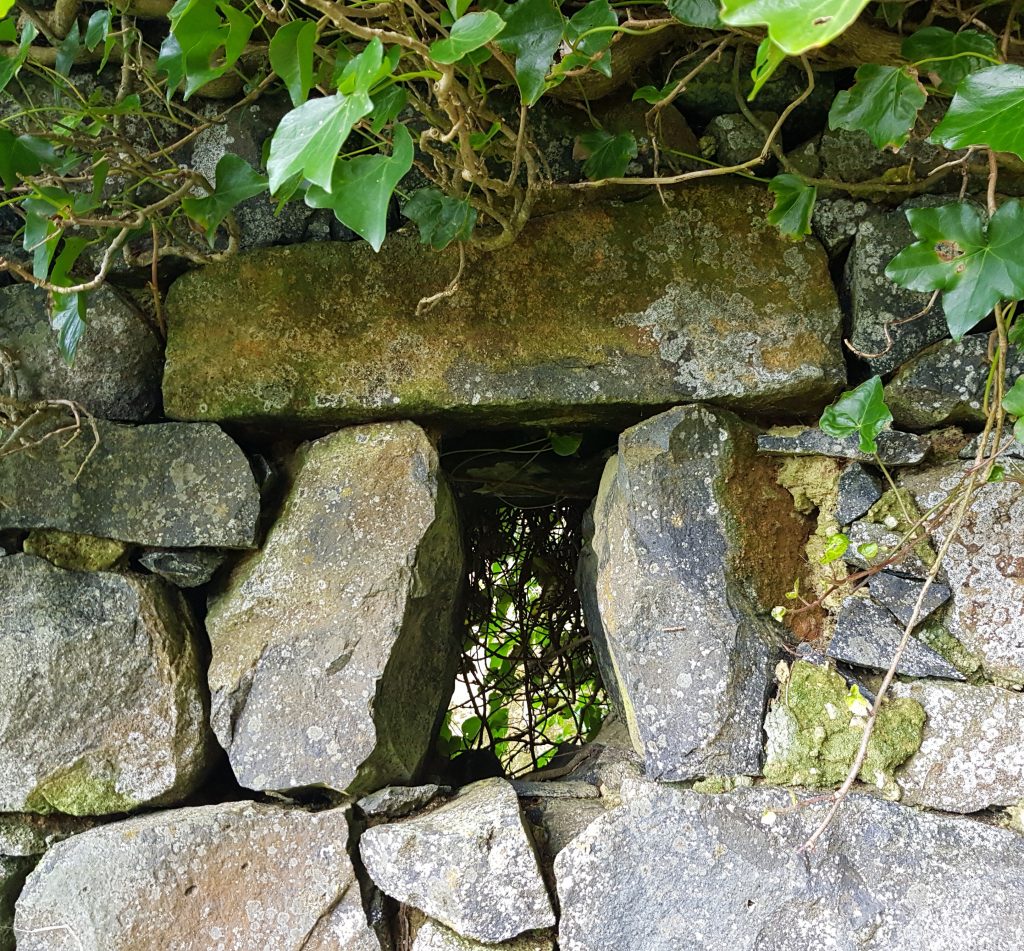 The couple arrived in Melbourne in March 1853, a town in the grip of a gold rush boom and bursting at the seams with immigrants from every corner of the globe. Andrew doesn't appear to have been there for gold, but there would have been plenty of work for a mason in the ten years he stayed, as this decade saw the commencement of many grand construction projects. Four of their five children were also born during this time, though of them all only Christina would survive infancy.
Some time around 1860, just as Melbourne's gold boom was dying down and Otago's was beginning, the family moved on to Dunedin.
The house is huddled against the ridge of the seaward side of the Peninsula, with a clear view across the deep valley to the Sandersons' place on the road to Boulder Beach. It was a much nearer neighbour, however, who would cause trouble for the Patons in their new home.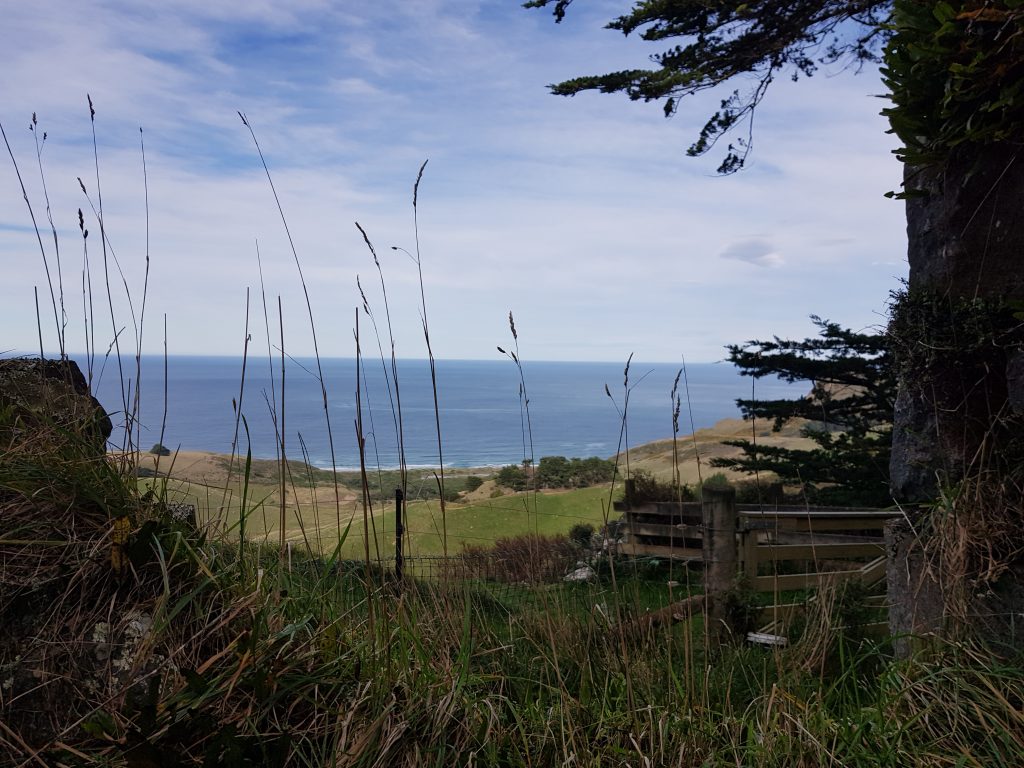 The Fairbanks owned the land on which Donaldson's Hotel was built, although (as I have mentioned earlier) Henry was precluded from running the watering hole himself due to the "intemperance" of his wife Maria. She was a habitual drunk who could be gone from home for weeks at a time, left her husband and returned repeatedly, and did stints in both prison and Seacliff. She also claimed Henry was violent toward her, and there were sufficient witnesses to prove he assaulted her on at least three occasions. Domestic violence, substance abuse, and mental illness…the situation in the Fairbanks household was something social services would struggle to deal with today, let alone in the 1870s. I can only feel sorry for Maria – she may have been a drunken wreck, but she must have been miserable.
It's difficult to get along with such neighbours, and one day in 1870 Jessie clearly decided she'd had enough. She marched down the road, stood opposite the Fairbanks' house and stripped off her outer garments before challenging Maria to fight and unleashing a tirade that would last for several hours. Evidently she suspected Maria of "improper connection" with Andrew, and of insulting her daughter. For this incident the papers labelled her a "virago" and she was fined 30 shillings.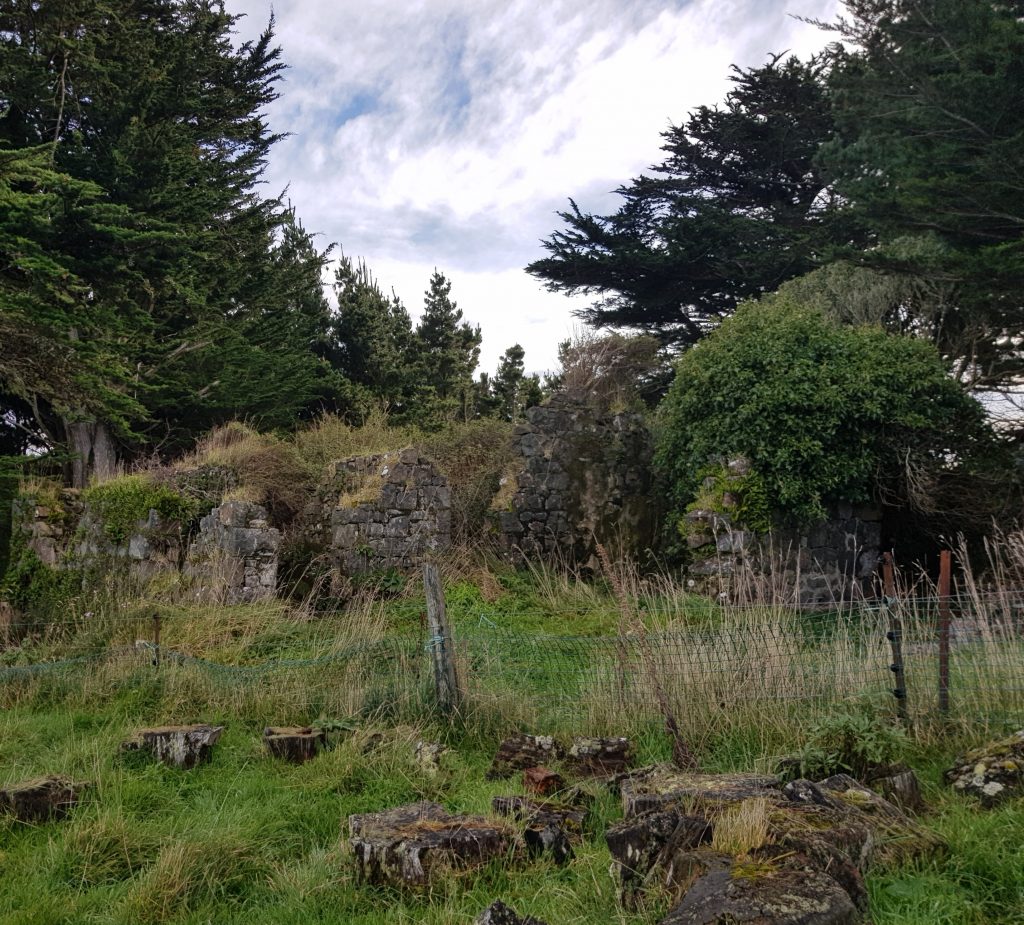 I have to say, the more I learn about Jessie the more I like her, virago or not. She owned land in her own name, next door to Kerr's place at Hoopers Inlet. She was the only female investor in the Peninsula Cheesemaking Company. She also, along with Christina, was one of the almost 32,000 women who signed the 1893 Women's Suffrage Petition – representing almost a quarter of the adult European female population of New Zealand. Later that year we would be the first self-governing country in the world to give women the vote – and these two were a small part of that!
For her own part, Christina won prizes for her oatmeal cakes at the Otago Peninsula A&P shows, which were held on Mathieson's farm, opposite Donaldson's Hotel. She married William Townley, who you might remember as one of the people who was drawn into the Sandymount feud – and earned a beating for his troubles!
Behind the house was what remained of another building, perhaps a barn or byre. Beyond this an old road wound away down the slope, perhaps to what appears to be "Garn's Farm" on the 1922 map – though I could find nothing about that place or the mysterious Garn.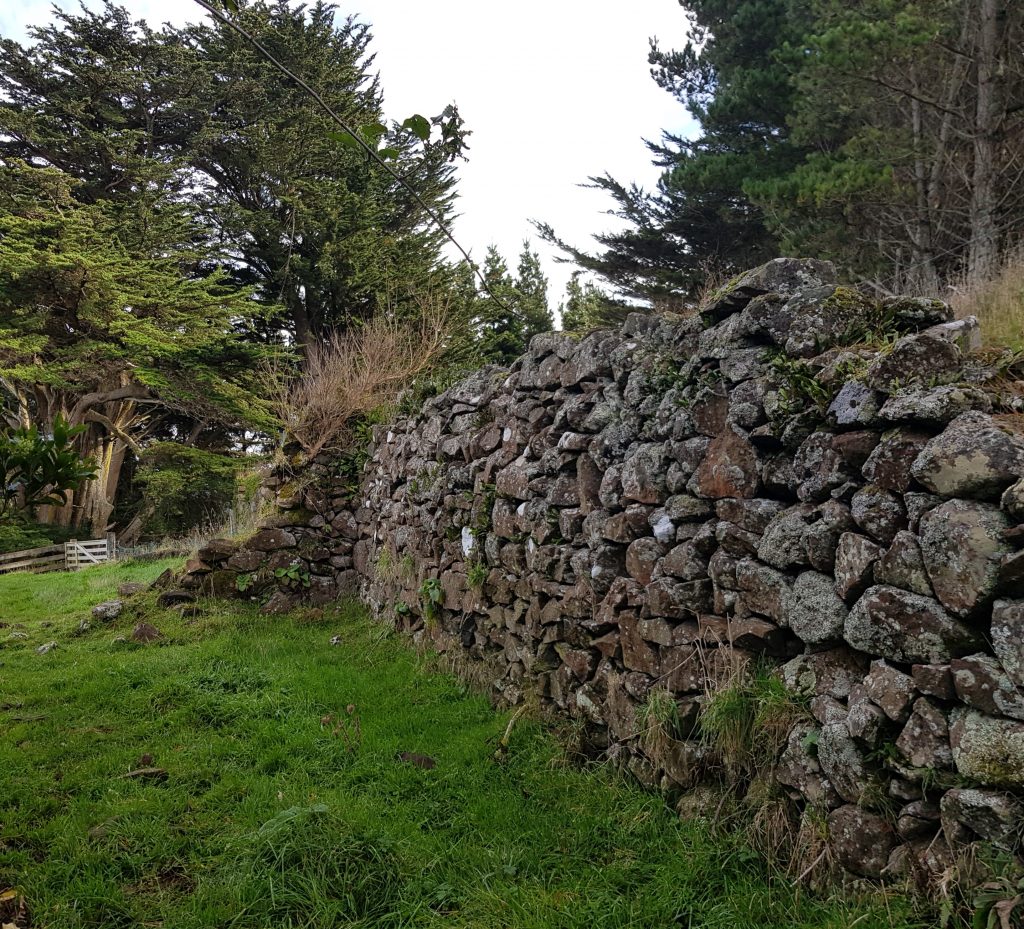 We backtracked past Paton's house and made our way up the nearby hill – named Patrons Hill on modern maps, it definitely started out as "Paton's". Standing next to a dry wall at the summit we had a 180 degree view, over Fairbanks Hill to the masts beyond Karetai Road, over Shand's estate, Paradise Farm, all the way to the heights of Sandymount.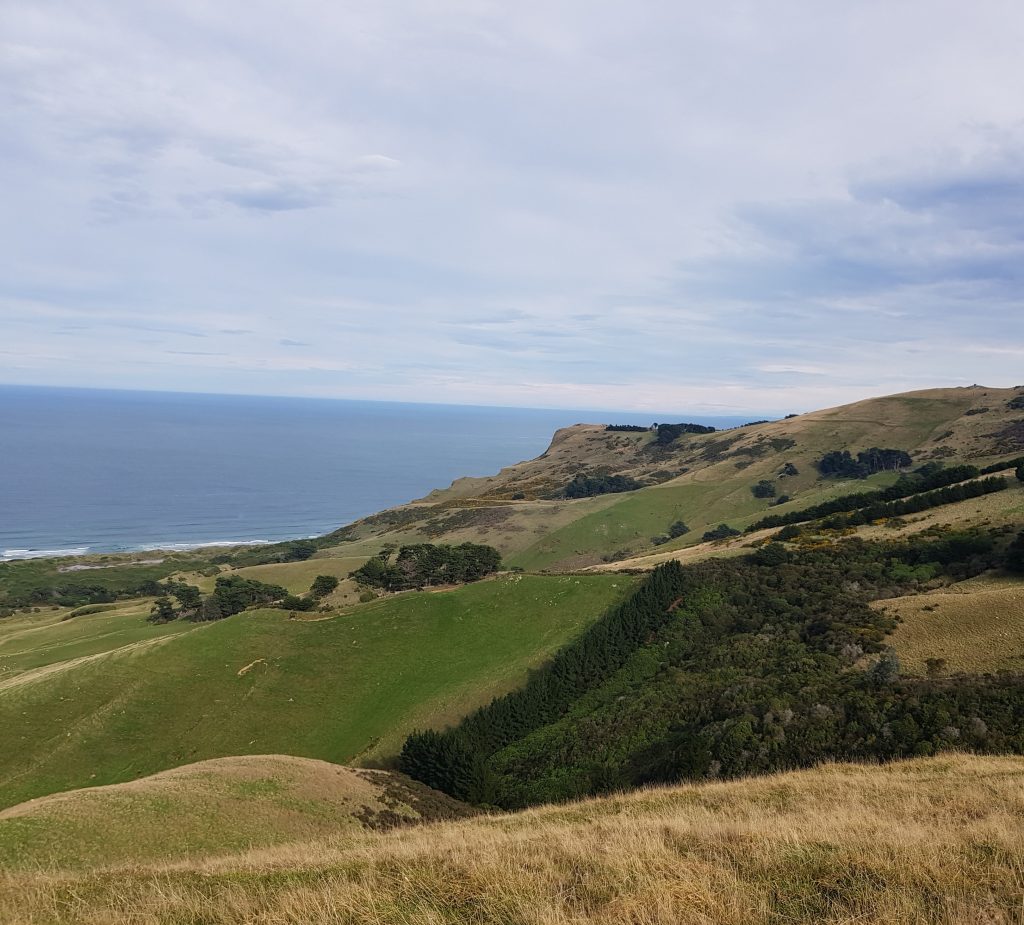 Andrew passed away in 1899 and Jessie followed in 1913. They were survived by their only child Christina, and Christina's own children. One of them, Jessie Pyke, would marry the same John Kerr Young that got into such strife with the Nyhon family. The stories of early life on the Peninsula intertwine with each other so much that it is difficult to pluck out a single strand.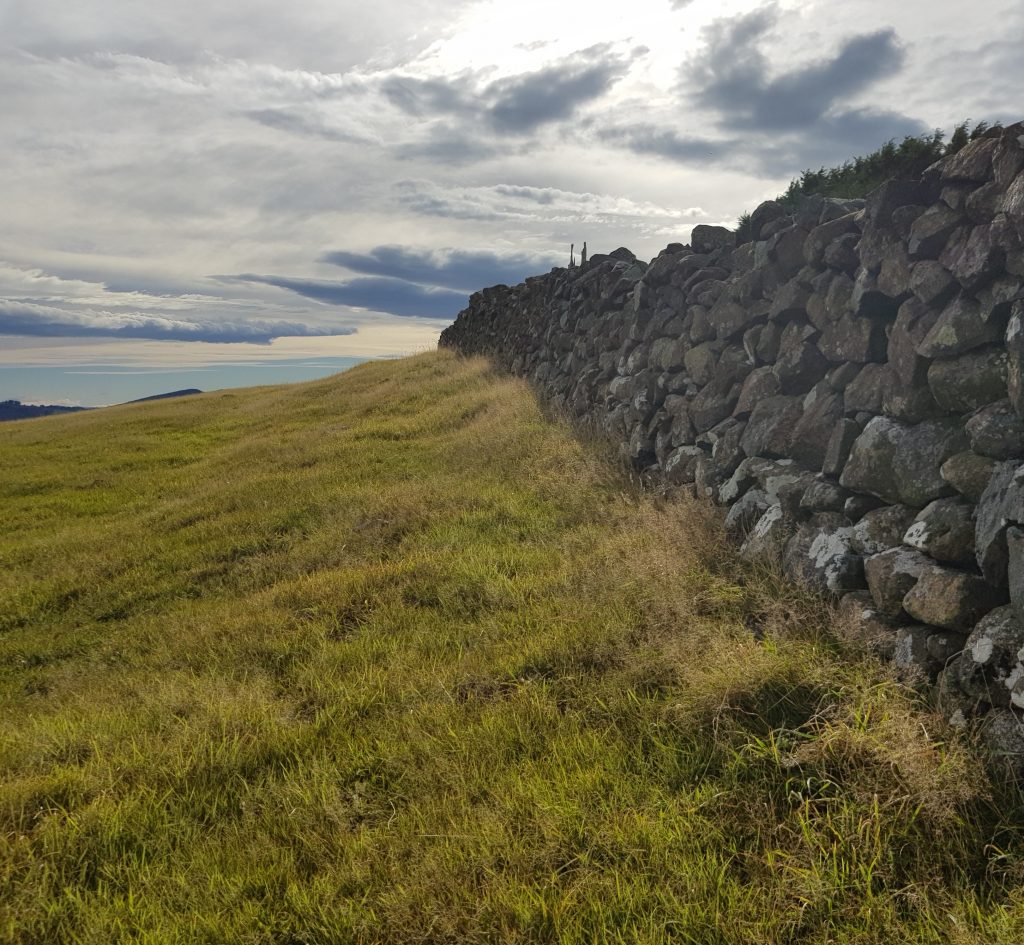 We thanked our kind hosts, gave their horses some nose rubs, and took our leave. The suffragist virago and the stone mason are a fascinating addition to the pantheon of early settlers in this area, taking their place among the dysfunctional Fairbanks, eccentric inventor Buskin, and efficient Beattie with his triple wedding. Through their eyes we see New Zealand's great events up close – women's suffrage, the Russian scare, World War One and the flu epidemic which took the Sanderson boys.
How many other stories are still out there, waiting to be found?
References:
UK Census records via FreeCen
EARLY HISTORY AND METHIL DOCKS
Marriage information via FamilySearch
Births, Deaths and Marriages Victoria
CITY POLICE COURT. Otago Daily Times, Issue 4825, 4 August 1877
MAYOR'S COURT. Otago Daily Times, Issue 3150, 12 March 1872
RESIDENT MAGISTRATE'S COURT. Otago Daily Times, Issue 2571, 4 May 1870
'Women's suffrage petition', URL: https://nzhistory.govt.nz/politics/womens-suffrage/petition, (Ministry for Culture and Heritage), updated 13-Mar-2018
Otago Peninsula by Hardwicke Knight
PENINSULA AGRICULTURAL AND PASTORAL SOCIETY. Otago Daily Times, Issue 5580, 8 January 1880
1901 and 1922 W.T. Neill Military Topographic Maps (available through Archives New Zealand)