Continuing my adventures with KL of KL's Self Discovery, we stopped in on our way back from Moeraki to the Truby King Recreational Reserve, site of the infamous Seacliff Lunatic Asylum. It was still drizzling so we rugged up once more and entered the reserve, KL's three hardy children in tow.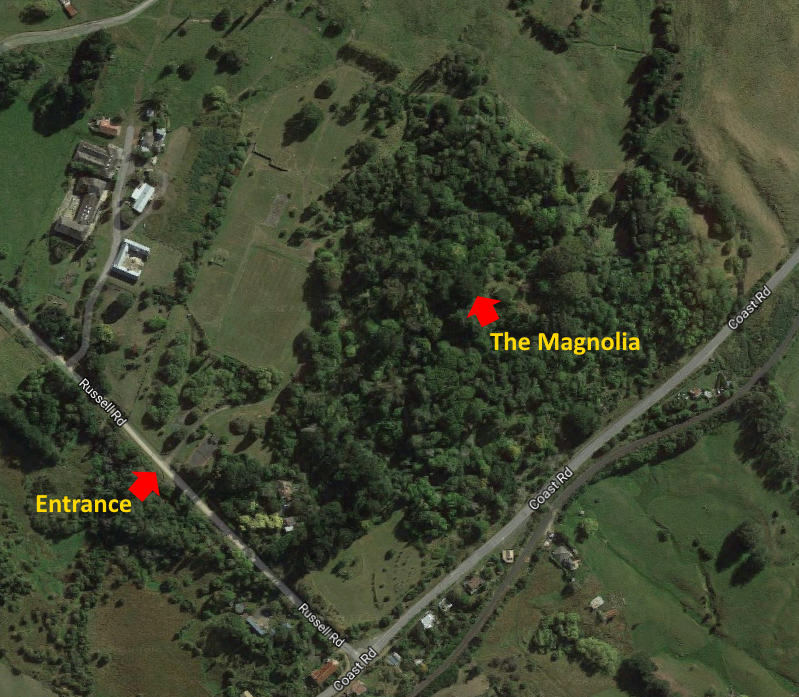 The entrance was up a seemingly dead end street which morphed quickly into a dirt road. A single chain slung across prevents vehicle access up what once would have been a stately drive towards the asylum entrance. On our right was a disused tennis court, and to our left a mysterious flat area lined with cracked concrete. Continuing, we proceeded up an avenue lined by trees.
Although this place is best known in the imagination of Dunedinites as a site of suffering and disaster, the naming of the reserve aims to redeem it. Truby King was medical superintendent of the Seacliff Lunatic Asylum for 30 years, starting in 1889, and he is most famous for founding the Plunket organisation and promoting standards of infant care which helped to drastically decrease the child mortality rate. His system was revolutionary as it circumvented male doctors and empowered prominent women in the community to take a role in helping their fellow women to improve their children's health.
Well I'm quite glad to see that at least one good thing came from…oh wait, Truby King was a eugenicist? He believed that education of girls in anything other than domestic roles would render them unfit for motherhood? He believed that mental illness was caused by bad mothering? Dang.
Even if the Plunket Society was established under shady circumstances, there is no doubt it remains influential and has evolved into something which helps many mothers these days. I would certainly be interested in hearing first hand experiences, being (apparently) unfit for motherhood myself!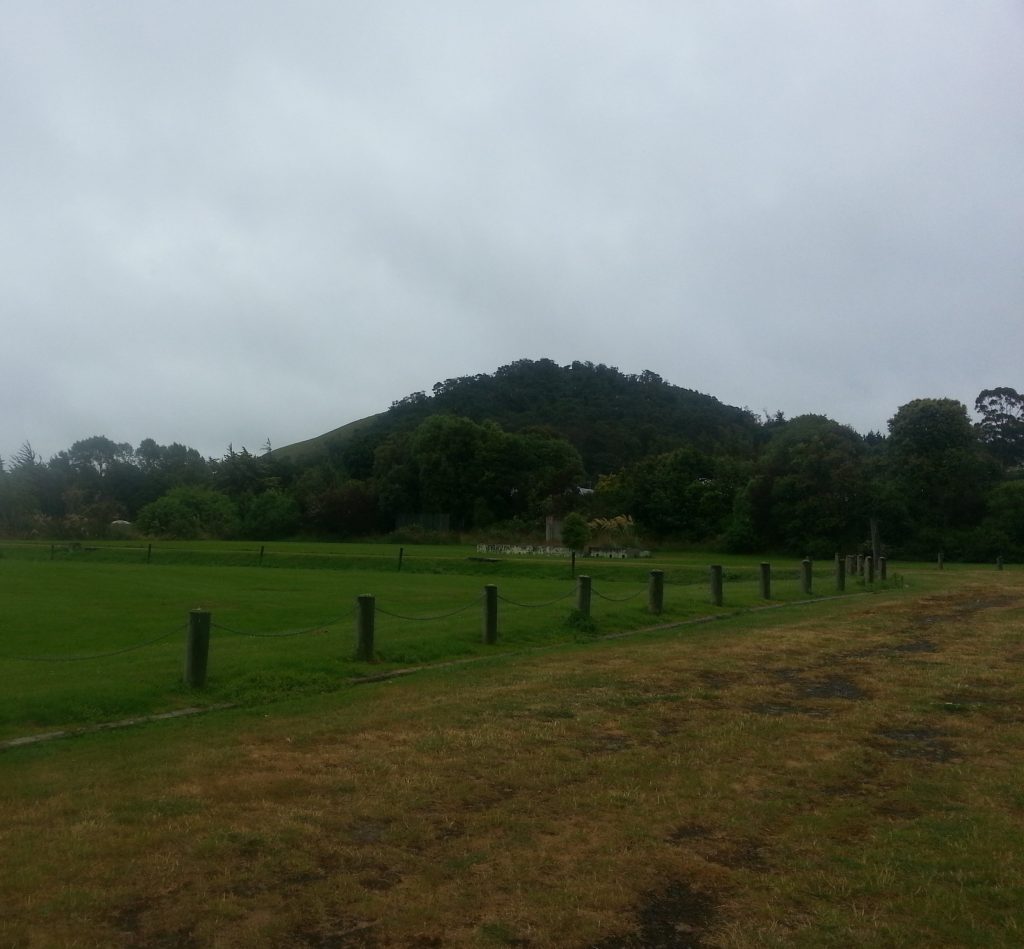 Shortly we came to what would once have been a grand view towards the main entrance of the sprawling gothic megastructure, which was the largest public building in New Zealand for fifty years from its opening in 1884. It replaced the Littlebourne Mental Asylum, sited near Otago Boys High School, which was proving thoroughly inadequate in light of Dunedin's burgeoning population brought on by the gold rush.
To our right was a memorial conifer to the staff and patients of the asylum – it was a large source of local employment.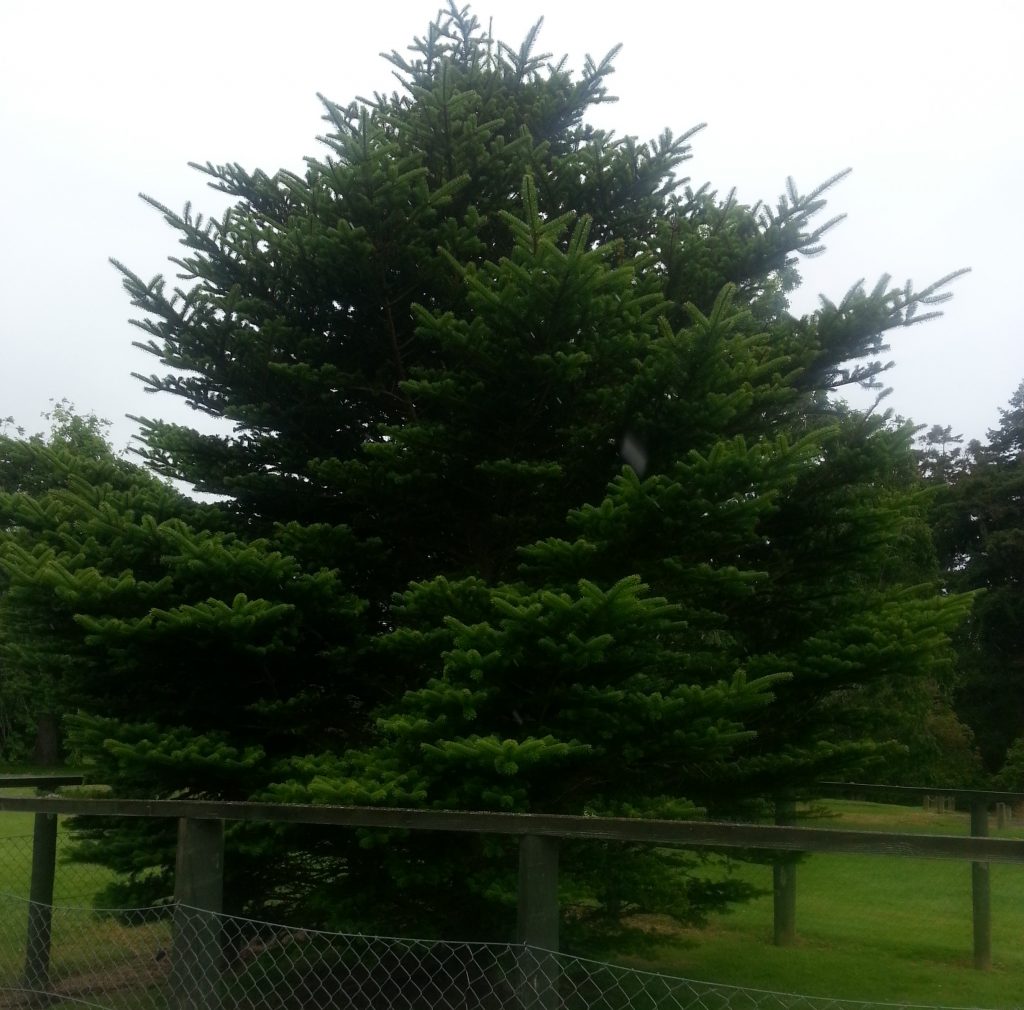 Although the plaque does not directly say so, the tree could also be thought to commemorate the 37 women who perished in the great fire of 1942 – for which there is currently no explicit memorial. At the time, it was New Zealand's worst loss of life to fire, caused mainly by the wartime shortage of staff and the fact that all the windows and doors of the secure ward were kept locked at night. It's been suggested that the lack of recognition for this terrible loss of life is rooted in our casual disregard for the mentally ill, so I hope this sad fact will be corrected – especially since, as we shall learn, many of the inmates here had conditions that were dreadfully mis-handled.
Venturing on to the flat site of the asylum, we found only one ruined foundation remaining, with tell-tale toilet pipes. Here we found ourselves in a sticky situation, as we had to explain the significance of the site to KL's eldest child. Of course it was baffling to her, and I hope that this is a sign for the future of our country – that we treat difference with compassion and acceptance, not exclusion and ill-treatment.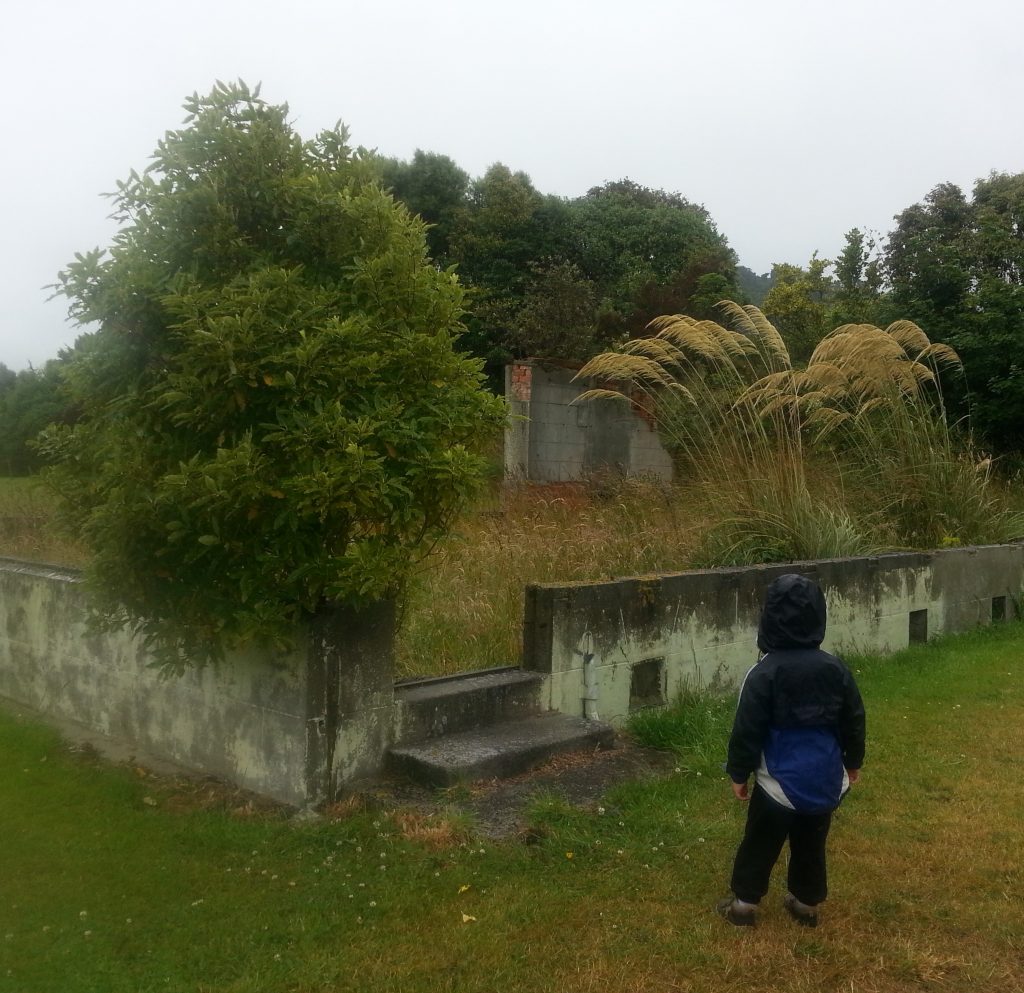 It is sad to say that the magnificent asylum building was doomed from the start, due to the unrelenting movement of the land upon which it was built – the same problem that caused the abandonment of the rail tunnel at nearby Brinn's Point. Although no definite cause has been established for the devastating fire, an electrical fault caused by shifting foundations has been suggested. The main building was demolished in 1959 and the last surviving building (presumably the one we were currently viewing) in 1992.
We continued deeper into the reserve, along what might once have been the rear of the enormous asylum building.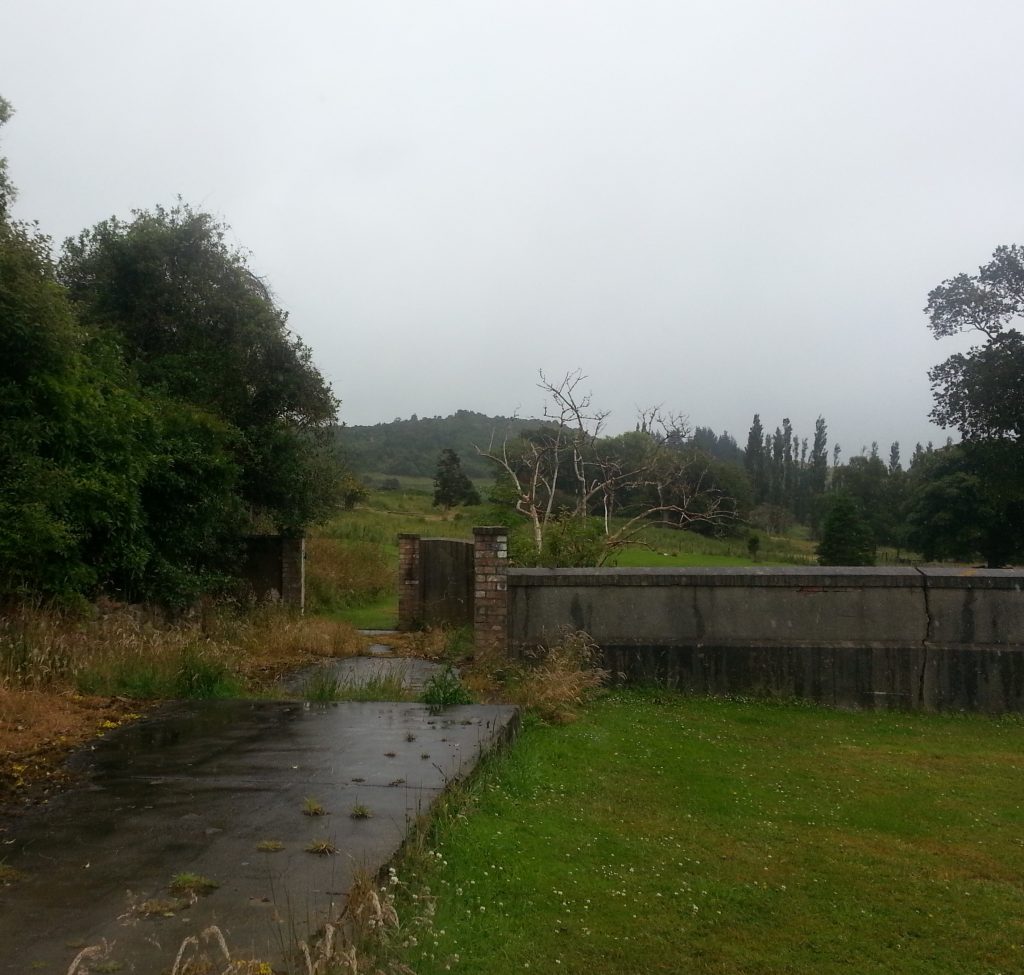 Slightly outside the reserve boundary I noticed a mysterious staircase. I left KL and the kids in the safety of the reserve while I squeezed through the electric fence and investigated. Not much remained at the top of the steps but a flat space. Janet Frame, during her time at Seacliff, described "a building called Simla, away up on the hill". My sources were not clear whether Simla was the wooden extension which burned down on that fateful night, or one of the separate "cottages" which housed "difficult" patients.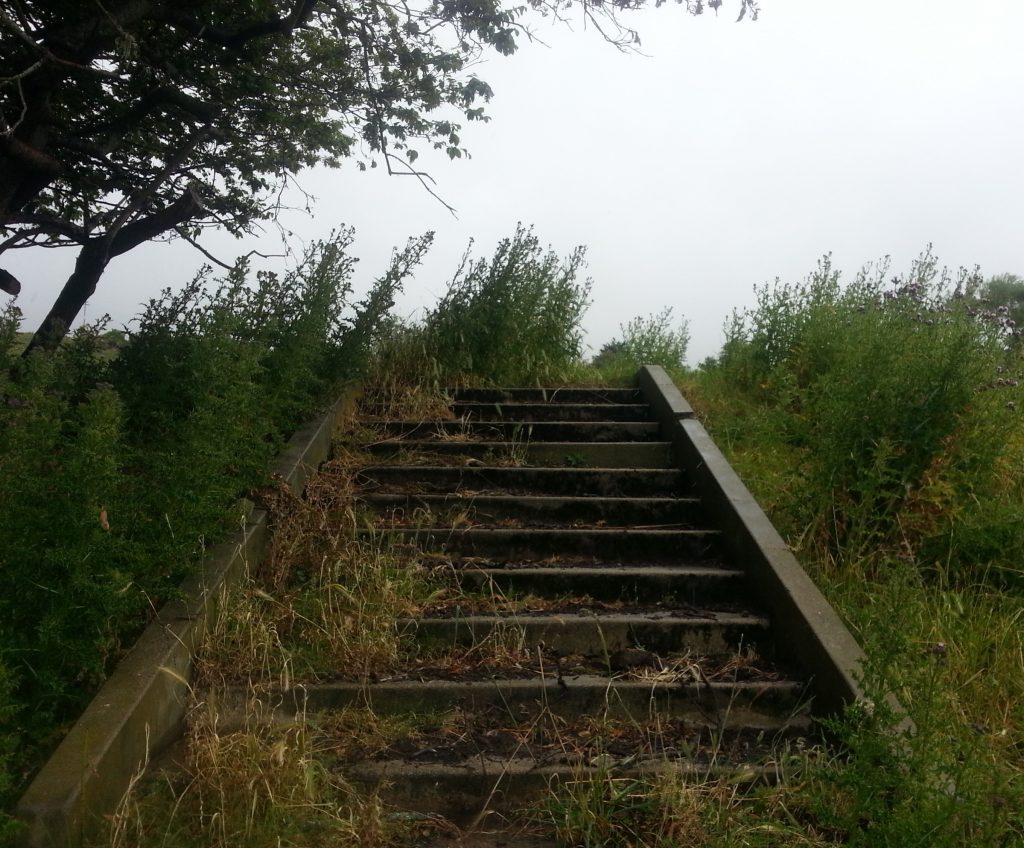 Not inclined to stick around, I rejoined KL to walk down a pleasant path through the overgrowing bush that might once have constituted a lush and relaxing garden. We soon emerged into a picnic area amidst several large trees, and a bit of poking around revealed signs that a semi-circular flower garden had once featured nearby.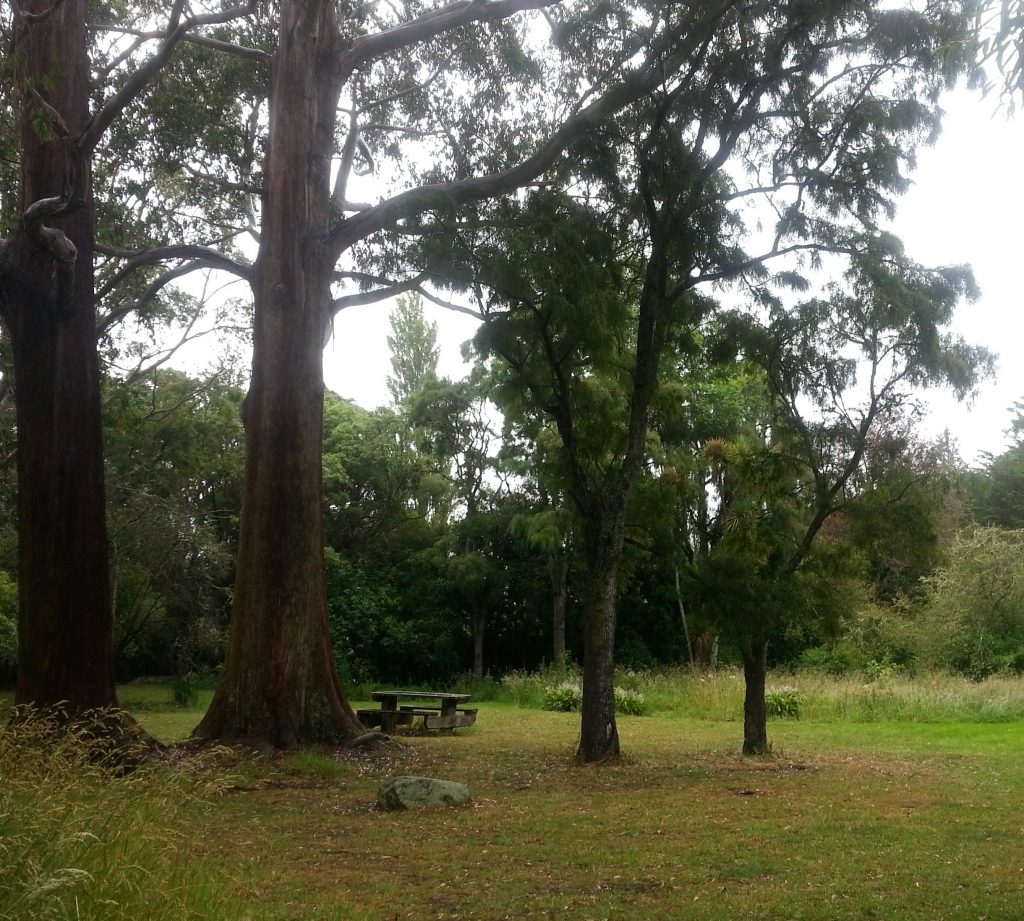 We crossed a cracked concrete bridge across a small overgrown stream bed and were drawn to an unassuming plaque set below a spindly tree. This little tree, looking fairly unimpressive in this season, is "the Janet Frame magnolia", which she mentioned in her first two books, Owls Do Cry and Faces in the Water. It was "rediscovered" in 1996 as her fame reached its peak, and the surrounding vegetation was cleared away to allow visitors to view it.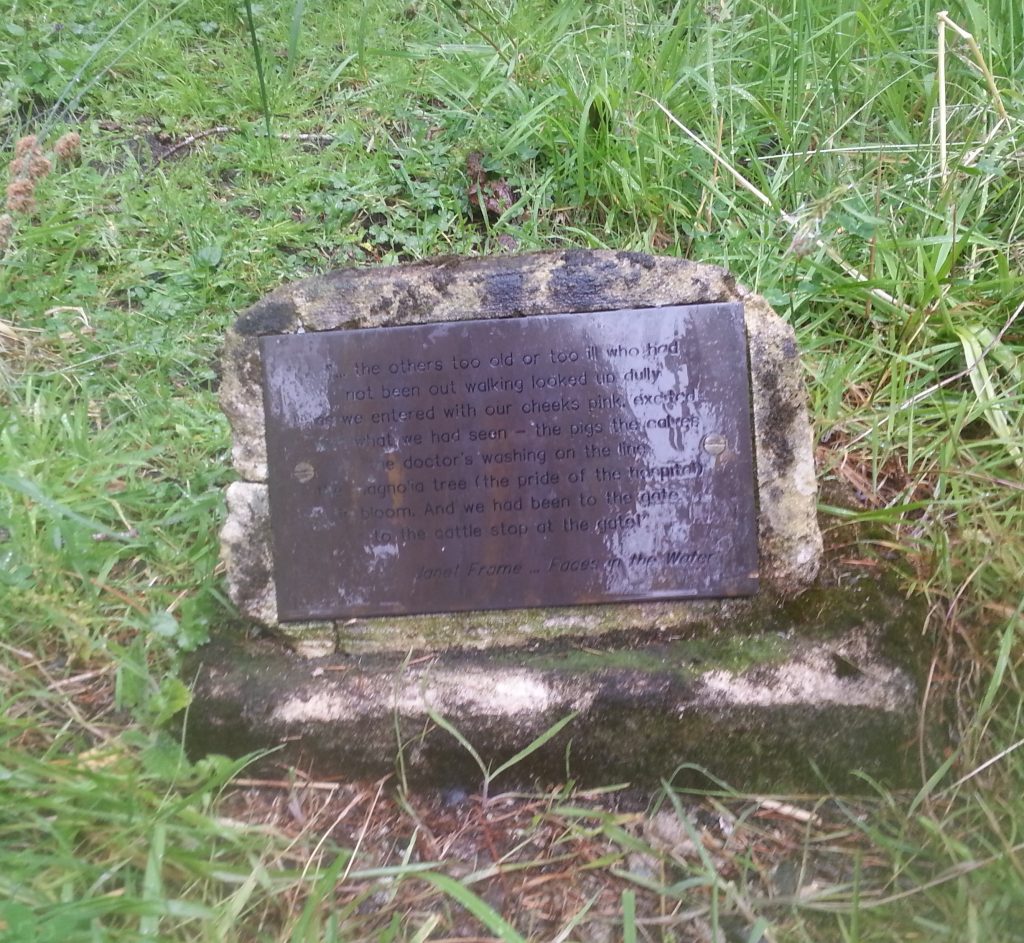 This is the only reference on the grounds to the asylum's most famous resident, and that's probably the way she would prefer it, since the stigma of having spent time in mental asylums followed her throughout her life – despite the whole ordeal being based on a massive misdiagnosis!
It was a combination of social struggles, difficulty coping in teacher's college and infatuation with a psychology tutor at university that lead to Janet's hospitalisation when she was only 21. This hits uncomfortably close to home for me because I faced very similar struggles in my early twenties – it makes me shudder to think that had I been born sixty years earlier I too might have been committed to this place.
The doctors diagnosed her with schizophrenia, based partly on the (willful or ignorant?) assumption that her love of using descriptive metaphors indicated actual delusions. At the time this was said to be an incurable illness, and the only prediction for sufferers was that they would gradually lose all mental faculties.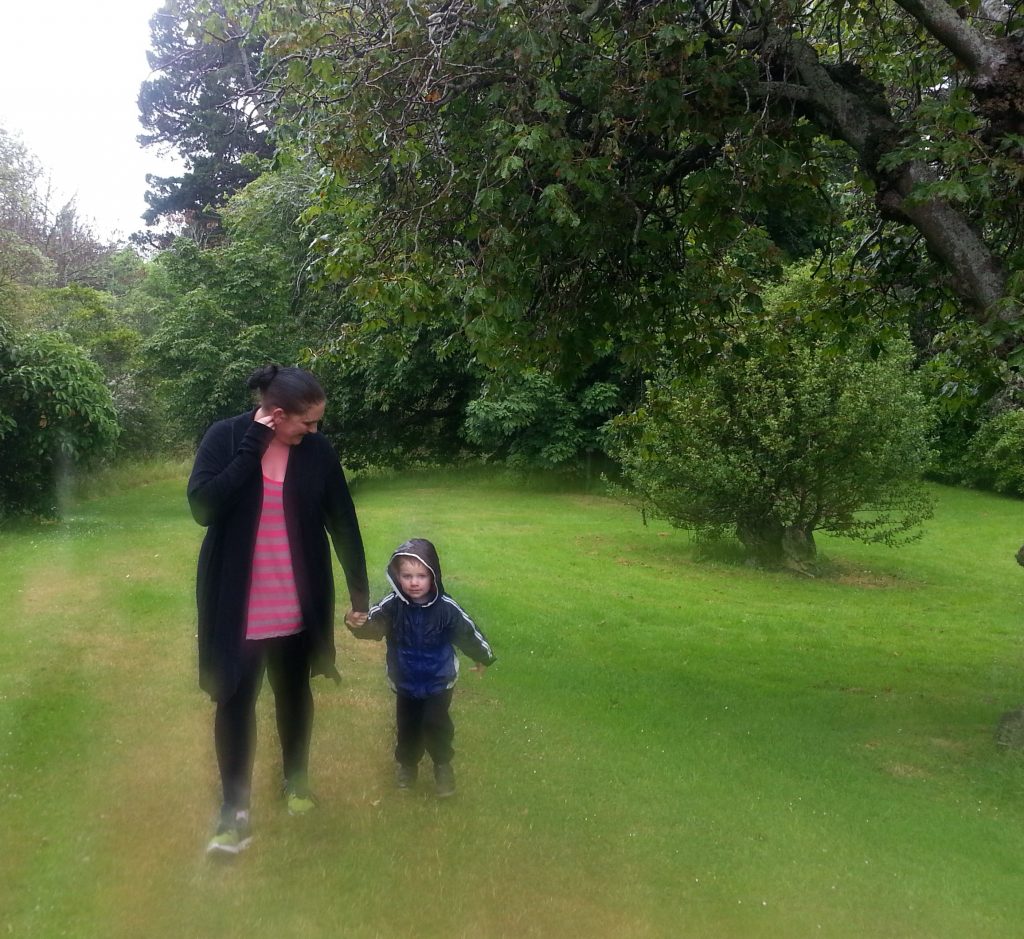 Once made, the diagnosis was never once questioned, and Janet spent the next ten years in and out of mental institutions being treated by electric shock and insulin. As the oft-told story goes, she was only saved from a scheduled leucotomy by the publication of her first book, The Lagoon and Other Stories. While the tellers of this tale seem to recognise what we almost lost, I am not sure they always fully grasp what we did lose. Because surely many others did not have a fortunately-timed publication to save them, and so had their futures stripped away along with much of their intellect and personality.
It was only when her supportive writer friends arranged for her to visit Europe that checked into the comparatively enlightened Maudsley hospital in London, and received the stunning news that she had never had schizophrenia. In fact, most of the problems she was now facing stemmed directly from her years of institutionalisation. After ten years of believing that she would slowly descend into madness, Janet now had to face the idea that she was perfectly sane. Her therapist, Dr Robert Cawley, helped her to work through her difficulties coping with independent life, and slowly she gained the confidence to pursue her own path rather than meekly submit to the will of others.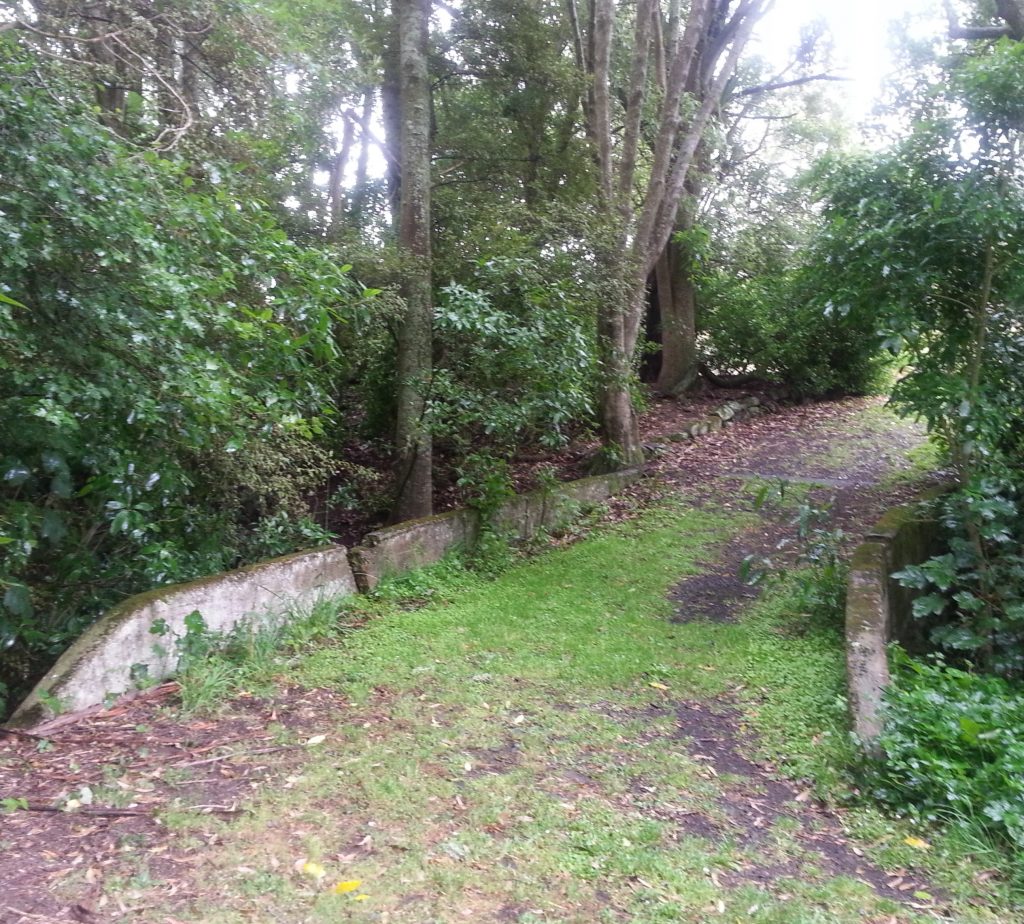 It was this doctor who she would enlist throughout her life to rebut sloppy journalists and biographers who simply couldn't resist the angle of "the mad artistic genius". Knowing this, I feel a little guilty that my only mention of her so far discusses her mental health – so I'm making a promise to find another place that is significant to Janet Frame, but which brings a different part of her story into light.
But for now it was time to leave the lone little plaque and make our way back through the damp grass and overgrown grounds to take one last reflective look over the space where the main asylum building once stood. It is hard to fathom what went on here, not in my lifetime, but certainly within memory of people whose lives have intersected with mine. We've come a long way in those years, and I can only hope that as time goes on we will continue to improve in our responses to those who struggle with mental health, or who – like Janet Frame – are simply a little different.
References: