What is the appropriate way for a Dunedinite to celebrate the first day of spring? Why, by taking another (literal!) page from Paul Hayward's Intriguing Dunedin Street walks, of course! This time we cracked open volume 5, now celebrating its 20th anniversary – having been published in 2002, and randomly selected walk three: The Greek Quarter, Bellevue Hill and the Junction.
Honestly, I love these little books – the obvious labour of love, the excited bolds and italics, the obscure trivia. Today I was hoping for more of the same, as I parked up at the start point on the corner of Russell Street and York Place. Despite the ODT's forecast of a snowy welcome to spring, the sun was out.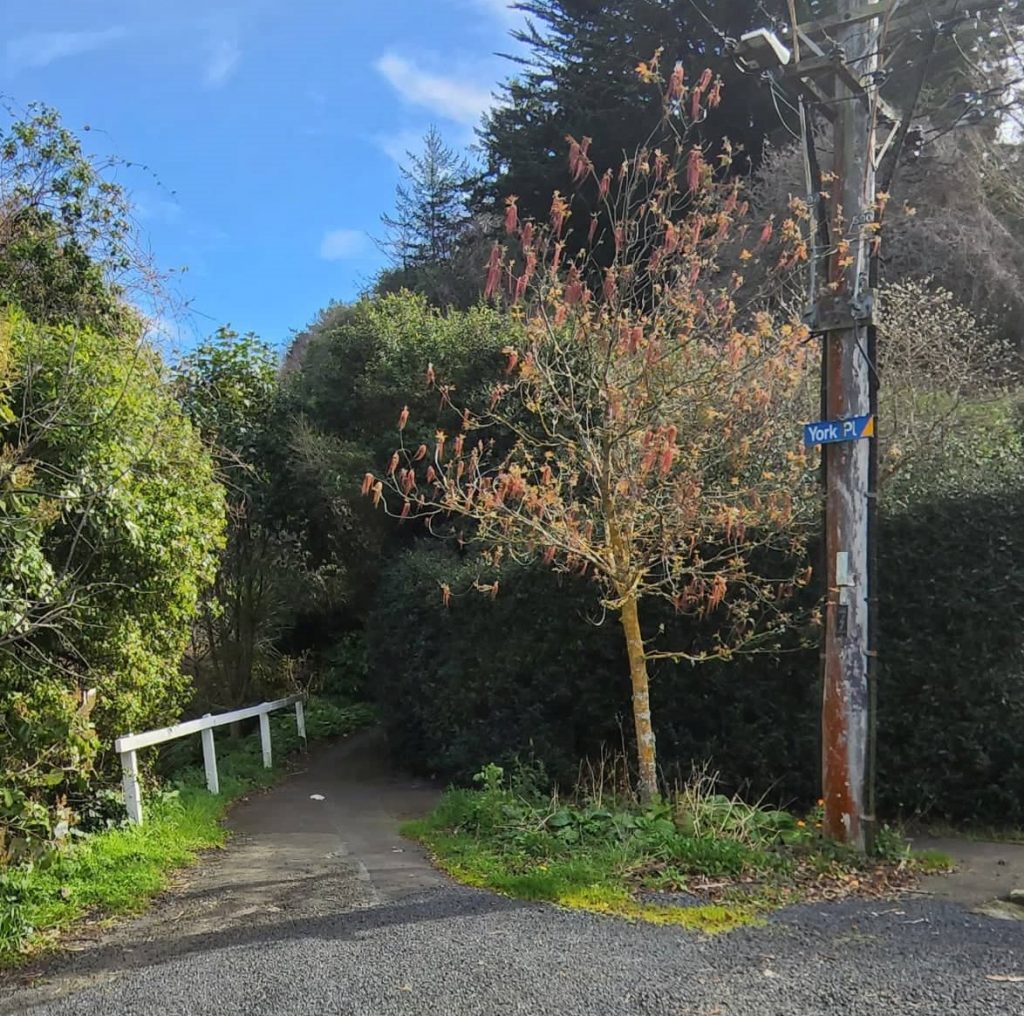 Here at the corner a handy foot track cut through to Queens Drive, the first of several I was to discover today. We followed it all the way up to Alison Crescent, home of the Edwardian villa Kilbirnie, designed by Louis Salmond. It still looked a little wintry today, but a cluster of daffodils signalled the approach of warmer weather.
We proceeded to Bellevue Street, named for the no-longer-extant Belle Vue cottage, which was controversially demolished in 1976. Belle Vue once belonged to Archibald Anderson, the first land owner in these parts, who came to Dunedin in 1845. He brought with him numerous cows, sheep and horses, which he ran on the then-uninhabited hill and in Kaikorai Valley below.
Now we followed the sunken footpath on Hart Street's right side, which Paul declares one of our city's loveliest.
We passed an old shop, now an art studio, as we crossed Highgate to Delta Street – entering the Greek Quarter! It appears to be so called for the Greek street names, and not as I had hoped, on some obscure local history. I'd been looking forward to finding a little Greek enclave in Dunedin!
We were directed to observe Dunedin's second-oldest bowling club, and were impressed by the smooth planes of the well-groomed hedge.
We then went around the bend (ha!) on Northview Crescent, to look at the…North View…over Kaikorai Valley. Unfortunately the landmarks appear to have changed over the past 20 years and I had difficulty finding the points of interest. I think the old Arthur Ellis factory is now obscured by eucalypts, and I couldn't figure out which two trees marked the old route of the Kaikorai Extension for the Roslyn Cable Car Line.
Back on Delta, we found the foot way through to Belgrave Crescent – I'm discovering a lot of new secrets today!
This, according to Paul, is the best preserved former cable car cutting in the city! I never realised that cable cars were once such an integral part of our city's transport infrastructure. Nowadays you have to know where to look to find any old sign of them, though there are those who'd like to see them return on High Street.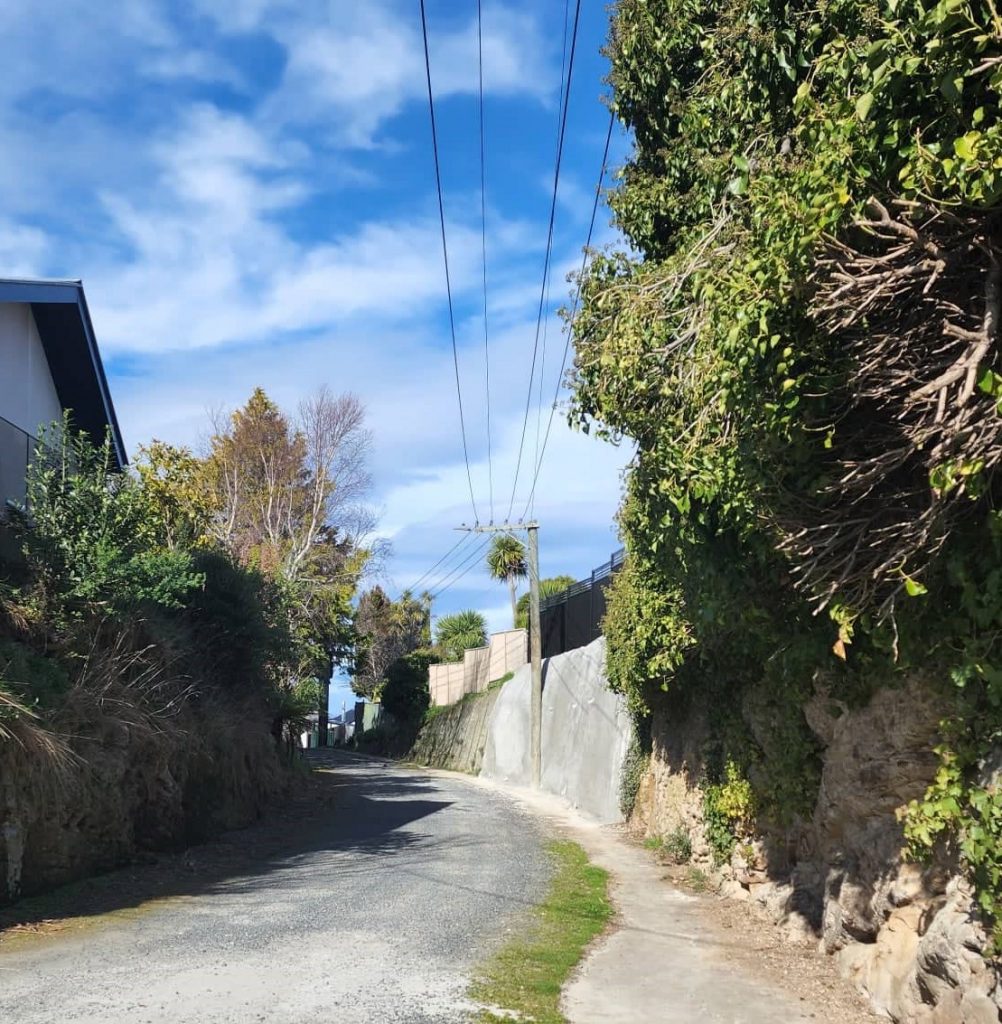 Makes you wonder how we'll be getting about a hundred years from now, especially with today's conversations around reducing our reliance on cars. Maybe the trams really will make a comeback!
We then took the recommended detour to Falcon Street – previously James Street but renamed to honour the Antarctic Explorer Robert Falcon Scott. Previously we have visited his memorial in Port Chalmers, and also peered at the house in which he shared a last dance with his wife.
But we were not here to honour the explorer, we were here to gaze down the Falcon Street steps, and if you guessed this was another old cable car cutting, you'd be right!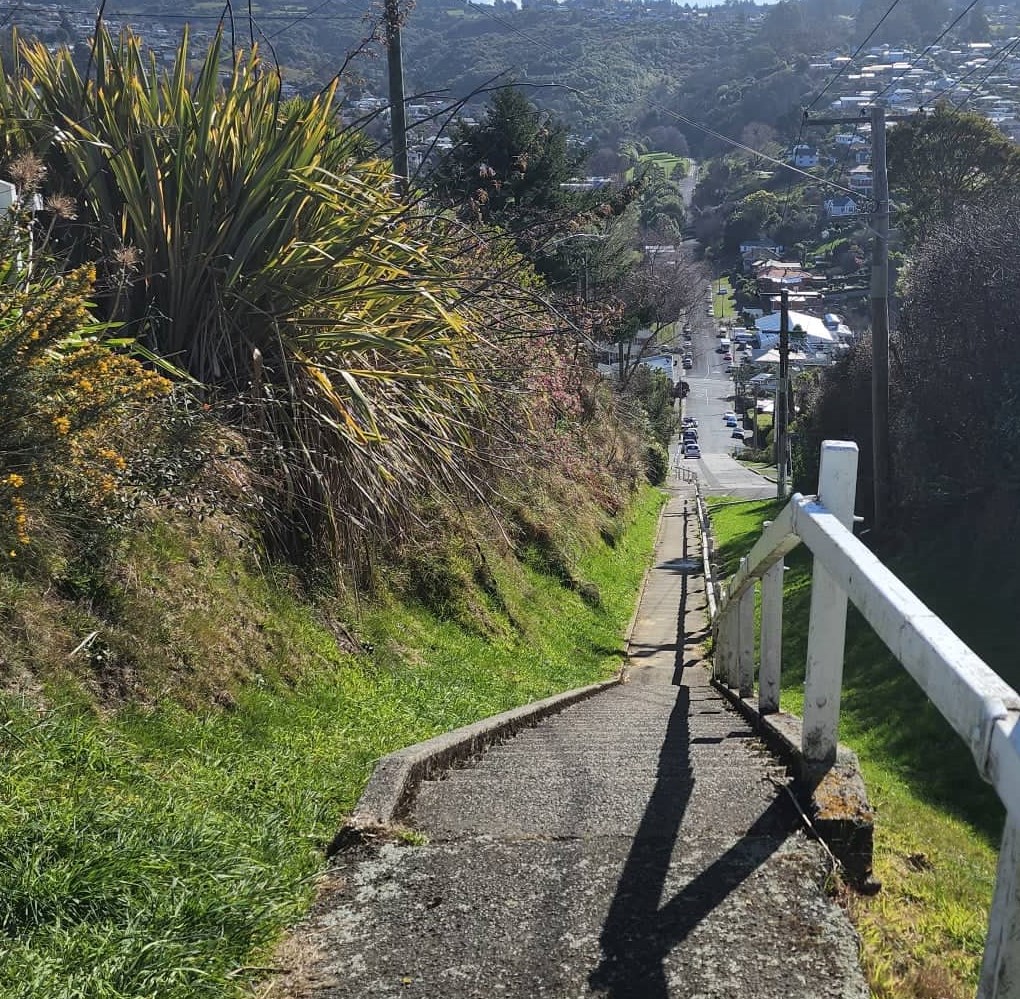 You know that Kaikorai Extension we unsuccessfully looked for earlier? That was actually second choice for a route down to Kaikorai Valley.
This was the original route the Roslyn cable car took over the hill, before it was condemned as unsafe, being such a steep drop after a 90-degree turn. This sent me down a bit of a rabbit-hole, because the scant information I could find on this was confusing and contradictory. It seems the new route we tried to find in Northview Crescent was proposed in 1904 in light of Falcon/James Street being too unsafe to take a tram down, which means Wikipedia's association of Falcon street with the death of a 13 year old girl in 1942 cannot be correct. Reading the original article, I see one of the witnesses reported seeing the accident from the back of his house in Falcon Street, thus meaning the unfortunate event probably did occur on the new line (to be seen from that position).
Sometimes I wonder if I'm too pedantic, but then I remember that without people like me, all kinds of cable car misunderstandings might exist!
We backtracked a bit, ending up back on Highgate and keeping a careful eye out for traffic hazards!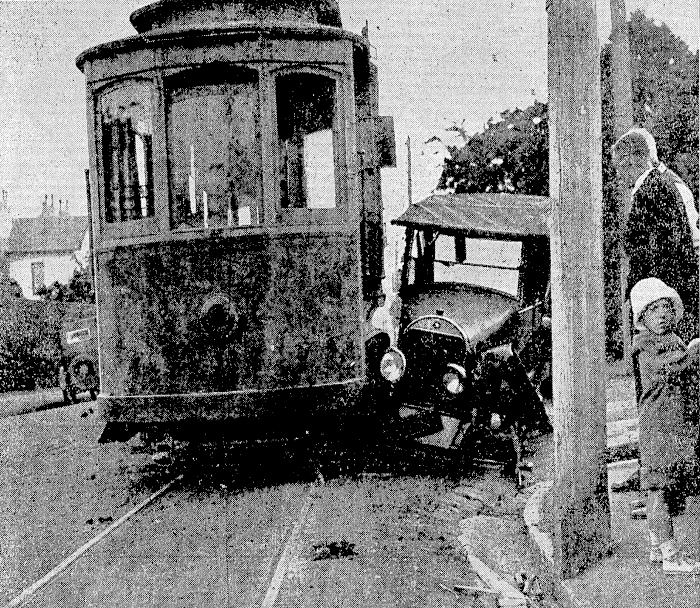 We also got a good look at Renfrew House, an impressive two story bluestone mansion dating back to the 1860s. A "testament to old Dunedin wealth" it was originally the home of Andrew McFarlane, an early Otago businessman who had his fingers such pies as grocery stores, farming, insurance, and tramways. The building was very nearly demolished in the 1970s but saved by a change of ownership.
By the park, we were told to look for a certain attic window, belonging to the very first house in Roslyn, now just peeking out amid the rest of the neighbourhood. Constructed about 1859, and helpfully labelled just "house" on the Heritage New Zealand list, this building was shipped prefabricated from Australia for Daniel and Helen Brown. Soon this cottage became the centre of a family farming community, with several family members building houses nearby and receiving pieces of the 30 acre land package once the elder Browns passed.
As you can see, it's been subdivided a lot since.
From here it was downhill, past some sunken Edwardian townhouses with wooden walkways bridging the gap between street and front door. Then up Scarba Street, where the footpath splits from the road! Now here's the place where architect Robert Lawson once lived, a man we have met previously through Seacliff and Ye Olde Kirk in Maryhill, though he is most famous for designing First Church, Otago Boys' High School and Larnach Castle.
The house is gone, but the name of Lawson Street leaves a clue.
We continued downhill, following the instructions to "enjoy the harbour view as it unfolds".
To be honest, I need little encouragement, as the harbour on a fine day is one of my favourite things to view.
This place, where the narrow road through the Town Belt meets Ross Street, was known as The Junction, back when cable tracks used to meet there. Now the old track's a pleasant shaded drive, and a shortcut back to our starting point.
What a pleasant way to spend the first day of spring! Now I'm sure we'll have nothing but bright weather, and certainly no sudden snowstorms to worry about in the near future!
References:
Still more intriguing Dunedin Street Walks by Paul Hayward
PASSING OF A PIONEER Evening Star, Issue 14473, 16 September 1910, Page 7
Biographical Sketches OF THE COLONISTS OF THE FIRST DECADE, Otago Witness, Issue 2298, 17 March 1898, Page 27
CABLE CAR ACCIDENT Otago Daily Times, Issue 24955, 30 June 1942, Page 4
KAIKORAI TRAM EXTENSION. Evening Star, Issue 12249, 16 July 1904, Page 1
House 8 Lundie Street, Roslyn, Dunedin