Okay, I admit it, I have a pun problem. I'm sorry you had to see that.
Once again it was time for a Peninsula ramble and another poke at old farmsteads – this time along the Nyhon track, which once upon a time was a bridle track for the early settlers running between Sandymount and Hoopers Inlet.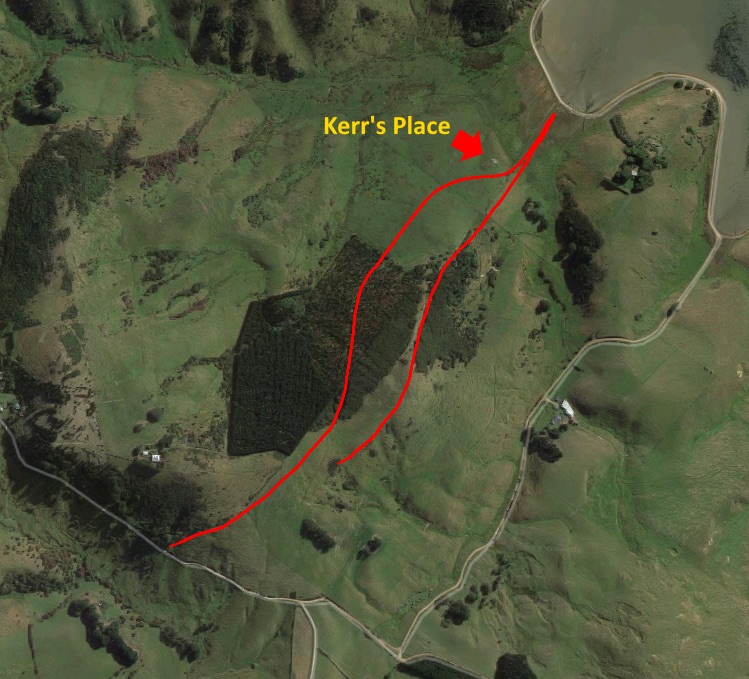 We headed out along Highcliff Rd, passing Two Cars Slip which is currently being repaired, a process scheduled to complete later in March. We followed a Monarch tour van down Sandymount Rd and past the lime kilns before pulling over to park opposite the steep wooden steps which would take us up on to the track.
Although the day was sunny, an icy wind was blustering, foreshadowing the rapidly approaching Dunedin winter – despite the fact that we don't seem to have had a summer yet!
The steps took us up onto the shoulder of Dicks Hill, where a gravel drive curved up towards the peak of the hill and the site of Dick's farm, also known as Lascar House. Seems this place is still occupied today, and we had no chance to see it as our path took us over a stile into a paddock from which we could look back toward Sandfly Bay. Craning our necks forward, we could catch a glimpse of Mt Charles and the swamp behind the Allans Beach sandbar.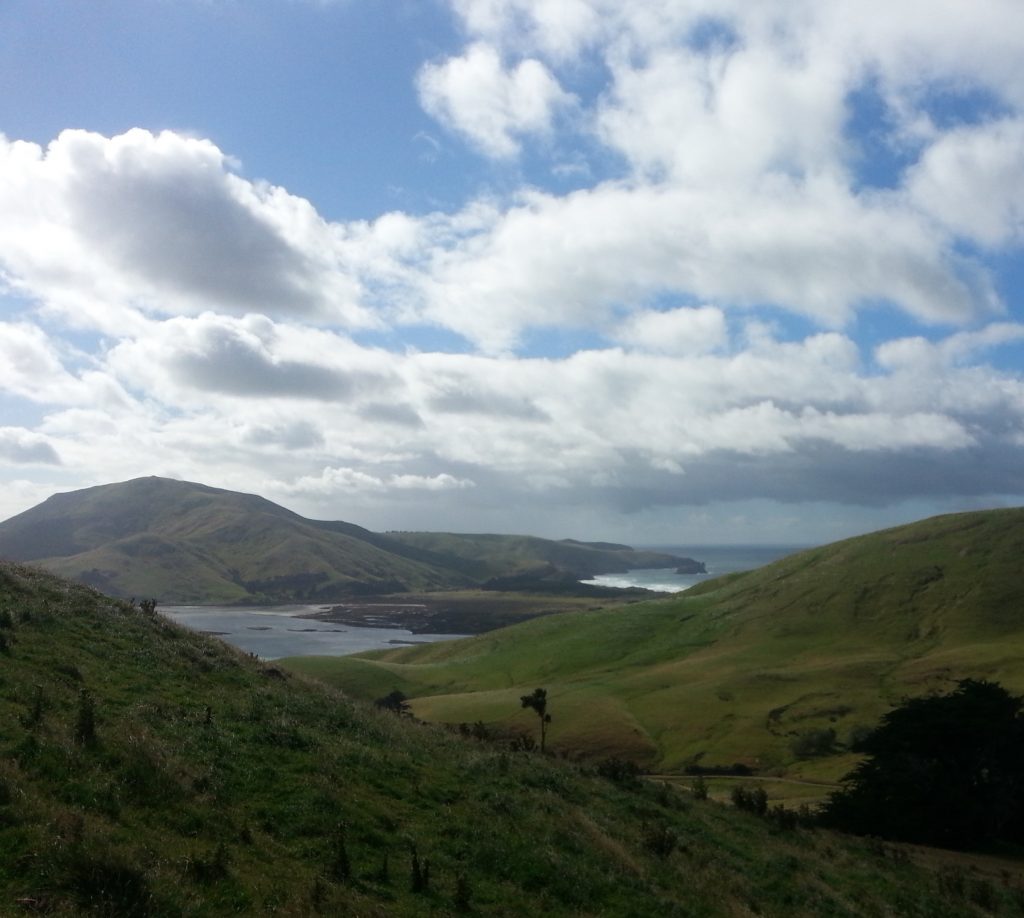 Down the gully on the right toward Hoopers Inlet Rd we noticed a very intriguing wooden ruin tucked away in a grove of macrocarpas, such that it is barely noticeable from any angle but this. The mystery is that while a building is marked on the extremely handy 1901 and 1922 maps, it is not labelled, leaving us to wonder at the provenance and purpose of the place. My natural inclination to investigate was tempered by the posted warning to stick to the track – as it crosses private land.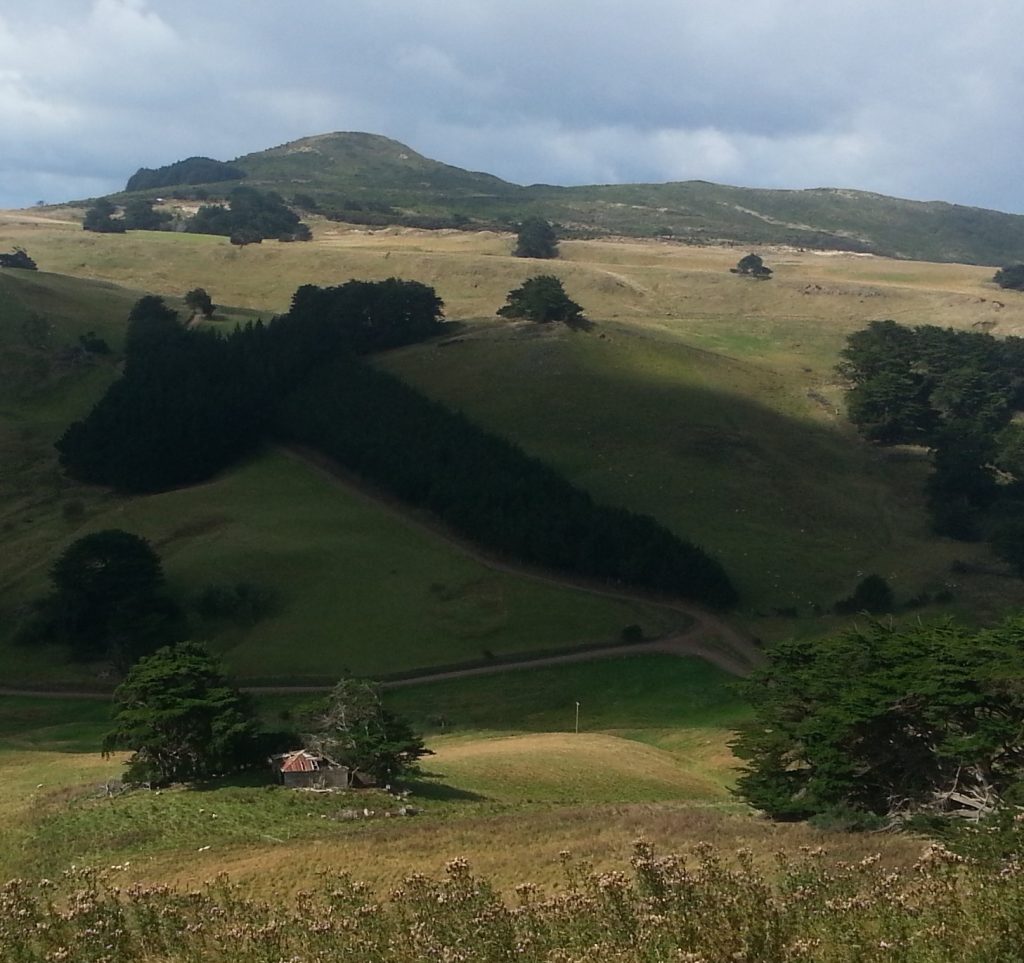 Almost immediately we were flummoxed, as there were no track markers, and my understanding that "it just goes straight down the hill along the fenceline" was challenged by a wall of gorse ahead of us. I lead an unconvinced Dad around the gorse and down a narrow gap which lead through a patch of regenerating scrub.
The trail lead us down a semi-disused vehicle track to a gate leading into a small conifer plantation. Since the Nyhon Track was once "Nyhon's Road", we figured that must be the way and headed through.
By why does this old track from Sandymount to Hoopers Inlet bear the name of this early settler family? According to the aforementioned map, there was a Nyhon's farm by Harbour Cone and another at the farthest end of Sandymount near where the track to the Chasm passes by. Both were located about equally distant from this track.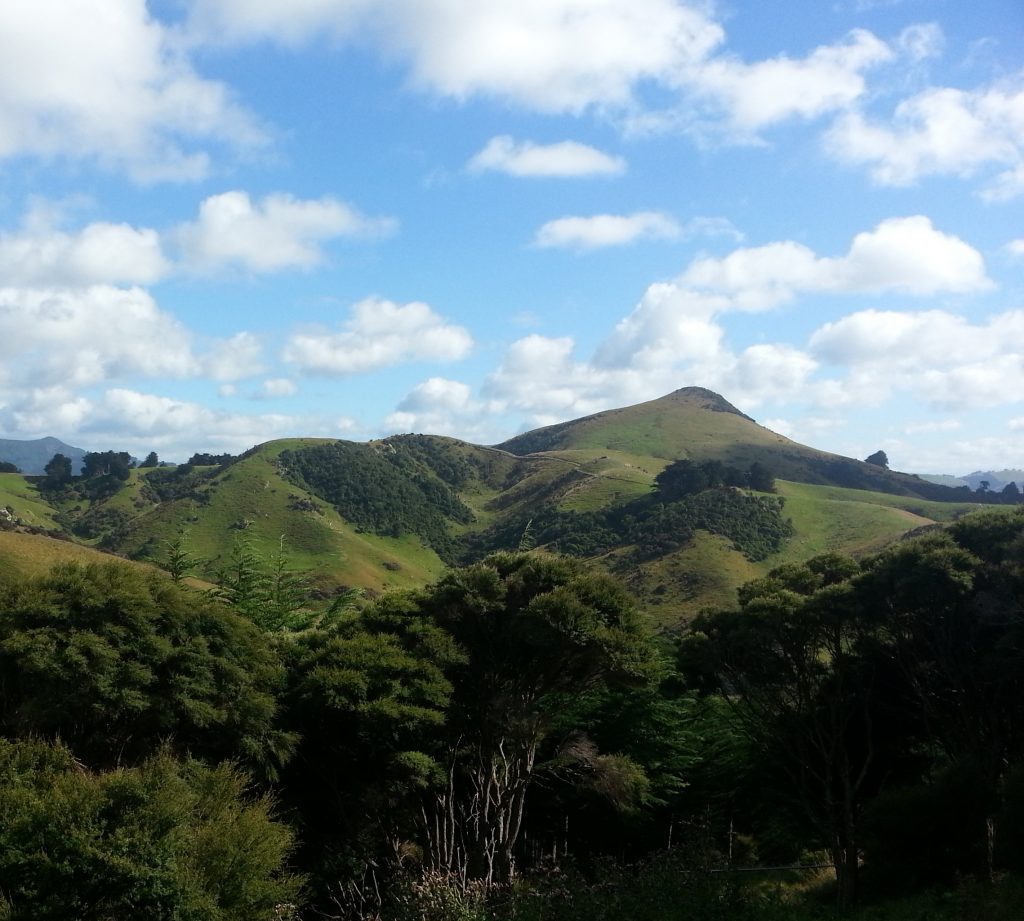 Determined to find the answer to this puzzling question, I trawled through old newspaper records for mentions of this road, and found a reference to "Mr J.T. Nyhon's road to Mount Charles", involving "a…track across the lagoon". Pursuing this thread, I discovered a John Thomas Nyhon mentioned in the context of the neighbourhood on the other side of the lagoon between 1880 and 1905. Furthermore, a John Nyhon had purchased some land at Mount Charles in 1892, and John Thomas Nyhon was mentioned as having an interest in a road on block VI of Otago Peninsula (the Mount Charles area) which was shared by the Dicksons who occupied sections 10 and 11 of that block.
So my current theory is that the "Nyhon" of "Nyhon's Road" is John Thomas Nyhon, and that the road once used to extend across Hoopers Inlet to somewhere in the area of Mt Charles.
Through the trees we could make out the site of Rutherford's Farm with the distinctive peak of Harbour Cone beyond. As I slowly learn the origin of each little clump of macrocarpas on the peninsula I am starting to build up a picture of what these little early settler communities looked like.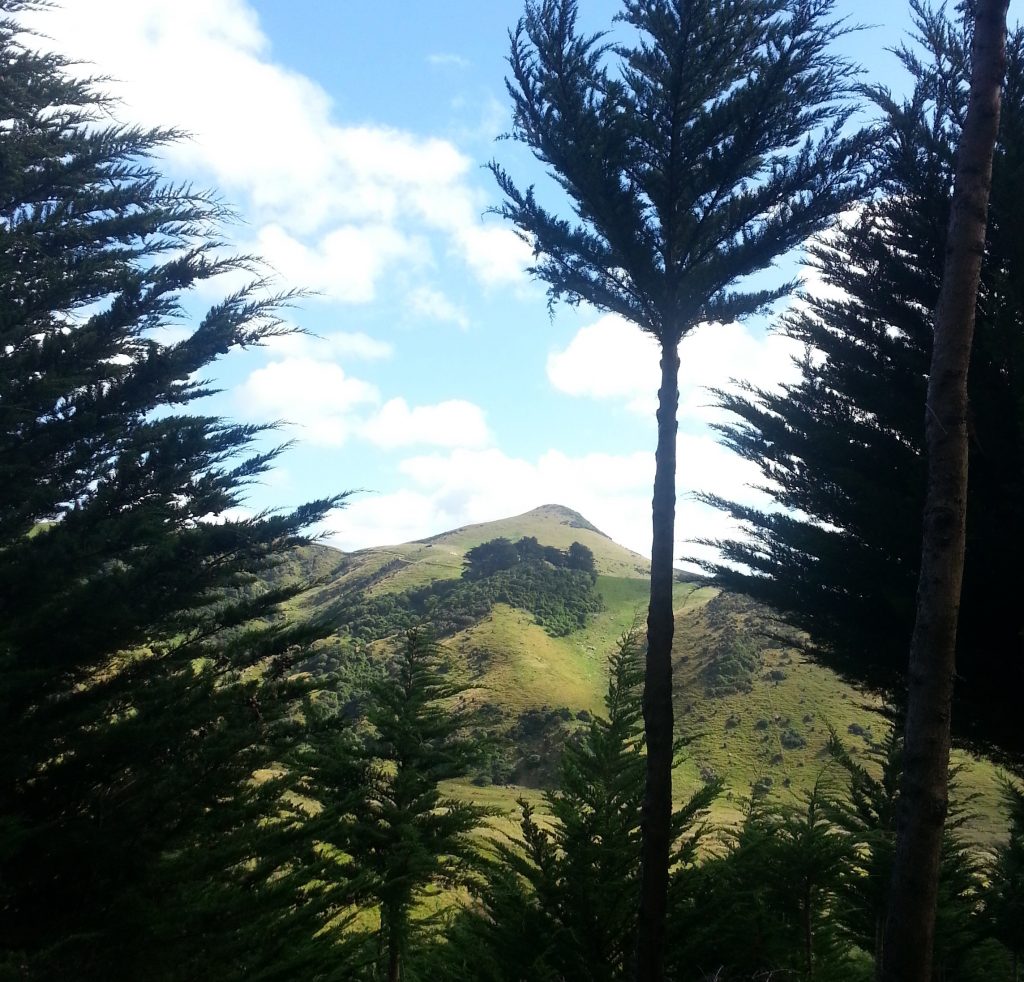 At this point we emerged from the trees into the valley of Stewarts Creek, from which we could look up to yet another old farmstead site, Stewart's Farm, or "Down Home" as the family used to call it.
Only issue was, we weren't sure where the track was. We wandered out into the thick grass, unable to locate any markers or even a likely looking trail. Dad was sure we should be heading towards the bottom of the valley, whereas I thought we should be over on the ridge.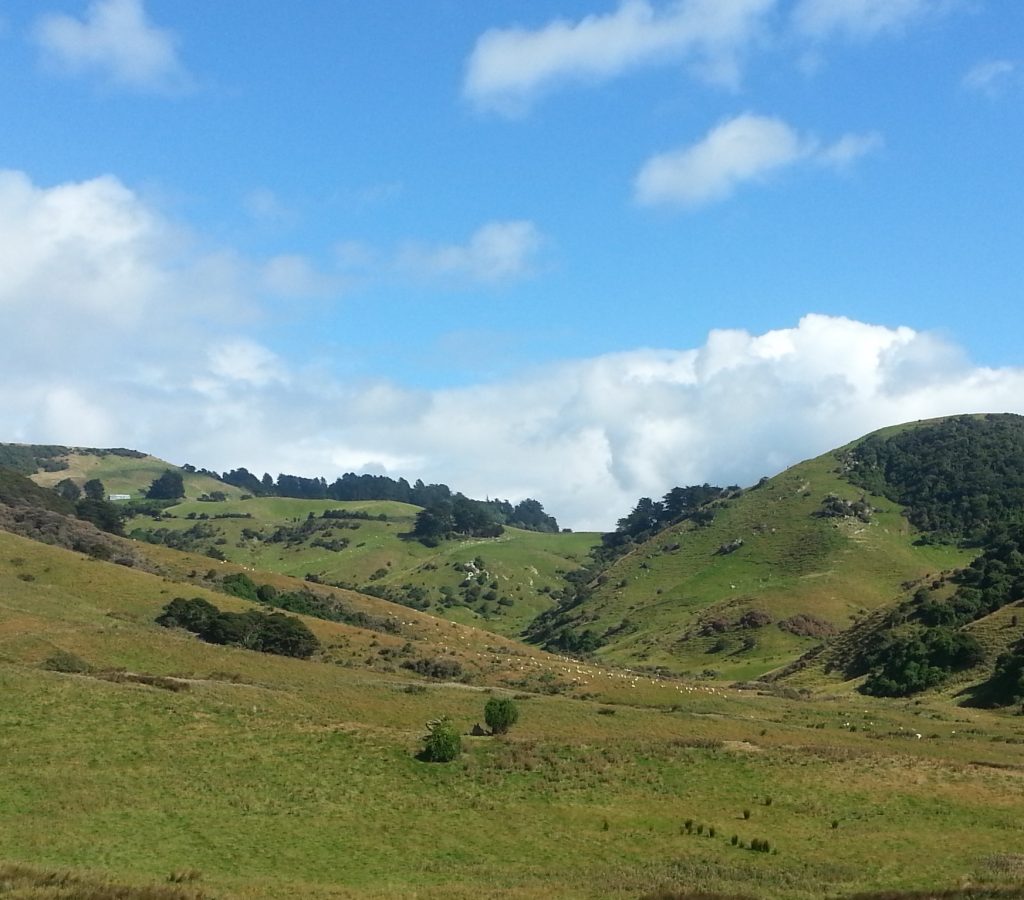 As we scratched our heads, I couldn't help but think that if we were going to get lost anyway we might as well have "got lost" in the direction of that interesting ruin that we saw earlier.
Eventually we did find a marked track, but it only served to exacerbate our argument, as it lead in one direction toward Stewarts Valley and in the other toward the ridge. Then the entire thing became moot, because I saw another ruin in the direction of the ridge and was determined to head that way whether it was the official path or not.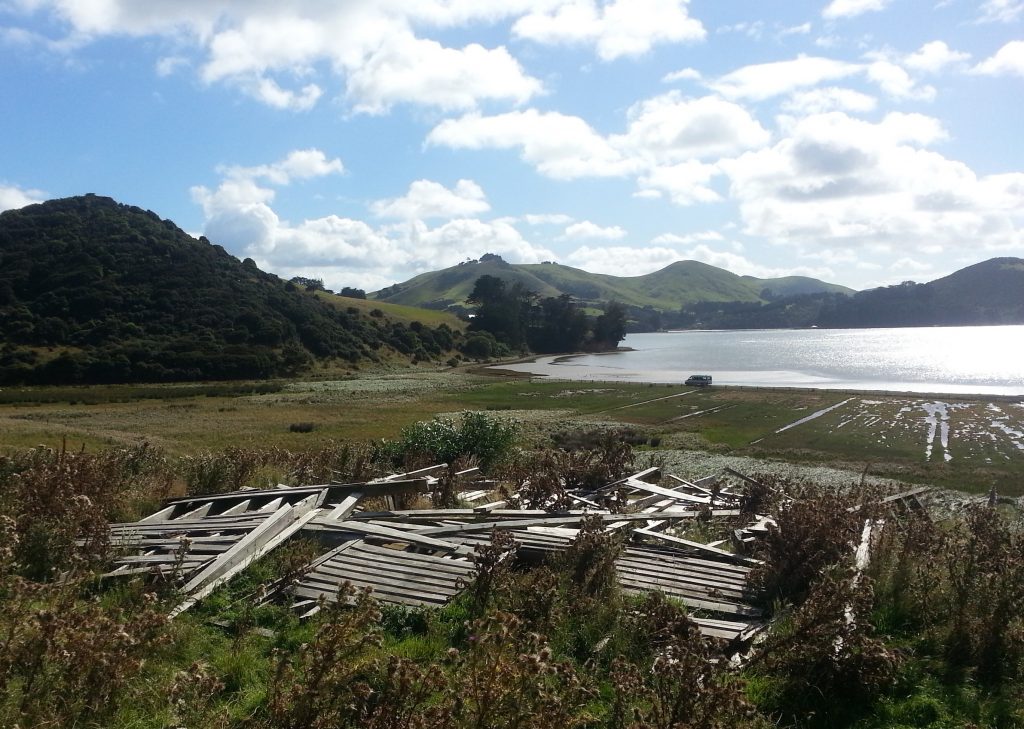 The "ruin" actually turned out to be a completely collapsed house overlooking Hoopers Inlet, bleached wooden bones at the mercy of the weather. This proved to be on the site of what was called "Kerr's Farm" according to the maps, and proved that I was right about where we were supposed to be, because Nyhon's Road once ran directly past it.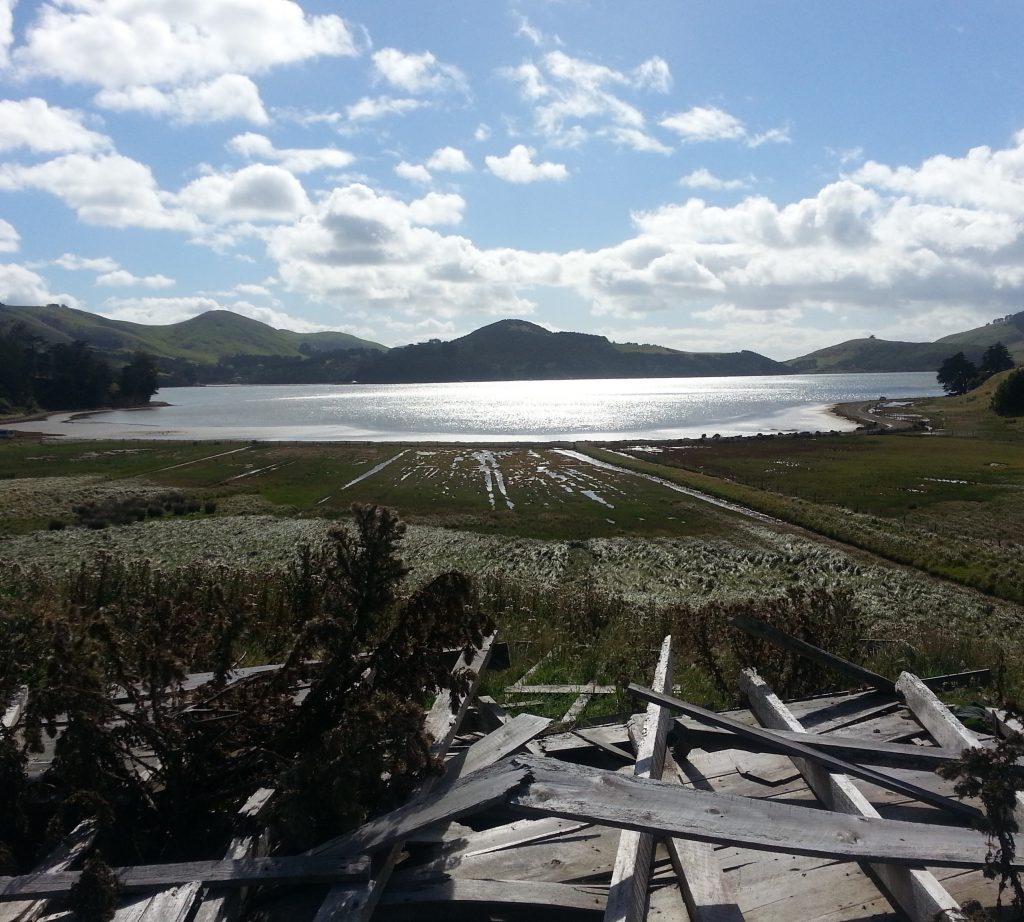 Tracing the history of this place was more difficult than my previous homesteads, despite the fact I've picked up a few good tricks along the way. I was stoked to find a famous John Kerr, who settled the peninsula after arriving on the Jura, but then was disappointed to note on further inspection that the location did not add up. Back to the drawing board.
Then I discovered Euphemia Kerr, "late of Sandymount", wife of a different John Kerr, but that too failed to add up. By this point I was in deep, having moved beyond my usual staple of paperspast and on to the Dunedin branch of New Zealand Archives, poring over original survey plans and purchase books.
But these only informed me that part of the section had been purchased by William Larnach and part by "James Collier" who was practically non-existent as far as my sources were concerned. On the other hand, I discovered via paperspast a Richard Kerr who had held an auction at his Hoopers Inlet farm in 1899 due to an expiring lease.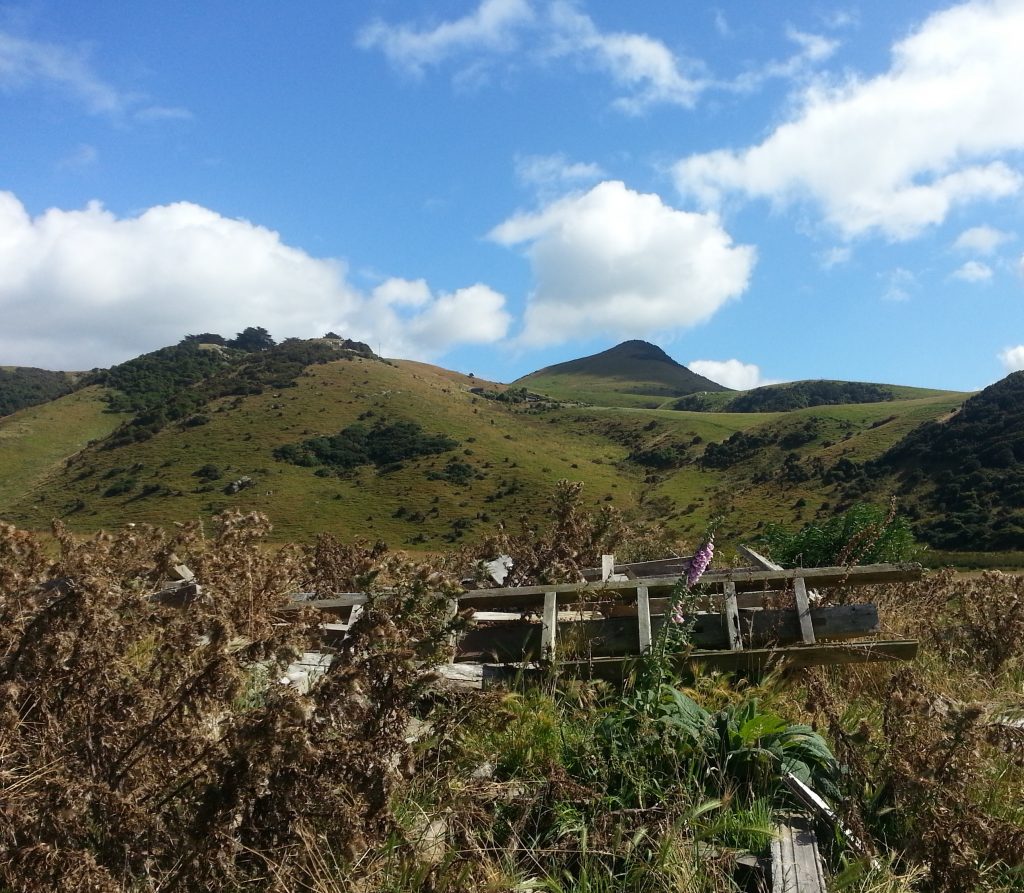 My next question was, is Richard Kerr one and the same with Richard Cave Kerr, older son of John Kerr of the Jura? I managed to place Richard Cave Kerr at Hoopers Inlet in 1894, due to the sad loss of his 15-week-old daughter Georgina Helen. According to Ian J. Smith's history of Hooper's Inlet the same Richard Cave Kerr leased land and lived in the area until about 1900 before moving to the Catlins area. He and his wife Annie had six of their seven children here.
So before I go mad chasing this mystery I'm going to pin this place as Richard Cave Kerr's. Should I discover otherwise in future I'll be happy to revisit this story!
Not far from the site we found the track, littered with wood pieces and corrugated iron sheets that had been torn from the old homestead by some storm or another.
We followed this down to Hoopers Inlet Rd, where we decided to take the proper route back up, which from here clearly ran up the hill along the fence line and through the bush.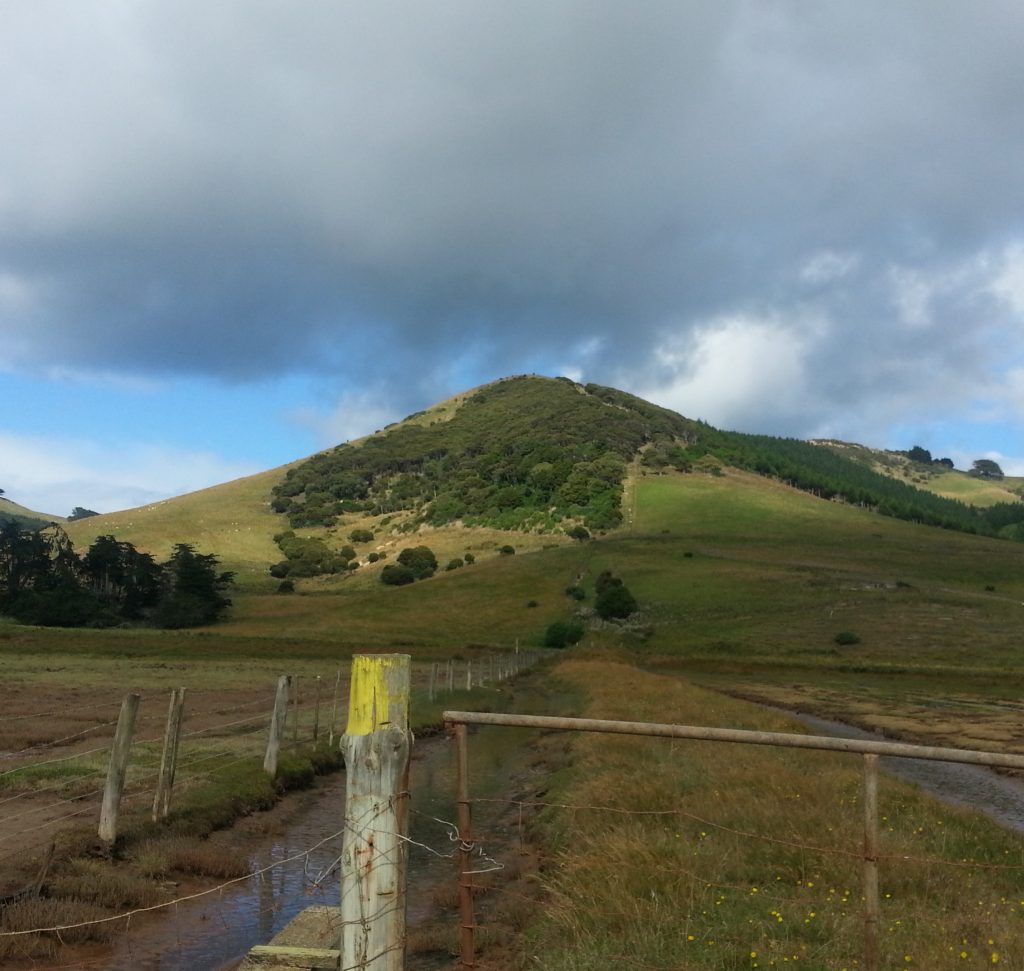 We waded through a forest of blooming thistle, while opposite Kerr's Farm we noted the mysterious McCarthy's Farm, cloaked by macrocarpa. Could we vaguely make out some structures? We weren't sure, but we were intrigued.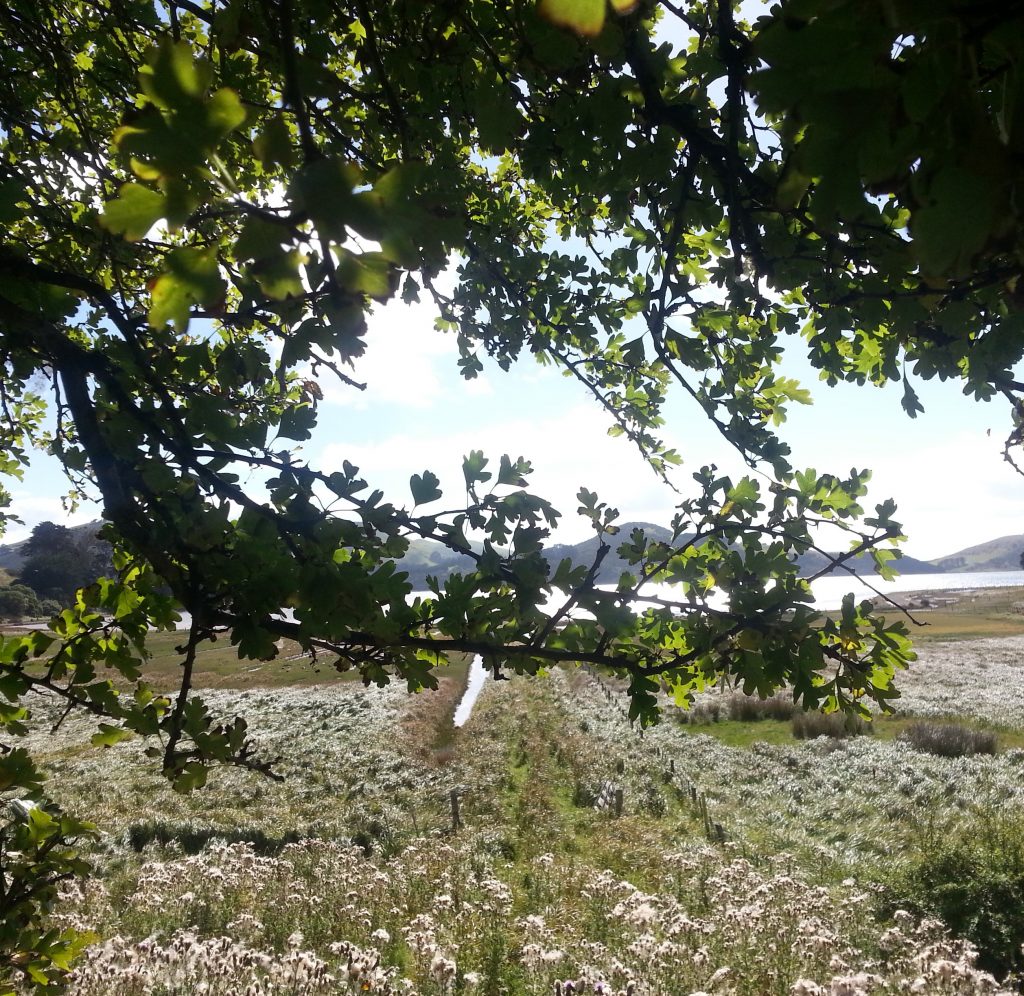 We slogged up the hill along the fence line (as I had previously assumed), doing our best to avoid the pernicious prickles. To our left, we noticed some native trees had been recently replanted, possibly due to the efforts of landowners Sharon and Bob Morris, who have taken advantage of council grants to replant some of the forest native to the peninsula.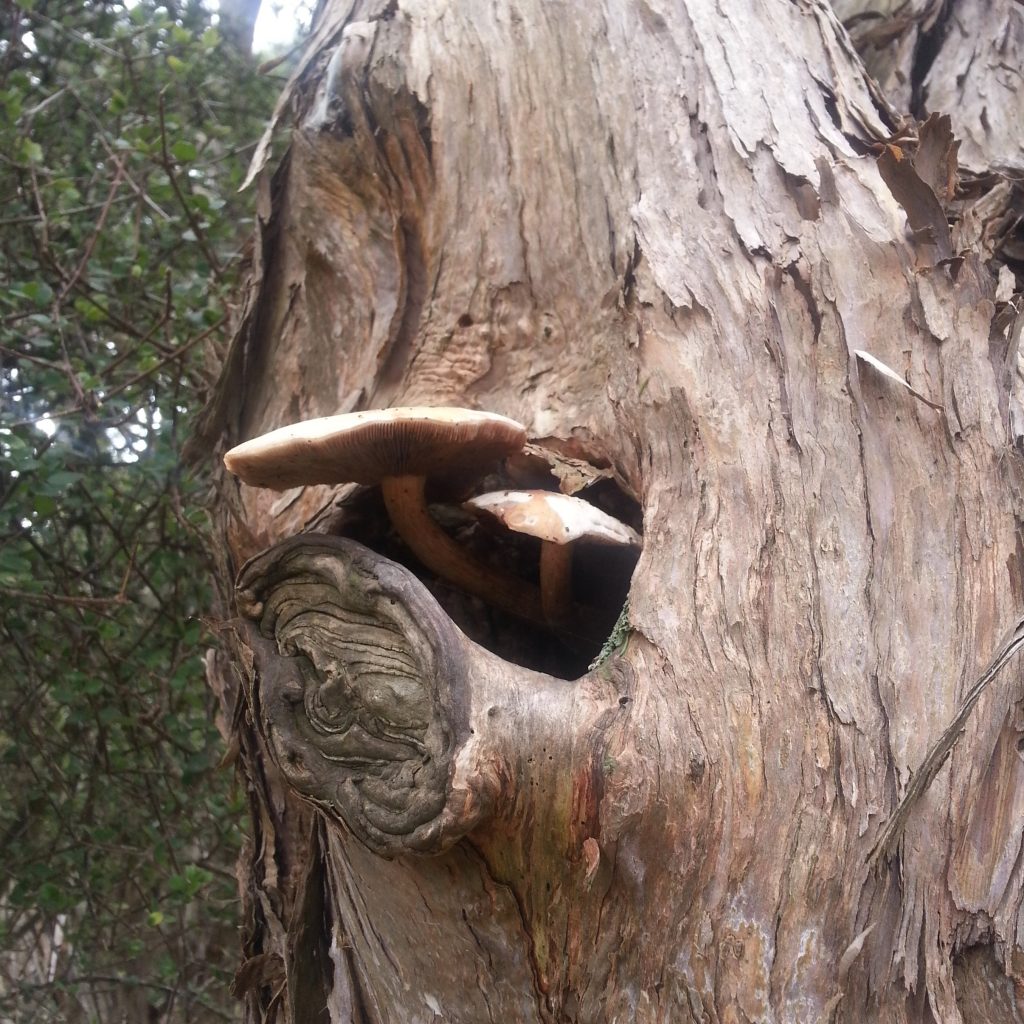 We emerged over the grown of the hill and back into the paddock from which we had begun our journey. A few sheep looked on as we braved the cold wind across the field, over the stile, and down the rickety staircase.
The Nyhon track had left us with considerably more questions than answers, and what answers I did have were mostly guesses. Still, I'd explored another little corner of the Peninsula and added a few new pieces to the puzzle that is its early settler history.
References: