A brilliant Valentines Sunday brought us to the Toitu Early Settlers museum for a talk and walk conducted by archaeologist Matt Schmidt and Dunedin Amenities Society member Paul Pope.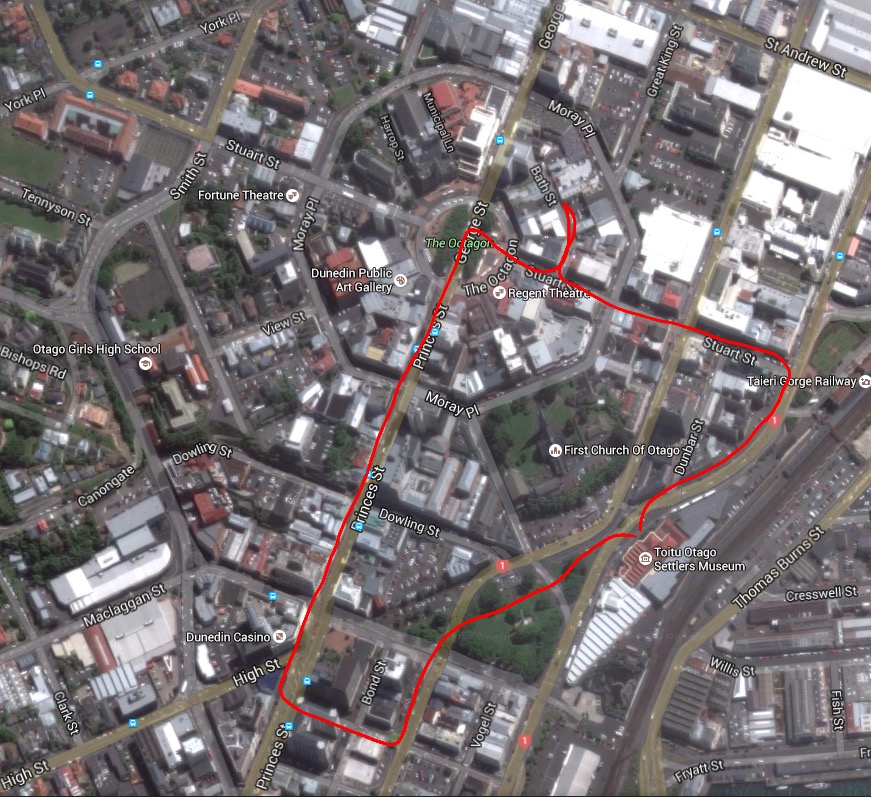 We assembled at the museum auditorium for a short slide show discussing the history of reclamation in Dunedin and the archaeological information that can be discovered from examining the various layers and sites.
The Dunedin landscape settlers arrived at in 1848 was very different from the Dunedin we know today. There was scarcely any flat land at all, with the shore lapping at the feet of the High St and Stafford St rise. The area between Great King St and Cumberland St where central city Countdown and New World now stand was a lagoon. What lowland there was was swampy and covered in flax, while the hills were shrouded in bush. South Dunedin was a bog.
Being pragmatic people, the settlers soon set about making the flat land that they needed. This consisted mostly of tossing whatever they didn't need into the harbour. When the reclaimed land is excavated, the layers can clearly be seen – clay, garbage, stones from god-knows-where, more clay.
What comes out of the ground gives a good snapshot of what life was like in Dunedin at that stage of reclamation. Earlier areas might bring up a bunch of old beer bottles, while later sites can contain things like silks, furs and champagne bottles.
With this in mind, we headed out into the sun to our first stop, the old Dunedin Gaol not far down the road.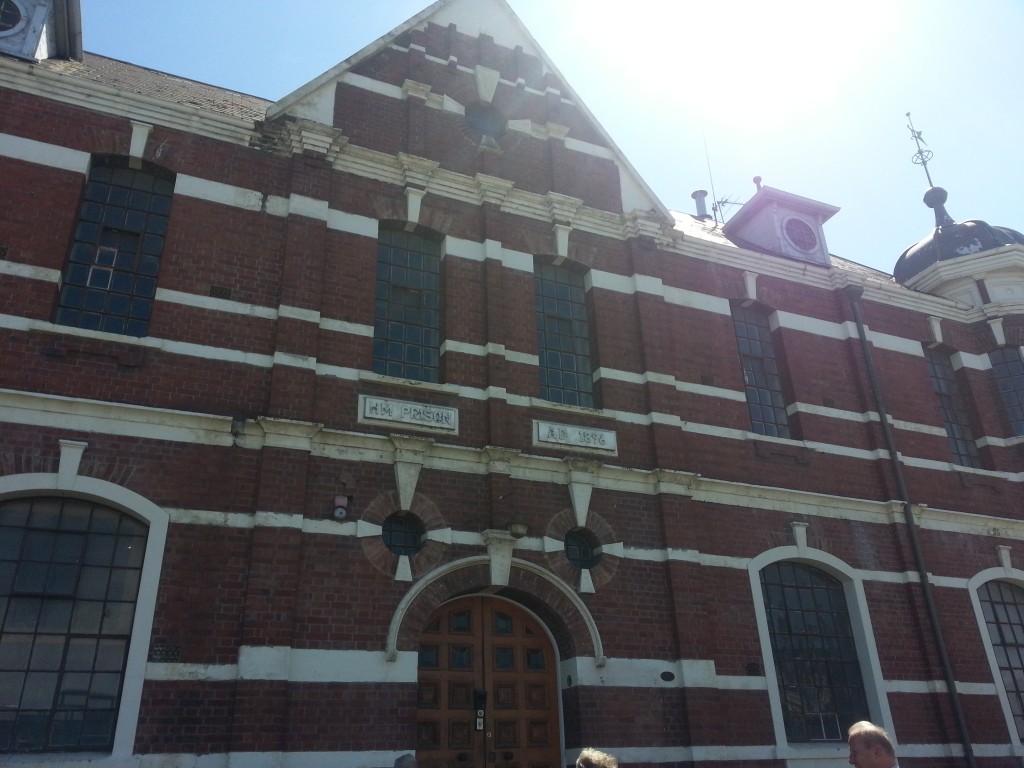 It was here we were once again reminded how much of the modern city we enjoy today was built on the backs of prison labour, including Maori prisoners of war who worked on the Andersons Bay causeway and left controversial legends in their wake.
This was not however Dunedin's first jail. It is in fact the third.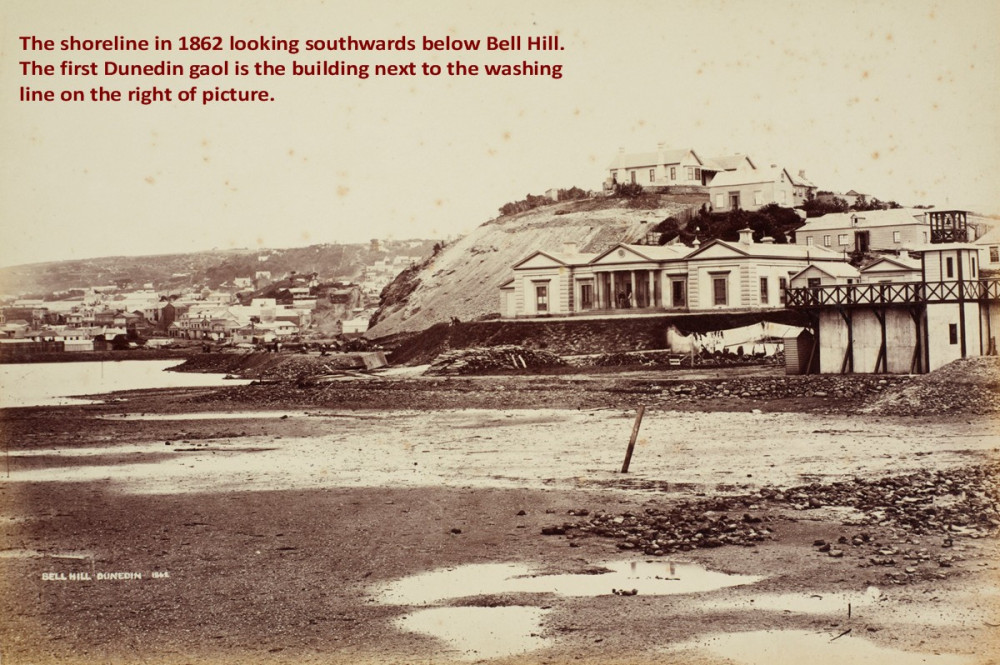 It was convenient that the prison was right next to Bell Hill, as prisoners such as the notorious Henry Garrett were put to work levelling it to provide a perch for First Church  (actually the third First Church) while the rock was used for construction and roading.
We continued around the corner and up to Bath St, the narrow street that runs between part of Moray Place and the Octagon.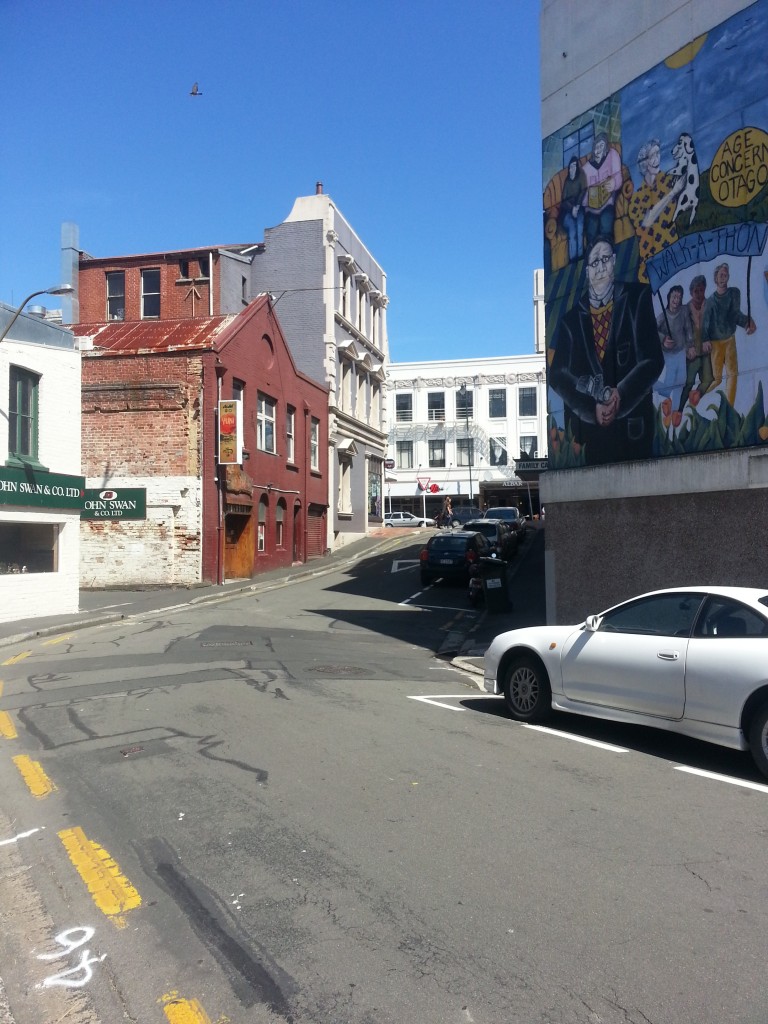 Here we were challenged to find our current location on an old panorama of Dunedin – quite difficult seeing most of the buildings were gone and a great deal of the natural features had been changed!
Then it was on up to the Octagon, which has changed a bit from Dunedin's early days.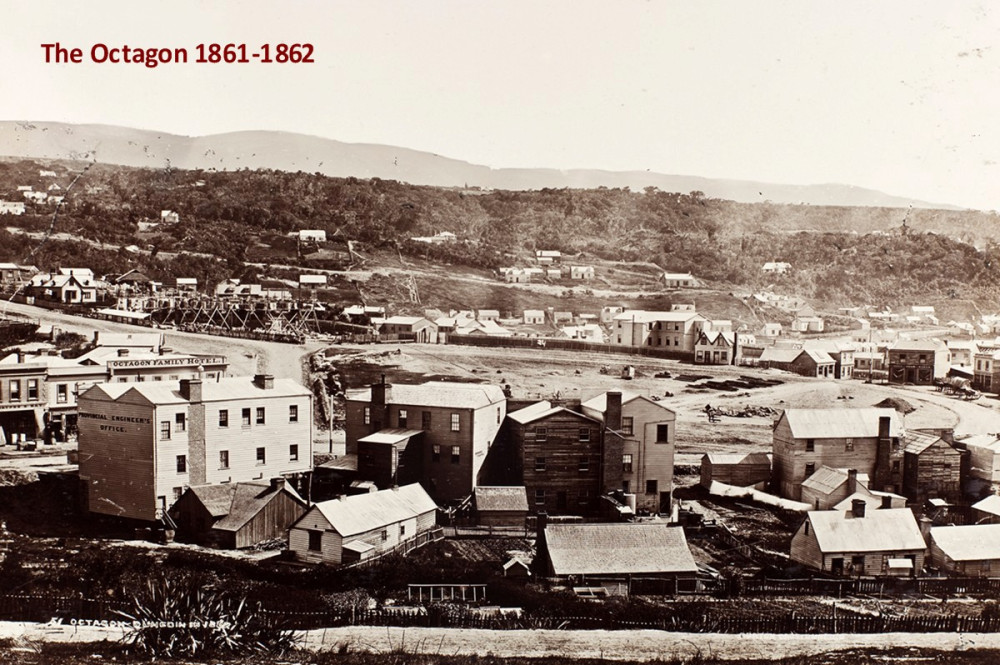 Matt and Paul can tell you the story of any building or site you care to ask about. For instance, we learned that there was once a morgue where Ratbags and Innocent Bystanders now stands, and that there's a layer of ash still under the Regent theatre from an old fire.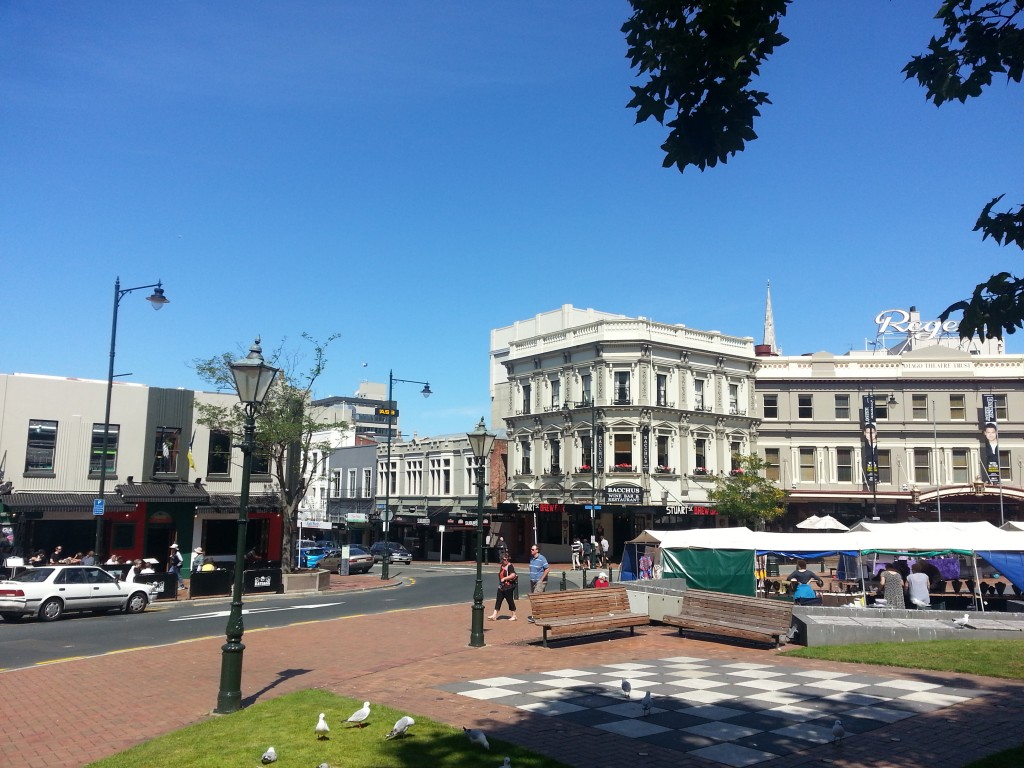 Lately I've been paying my respects to the late Terry Pratchett by reading through his Discworld series (I promise this is relevant), and one notion he often repeats is that "what Ankh-Morpork is really built on is Ankh-Morpork". What I really took out of this tour is that what Dunedin is built on is, well, Dunedin. There are old roads, foundations, cellars, paving stones, layer upon layer of the detritus of daily life, all still hidden under our feet as we walk the streets above, only coming to light when new buildings are built or renovated – and often enough, covered back up again.
From here we headed down Princes St to Water St, which along with Jetty St is rather strangely named for being nowhere near the ocean. The explanation is, appropriately, under our feet.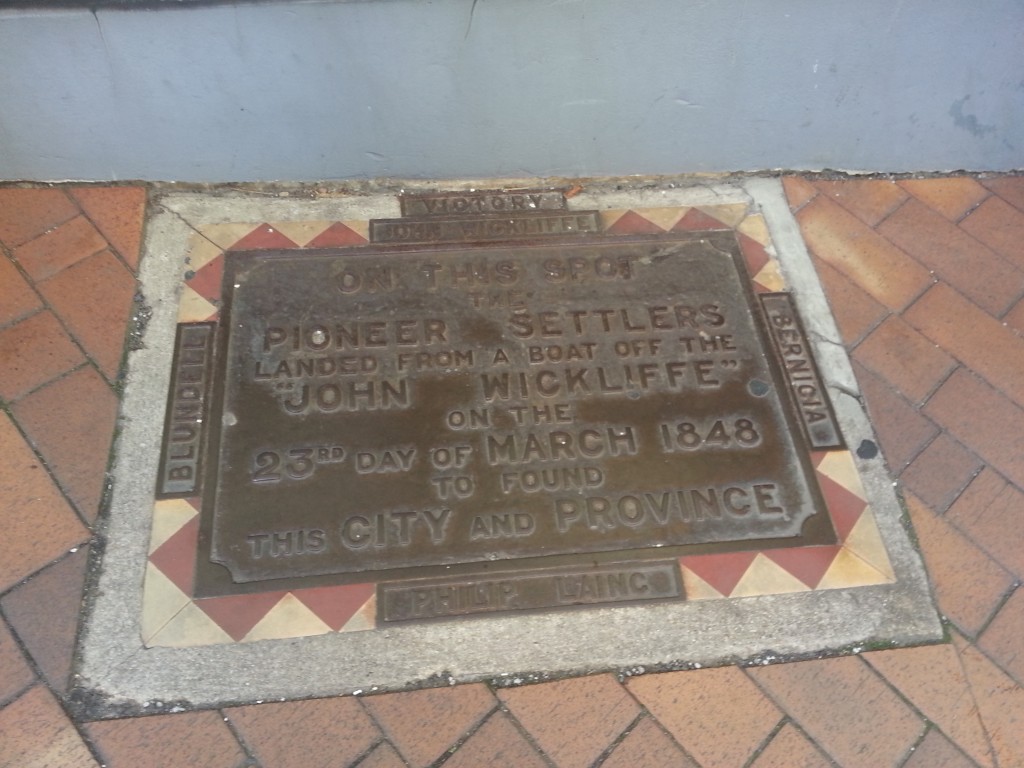 Yes, this is once where the shore was, back when Dunedin was untouched by European habitation. Of course, that doesn't mean it was untouched by any human hands – in fact, this is also the site of a Maori resource-gathering camp, set on the edges of the little creek Toitu, which still flows unseen under the city. The settlers relied heavily on the Maori for trade goods as they found their feet in this new land.
We headed down Water St, past the new parking building under construction, under which are some beautiful old brick foundations, a special design to provide stability on the reclaimed land.
Then we proceeded to Queens Gardens, or as it was known in the good old days "The Triangle".  This is a legacy of the Dunedin Amenities Society, which helped transform it from being a disgraceful introduction for visitors to the city into the lovely space we can enjoy today – despite being stiffed for 250 pounds by the DCC!
Again we were treated to various stories about the area, including why Queen Victoria's statue has her back turned to the park.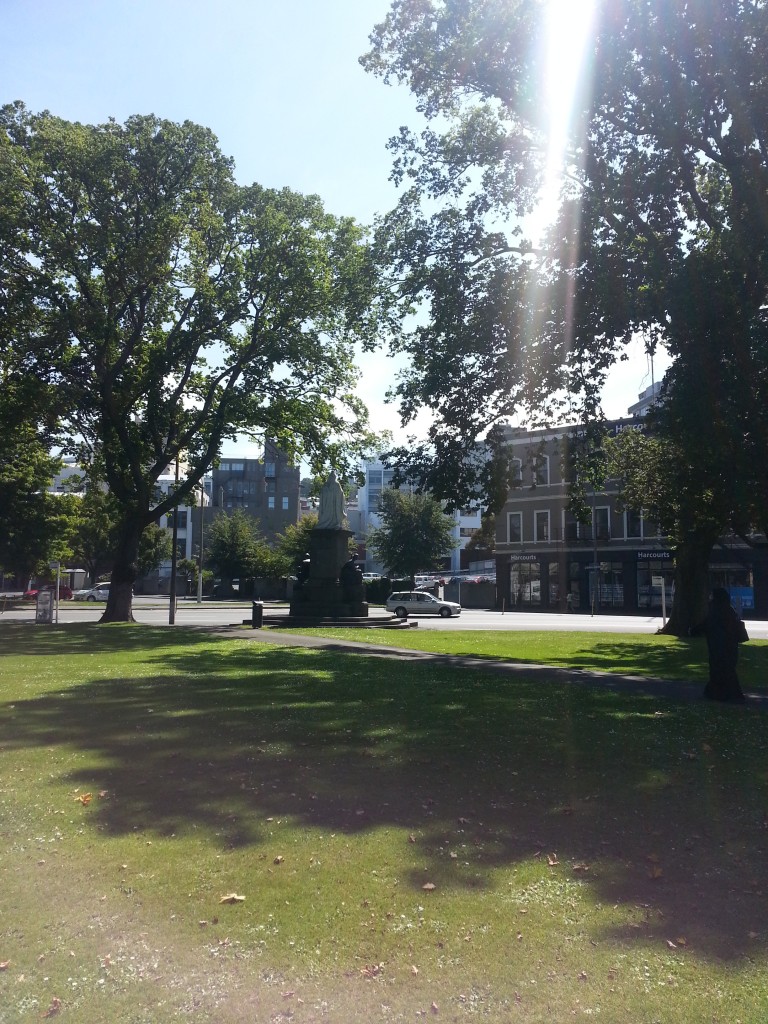 This was our last stop on the tour before we returned to the museum for a photograph. You can walk the shoreline yourself (and in the future, it will hopefully be marked), but I would recommend to take the tour if you can. Matt and Paul are a wealth of information and entertaining stories who can really bring the secrets hidden under our feet to life.
References: