Ever since visiting Heyward Point with the Wellness Walkers Trust group back in April 2017, I'd been wanting to return for a proper adventure. Luckily adventurous minds think alike, and nine months later the group was scheduled to return.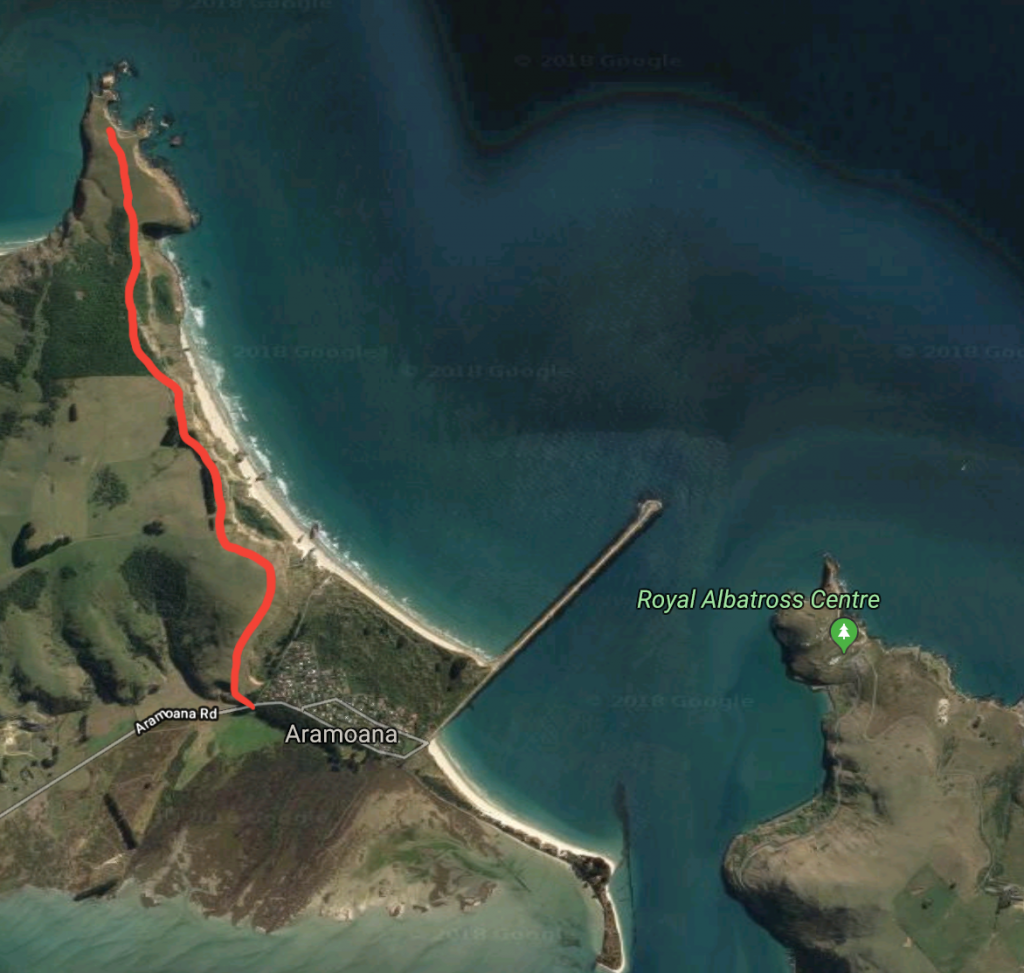 Our first attempt at the track had been surprisingly difficult. Fooled by the sign at the top of the ridge that declared "Heyward Point: 2.5km/40 minutes", we had assumed this would be an easy there-and-back. Five hours later, those of us who had not been forced to turn back by the tricky terrain returned, tired and humbled.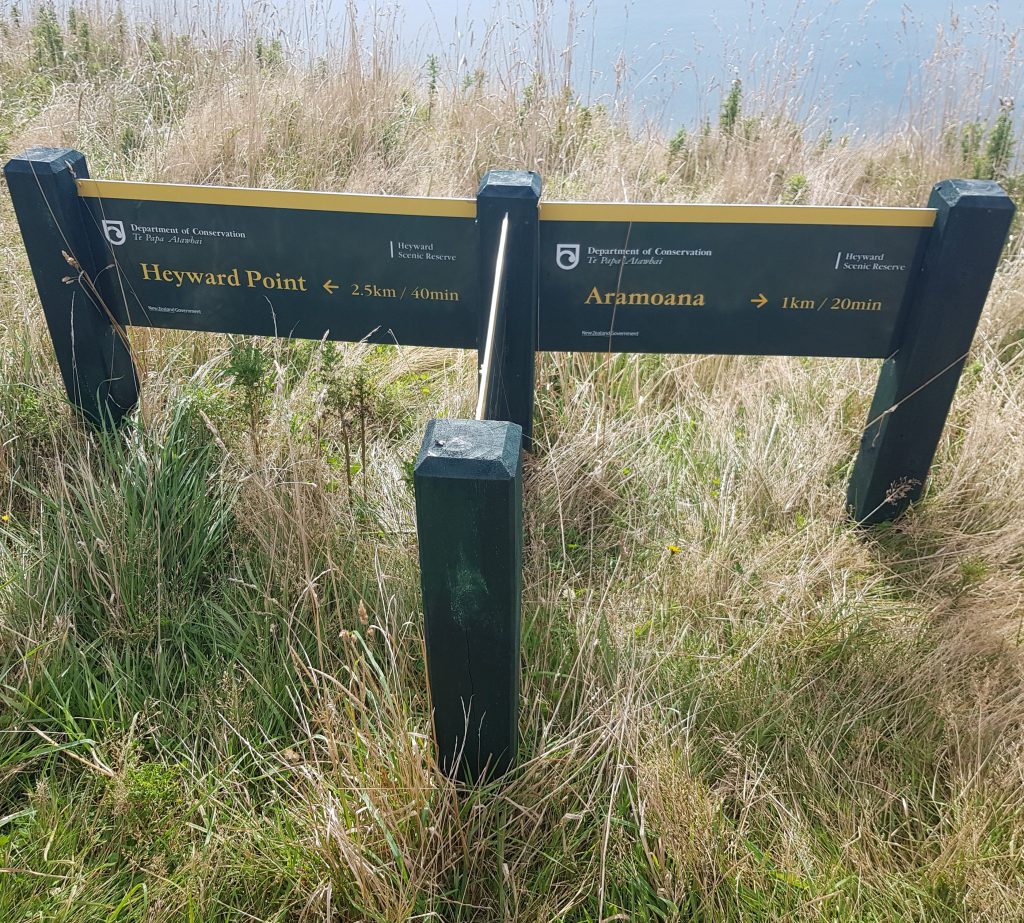 This time, Lisa had conspired to ramp up the challenge even further by starting from Aramoana instead of Heyward Point Rd, meaning we'd have to complete a steep climb before even getting to the Sign of Regret. We clambered up the hill, stopping often to admire the ever-more-spectacular views of Aramoana, the sand spit, and the Peninsula opposite (and to catch our breath).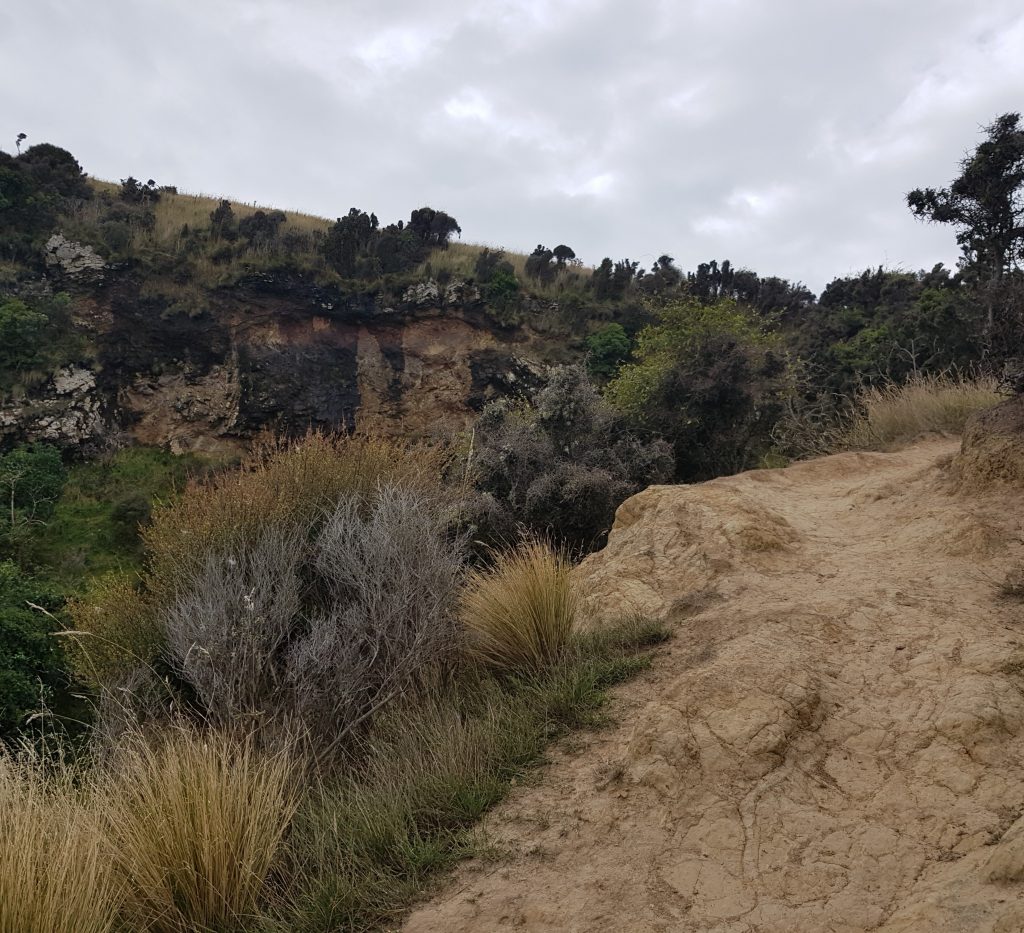 Reaching a convenient rock outcrop we draped ourselves over the boulders to admire the views both north and south. Northward, the whole coast unfolded before us as far as Matanaka. We couldn't stay long however, we were troubled by not only several flies but a myriad of tiny black wasps. Since they were harmless, I made an executive decision not to inform my comrades of their true identity and let them continue to believe we were surrounded by little flies.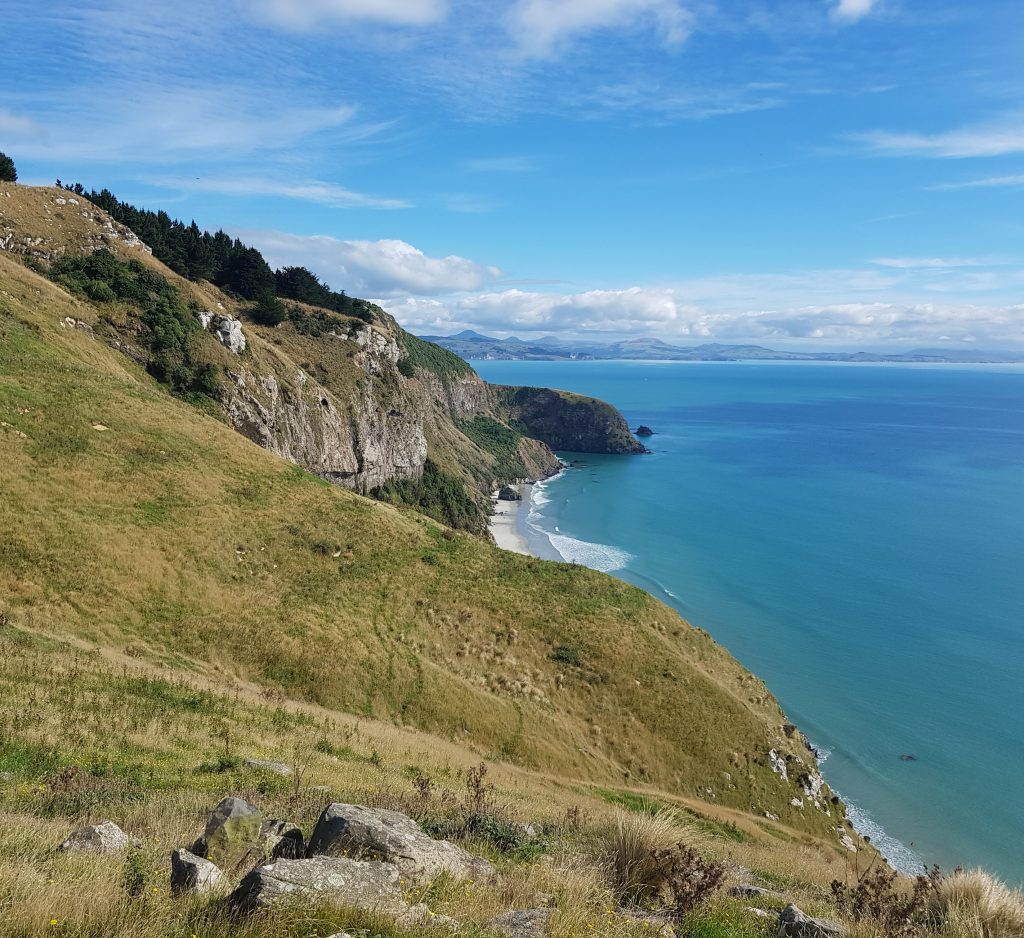 Then it was a final climb up to that dastardly sign before we continued along the cliff top. We soon entered a stand of pines, and that is where several of our fellows had a brutal introduction to the reality of New Zealand pest control. Upon embarking on our journey, we'd passed a sign notifying us of trapping in the area, and here we found a poor possum caught in a leg trap.
Just as we were considering our best course of action, two men rolled up in a four wheeler and one guy jumped out wielding a hammer. We moved on quickly, and I did my best to explain why the sad-eyed and innocent-looking creature had to be done in.
Next we jumped a small stream and negotiated some native nettles. We passed through some grassland before reaching a gate flanked by dry stone walling.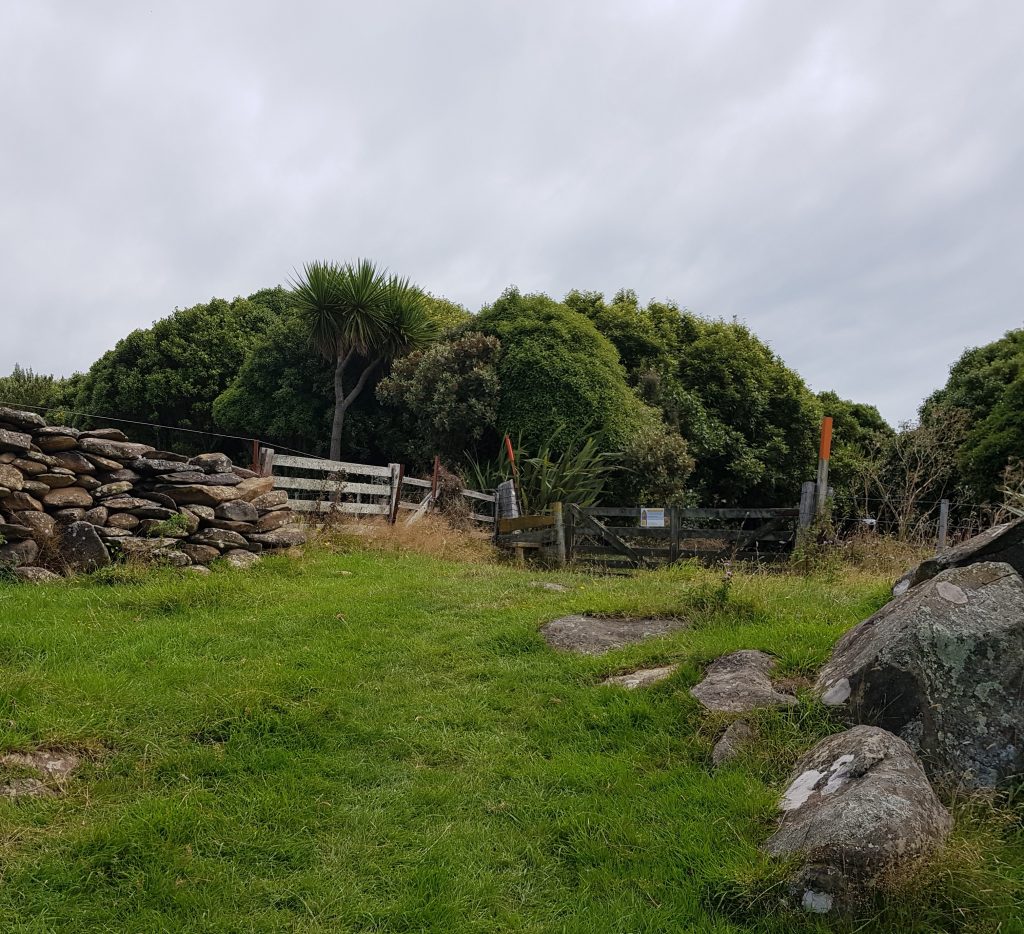 Beyond we found ourselves flanked by regenerating native bush, and treated to fleeting glimpses of the ocean ahead. Finally we reached a second gate, through which we emerged on to the grassy plateau atop the cliffs of Heyward Point. Peering cautiously over the southern edge, we could see the rocky terminus of Aramoana's beach – complete with sunning seal. I was also looking for something else, marked only as "potato garden" on the W.T. Neill 1901 map of the area.
I could make out a bushy ledge not far down the coast, which I gathered was the place that "wild potatoes – of the blue or old Maori variety – reappear year after year". That report was in 1894, and no amount of squinting could help me determine whether that may still be the case.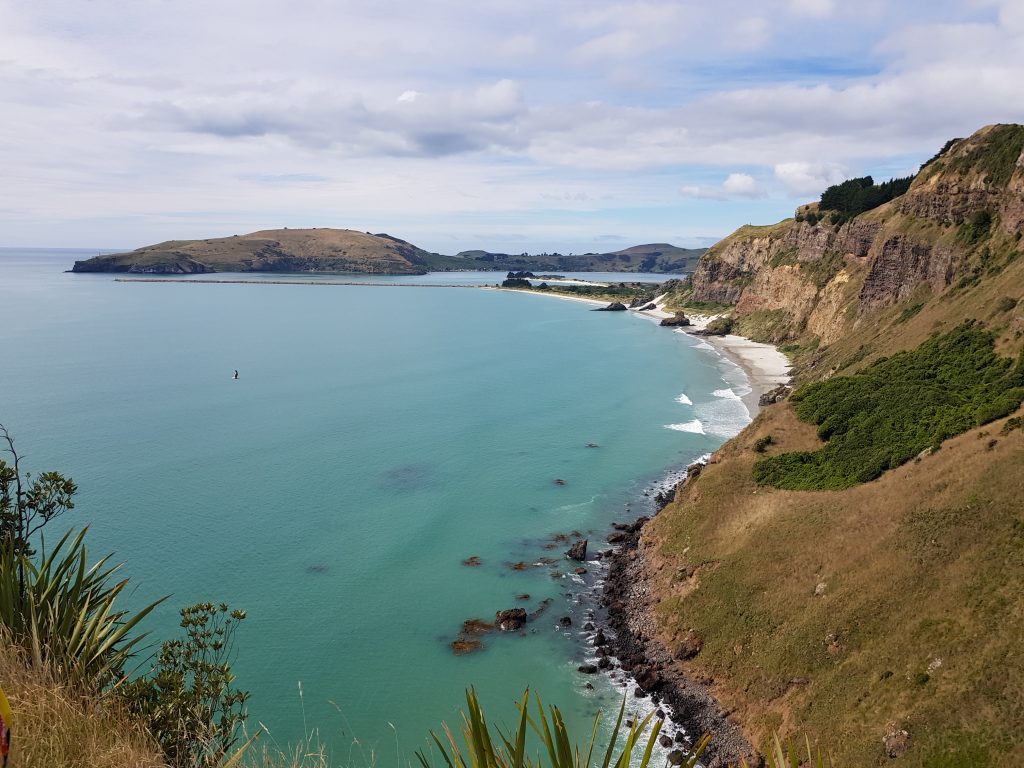 The winding track up here from the beach below used to be known as "Jacobs Ladder" by the early settlers and is marked as "Smugglers Staircase" on the old map. But the difficult climb was first made much earlier, as it was part of an old Maori route north from Aramoana that goes on to cross Heyward Point and continue along Kaikai Beach, Whareakeake and Long Beach.
But we did not follow this ancient route, instead treading carefully along the lip of the cliffs toward the point, looking down into each bay as it appeared below us. One beach appeared to have some miscellaneous pieces of garbage scattered on it, but I knew better.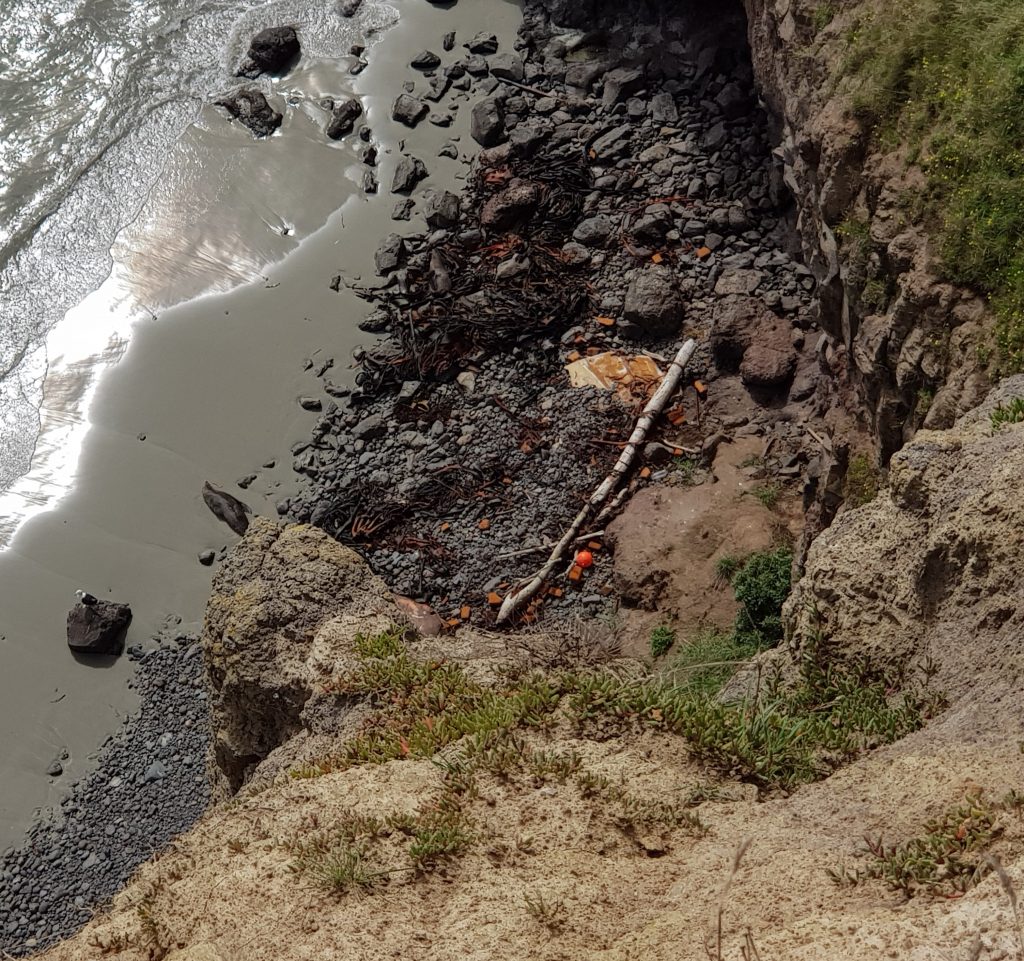 The items, including a buoy, some metal bars, and what appears to be a large piece of fibreglass are what remains of the Renegade, a recreational fishing boat which caught fire on the open sea in 2010. Owner and only occupant Warren Lewis drove it ashore here and leaped from the flaming vessel. With no way off the isolated beach, he waited with the seal pups until rescue services arrived to winch him to safety.
A team of volunteers later returned to dismantle the boat, but some of the more difficult pieces were left behind.
Continuing, we heard a strange sound from below. We'd been spotted! A watchful seal glared up at us while the pups frolicked in a sheltered rock pool and their babysitter snoozed nearby.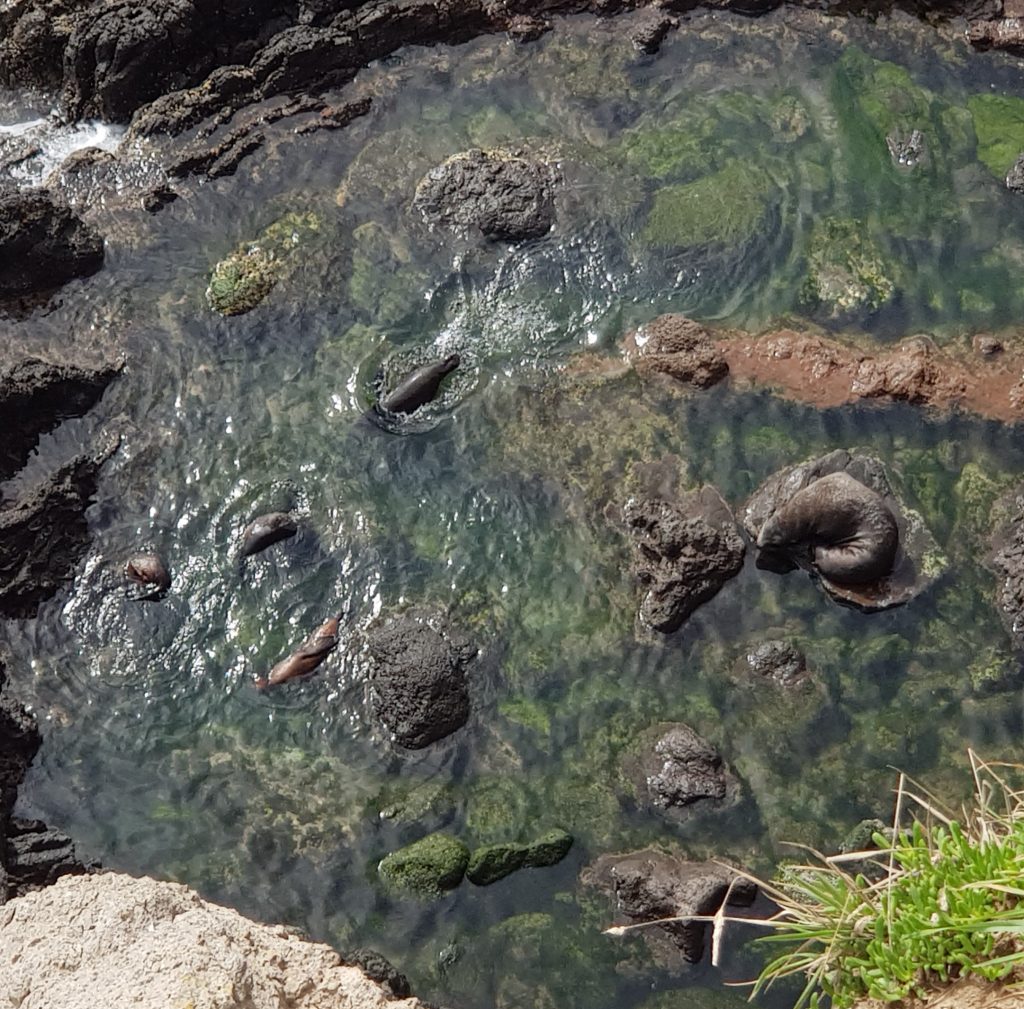 Finally we reached the point itself, with modern solar powered light and rocky islet just offshore. While the others rested below the modern light, I wandered slightly further down to investigate an older relic. On the rugged cliff face, among dandelions and tall grass, stands a rusted winch.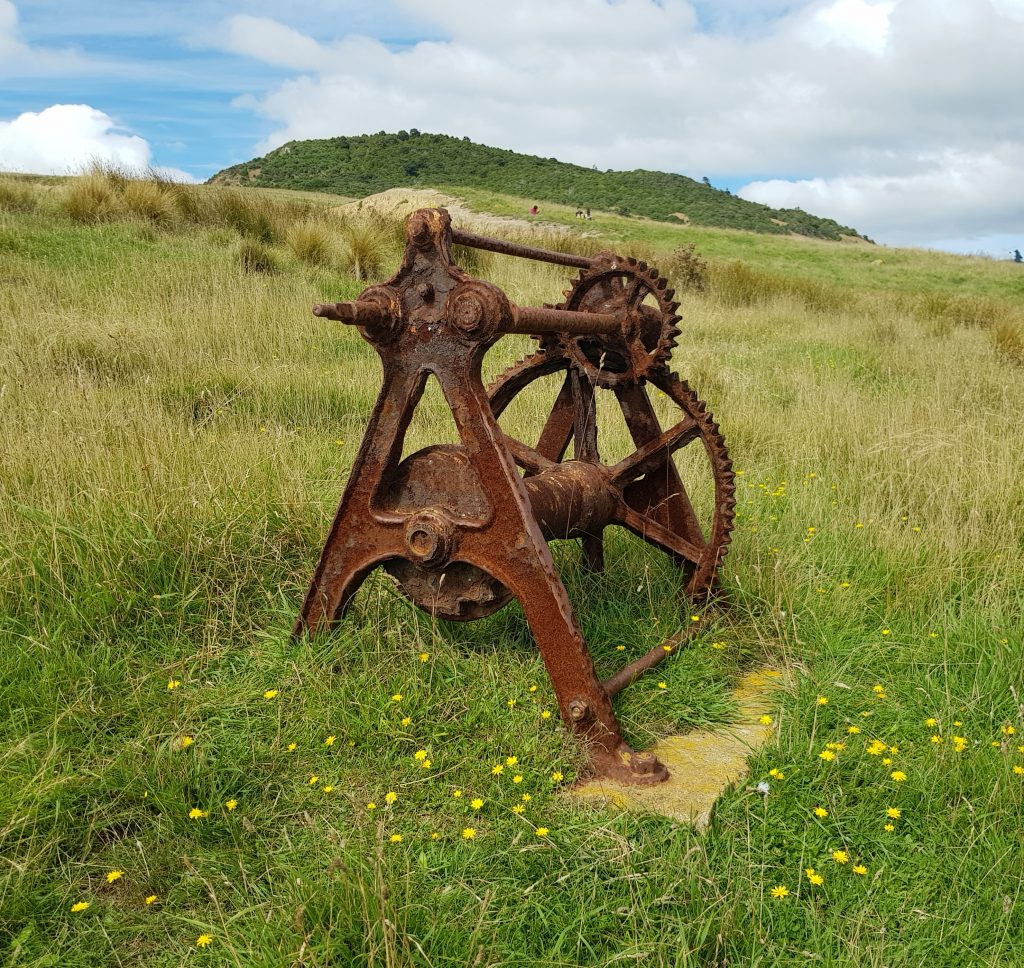 Looking down in the direction it faces, I could just make out a triangular wooden structure affixed to the rocks below, perfectly in line with the winch. A 1943 photograph proves that once a cable was strung between them.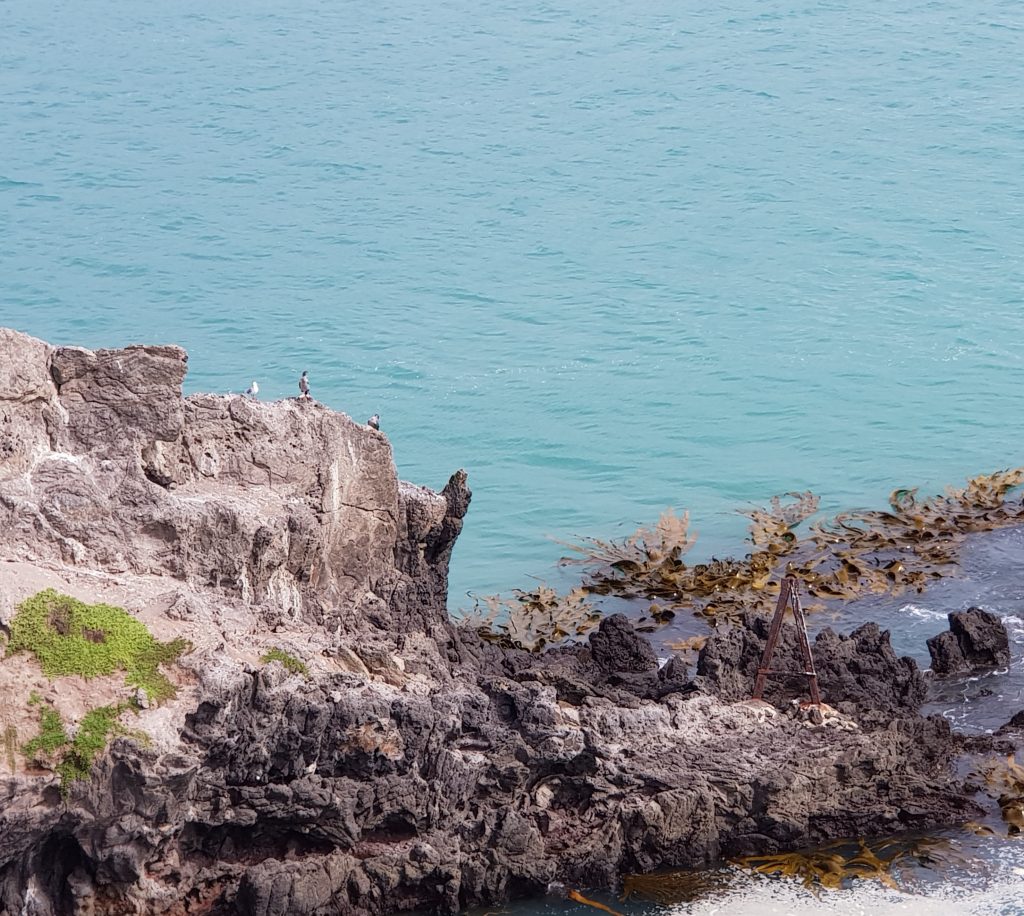 This is what remains of an "aerial tramway" installed in 1920 along with the permanent light intended to prevent a repeat of "Hayward's mistake". What was Hayward's mistake, you might ask?
Captain Haywood was commander of a supply vessel for the Weller brothers' Otago whaling station. He would bring supplies from Sydney and leave laden with whale oil and other goods. Legend has it that one night in a thick fog he approached Otago Harbour, but overshot it and almost ran aground on the reef near here. The error was discovered at the last moment, and the ship managed to make it safely to its destination.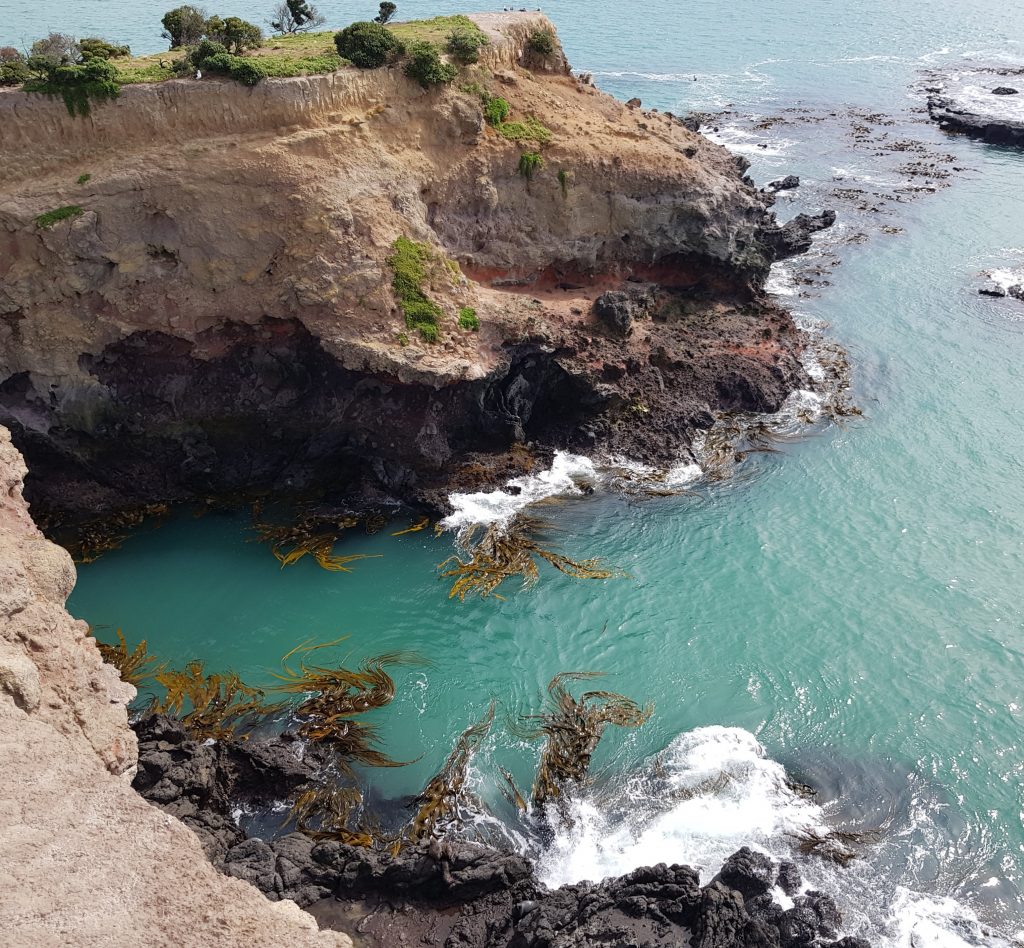 The place was thereafter known as Hayward's Mistake, which became Hayward's Point until eventually someone threw an E in there and ditched the possessive.
To be honest, I couldn't find any original source calling the point "Hayward's Mistake", so I'm not sure how accurate the story is. But that was so early in Otago's history that original sources will be difficult to find – let me know if you can point me in the right direction!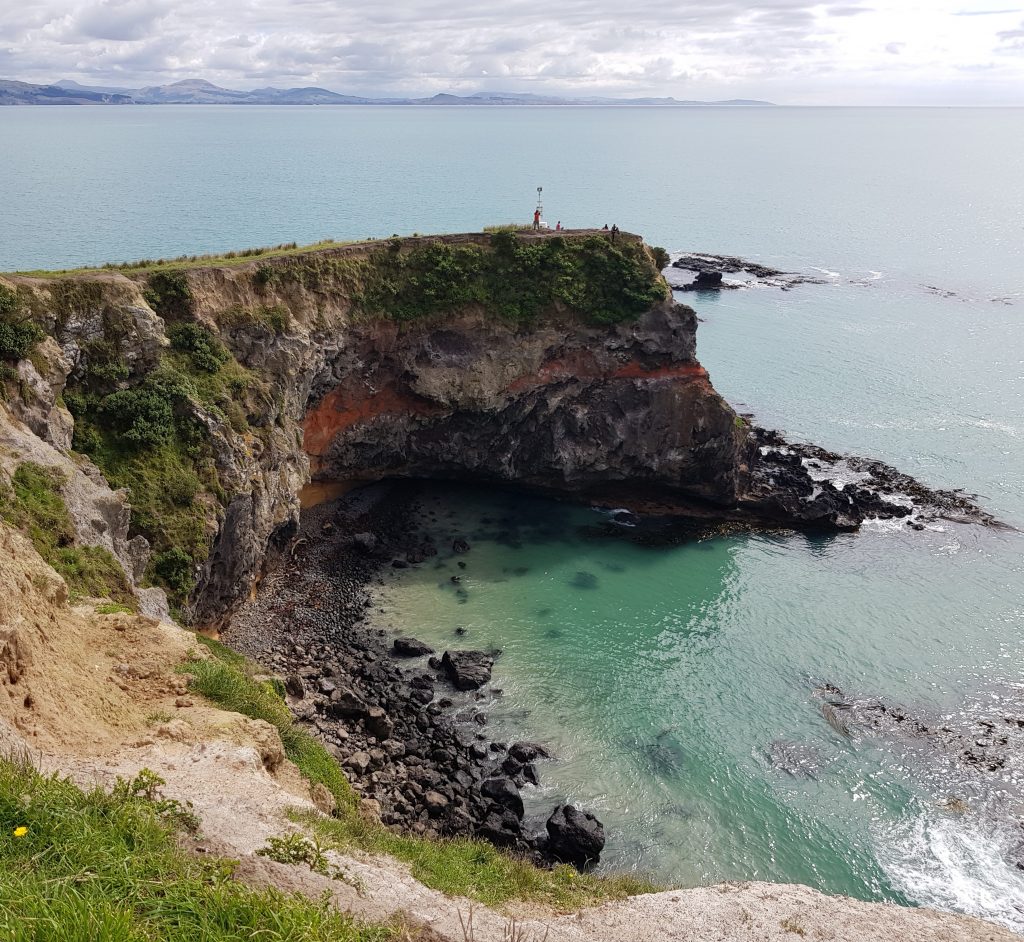 The last time I had been here, I'd been impressed by the shag colony on the island just off the point, but to my dismay the islet appeared to be devoid of birdlife. As I hung my head with the shame of letting down my loyal readers I caught a glimpse of something moving on the horizon.
A black sheet was moving in across the water and as it neared I began to make out individual bodies. Shags, hundreds of them!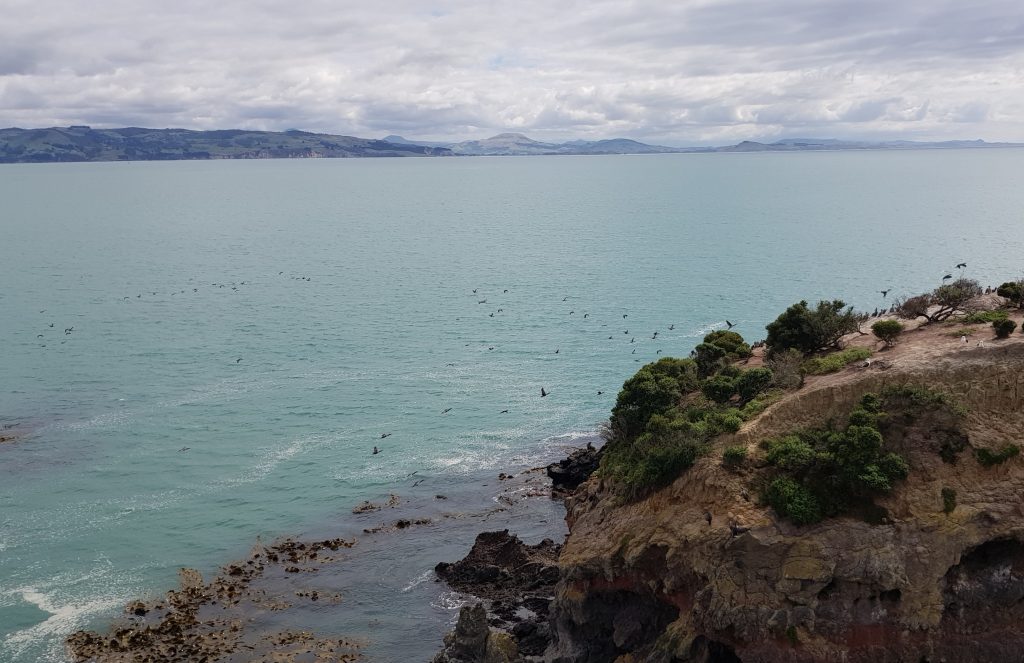 They swooped in from the north, coming in to land directly opposite us, soon covering the entire knoll with milling birds. I was delighted – far from letting down my readers, I'd be giving them an even better show than I'd anticipated!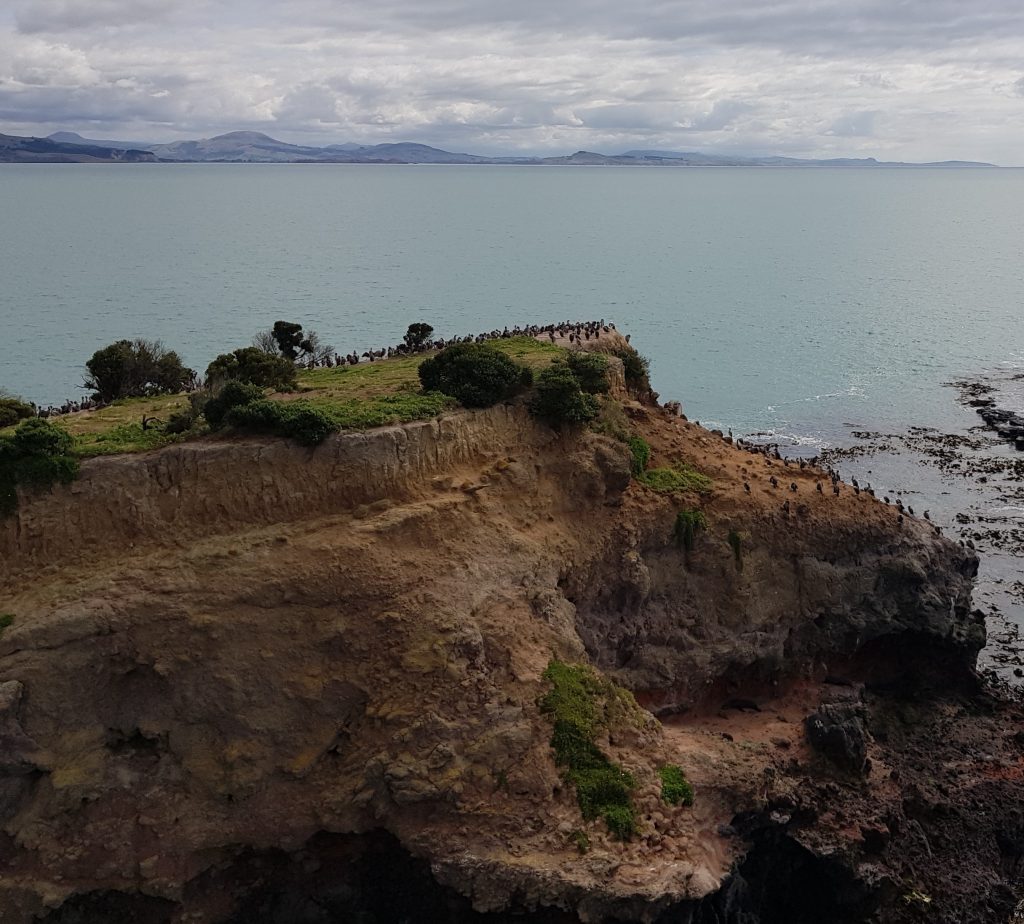 We waited until the show was over, then farewelled the denizens of Heyward Point and begun the long journey back. Passing through the gate back into the steep path up through the regenerating bush, my brother suddenly stopped.
What could have caught his eye? Mushrooms, hidden almost completely in the long grass! We foraged about and were rewarded with a large stack of enormous mushrooms. Quickly we improvised a bag from his T-shirt and carried our bounty away with us.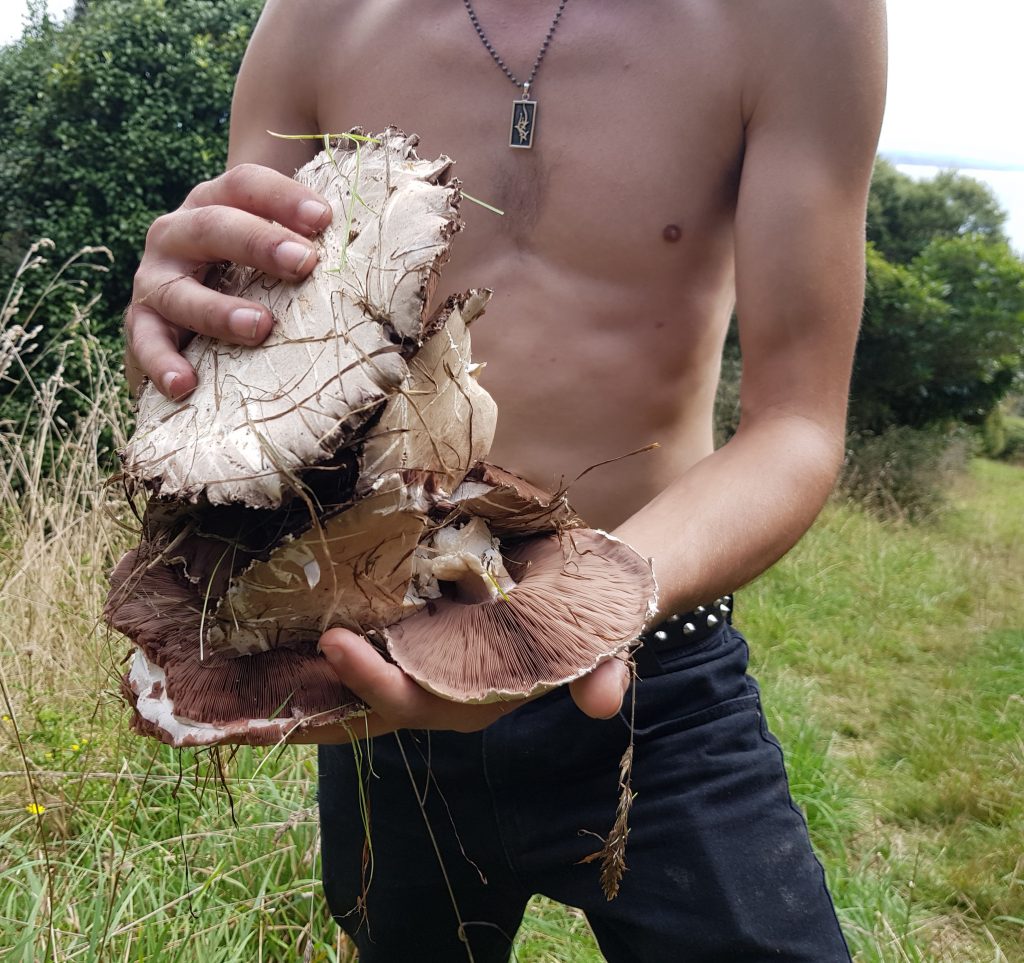 Only then did we continue along the cliffs the way we had come, past nettles and possum traps and down the hill back to our vehicles. The walk had taken us a mere three hours – why had we ever thought it so hard?
Finally it was time to say our farewells, and for my own part, time to plan the night's meal – wild mushroom pizza! The journey had been satisfying in so many ways – we had proof the group's fitness had improved, I'd documented an area that was both beautiful and historic, and I'd even found dinner.
We parted, until next weekend's adventure.
References: