Today Dad chose a walk we'd last done in April 2016, a walk up to East Peak in Southland's Hokonui Hills. This time it would just be us, with no unwilling young people dragged along. "Don't charge too far ahead of me," Dad warned, having read my overseas adventures, in which I walked long distances in the footsteps of pilgrims.
I assured him I'd go easy and we set off south along with Mum and friend Megan who would be exploring the op shops of Gore while we climbed our mountain. We stopped briefly in the Pukerau rest area to sort out our assorted picnics, and were turned off by the overflowing garbage can surrounded by rubbish. I pointed out some trout in the muddy culvert nearby, impressing the others with my incredible fish-spotting skills.
I then spotted an even bigger fish as we passed through Gore before turning on to State Highway 94. Then it was left on to Kingdon Rd and then right into Croydon Bush Rd.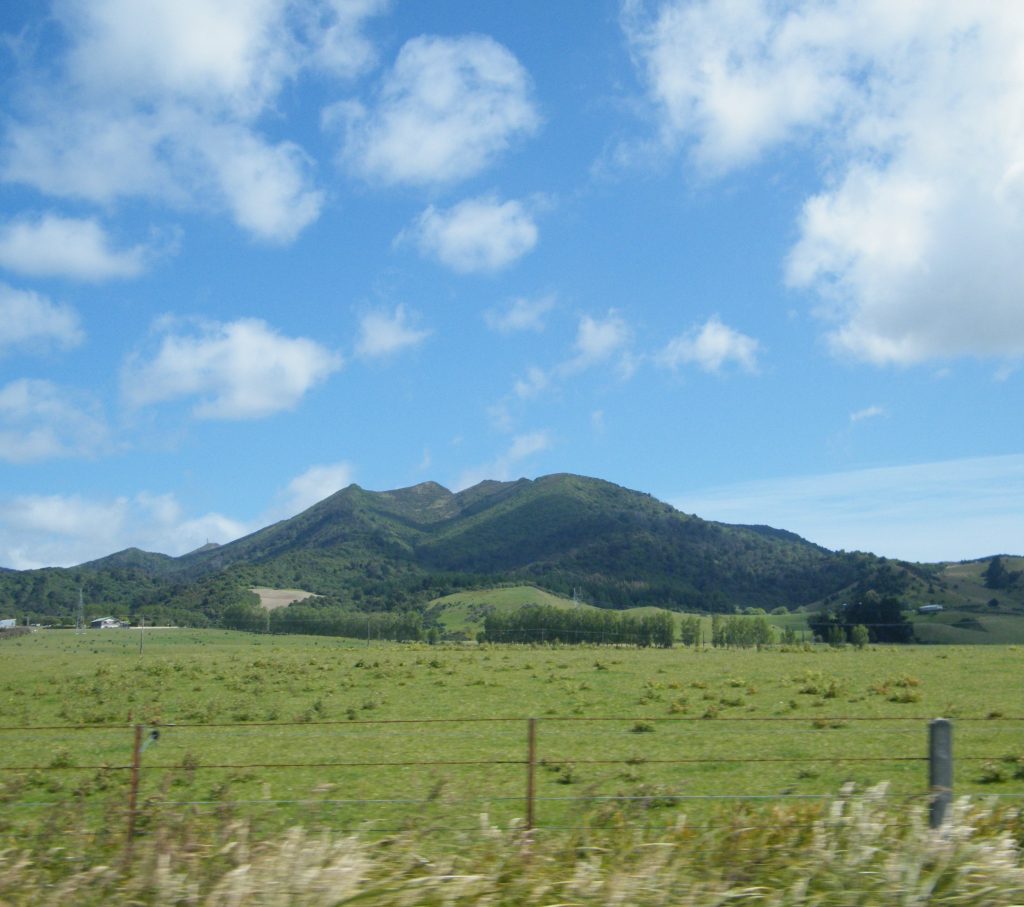 Following the unsealed road through empty fields it was difficult to imagine that it had once marked the western edge of the  energetic settlement of Croydon Bush Village which included a saw mill, school and hall. The first batch of small farmers arrived in 1876 but by mid last century the population was dwindling. The school closed in 1949 and the hall in 1951.
We reached the little car park and Dad and I headed once more into the wilderness.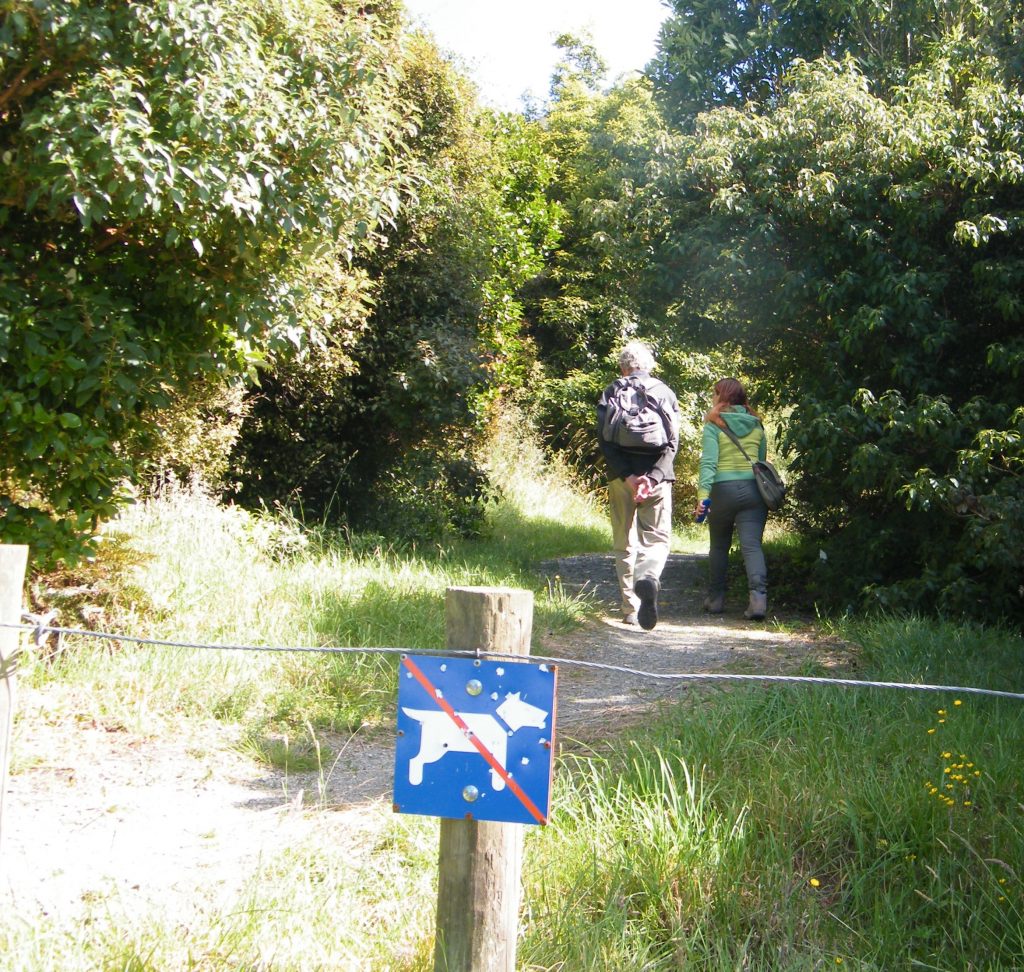 It wasn't long into our climb when I realised something quite important – although in England I had pushed new limits in terms of distance walking, it had always been on relatively flat landscapes. In fact, I hadn't climbed a proper mountain since before I left New Zealand five months ago!
My thigh muscles were soon burning and I lagged embarrassingly behind as Dad powered ahead. So much for going easy on him! And now I was trapped by my bold declaration that "there'd be no whiners this time".
On one of our many rest stops I pointed out a large tree with a twisted trunk. Dad said we kids used to call them "magic trees" – I don't remember this but it sounds about right. Croydon Bush is very lucky – this patch of forest escaped destruction at the hands of pre-European Maori who burned off a lot of South Island bush to permit ease of movement and encourage bracken to grow. The bracken was desirable as it would provide a starchy staple in the absence of potatoes and kumara which could not be grown in the deep south.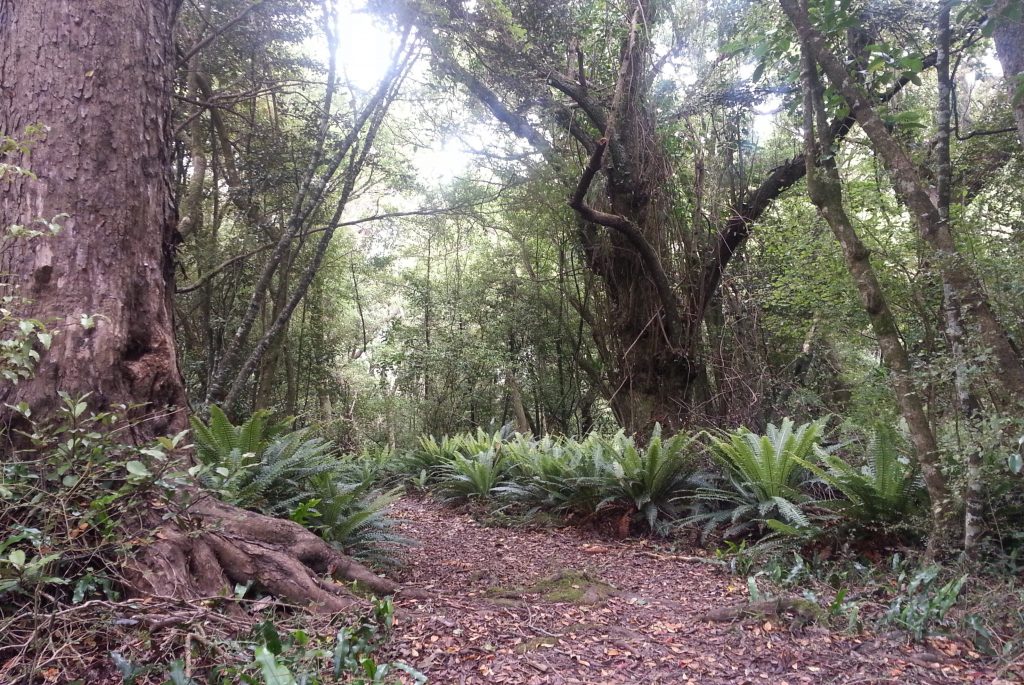 Then it was milled by the European settlers, but the rough road to Gore meant that cheaper and more easily accessible sources of timber soon overshadowed what could only be extracted from this harsh terrain with great effort. In 1893 the first part of this reserve was protected and it quickly became a popular resort for the inhabitants of the surrounding district.
We eventually made it through the bush and up to the low alpine scrub. This required scrambling up a few steep rocky slopes.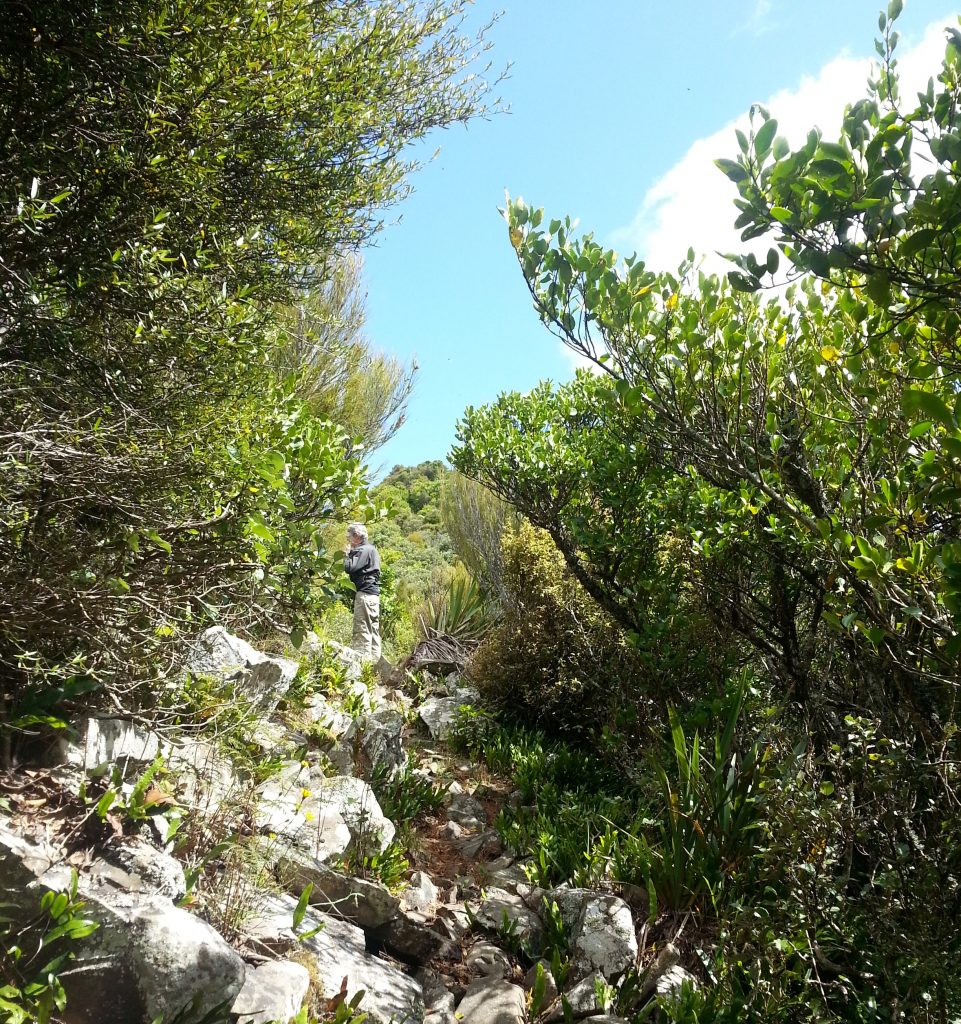 Since the weather was a bit brighter than last time, I was hoping to get some better pictures despite still being limited to the same old temperamental cell phone camera. I think I succeeded, managing finally to capture the bright greens of the narrow ridge leading toward the summit.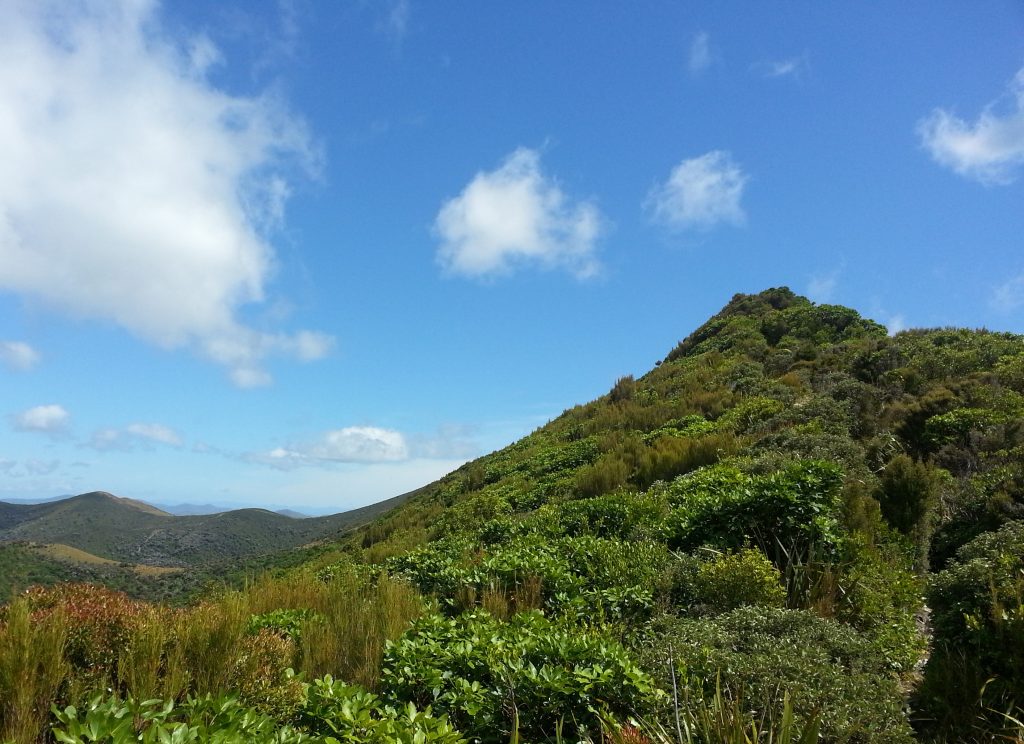 As I slumped down for yet another rest I realised I'd almost sat on a lone purple flower. Good thing I didn't because Dad identified the escapee as a rare orchid. The Sun Orchid or Thelymitra formosa is listed as currently at risk, but thankfully the listing doesn't go on to explain that the most pressing risk is from my butt.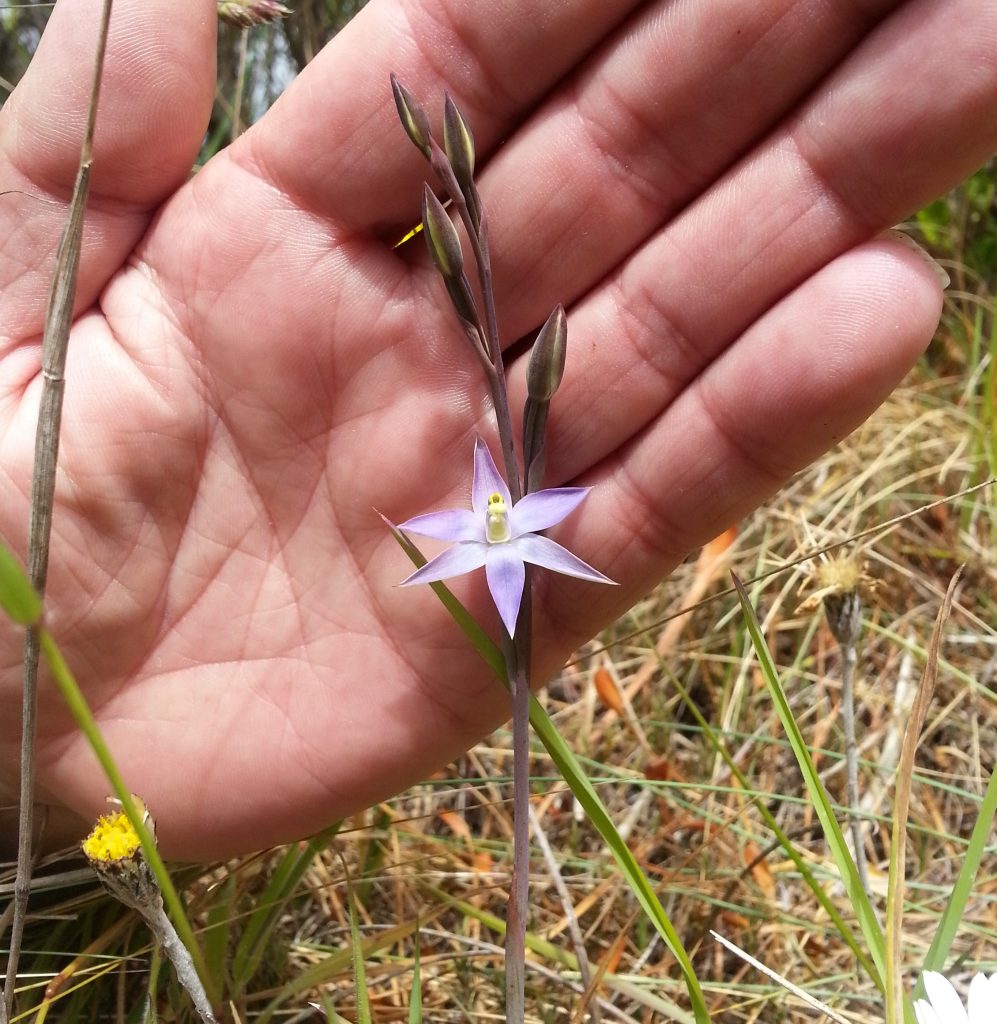 Fully rested and fresh from admiring our find, we pressed on up the final rocky slope before the small tussocky plateau where the track divides. One prong leads up to East Peak while another heads back down to the car park via Grants Knob. For our part, we were happy to rest against the sign and munch on the sandwiches we had prepared earlier. Before us the golden hills undulated unto the horizon.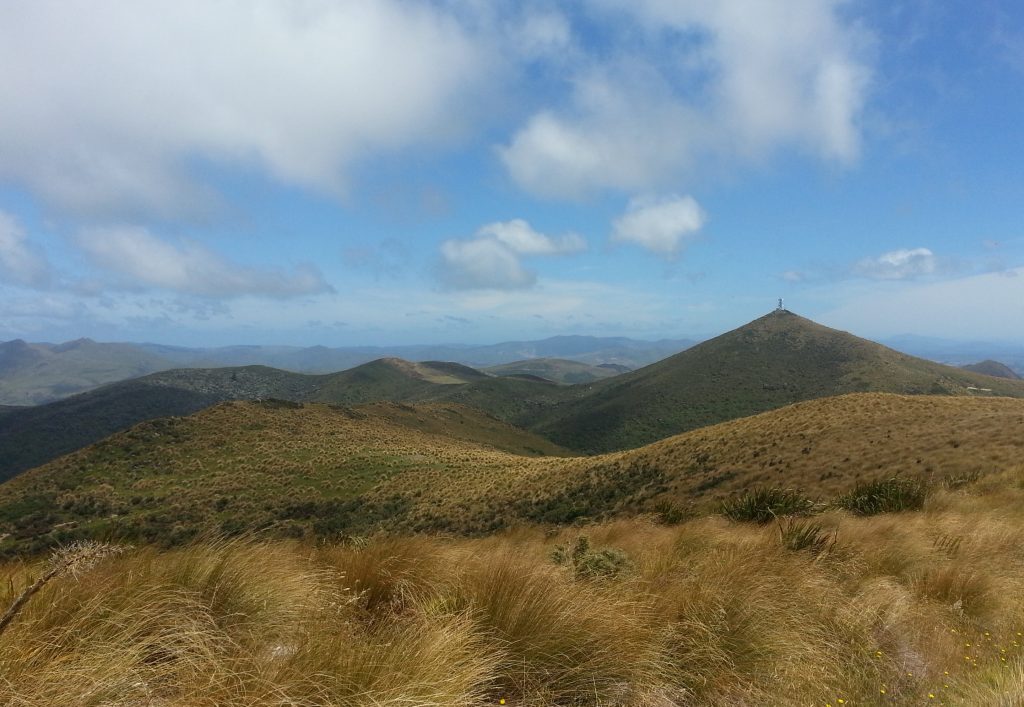 After lunch we decided to make the detour to summit East Peak, so followed the track along a fence line, passing a predator trap which had claimed an unlucky stoat. That's one less critter to menace our birds.
Then it was another brief climb before we found ourselves next to the trig station, which after ten months still had not been fixed back upright.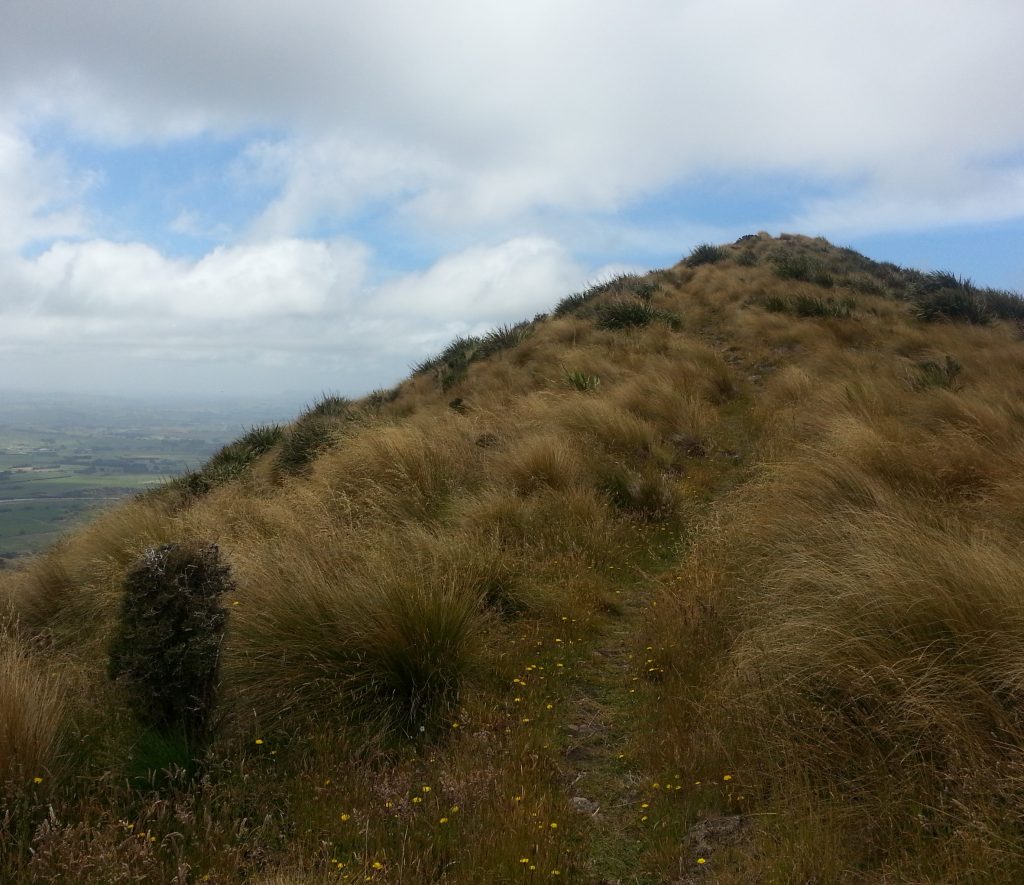 We admired the lovely view over Gore, the Mataura river and the surrounding fertile plains. I noticed some butterflies, and after a lot of chasing I finally managed to add the common tussock butterfly to my growing collection of butterfly pictures.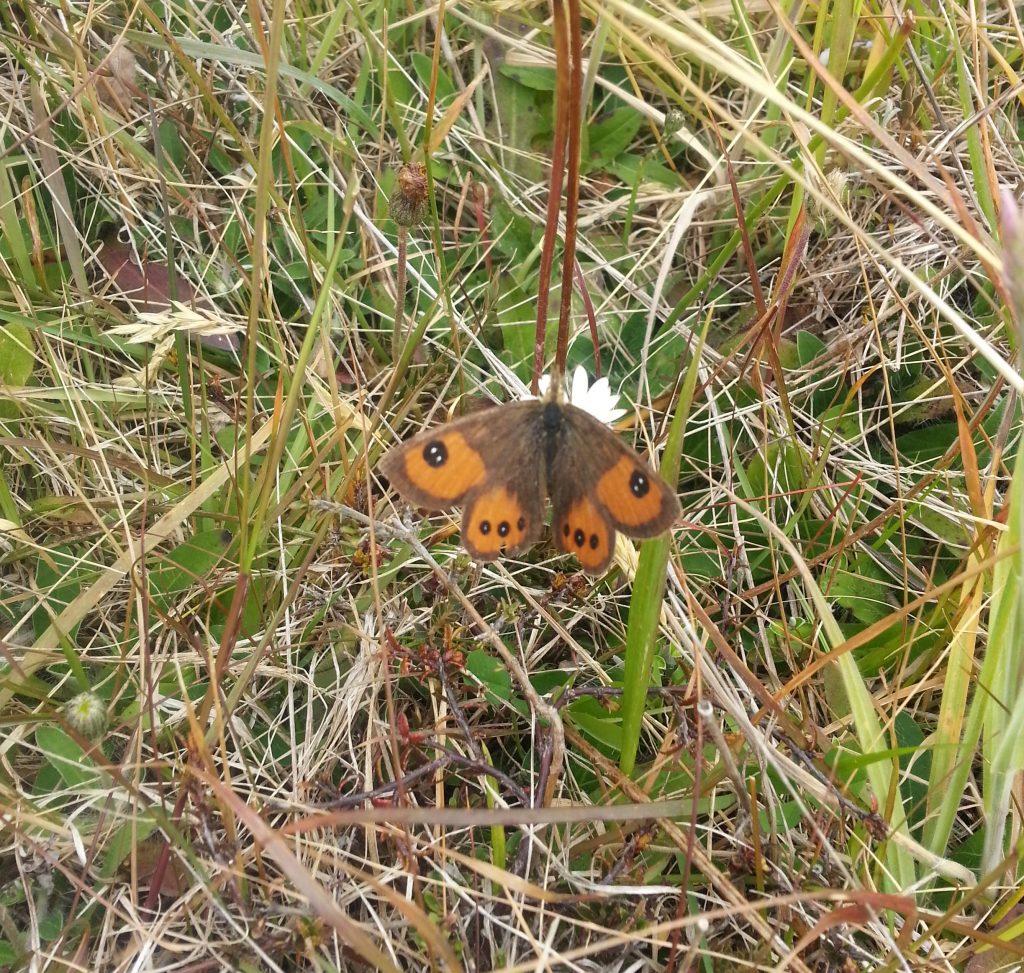 Today, since we hadn't brought along anyone to object, we were able to take the long way back to the car park via Grants Knob. So we continued through the tussock and down into a steep valley, with me hoping that all this height we were losing was not an indication of how much we'd have to climb again to reach the knob. My thigh muscles just wouldn't take it.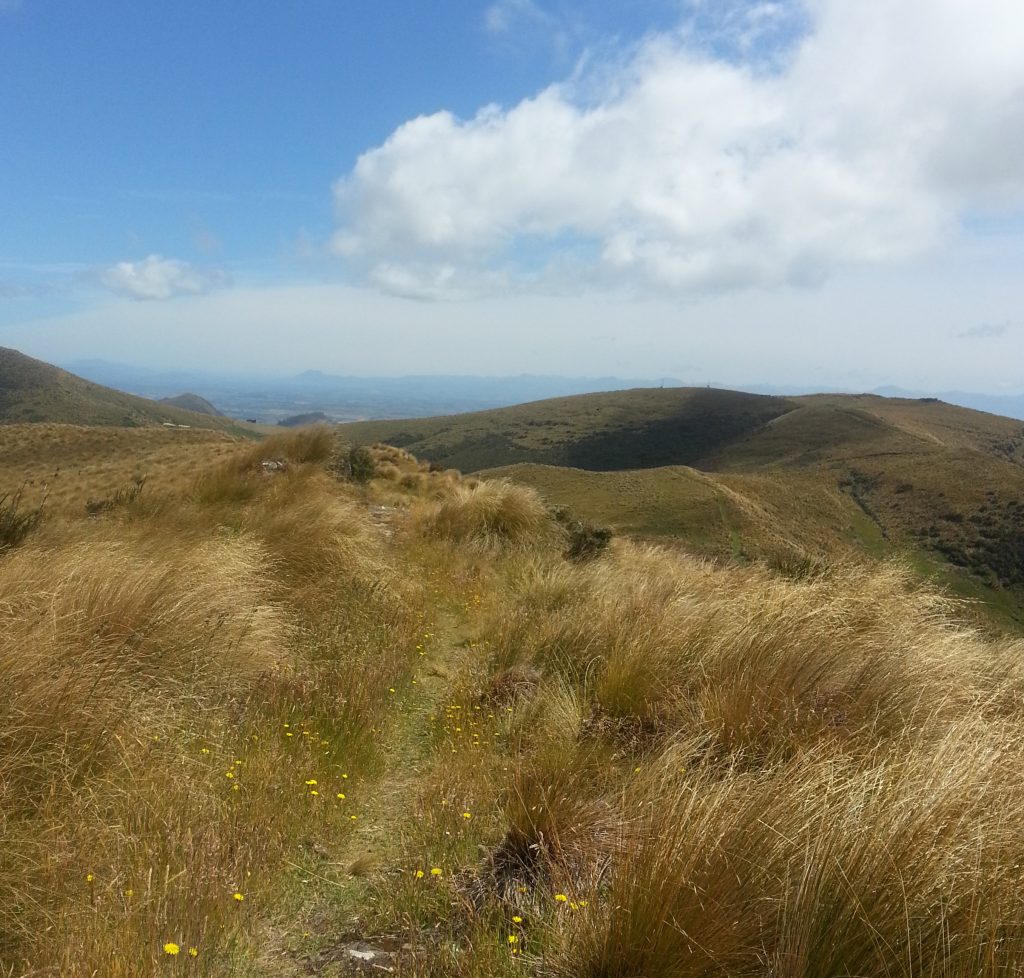 Luckily the slope up to Grants Knob was relatively gentle, and we found ourselves in a fragrant stand of flowering manuka. Now the path would take us back downhill along another ridge and back into the trees. We were startled by a couple of kereru (NZ wood pigeons) crashing through the branches nearby and swooping low over our heads – it's not the first time so I guess they make a habit of it!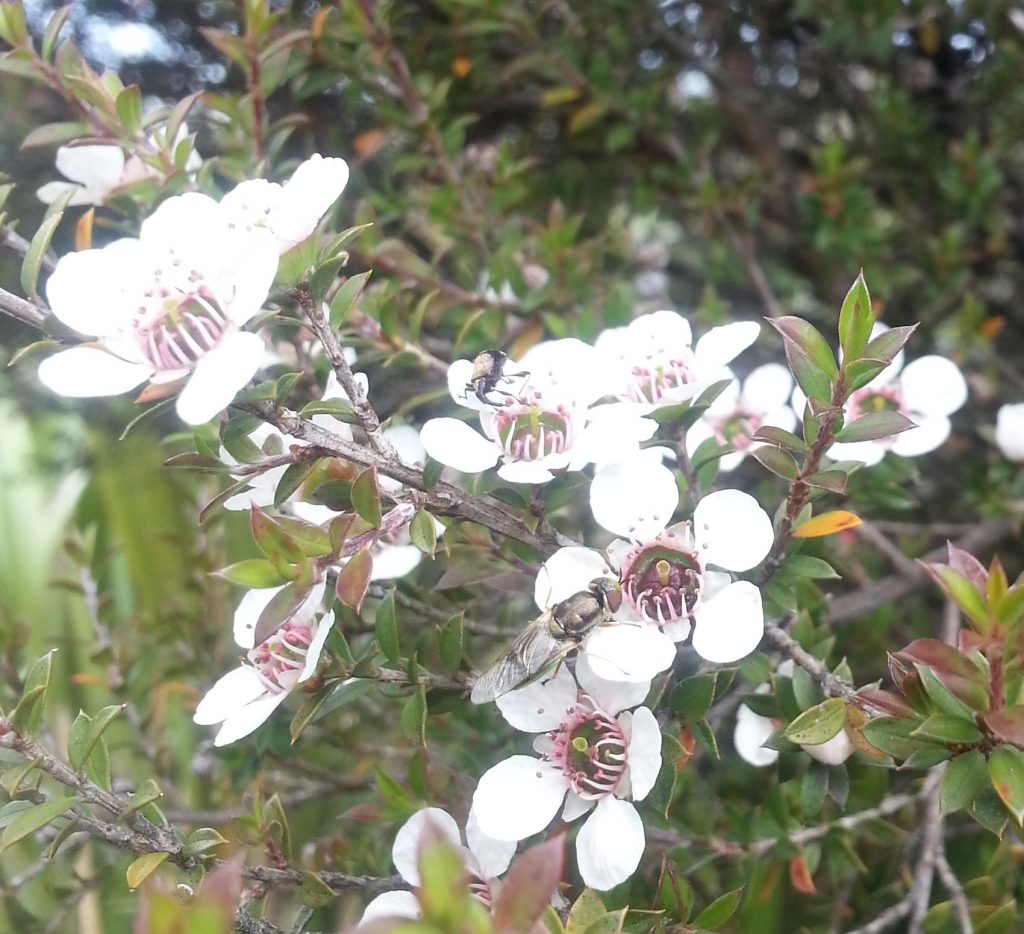 Eventually we made it back to the car park where Mum and Megan were waiting for us after their foray into Gore. We sat with them, enjoying cheese, crackers and cups of tea, while they showed us their finds. I may not have paid as much attention as I should have as I was too busy wiling the life to return to my strained legs. A month ago I'd been walking stretches of 20km or more, how could this little 5km walk have got me so beat?
Perhaps while I was longing for New Zealand's wilderness from the other side of the world I forgot just how tough our wild outdoors really is. I'll have to keep that in mind as I continue my adventures, lest I bite off more than I can chew!
References: