It was time to venture further afield in my exploration of this new land, and Andy suggested an overnight camping trip to the coastal resort of Hastings. Despite knowing absolutely nothing about this town except that it was the site of the Battle of Hastings (an assumption I later discovered to be incorrect as the battle took place 11 kilometres away), I immediately agreed.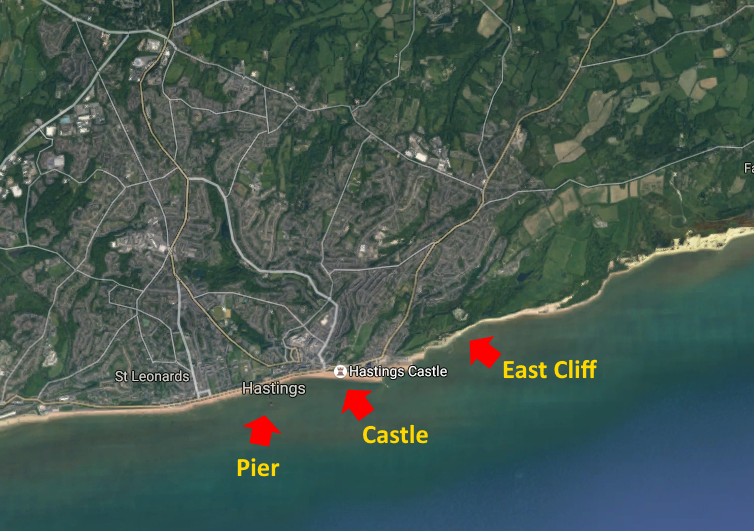 This meant a bus ride, and I was delighted to find that not only were we to take a double-decker, but we were able to claim the top front window seat. I'm of course familiar with Dunedin's double-decker tour buses and it was always a big deal when one was sent in place of the usual school bus back in the day. But I'd never been quick enough (or cool enough?) to claim the top front seat. So in a way I was banishing a childhood grievance by finally taking my long-coveted place at the huge front window.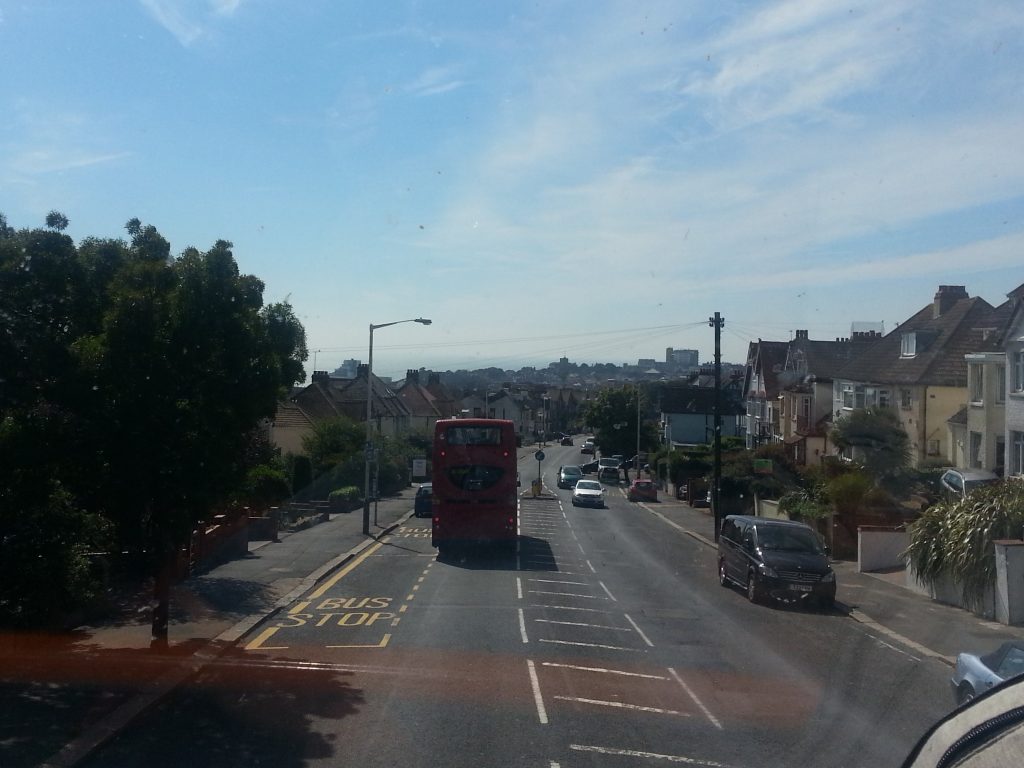 The bus took us along the coast past Folkestone and Hythe, the driver skilfully navigating through narrow roads that were clearly not designed for vehicles of such size. We passed some more sound mirrors set back in the hills and a large wind farm before entering Kent's neighbouring county of East Sussex.
Disembarking in Hastings after the three hour ride, we lugged our camping gear up the hill to Shearbarn Holiday Park, situated on East Hill above the town. Then after setting up the tent it was time to head down the hill and explore!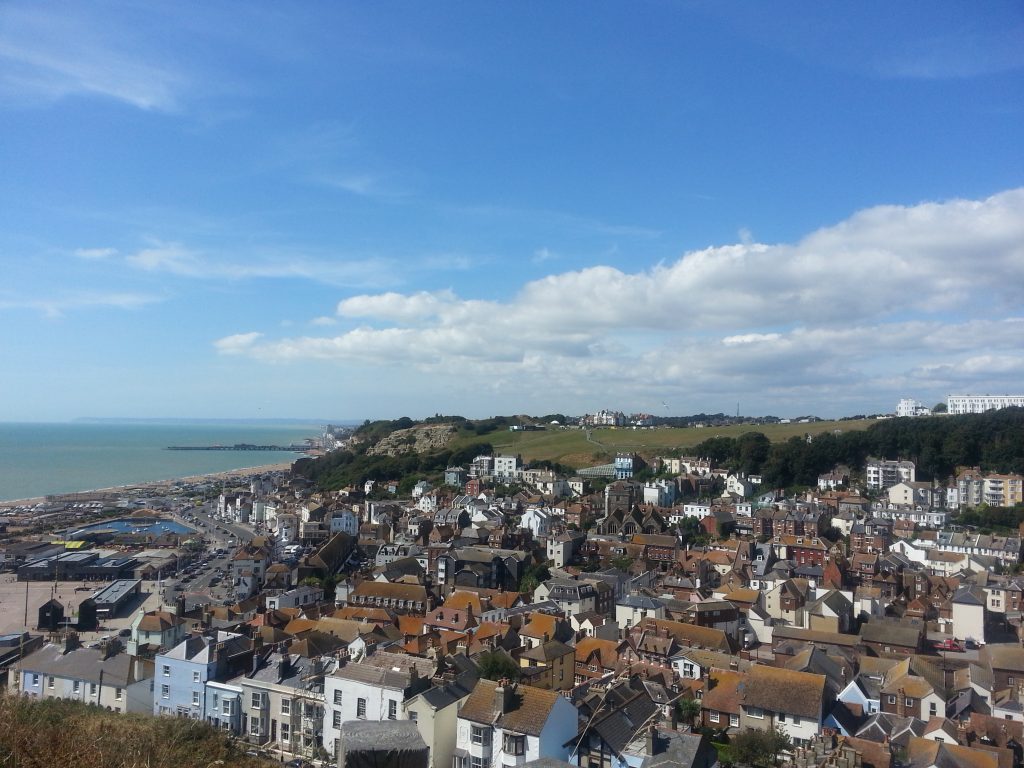 Our first stop at the bottom of the long staircase down the hill was the "net shops". The fishermen of Hastings needed some place to keep their biodegradable nets dry, and the new beach that appeared after an 1834 groyne was installed on the coast provided a good opportunity. However the fishermen were restricted to a space of only eight feet square, which was hardly enough, so the only solution was to build upwards and the highest of these little skyscrapers is eight metres high.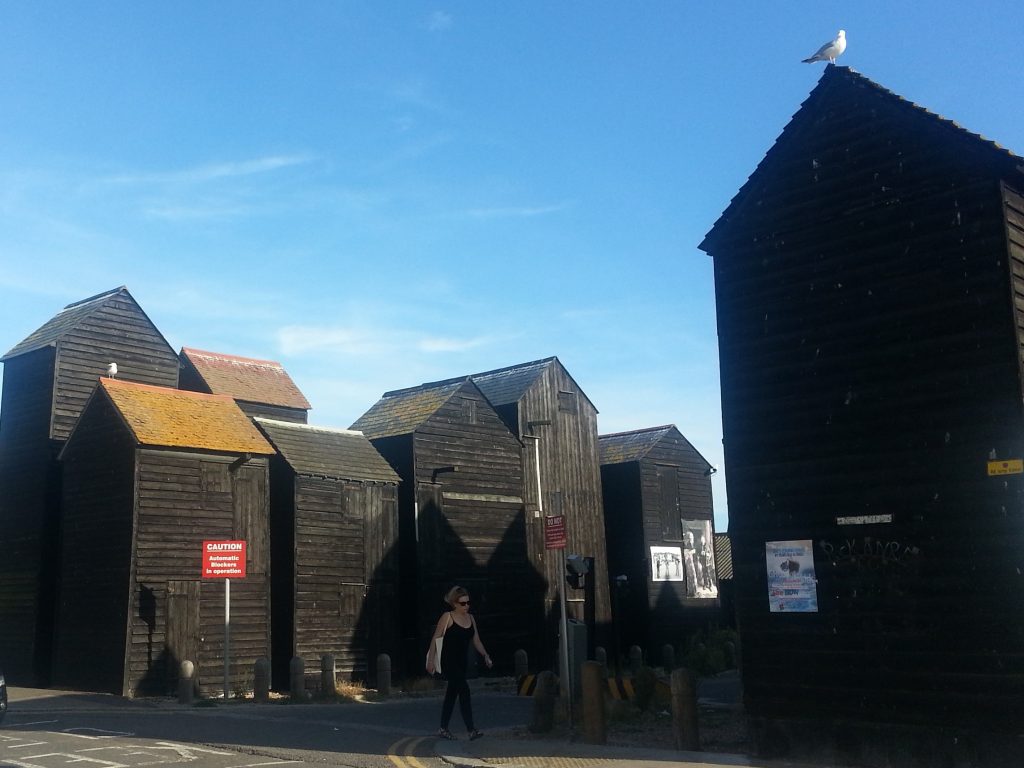 43 of these tall black buildings remain. Amongst them is the Fishermen's Museum, located in a 19th century church and containing the Enterprise lugger, an old fishing boat which only just fits inside the building. We also watched some footage of a troubled fishing boat trying to get into shore in stormy conditions. Hastings does not have a harbour, so all of the boats must still be winched up the beach when not in use and rough seas can sometimes make this a dangerous business. Originally the boats were all winched by horse-driven capstans, but today diesel-powered winches do the same job.
Having stood on the Enterprise and imagined myself at sea, it was time to look for lunch. We settled on a fish and chippie along the beach side promenade and I followed my usual custom of ordering the strangest thing on the menu – deep fried cod roe, while Andy had some chips in curry sauce.
The roe was actually delicious, with a nice strong fishy taste (is that sound I just heard all of my fish-hating readers gagging simultaneously?). After finishing up, it was time to continue exploring the seaside resort. All along the shore front were amusement arcades and "genuine English rock" shops.
Up a back street we caught sight of a ruin perched atop a small hill and decided to check it out.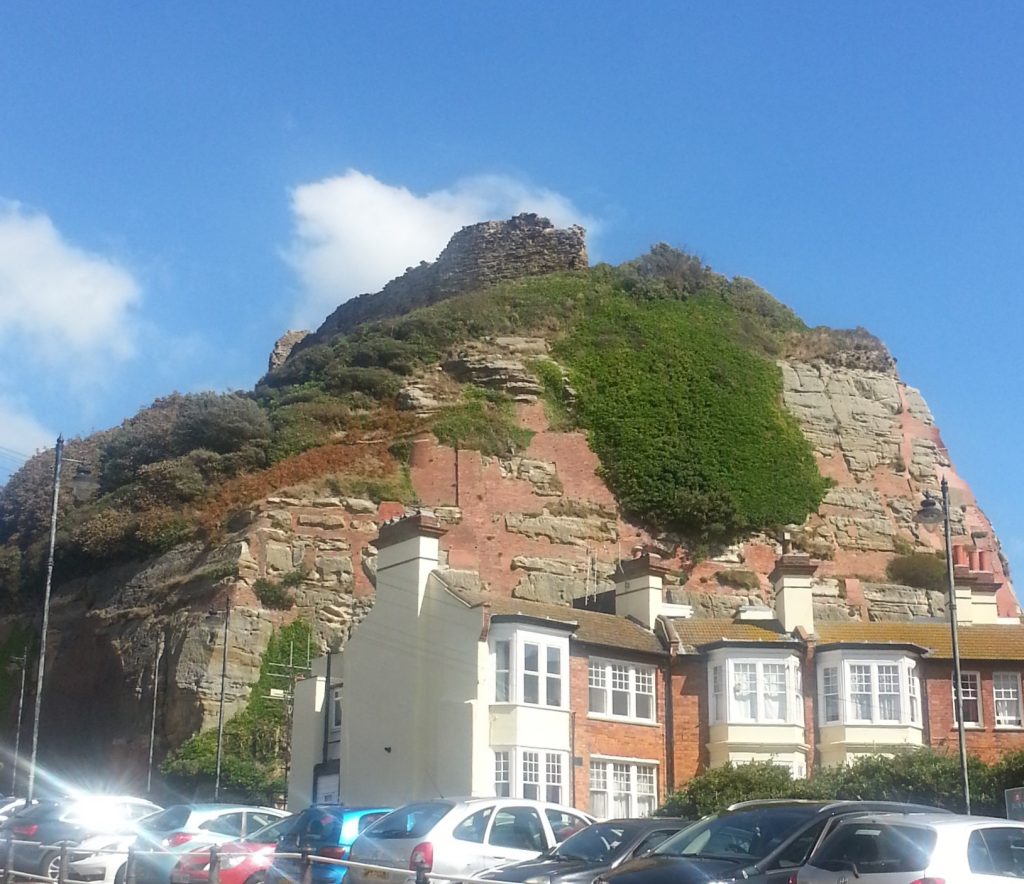 However upon nearing the ruin we discovered that it was fenced off, with a £4.75 entry fee. This is Hastings Castle, built by William the Conqueror after he landed in England in 1066, and the first Norman castle in England. However it fell into ruin during the 1300s and part of it even collapsed into the sea.
The site is now owned by the Hastings Corporation which has tidied up the ruin and developed it as a local attraction. But since we were on a tight budget we had to give it a miss and instead parkoured our way down the sandstone cliffs.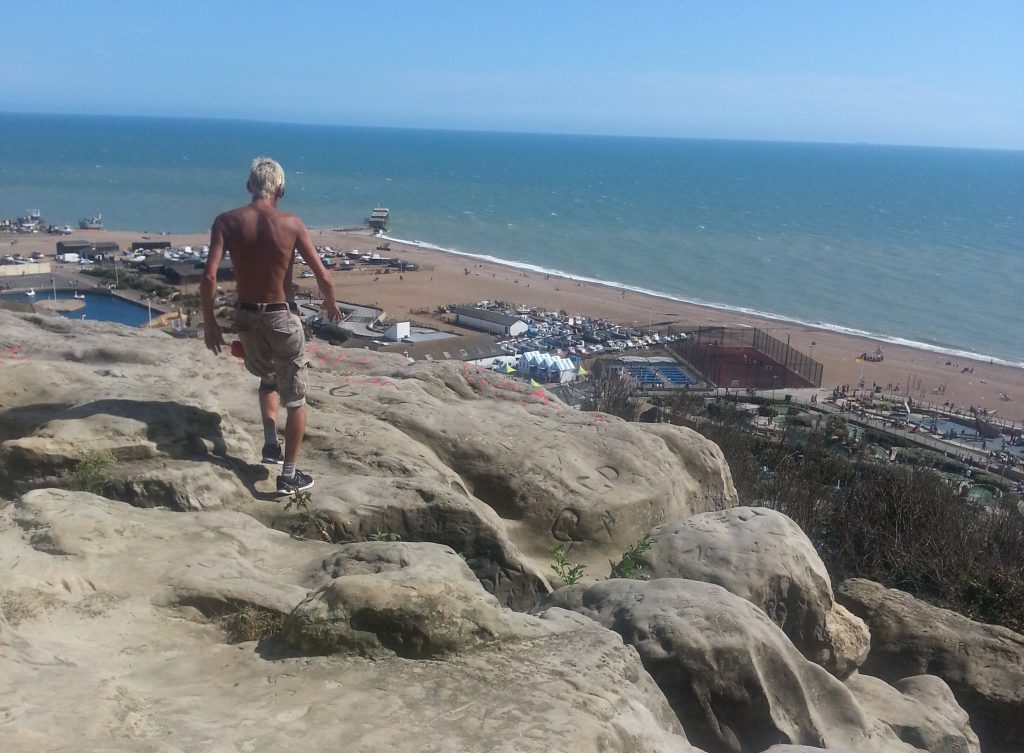 Back at sea level, we explored the back streets for a while before ending up back on the shore front near the wide Hastings pleasure pier, dating to 1872. There were all sorts of enticing attractions along its 272m length, including a carousel, kiosks and what appeared to be a zorb pool.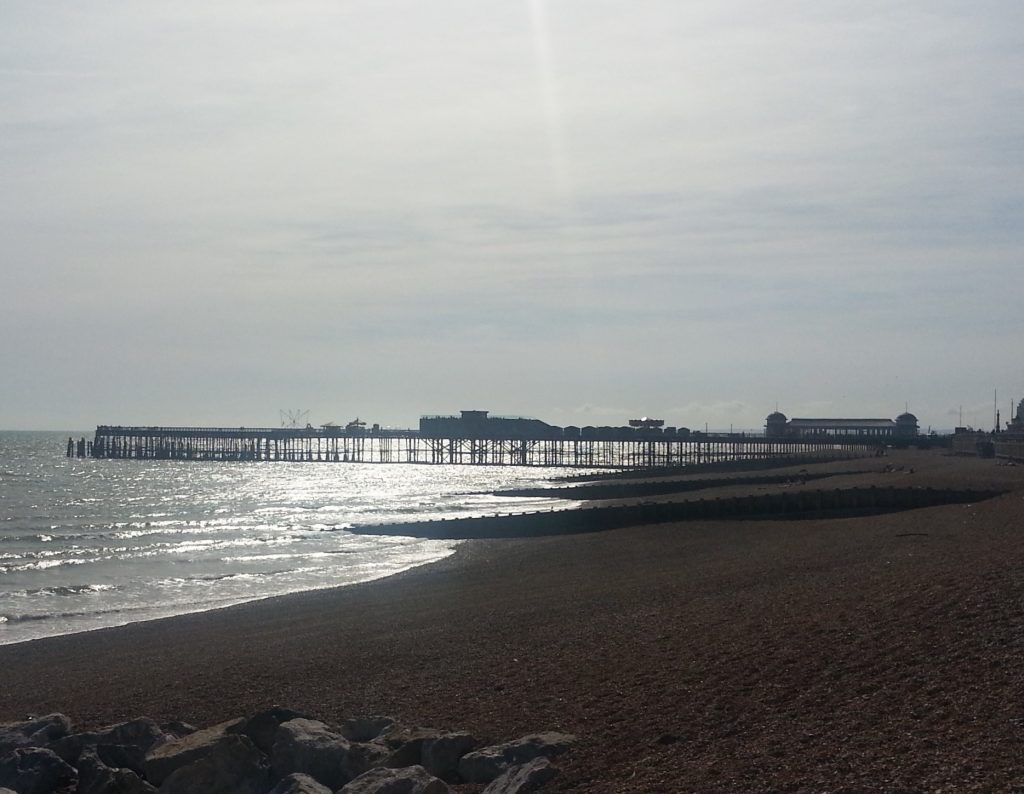 We reached the end of the pier and looked down at the mass of metal beams below, perhaps remains of the 2010 fire that destroyed much of the pier and necessitated an expensive refurbishment – now convenient perches for seagulls. Turning our gaze back towards shore we could see the orange shingle beach held in place by a long line of groynes.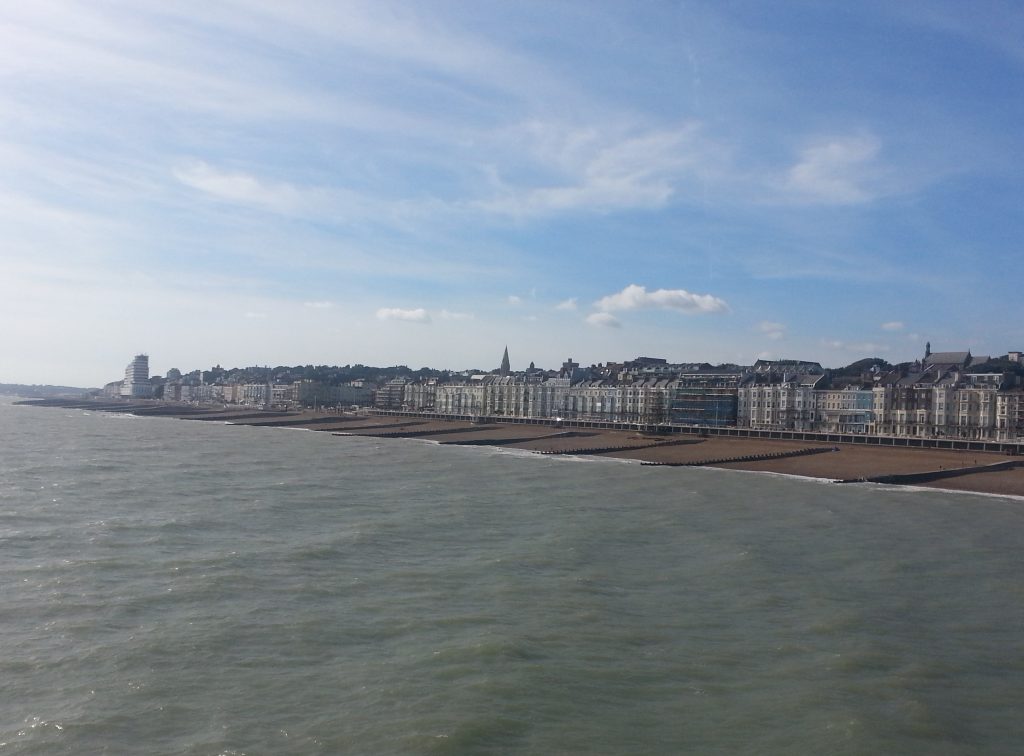 As we walked back to shore, our thoughts turned to dinner. Andy suggested we "buy a barbecue" from the local supermarket and grill ourselves up some tucker – a strange suggestion, I thought, that sounds expensive and unwieldy. What I didn't realise was that disposable charcoal barbecues can be obtained for only a couple of pounds and are rather popular.
So we picked up our barbecue, some cider and an assortment of items to grill and made our way back up the hill.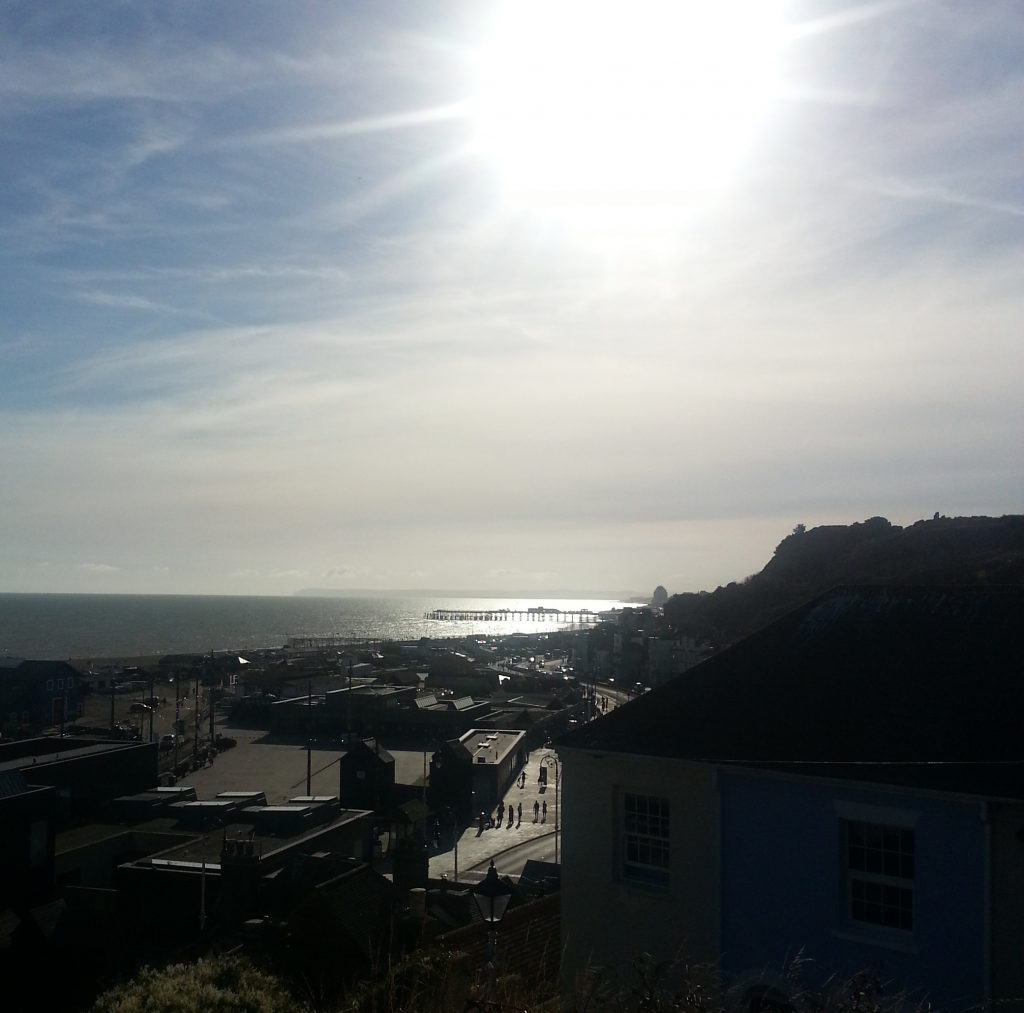 Back at camp we grilled up our chilli and salt pork belly, mushrooms and capsicums (or "peppers" as you should apparently call them here if you don't want to sound like a snob).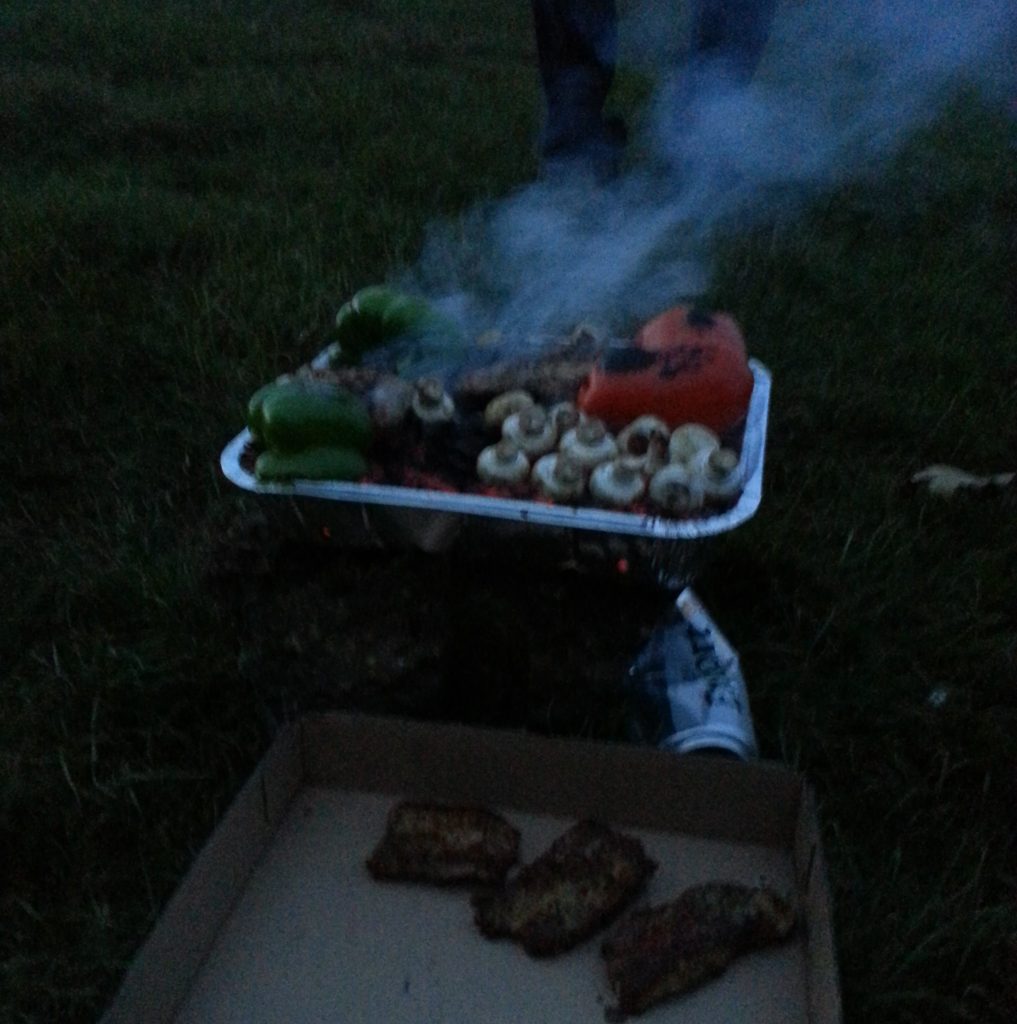 We devoured our camp dinner and hit the town again for a few pub drinks before retiring to bed.
The next day dawned sunny and spectacular, so we decided to take a wander around the Hastings Country Park Nature Reserve. We passed through one of the "kissing gates" into the reserve, which turned out to not be something romantic but rather a type of gate designed to prevent livestock from passing through.
The network of wide pathways alternated between woods and meadow, and we greeted the maintenance man on his ride-on mower as he gave the trails a going-over.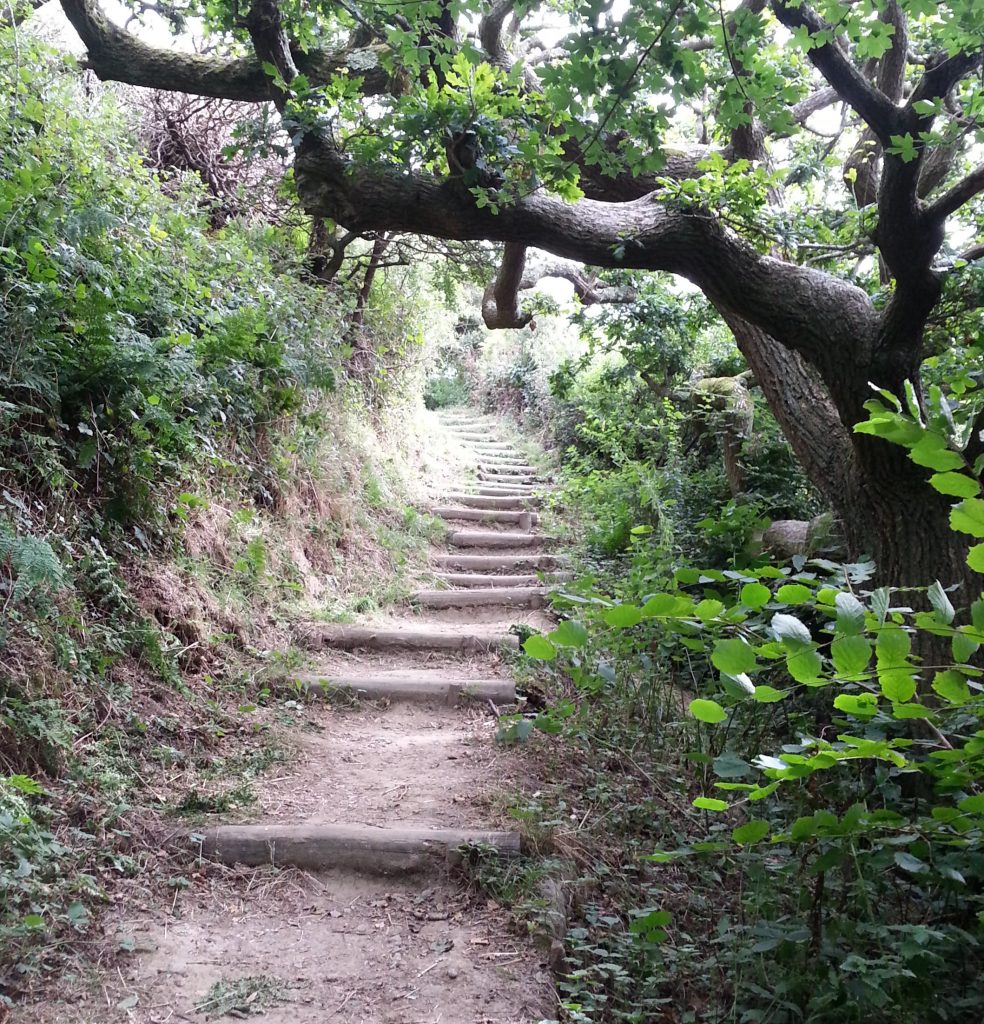 While wandering between fruiting blackberry hedges, I encountered another of my favourite things – a new butterfly!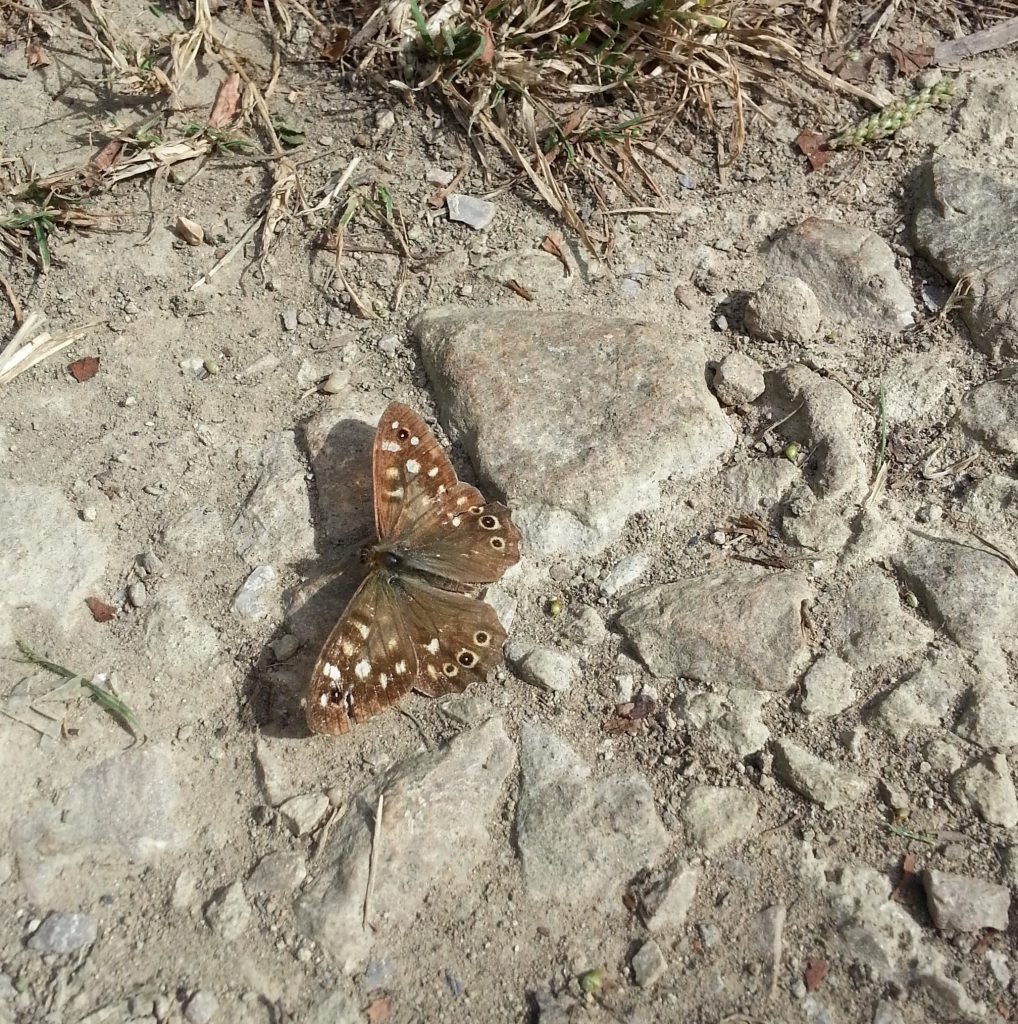 Moving on, we found ourselves picking our way down the cliff towards the shore. Here we encountered a very unexpected sign.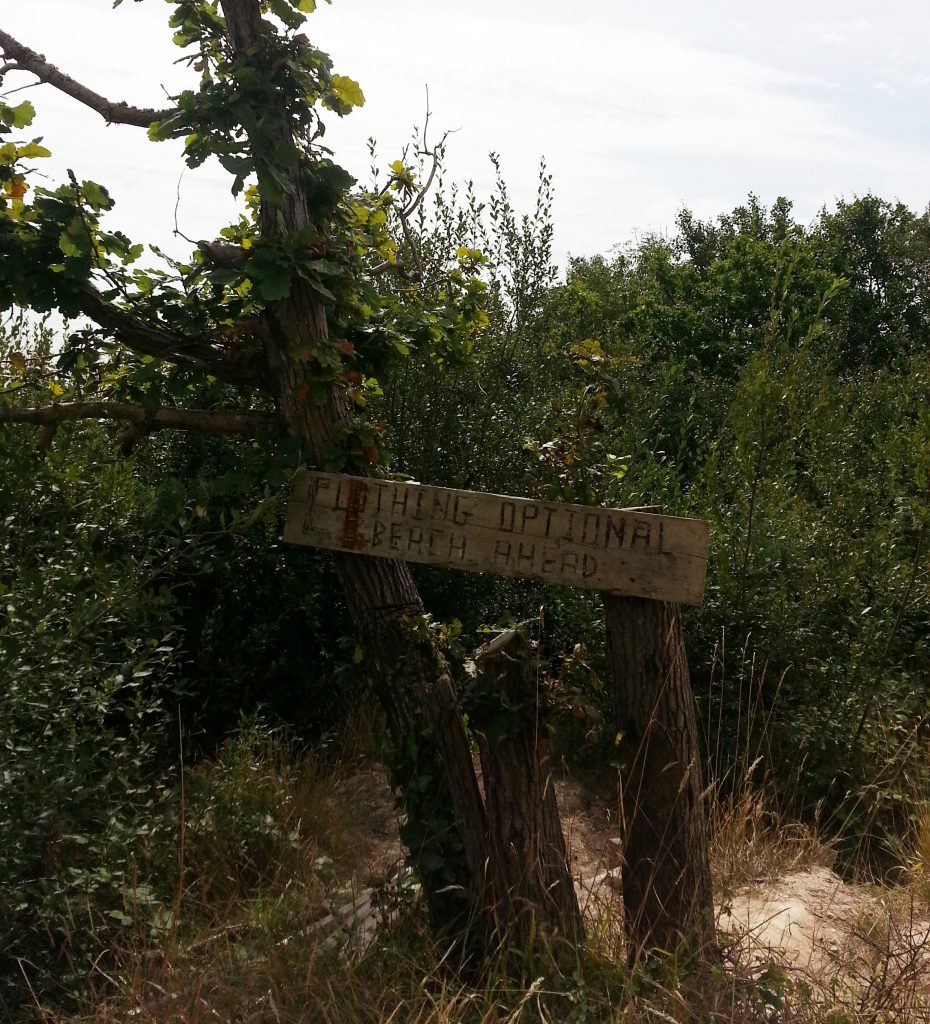 We cautiously made our way forward to find the stony shore deserted – somewhat to our relief. Slogging it back up the hill, I finally got to see the ponies I'd missed on the white cliffs. Less auspiciously, I got stung all over my knee by nettles when kneeling to try to see a bird – and I still didn't get a good look at it before it flew off!
Returning to camp we packed up our kit and headed down hill so we could catch the double-decker back to Dover. Happily I once again claimed the top front seat, until behind me I heard a child's excited voice exclaiming about how he couldn't wait to sit in the front seat. Well, how could I inflict the same torment on this kid that I'd experienced in my own childhood of never having the best seat in the bus?
"Do you want this seat?" I asked.
"Oh no, it's fine…" The child's guardian began, but was quickly interrupted.
"I do want to sit there!"
That settled it. I moved back a row to complete my journey in the exile of the second best seat on the bus, and my new young friend had his desired place.
Then back to Dover we chugged as the weather turned to a downpour and the poor kid discovered that he was right in line to be drenched by a stream of water that poured in through a leak in the front window. I had plenty of time to muse on the implications of my "good deed" as we were delayed for several hours by an accident ahead.
Hang in there kid! You'll get the front seat for real some day!
References: