It was the first day of my great English road trip, and I needed too decide how to spend it. I had snagged a spot at the Canterbury Camping and Caravanning Club site and I was torn between finding a café with wifi in which to blog all day, or to get out on the Stour river in Canterbury and catch some fish. Checking the weather, I noted that the day was forecast for slightly less rain than the next, so I figured I had better take the chance to fish while it was still likely to be moderately pleasant.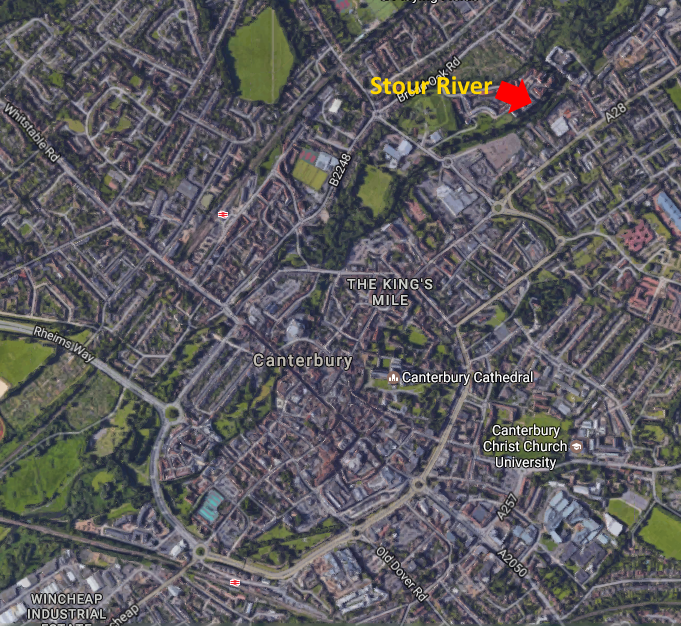 After an unseasonally hot autumn, the season and its characteristic yellow leaves seemed suddenly to have arrived overnight. I was rather excited to experience my first 'proper' autumn, with all the colour and falling leaves, since the evergreens of New Zealand consistently fail to put on such a show. Crossing the camp site in the early morning light, I passed several bunnies grazing in the dewy grass.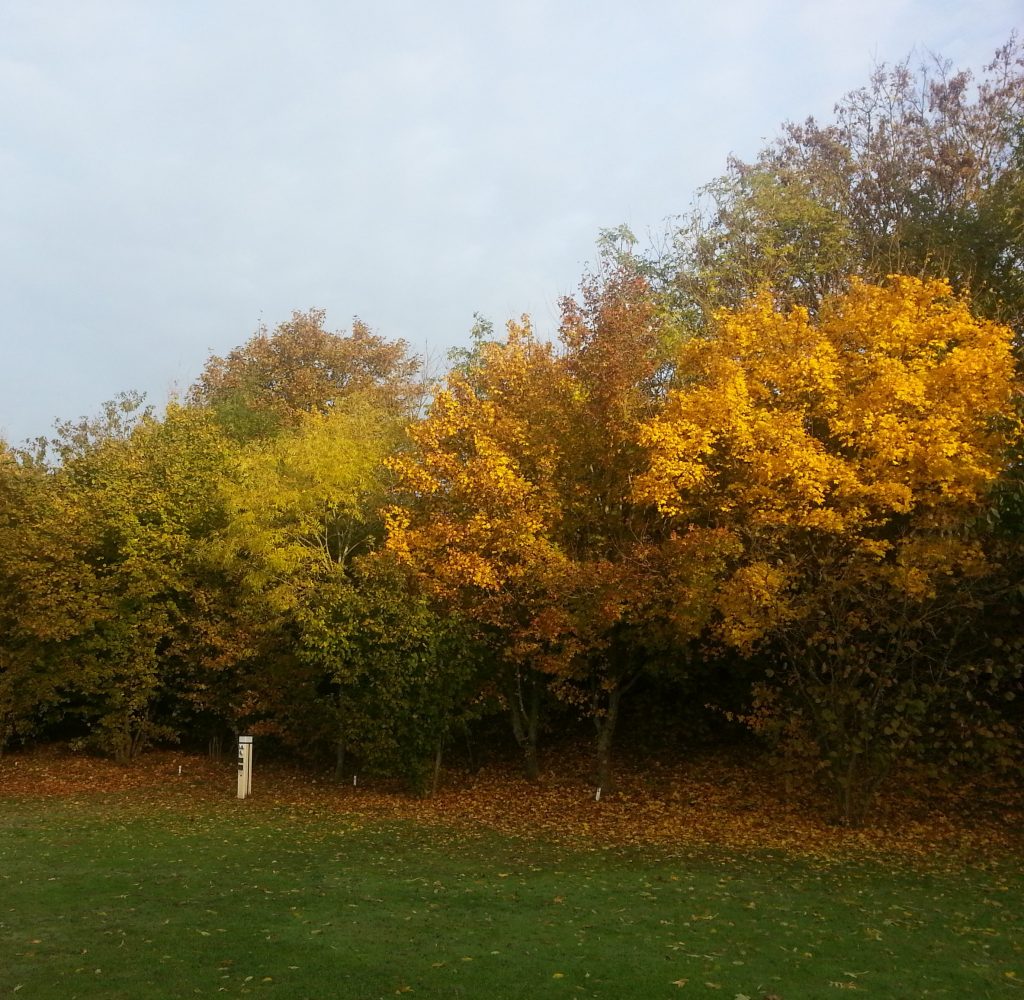 Where the Stour River passes through the city of Canterbury it is free to fish and I was intending to take advantage of that fact. I passed by the supermarket to buy the obligatory spam and sweet corn and parked myself just upstream from some of the sort of buildings that I was beginning to recognise as old mills. Wooden platforms with convenient seats have been placed at intervals along the river, so I set myself up on one as the spotty rain began to clear.
The tall wooden mill buildings were part I believe of Barton Mill, which belonged to the church until being confiscated by the crown during Henry VIII's upheaval. It milled first paper, then corn, and only finally ceased mill work in 2004. Now the remaining buildings have been converted to residences.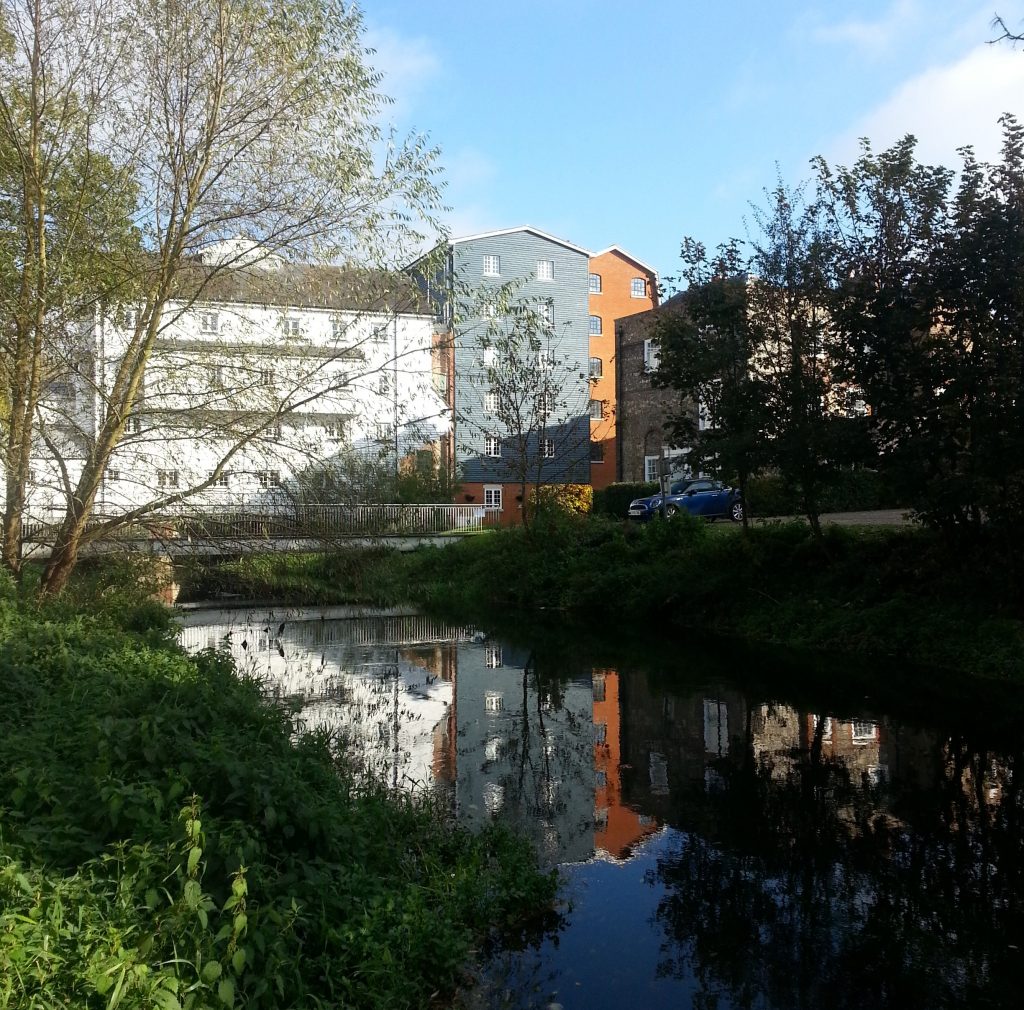 I'd actually already been here once to fish with Andy, and had seen a lot of what I presumed to be large trout cruising around. Although I had thrown anything I could think of at them, they'd shown no interest in taking my bait.
Today I could see nothing in the water, so I didn't much rate my chances. However I decided to spend a little while chilling even though I didn't expect a catch, so I baited up my line with a tempting chunk of spam and chucked it in. Then I wrapped my jacket about me to keep out the cold wind and sat back to daydream.
I was just tuning out when suddenly I noticed there was indeed some activity in the water. A single large – trout? – was cruising around my meaty offering, circling above it and back slowly. I watched intently – this went against all I had imagined about fish behaviour, that they would simply see something edible and gulp it down instantly. This crafty creature seemed to be really thinking.
Eventually it made up its mind and took the bait. The ensuing fight was much less energetic than I'd anticipated for the average trout, and it became clear as I lifted the mystery fish on to shore that I'd made at least one rash assumption.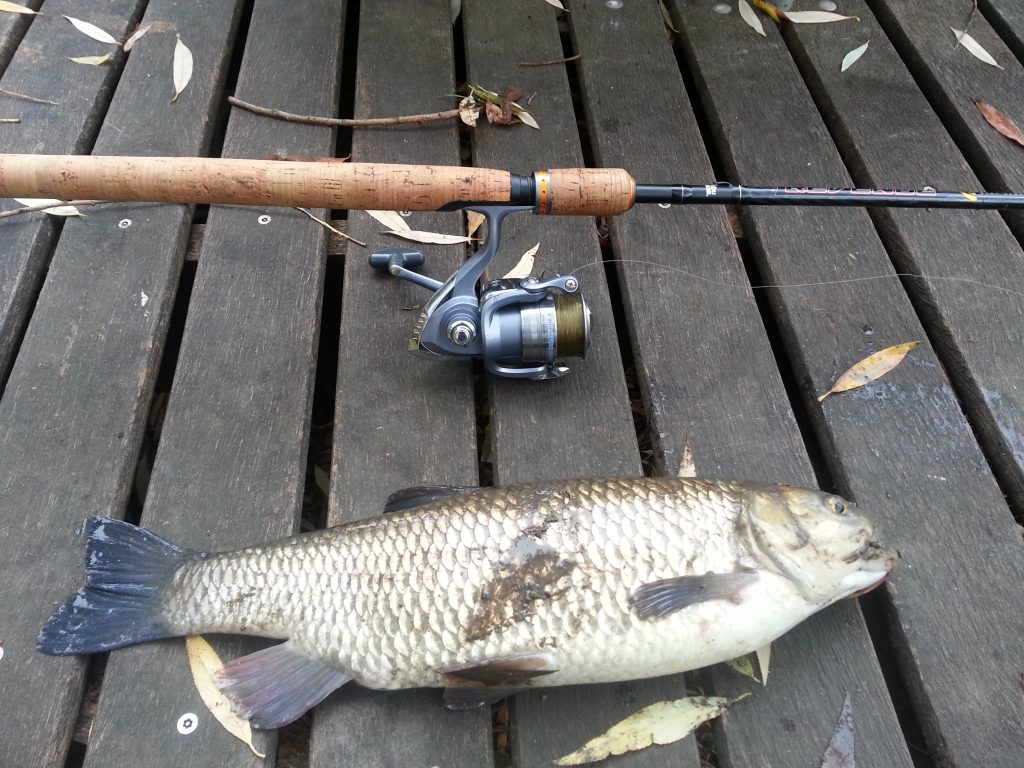 My catch was almost entirely silver except for its trout-green back, with large scales and a fat body. It turned out to be what they call a chub, not reputedly easy for an inexperienced angler to catch at a larger size – but I guess there's an exception to every rule!
After pausing for a quick photograph I removed the hook and released my catch. After having no further luck at the same spot, I decided to move up to the next convenient platform where I repeated my strategy.
After only a few minutes I found myself playing a second fish, and soon hauled in an even bigger chub! I guess I can point to this as evidence that I am in fact an excellent angler.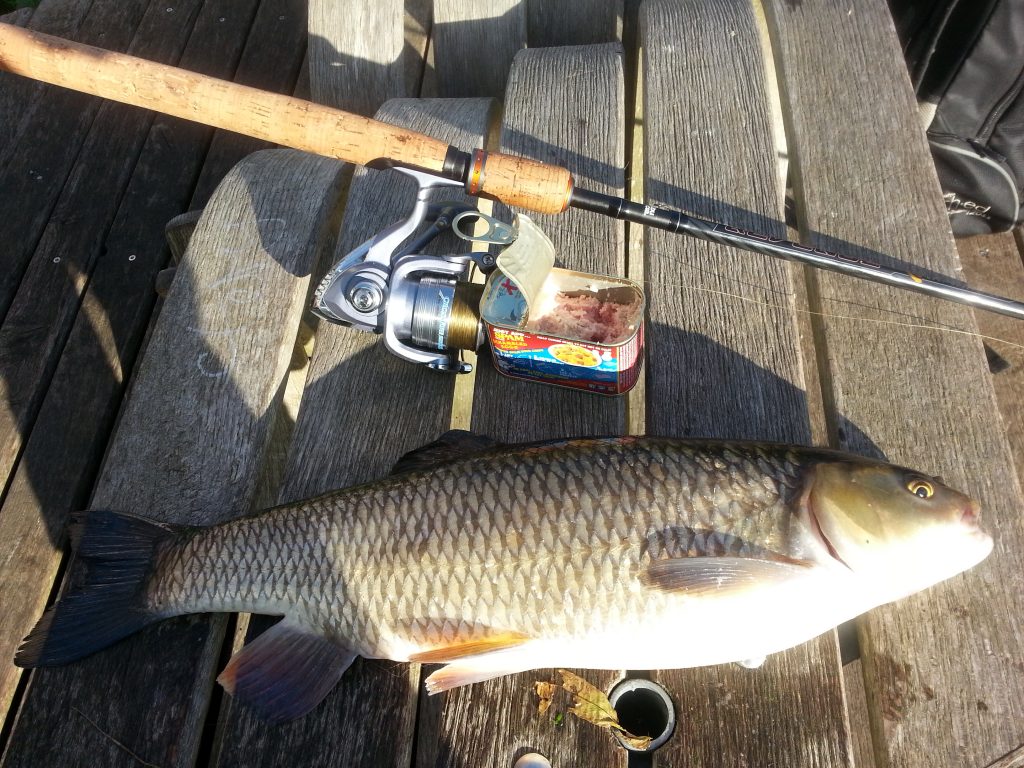 Since I didn't see any point in messing with a working strategy, I moved upstream again and recreated the exact same scenario. Sure enough another five minutes saw me holding yet another chub.
By this point I felt that I'd demonstrated my mastery over my aquatic opponents quite enough, especially as the cold wind now included icy droplets of rain, so I packed up and headed back to camp. I was proud of my achievements and felt that this must surely be an auspicious sign for my travels to come. I could only wonder what kind of excitement the next day would bring.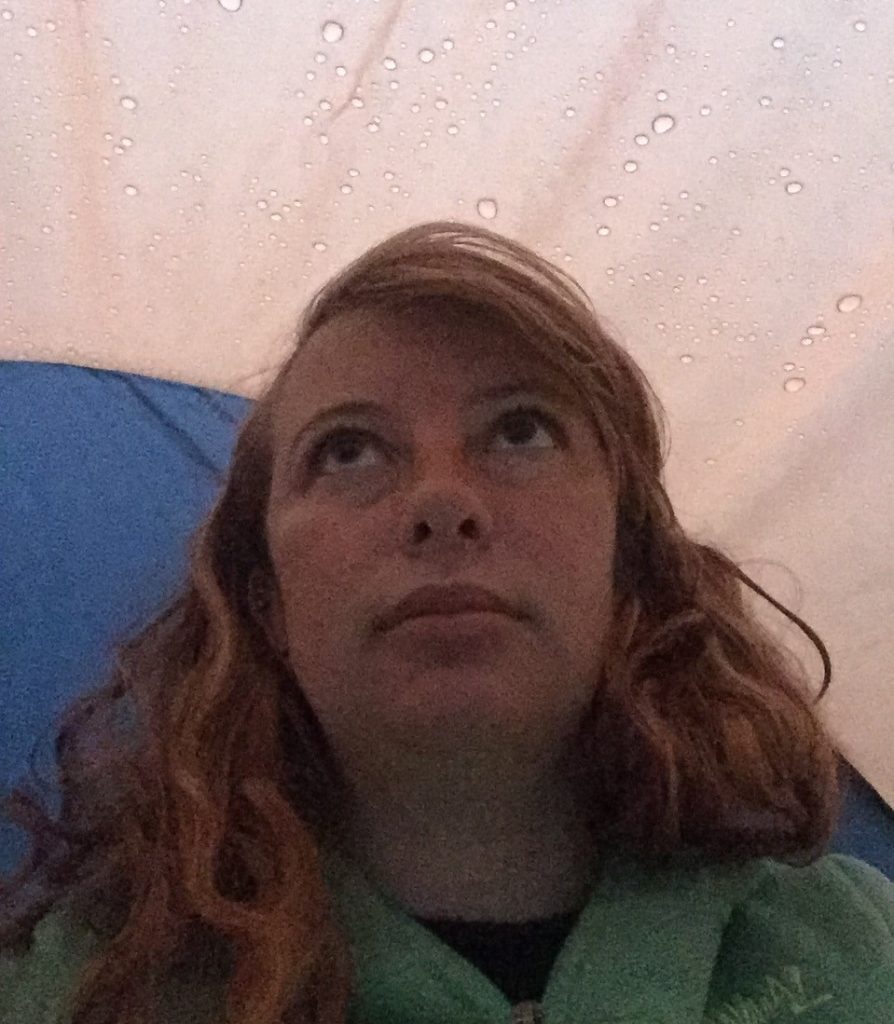 Or maybe it would be the day I spent in a café.
References: