Dad's away, so what's a lonely adventurer to do? Nothing for it but to embark on a solo adventure, and I came up with the ambitious idea of visiting Cooks Head Rock, which lies on Chrystalls Beach, on the remotest Otago coast.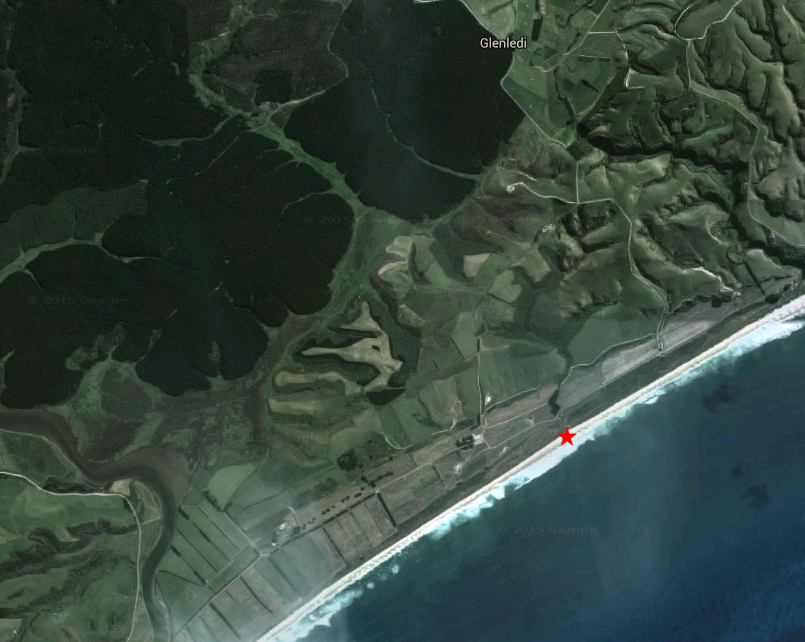 I first learned of this feature when browsing old newspaper articles. Apparently Captain Cook remarked on it, having spotted it from the deck of the Endeavour. Where this remark is made or exactly what he said is a question I have thus far failed to answer.
Reaching Chrystalls Beach required the nerve-wracking prospect of an hour long car trip. By myself. If you know me, you know that I have a mortal fear of driving. But my devotion to you, dear readers, was enough to shore up my courage.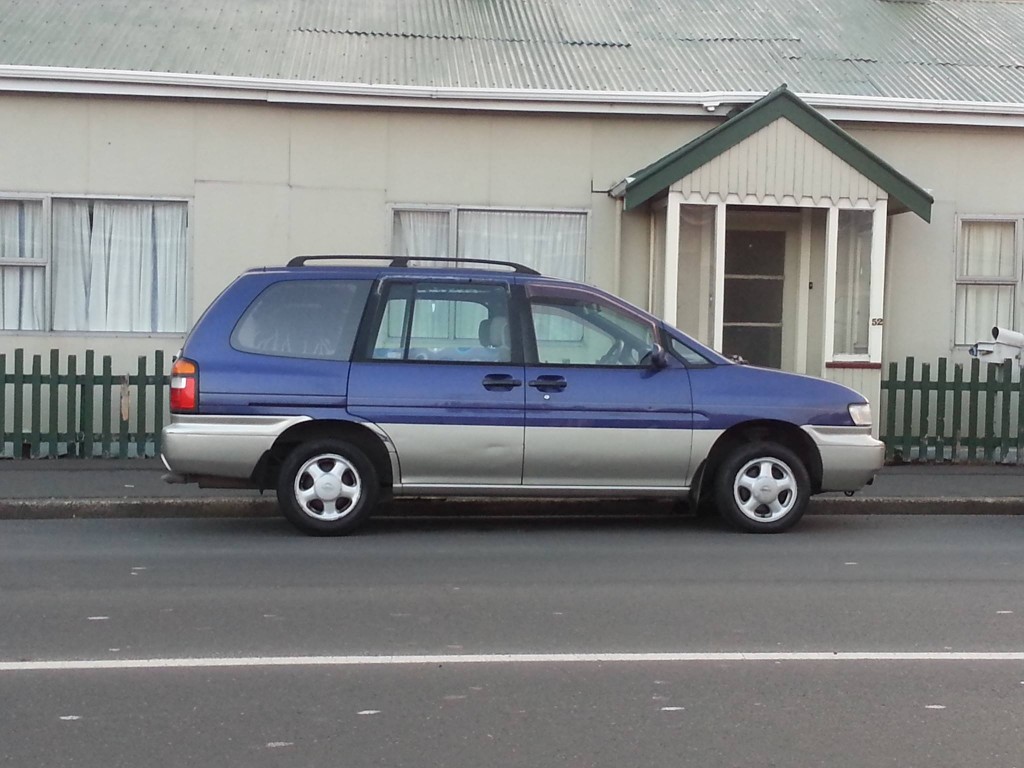 So I set off tremulously along the southern motorway. One eternity later, I turned left on to Forsyth Rd, just before Milton. Then a right onto Back Rd followed quickly by a left on to Glenledi Rd. I tootled cautiously along the gravel road, passing through a pleasant valley and alongside a pine plantation on to Irishmans Rd.
Cresting a hill and coming within view of the beach, I strained my eyes for any sign of the gigantic rock I'd come to seek. Being a gigantic rock, it was of course not difficult to locate.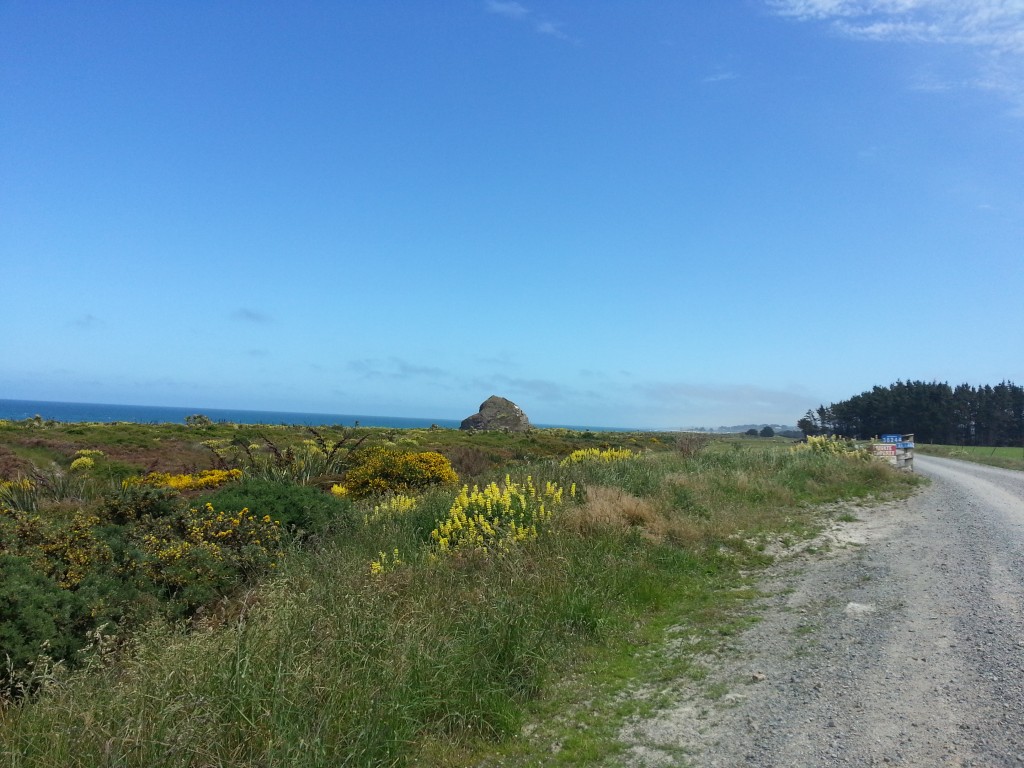 So I parked at the end of the public section of the road, breathed a sigh of relief, and headed down a handy nearby track through the scrub. The scent of lupins hung in the air as I walked between walls of bracken, flax and cabbage trees.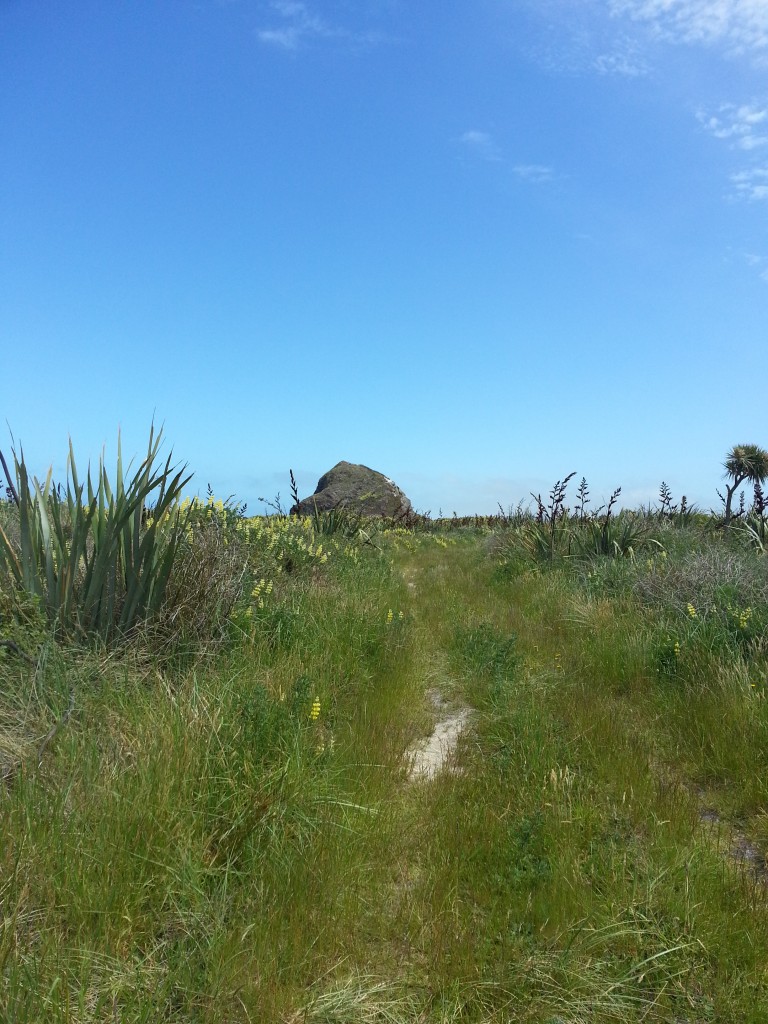 Soon I emerged on to the white-gold sand of Chrystalls Beach. The mighty 24-metre tall rock loomed before me. Naturally, my first desire was to climb the mighty edifice, which I discovered to be easier than it looked. From the blustery summit I had views up and down the entire beach, as well as of the ocean before me.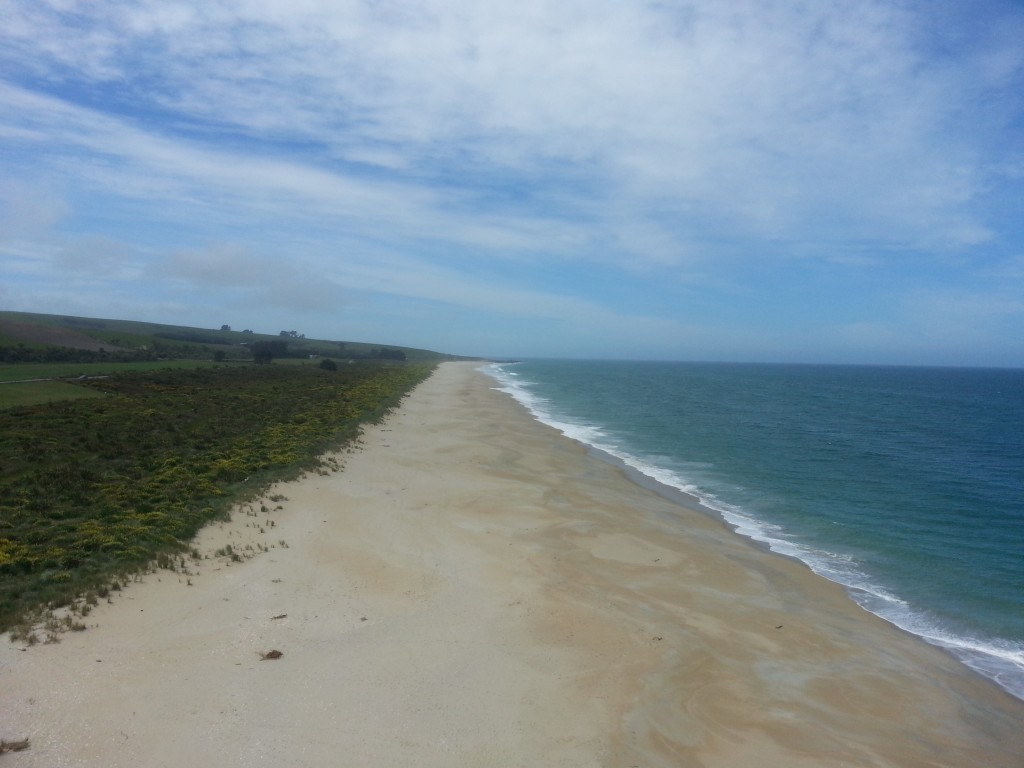 Not far to the south, there's an area behind the dunes that is an important entomological and botanical reserve. Pity Dad wasn't here, as he'd surely have enjoyed it.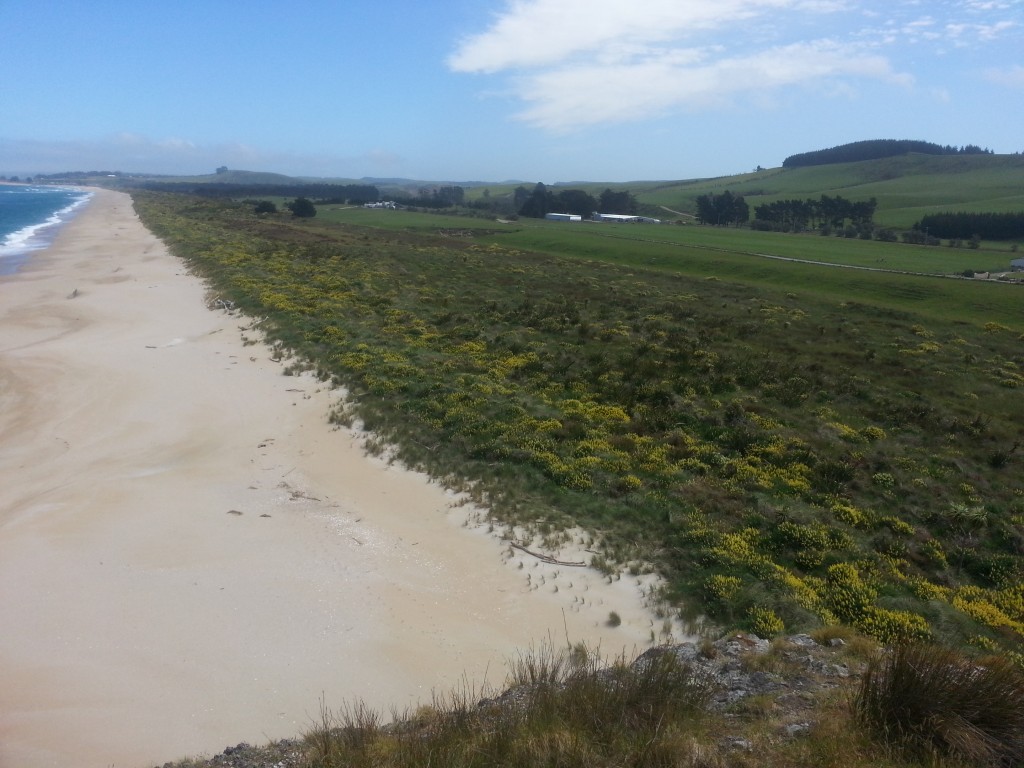 I carefully picked my way back down the steep slope, and inspected the south face of the rock. Buffered from the wind, it was surprisingly warm. Even the sound of the surf was muffled.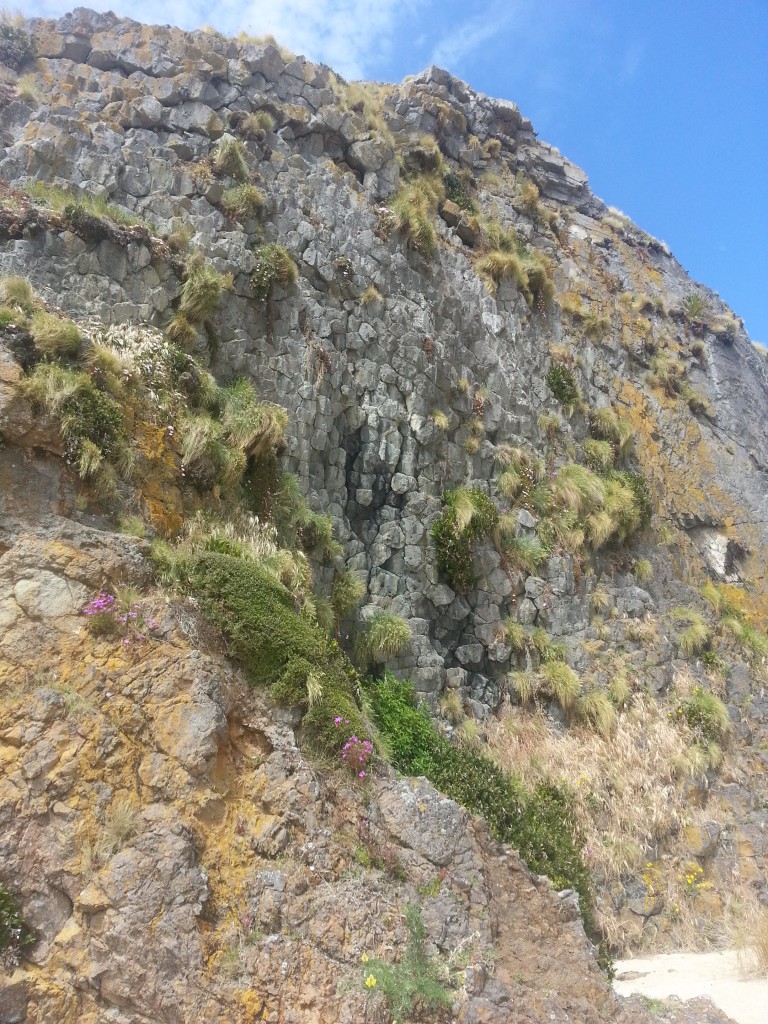 The slope facing the sea was much barer and more rugged.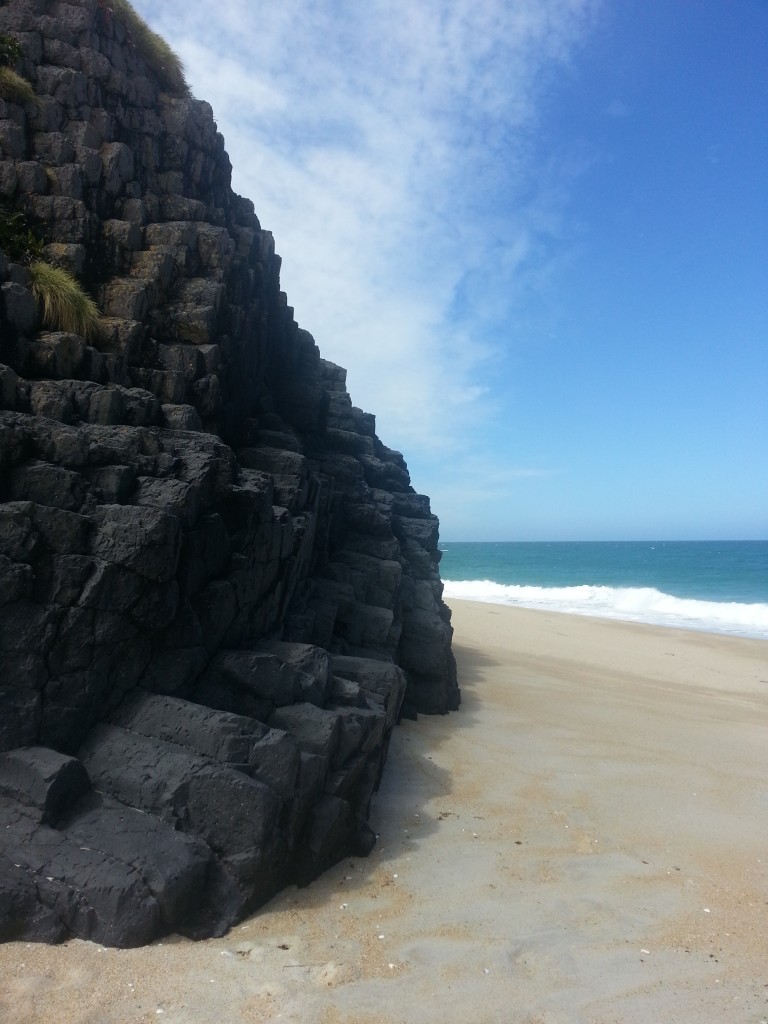 Now where have I seen hexagonal basalt columns like this before? Oh yes – at the pyramids and at Second Beach! Dunedin's volcanic prehistory is showing itself once again!
The Maori have two legends about the origin of this rock. One involves the legendary canoe Takitimu of the Southland people, which was hit by the great wave Maunga-atua (now the Maungatua range). A man named Aonui was lost overboard, and he remains here as this rock today. The canoe itself has become the Takitimu Range in Southland.
The other is similar, but involves the canoe Arai Te Uru of Otago, which was carrying a load of kumara southward. Some of this was washed overboard at Moeraki and can be seen as the big round boulders scattered on the beach. The canoe itself was wrecked near the Shag River mouth. Its crew emerged to gather resources, but they could not remain out after sunrise for fear of being turned to stone. Aonui, searching for fresh water, was unlucky enough to suffer this fate, and here he still stands.
I decided to wander down the beach a little way towards Toko Mouth, over the uneven sand which from this perspective seemed to undulate into infinity. There were patches of bleached white shells, though very few of them were whole.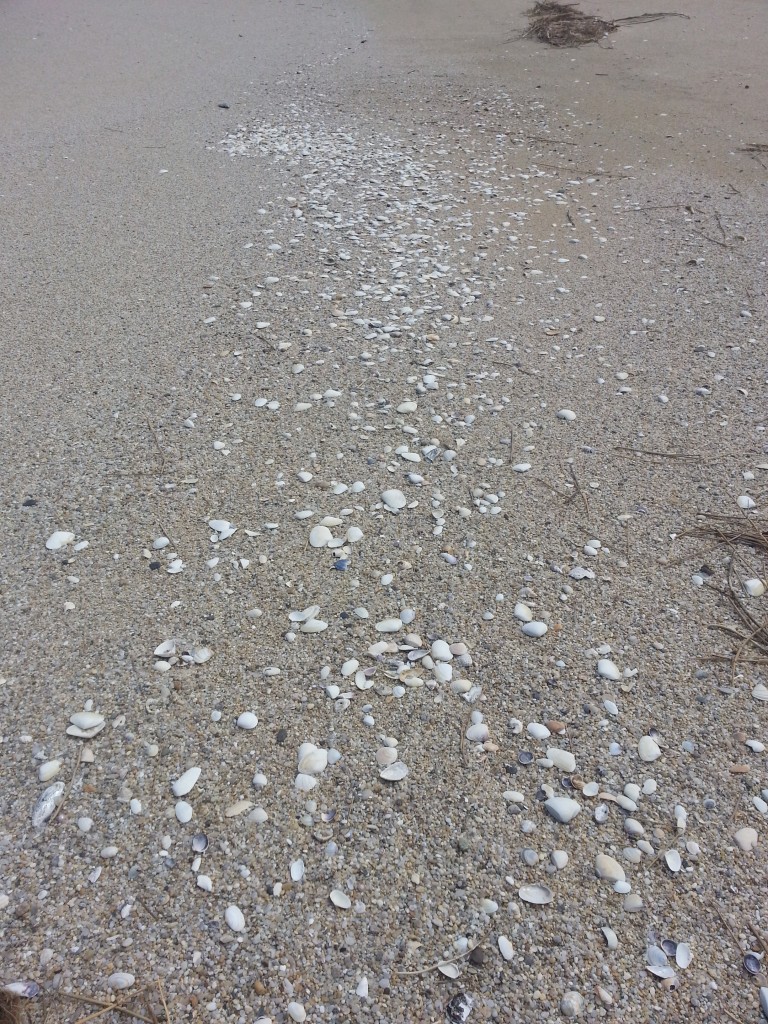 Some way down the beach, I found a peak of sand and sat down to watch the surf for a while.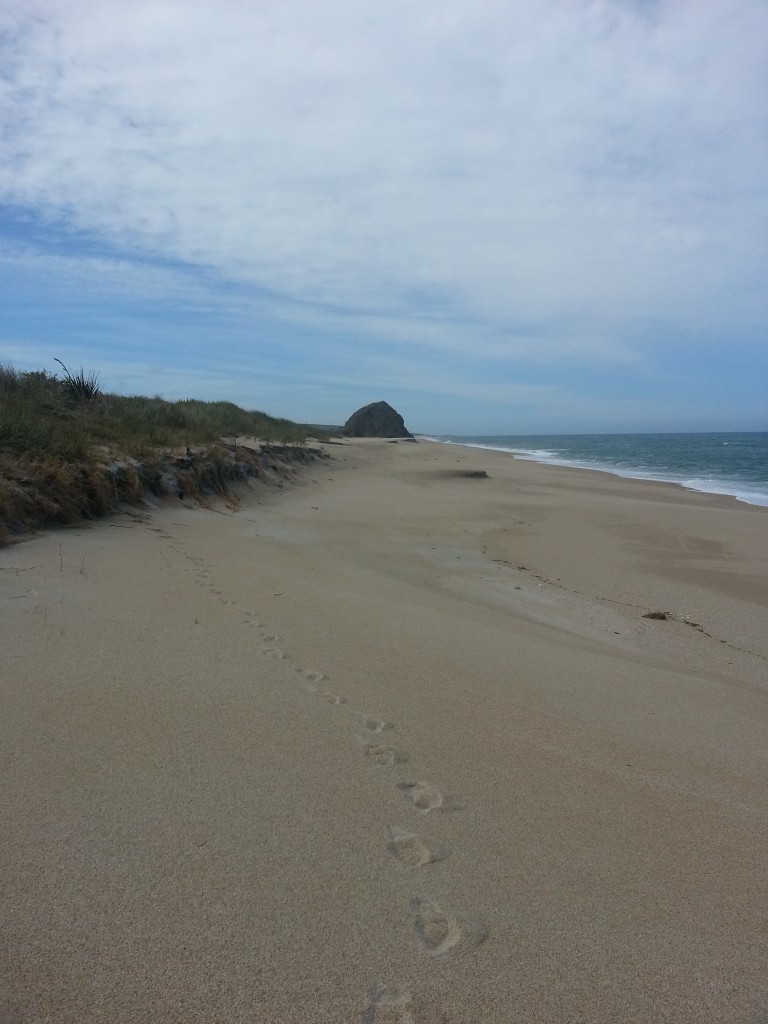 The wind was not cold, but eventually got irritating, so I decided to be on my way. Perhaps a bit of seaside meditation did me good, because my trip home was much more relaxed.
References:
The Welcome of Strangers An ethnohistory of southern Maori A.D. 1650-1850 Atholl Anderson