Winter has come, and suddenly my news feed is full of scenes of ice and snow. I'm not one to leave any bandwagon un-jumped, so I resolved to seek out the most incredible South Island winter adventure of them all. A quick google later I had booked a six night stay at Glentanner Park Centre on the shore of Lake Pukaki, from which I would have easy access to all the deepest reaches of Aoraki/Mount Cook National Park.
I set off from Dunedin in high spirits, with Dad as my ever-eager accomplice and his camp trailer hitched up behind us. I'd invested in a new sleeping bag for the adventure – the advertising material boasted that it would be comfortable to -3°C and would keep me alive for six hours at -30°C, a reassuring thought considering the forecasts for the week ahead predicted night time temperatures would reach -2° at the mildest.
As we proceeded into the interior of the South Island Dad seemed to be experiencing some, ahem, cold feet. "Couldn't you have done this in summer?" he mused. So when he warned me "Watch out for frost," as we climbed Burkes Pass toward Lake Tekapo I was ready to dismiss it as mere catastrophising, until I noticed that the trees flanking the road were heavily encrusted with ice.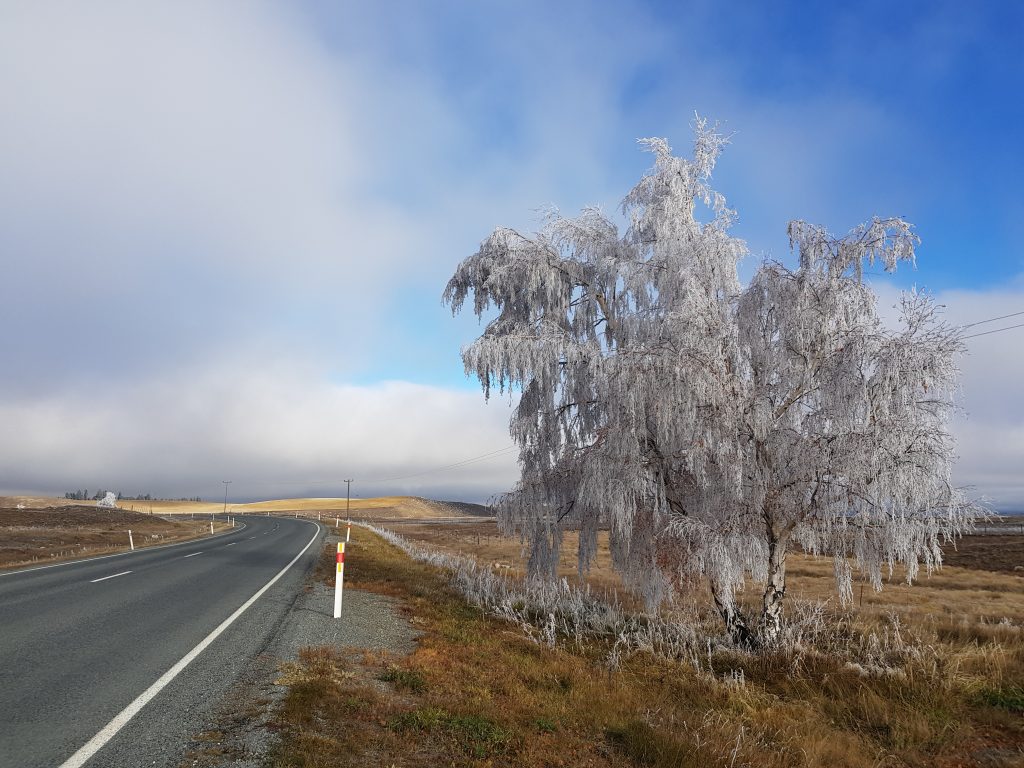 Still, I insisted that my proposed adventure was perfectly conceived in every way.
We arrived safely at Glentanner by mid-afternoon and busied ourselves setting up camp. There was only one, literal, hitch – for the life of us we could not disconnect our accommodation from our vehicle! We eventually gave up and set up our pop-up trailer while still attached. By this time an early dusk was approaching, and we only had time to make dinner in the camp facilities, provided both with a warm log fire and a clear view of Mount Cook shaded pink by the dying light.
I am glad to report that my sleeping bag actually worked, despite my suspicions of false advertising. I emerged from a toasty sleep to a frosty morning, gibbous moon still hanging above the snowy mountain peaks. Once again we assaulted our tow bar in vain. No matter what tricks we tried, our trailer remained stuck fast. There was nothing for it but to pack everything up and take it with us for the day. This did rather restrict our parking and adventuring options, but at least we were able to find a decent space in the popular White Horse Hill car park.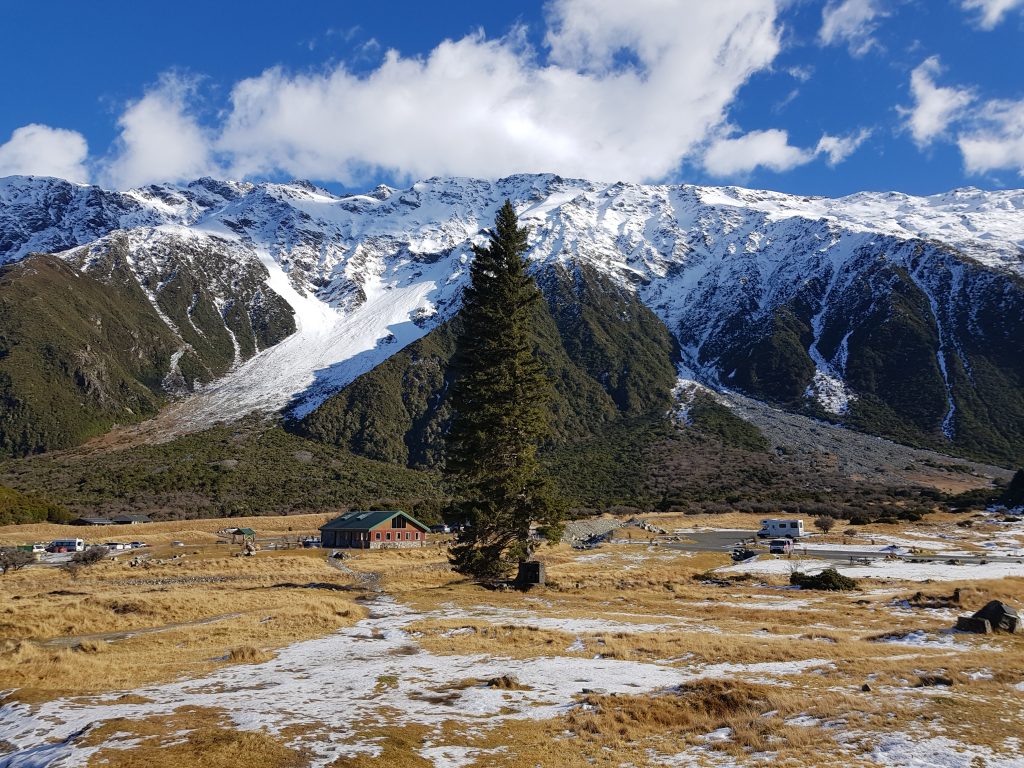 The track up the Hooker Valley first took us around the towering lump of White Horse hill, the terminal moraine or deposit of rocks and sediment that marks what was once the end point of the Mueller Glacier.
I scrambled up an ice-encrusted detour to view the Alpine Memorial, first erected to commemorate three climbers lost in 1914, but now with two further faces encrusted with additional plaques. These are just some of over 230 people who have lost their lives in Aoraki/Mount Cook National Park, which has been described as an "urupa" of sorts as it still contains the remains of up to 70 who were never found.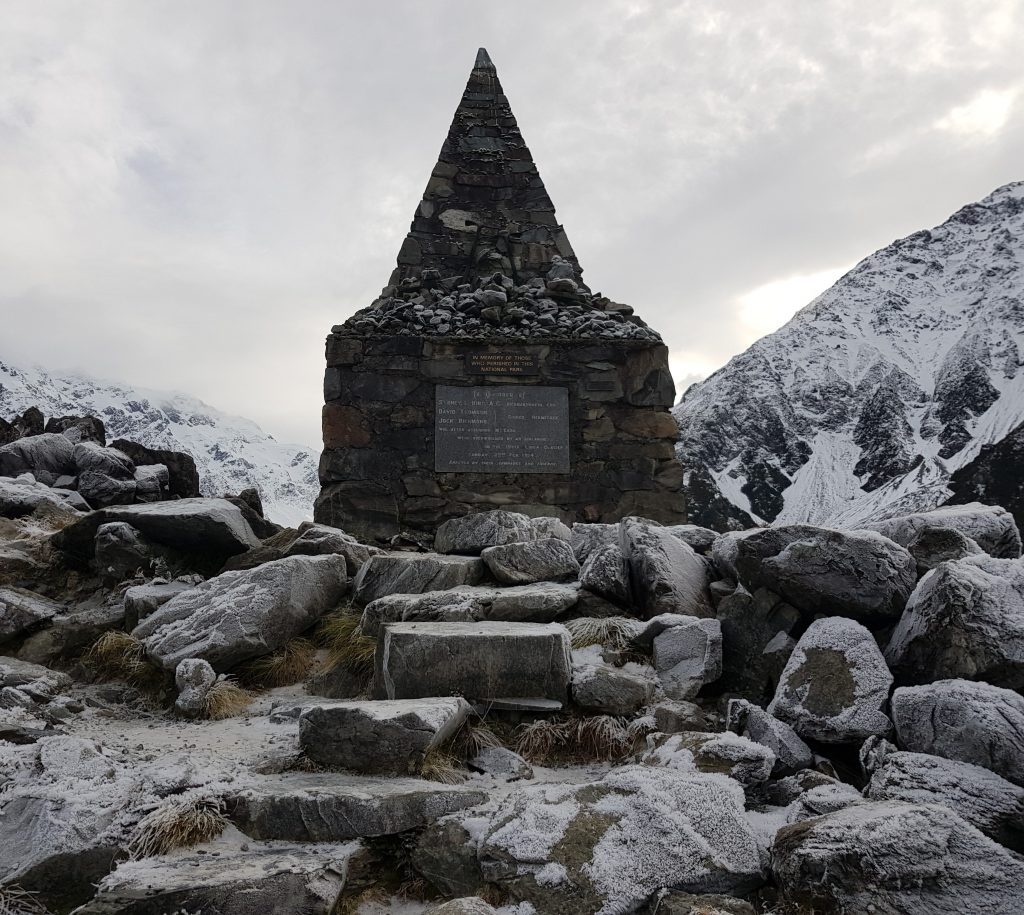 I retreated from the grim reminder of wild New Zealand's indifference to human life, choosing my tread carefully on the icy stones. Just around the corner is a far more cheerful memorial: "Freda's Rock" where Freda du Faur, the first woman to climb the mountain, was famously photographed some time after her 1910 ascent.
After standing in Freda's spot, we continued along the path (which had received a major overhaul since dad had last been here) until we reached the view point for Mueller Lake, the frigid silt-laden meltwater of the Mueller Glacier.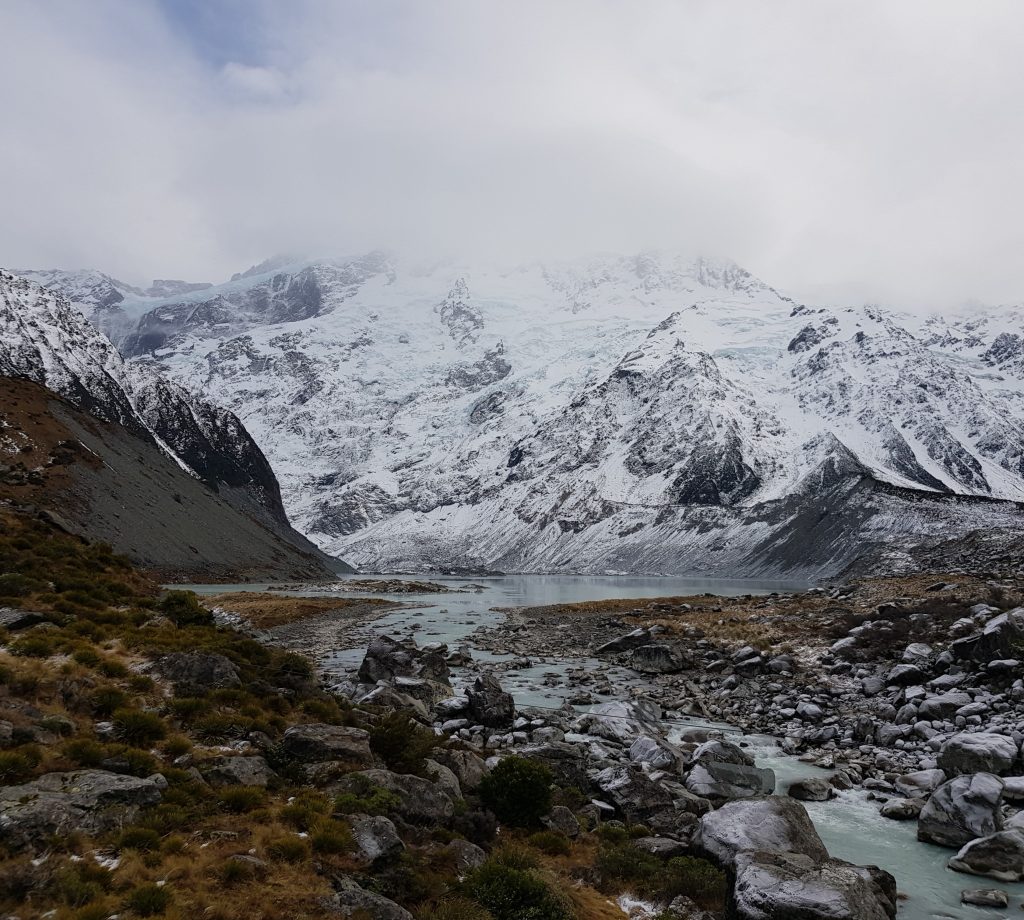 I was sure that last time I'd been here, way back in 2007, the Mueller Glacier had been visible from this spot – but now it's retreated back around the corner somewhere. That was part of the reason I'd wanted so badly to visit – because whatever your opinion on climate change and the causes thereof, it's impossible to deny that this landscape is changing fast. In a few decades these rugged mountains could be completely denuded of their famous glaciers.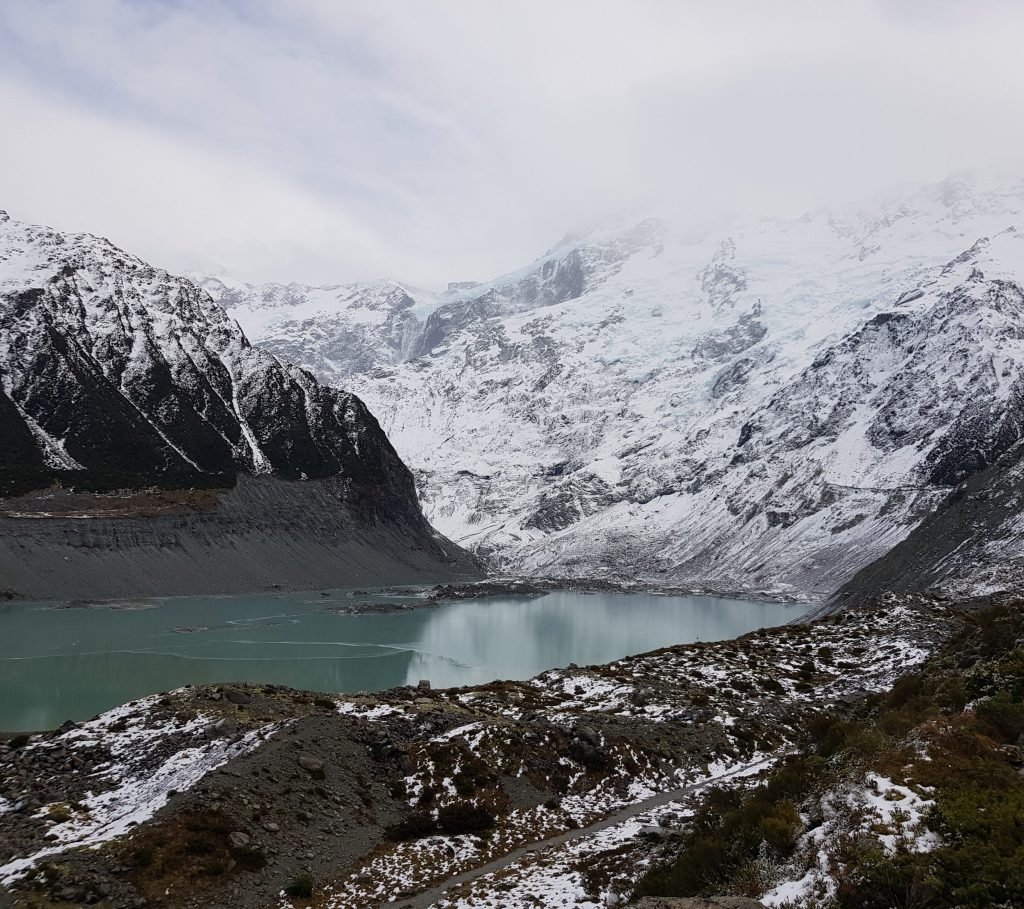 Back in the 70s there was no Lake Mueller at all, and as previously mentioned the terminus of the glacier nestled up against White Horse Hill. By 1990 there was a small fringe of water. In the year 2000 the lake was 400m long. By 2004 it had grown to 700m and in 2011 it was double that. Today the lake is 2700m long. That means I'm not going crazy – when I last visited there would have been half the lake and a lot more glacier.
This isn't just a problem of aesthetics – the hydro schemes down stream rely on summer run-off from the glaciers.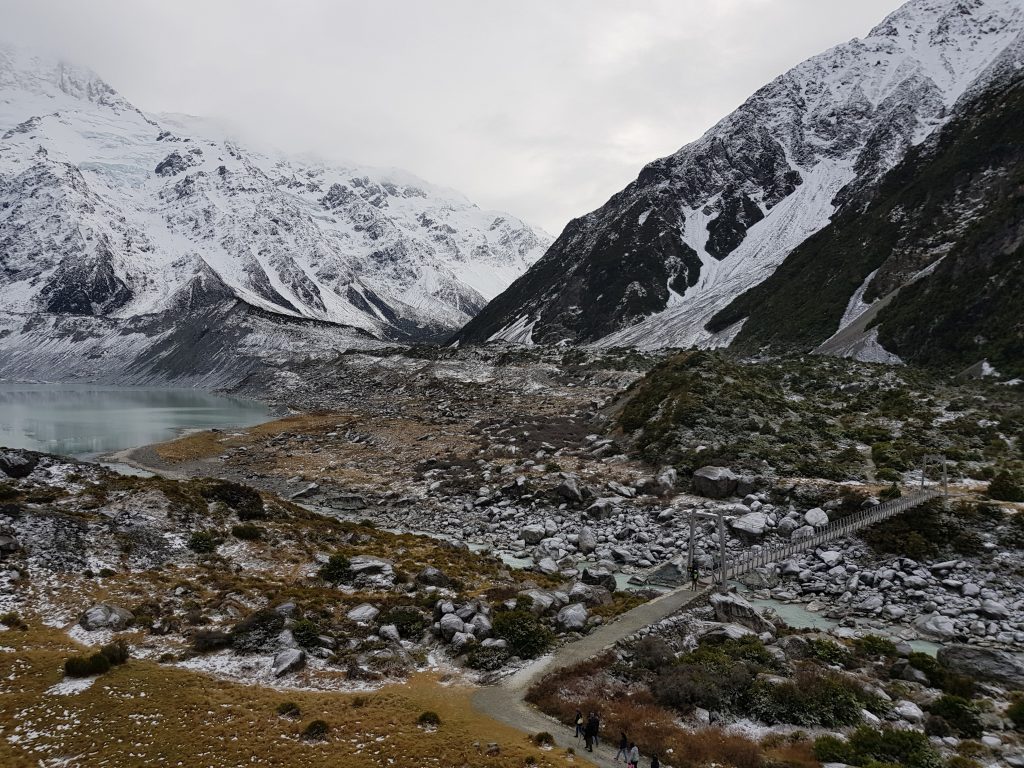 We passed the hidden glacier and its newborn lake by way of our first swing bridge. We passed through the frozen landscape of matagouri and speargrass, no animal or insect brave enough to emerge save the hardy tourist.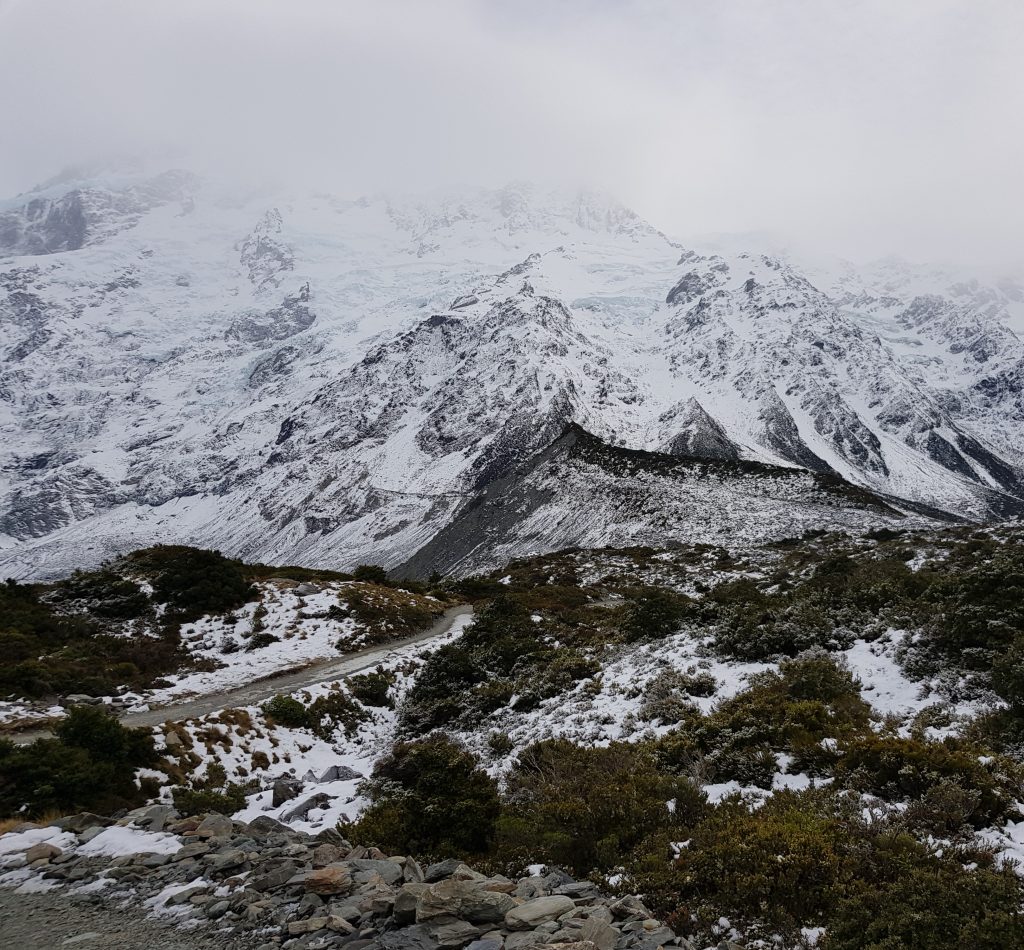 We traversed swing bridges two and three before crunching up a snow-covered ridge to finally gain our first glimpse of our destination, the steely grey Hooker lake. Looking down I noticed several tourists apparently walking on water before realising the entire thing was frozen over, the occasional iceberg locked in place until the thaw.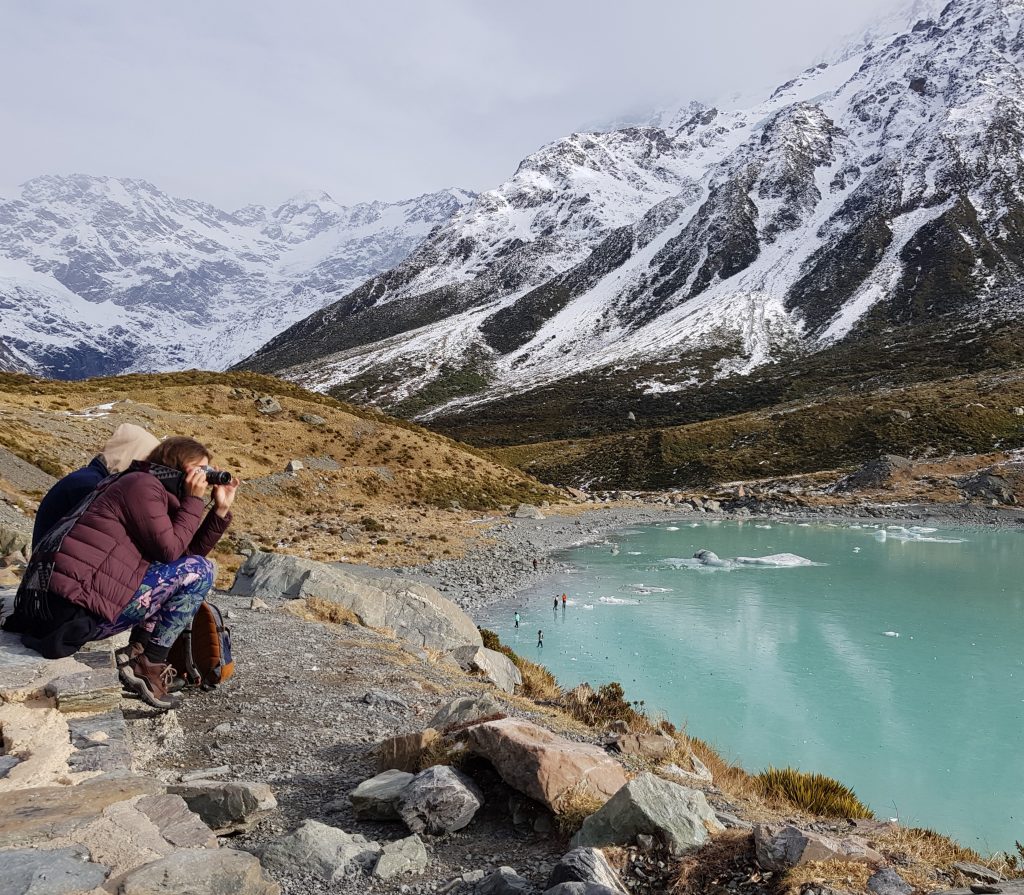 This looked like great fun, so I picked my way down to the shore to join in. The Hooker Lake is another that didn't exist in the 70s, but here it is now. Beyond its frozen expanse the Hooker Glacier was still visible in the distance and above loomed the bulk of Aoraki, the cloud lifting just enough that I could almost see his peak.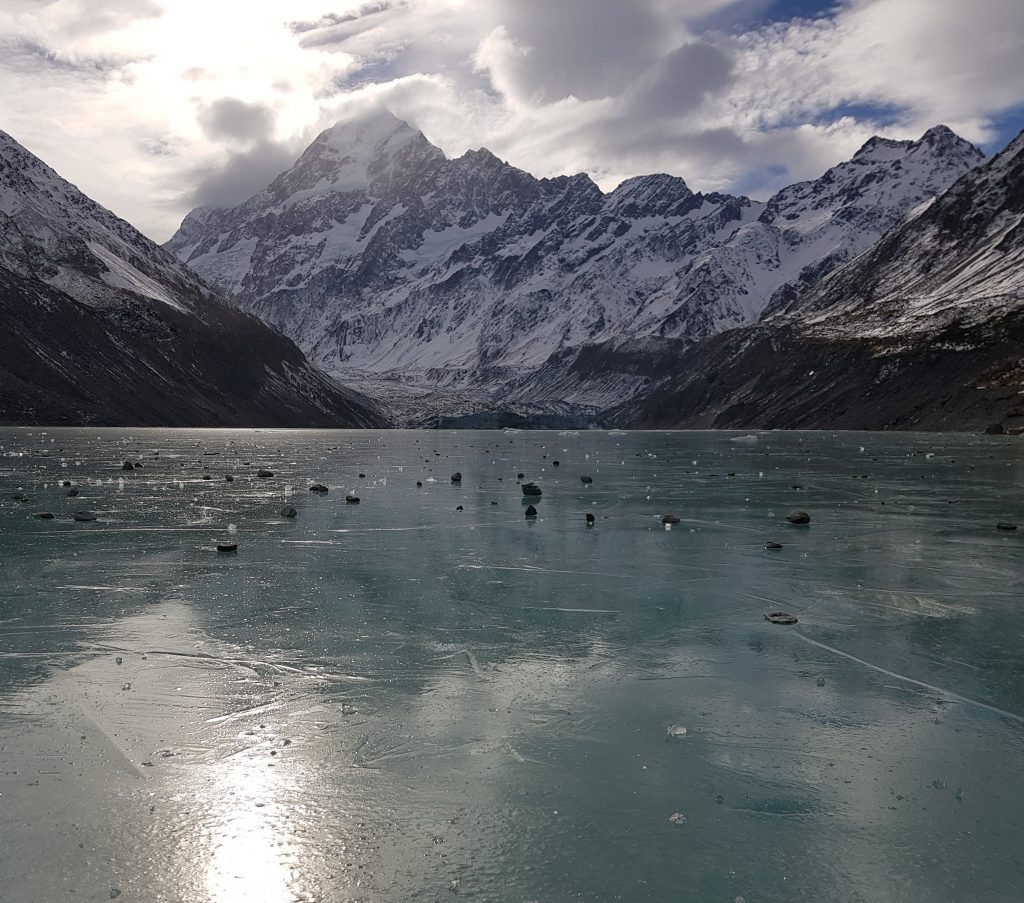 But from whence did Aoraki come? Boffins may mumble about tectonic uplift and so on, but the Māori knew him as a son of Rangitane. Most Kiwis know the creation myth of Rangi and Papa, but fewer perhaps know of Rangi's first marriage, which produced several children, amongst them Aoraki.
After the cataclysmic separation of Rangi and Papa, Aoraki and his brothers decided to voyage to the earth's surface in order to meet their half siblings. But alas their great waka was capsized in a storm, and the crew was forced to scramble on to the western side of the vessel, which was floating slightly higher in the rough seas.
In the cold southern winds Aoraki and his huddling brothers were turned to stone, and so this island became Te Waka a Aoraki.
You might think the boffins' story has more merit, but consider for a moment what you have learned from this legend. You now know the shape of our island (long and narrow), you know that it is upraised to the west, and you know that there are many peaks, Aoraki being the highest. If you had no access to paper maps this knowledge, in its easy-to-remember format, would be invaluable to you.
Aoraki is the ultimate ancestral mountain of Ngāi Tahu, and reflecting this, the only place that that in the 1998 Waitangi Settlement was given its Maori name as primary official name.
I fear if I stay here much longer I may join Aoraki and his brothers, so I'd best begone to the warmth of my lodgings. The harsh yet ephemeral world of Rangitane's first born will wait at least one more day.
References: