Some of us Wellness Walkers folks were heading down south for a few days to see what the Te Anau region had to offer us. Wanting to dip my toes into the world of multi-day tramps, I suggested an overnight at Luxmore Hut, the first stop on the famous Kepler Track. The others liked the scheme but thought it wasn't ambitious enough, and countered with the entire Kepler Track.
I don't have the best of track records when it comes to extended walks. There was the Wilkin, in which I bit off far more than I could chew, and the Via Francigena in France, which ended with me fleeing the country. On top of that, a sedentary full-time job has left me with less time for adventure and the athletic prowess of a sea slug.
On the other hand, being able to walk for days opens up a whole new world of adventure opportunities in a wild country such as ours. More than one entry on my great Pending Adventure List can only be accessed by several days walk or the hire of a boat, plane or chopper.
So I cautiously agreed to the plan, using the few months notice for yoga classes and gear prep. Finally the departure date arrived, and we packed ourselves into several vehicles for the journey to Te Anau. We overnighted at Te Anau Lakefront Backpackers before leaving our less ambitious companions to explore Te Anau, while us six brave souls headed for the Kepler trail head at the control gates which regulate water flow between Lakes Te Anau and Manapouri.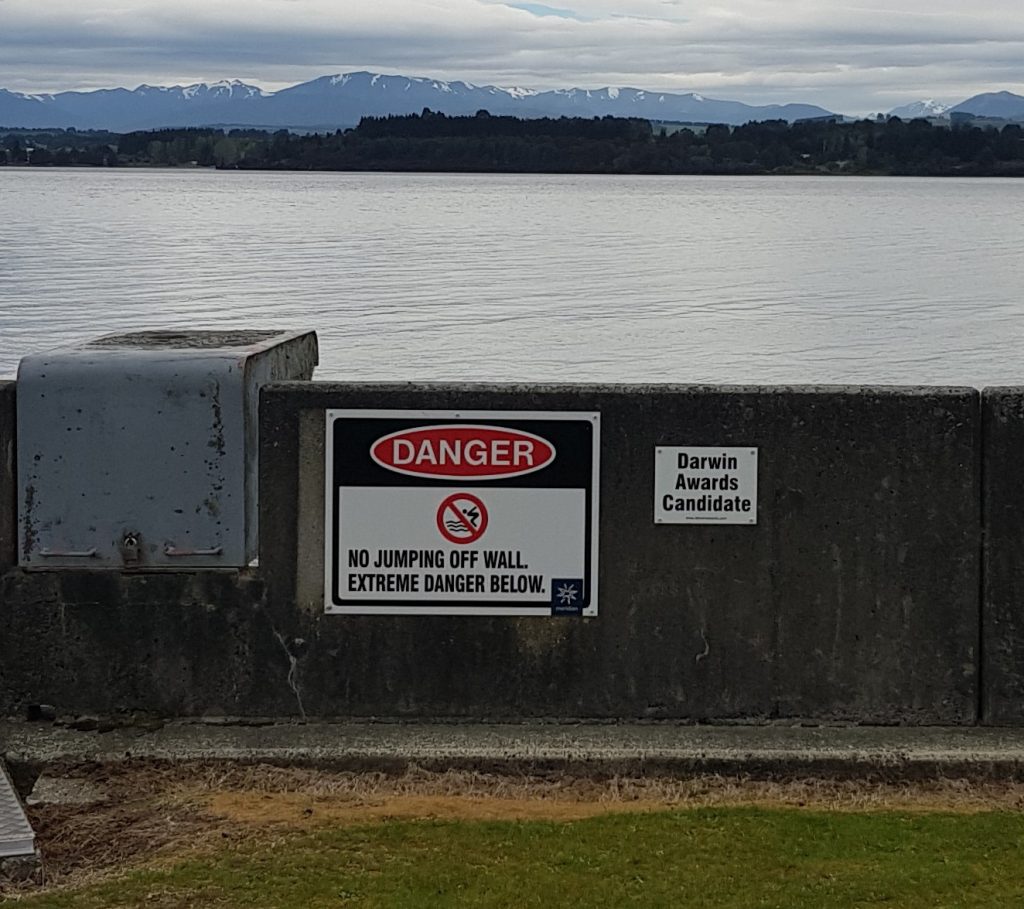 We'd been warned that with the long weekend and the last of the off-season cheap hut passes we might have some serious competition for the 54 beds at Luxmore Hut. So we set off early at 8am, hoping to get there before the afternoon rush. The early start was made even more worthwhile by the golden morning light filtering through the beech leaves, lighting up the thick moss and casting long shadows among the trees.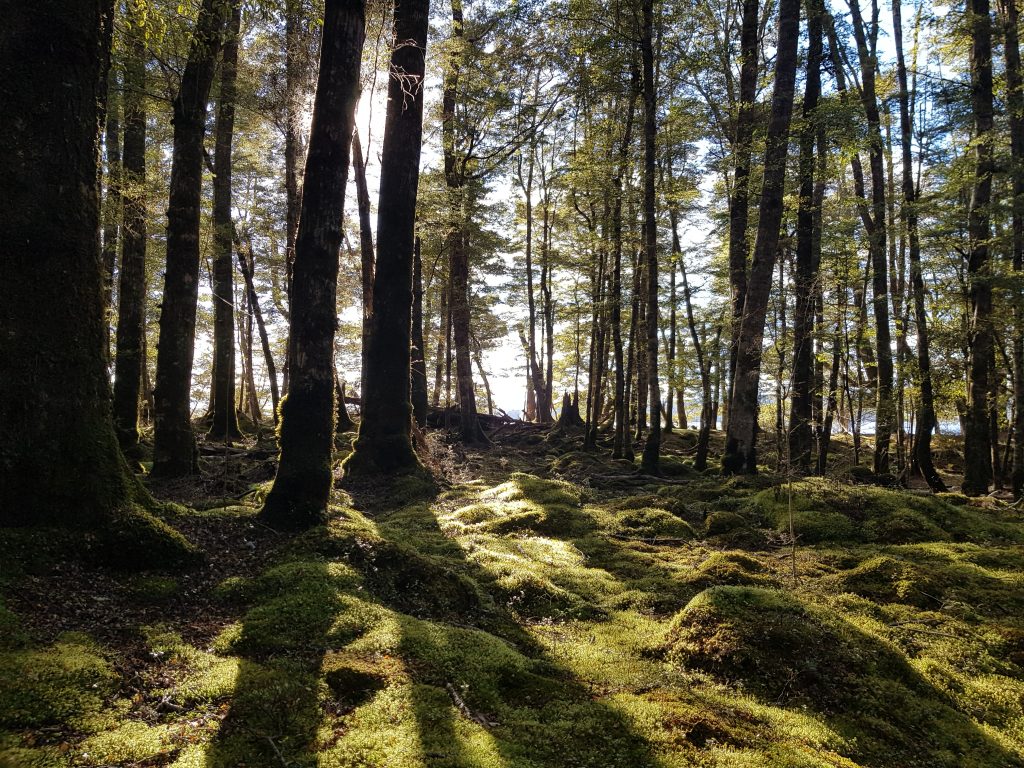 We crossed over Coal Creek, and I was startled by the absolute clarity of the water. We continued to follow the arc of the lake until we reached the Brod Bay shelter and camp site, from which the flat trail turned inland…and up hill.
Hills are not my forte, and I would struggle with this one. I'd also had trouble with sore feet on long walks in the past, like in my meanders along the byways of England. Even at Brod Bay my poor soles were beginning to throb ominously*, and according to the sign I still had four hours and thirty minutes to go!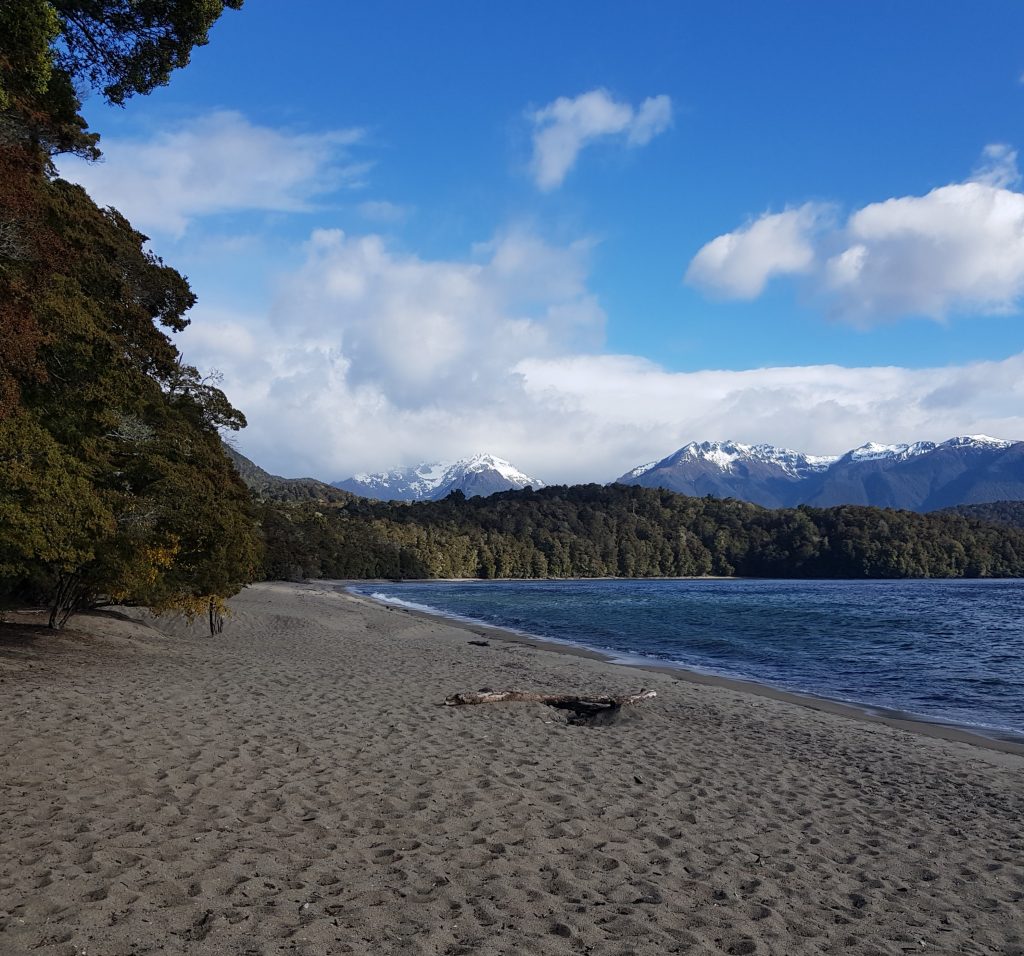 It was indeed a long plod up the switchback path as we climbed steadily toward the tree line. Eventually we reached what the walk brochure advertised as "impressive limestone bluffs", which loomed above us as we stepped carefully over the tangled roots and wooden bridges beneath.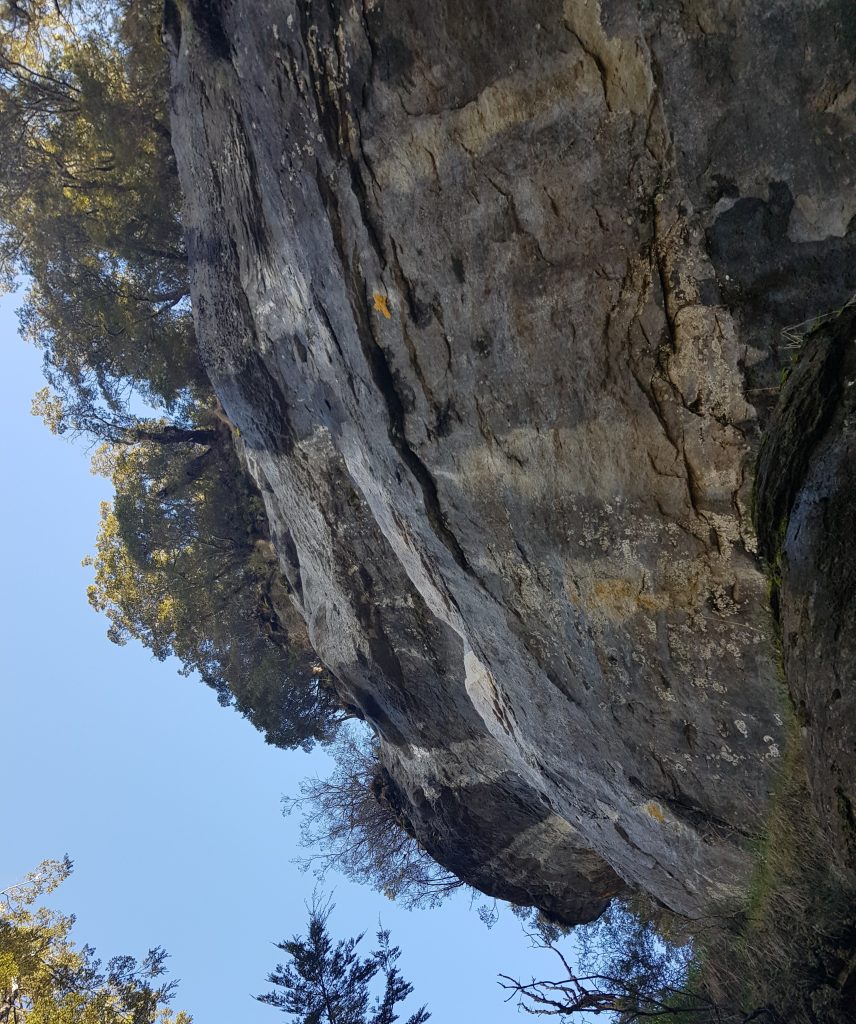 Occasionally we would catch glimpses through the trees of Te Anau across the lake, slowly dwindling in size. As we clambered up a steep staircase we debated amongst ourselves whether the trees were getting shorter. Surely we couldn't be far from the bush line?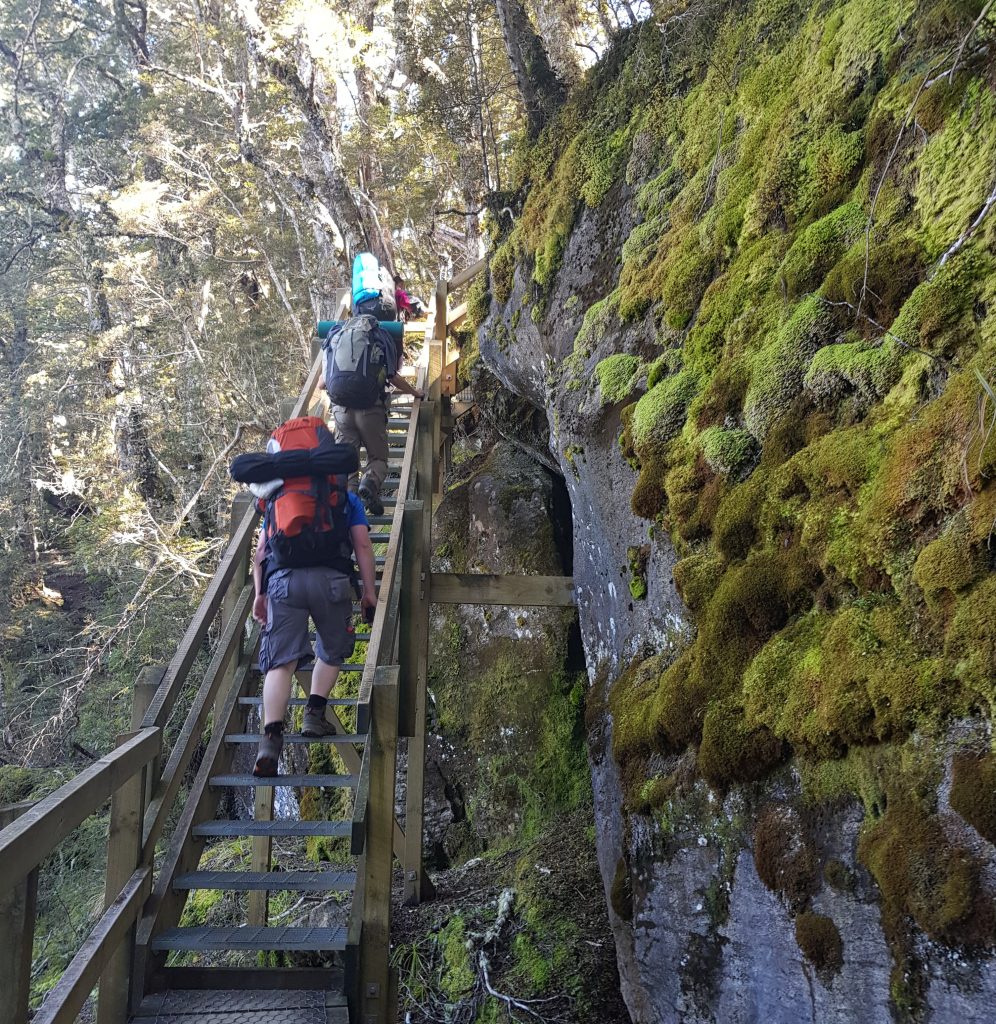 Beyond the stair case the track seemed to level off somewhat, a relief for me although I still lagged behind my fitter companions. There was now no mistaking – the beech forest around us was becoming lower and stubbier.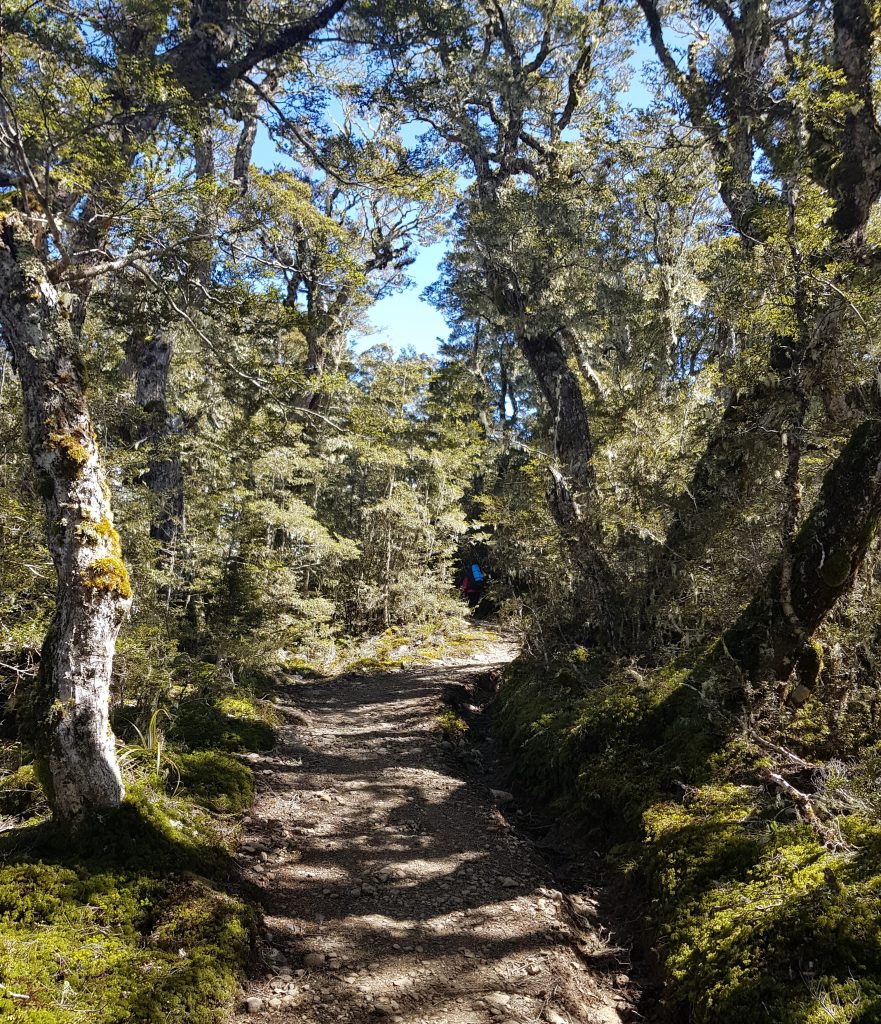 The boundary came abruptly, and as promised we huddled in a sheltered scrubby hollow for a brief rest and a snack. I pulled off my shoes and massaged my throbbing feet, fondly imagining the comforts that our destination might provide.
All too soon it was time to continue, and we pressed on along the bare shoulder of Mound Luxmore. Before us loomed forbidding snow-clad peaks while below Lake Te Anau spread its long arms along deep valleys. This would have been more pleasant had we not been walking straight into the 80kmh winds howling across the mountain.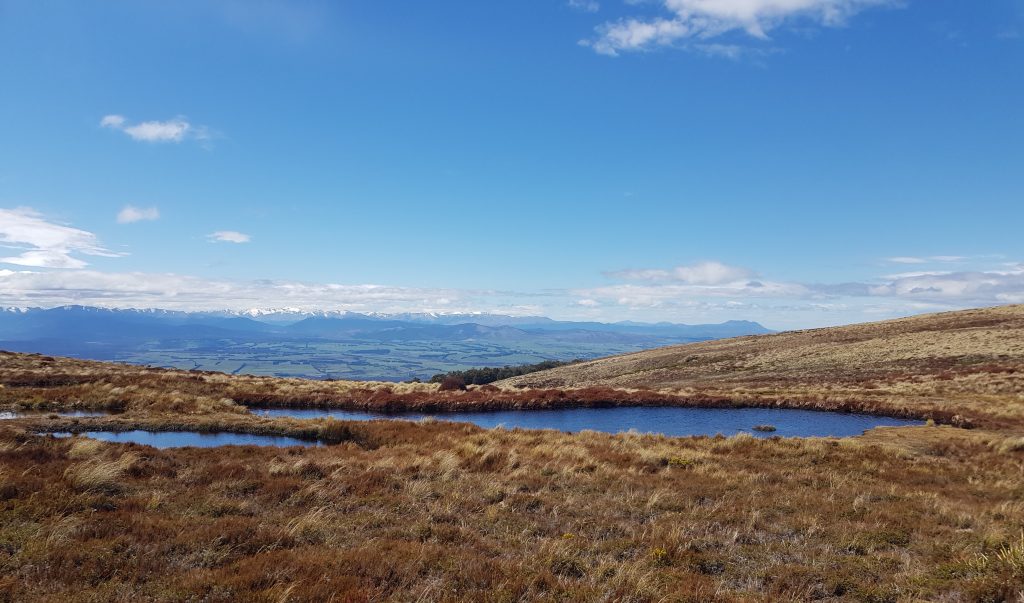 I began to fall further behind as my feet throbbed and the gale seemed to blow directly into my nostrils. Here at approximately 1000m above sea level, I feared I was reaching my hard limit. I finally caught up to companion Minh at a corner overlooking the lake's South Fiord, where she'd paused to take photos. Unlike me, she seemed perfectly at home in the environment, and if she'd found the journey tiring it certainly didn't show.
I grimly rounded the corner, expecting only more drudgery, only to discover my destination finally at hand!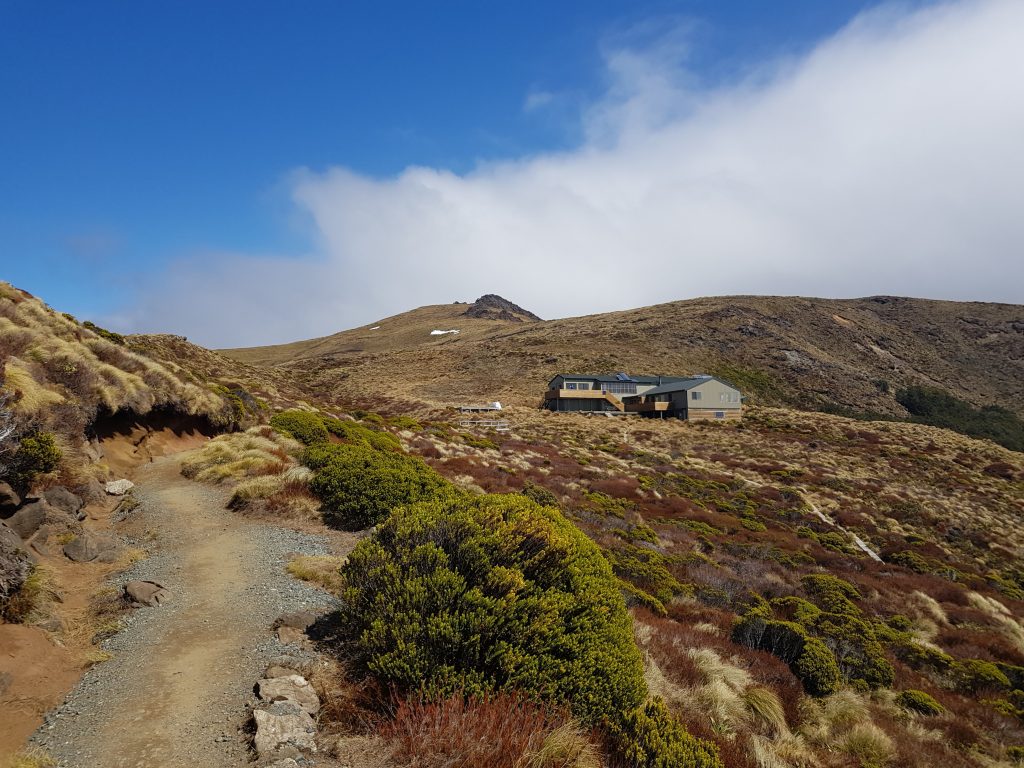 I staggered forward on aching feet to discover that we had indeed arrived in time to secure some bunks in the smaller dormitory. It was not long past 1pm – the walk had taken us five hours, exactly as the brochure promised! I collapsed gratefully onto the pallet, not intending to move for at least a few hours.
My friends had other ideas. Approximately twenty seconds after we'd arrived, they suggested we check out the nearby caves. I grumbled and groused and procrastinated but eventually they won me over, so once again we ventured into the howling wilderness.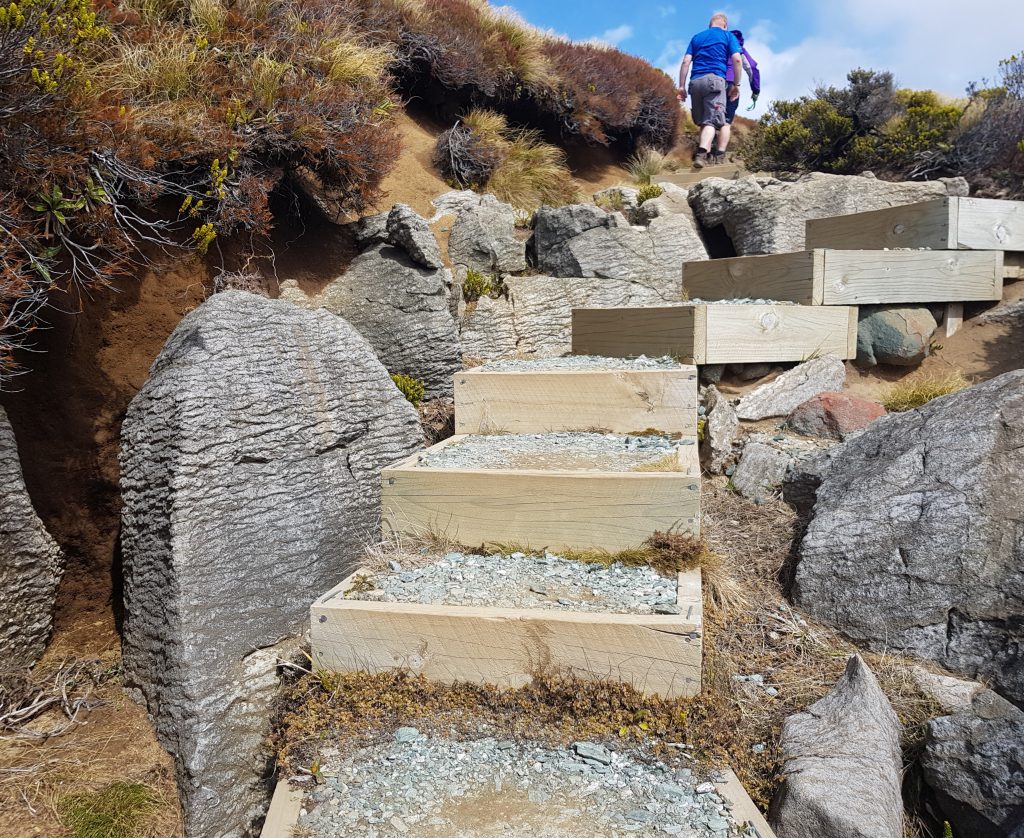 Mercifully, we did not have to go far before we stepped into the tell-tale cratered and creased limestone landscape. In a sink hole just off the track, Tim discovered a shaft that plunged directly into darkness with only the sound of running water somewhere below to suggest that the pit did indeed have its limit.
After he had investigated it a little too closely for our comfort, we continued to the officially sanctioned cave entrance.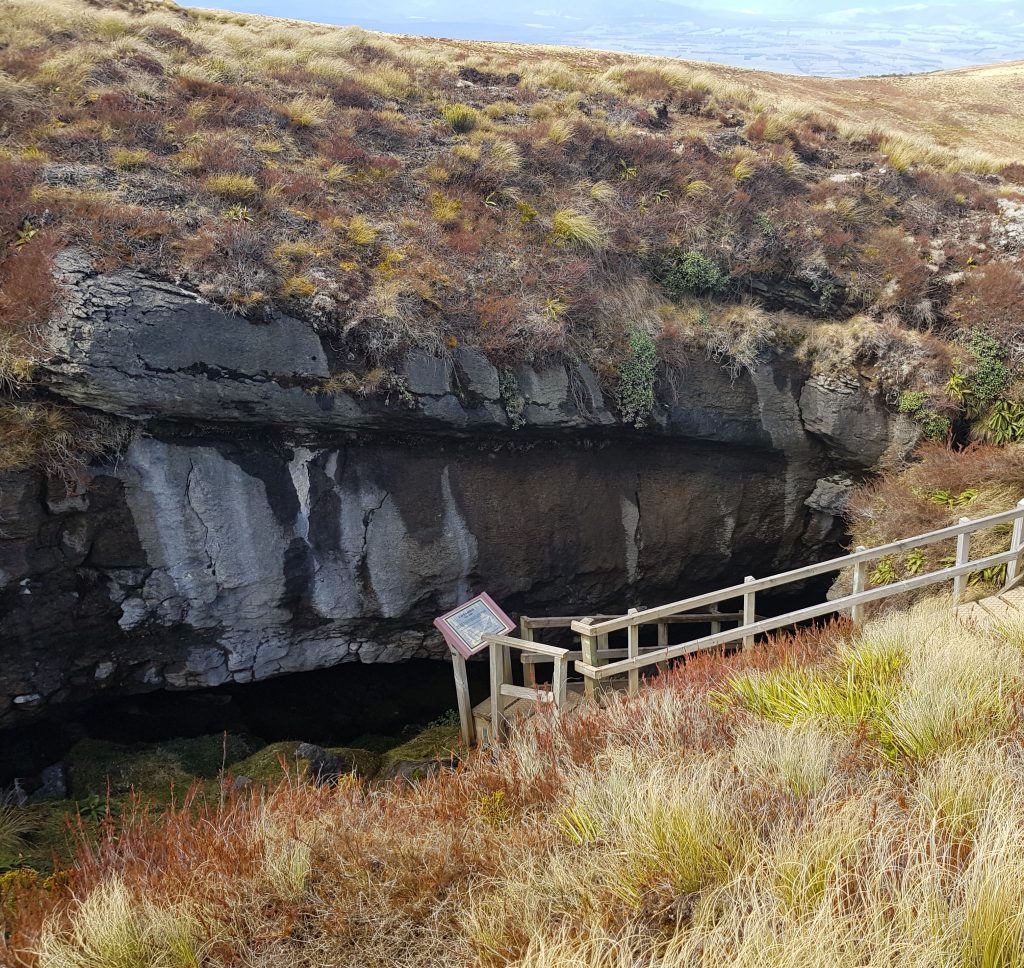 Venturing down into the sloping and slippery shaft with only our weak head lamps to guide us, we entered a world of strange limestone formations. There were ruffled stalactites which hung down in curtains, or thick ones in veiny columns, or tiny delicate ones that tapered to bubbled points with a single droplet of water dangling from the tips. Then there was the "giant brain": a huge many-lobed mushroom cap of limestone deposit that we had to squeeze past to continue. I even found a shell fossil embedded in the floor.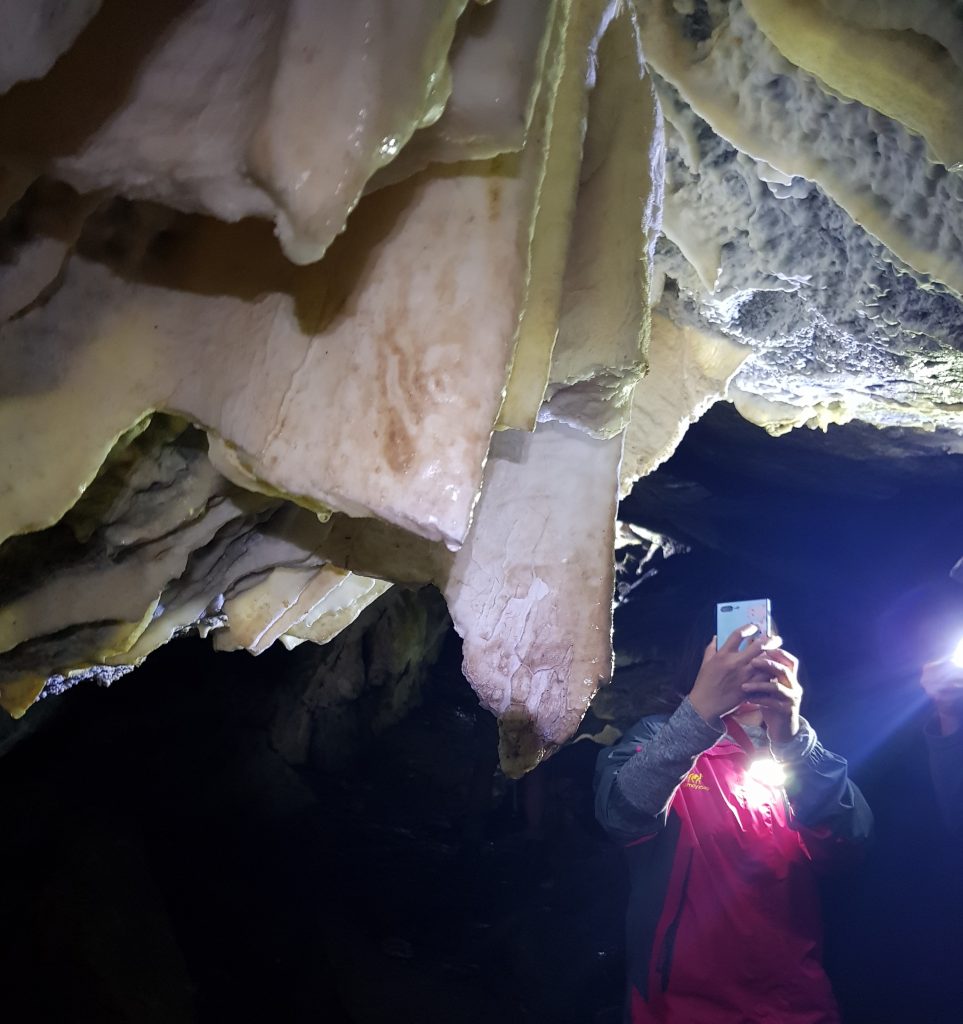 The ceiling became lower as we descended, and soon we hesitated to press on further. Tim, ever adventurous, made it further than most, crawling under a low rock arch to see what lay beyond. Another day, if I'd had more energy and were better prepared, I might have explored further, but for today this was far enough.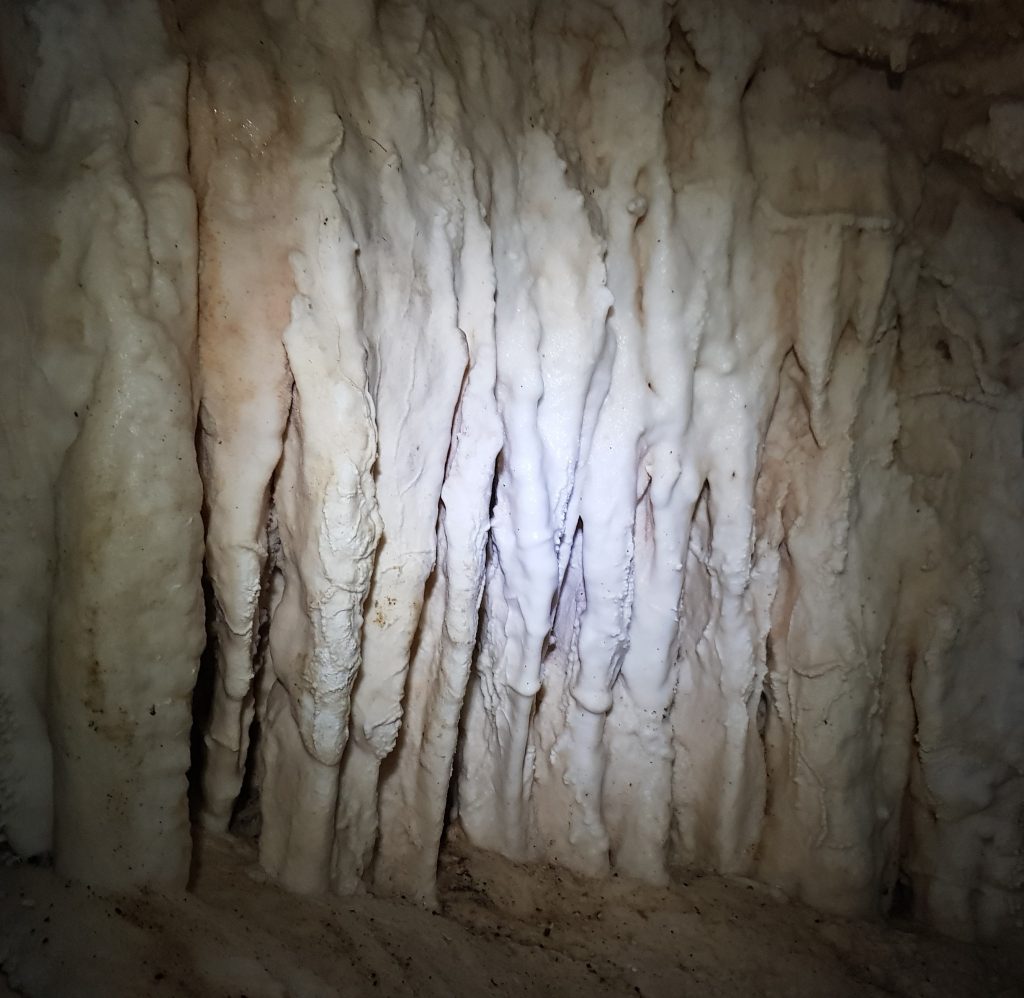 We made our way back to Luxmore to find that an alarming change had taken place. It was crowded. The bunks had all been claimed and now the later arrivals were jockeying for space on the floor or benches. When the rangers arrived to check our tickets at 6pm they were astonished.
"This is like the bad old days before the booking system!" They exclaimed. I hope this doesn't spell the end of the off-season free-for-all!
The final head count was 95 intrepid travellers to share the 54 bunks of Luxmore Hut between them. We now considered our early start more than worth it, though we'd been prepared with sleeping mats if worse came to worst.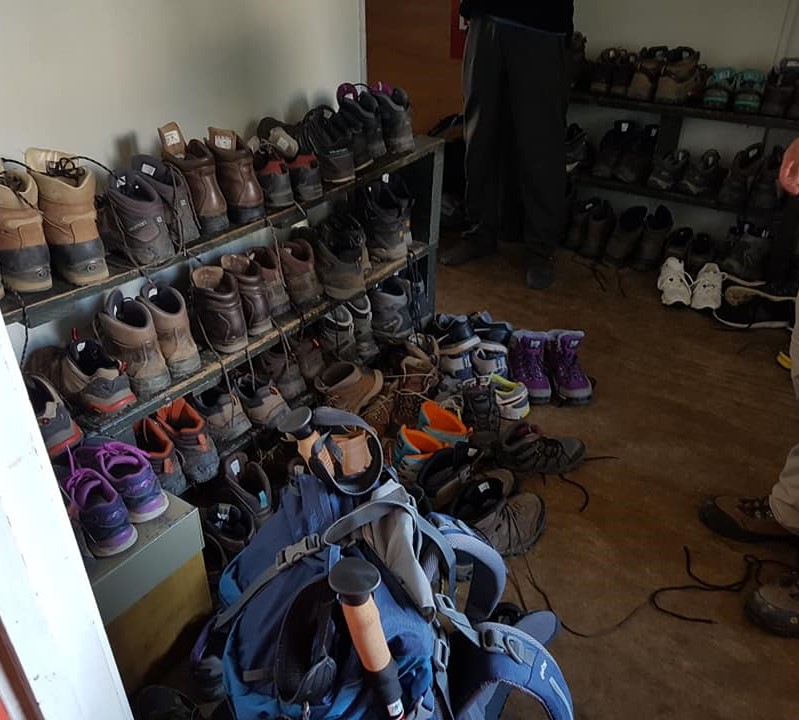 As dusk approached, the local kea made their daily visit, captivating Kiwis and tourists alike. They pranced about, testing any unusual object left lying about and getting right up close to investigate the cameras. Not that this meant they were willing to sit for a portrait, and I now have many shots of greenish-shaped blurs as they quickly lost interest in our toys.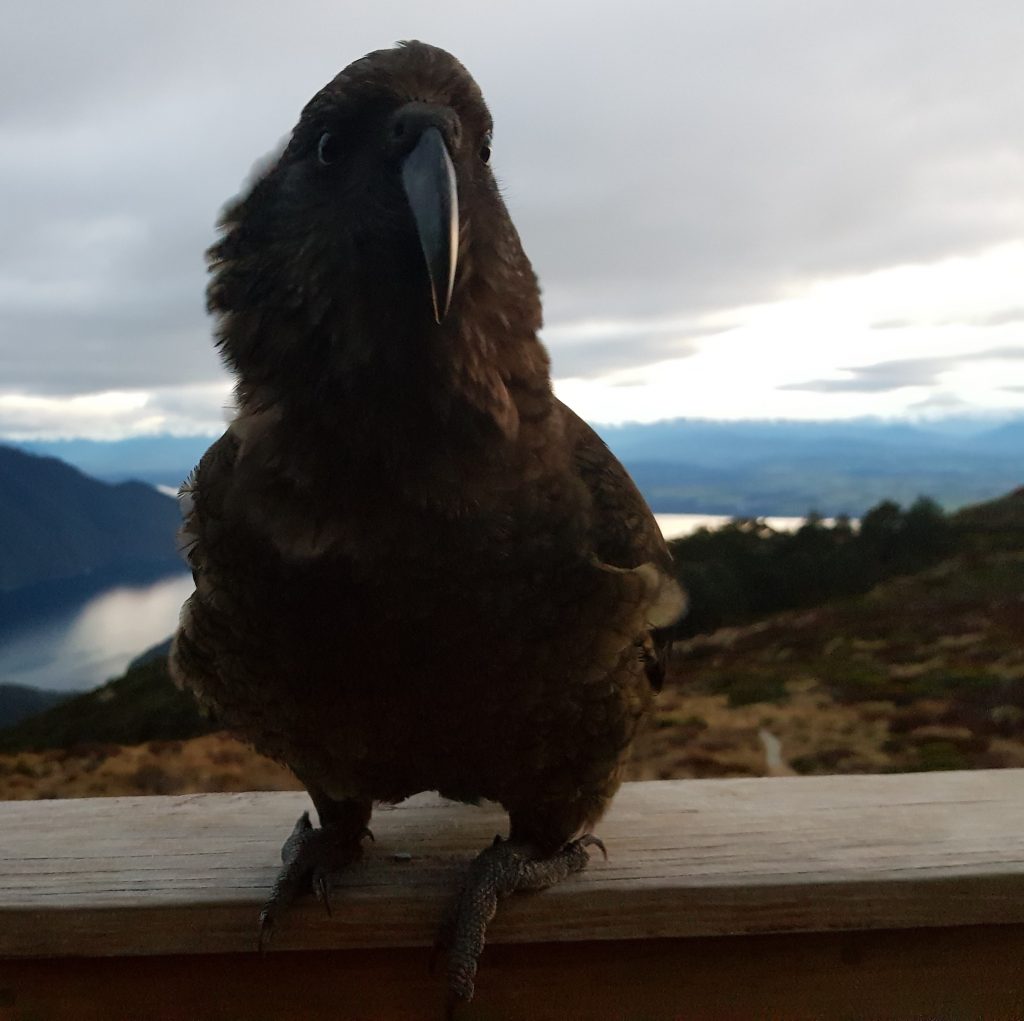 The departure of the kea served as our signal to head to bed. We did after all need to start early if we wanted to beat these hordes to our next stop: Iris Burn Hut. I only hoped my legs and my feet could make it.
* After suffering horribly from foot pain on this walk, I finally gave in and made an appointment with a podiatrist. Apparently I have super loose ligaments which means my feet lack the rigidity and resistance needed for long walks like this. I may after all simply not be physically made for extreme walks, which is disappointing because it's something I really want to get more into.